38th Annual PapaNicholas Coffee Shamrock Shootout Presented by Glass Court Swim & Fitness
by Todd Boss and Karen Grisz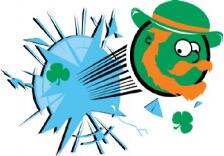 The IRT returned to Glass Court Swim & Fitness in Lombard, Illinois, March 16-19, for the 2023 PapaNicholas Coffee Shamrock Shootout. We were so happy to be returning to this iconic event and to be back at one of the best venues for racquetball in the nation.


First, a big shout out to Cheryl Kirk and Dan Jaskier, all the event sponsors, especially PapaNicholas Coffee, our IRT sponsors, and IRT Commissioner Pablo Fajre and his technical team. Our sport would not be possible without the tireless work of its volunteers and sponsors.


Going into the tournament, the IRT has continued to see a variety of individual event winners emerge through the fall and winter, although the last few tournaments have gone back and forth between Daniel De La Rosa and Conrrado Moscoso, the #1 and #2 players on tour.


Most of the top players on tour were in action in Chicago, shaking off injuries to return to the court. Missing though was two-time defending tour champion Daniel De La Rosa, due to a scheduling conflict. This made Moscoso the #1 seed and Jake Bredenbeck the #2 seed, the highest seeding of his career. The IRT also instituted a change to the way the draws are done – the top 8 no longer get a bye into the round of 32s and therefore have to play an extra match.

Pro Singles Recap

In the round of 32s, with the top pros playing lower seeds instead of getting byes, everything went according to seed. The sole exception was Kadim Carrasco beating Erick Cuevas Fernandez in a #17 over #16 seed upset.

In the round of 16s, there were several close matches. The only upset by seed was #9 Andres Acuña defeating #8 Adam Manilla. Acuña got revenge for a week earlier when Manilla beat him at the same juncture in Minneapolis. Alan Natera continued to show how much he is improving; he lost to Rodrigo Montoya 15-9, 15-14 in a hard-fought battle. Moscoso (#1) was taken to a tiebreaker by fellow countryman Kadim Carrasco. Alex Landa eked out an 11-9 tiebreaker win over Thomas Carter. Canadian Sam Murray looked very strong in an easier-than-expected win over Mexican Javier Mar.

In the quarterfinals, Moscoso, Bredenbeck, and Lalo Portillo had easy victories, while Montoya was stretched by Andree Parrilla to a tiebreaker, 13-15, 15-13, 11-7.

In the semifinals, in a rematch from Minnesota earlier in the month, Moscoso faced Montoya. In Minnesota, Montoya was the victor. In Chicago, Moscoso pulled out a captivating 15-14, 15-14 win to make the finals. On the bottom half of the bracket, #2 Bredenbeck had a come-from-behind victory over #3 Portillo to make another final.
In the finals, Bredenbeck took a close first game, but Moscoso showed why he is (off and on) the #1 player on tour. Bredenbeck had leads of 8-0, 10-5, and 14-10 but could not close out the match. The tiebreaker was neck-and-neck before Moscoso ran off a slew of points at the end to win 11-7.
With De La Rosa absent, this win placed Moscoso back on top of the tour.

Doubles Recap

Andree Parrilla and Adam Manilla topped Rodrigo Montoya and Javier Mar, 15-10, 15-10 to win the doubles title. Parrilla captured his 4th career pro title and Manilla his second with an impressive win over the #1 Montoya/Mar team.
Parrilla has bounced around partners for a while on tour. He played most of last season with Portillo, but Lalo seems to have gone with a Team Dovetail connection lately, first with Rocky and now with Acuña. Parrilla had also paired up with Murray for a bit, but Murray has been playing with Bredenbeck as Jake's brother Sam has taken off the last few events.
Manilla has been bouncing around, too. He used to play with Nick Riffel, but Riffel stopped touring. In the past few pro events, Adam has played with Murray, Sebastian Franco, Mario Mercado, Sebastian Fernandez, Jake Bredenbeck, and even Bobby Horn going back to 2021. But none of these players are a reliable partner for him, either because of inconsistent attendance or because they're playing more regularly with someone else. Maybe Manilla and Parrilla are the new solid pairing, given that they just beat the clear #1 team in the world.
You can see the results here: https://www.r2sports.com/website/event-results.asp?TID=40557
And more IRT statistics at: https://www.proracquetballstats.com/cgi-bin/results_front_new.pl?tour=IRT
More about the Shamrock Shootout from Glass Court Tournament Directors Dan Jaskier and Cheryl Kirk:

After a warmer-than-normal winter here in Chicagoland, somehow we managed to conjure up an unseasonably (and unreasonably!) cold mid-March weekend to welcome players from six countries (plus a few U.S. states: Arizona, Hawaii, Florida, New Mexico, Texas) who are generally unaccustomed to this kind of cold. Canadian Sam Murray and his doubles partner, Minnesotan Jake Bredenbeck, didn't seem particularly fazed, though.

In the field of 22 players in Men's Open Singles, Alan Natera came out on top vs. Christian Longoria, 15-7, 10-15, 11-9. The Men's Open Doubles title went to Fernando Javier Rivera and Rodrigo Rodriguez, and the Mixed Open champs were Melania Sauma and Mike Uchida.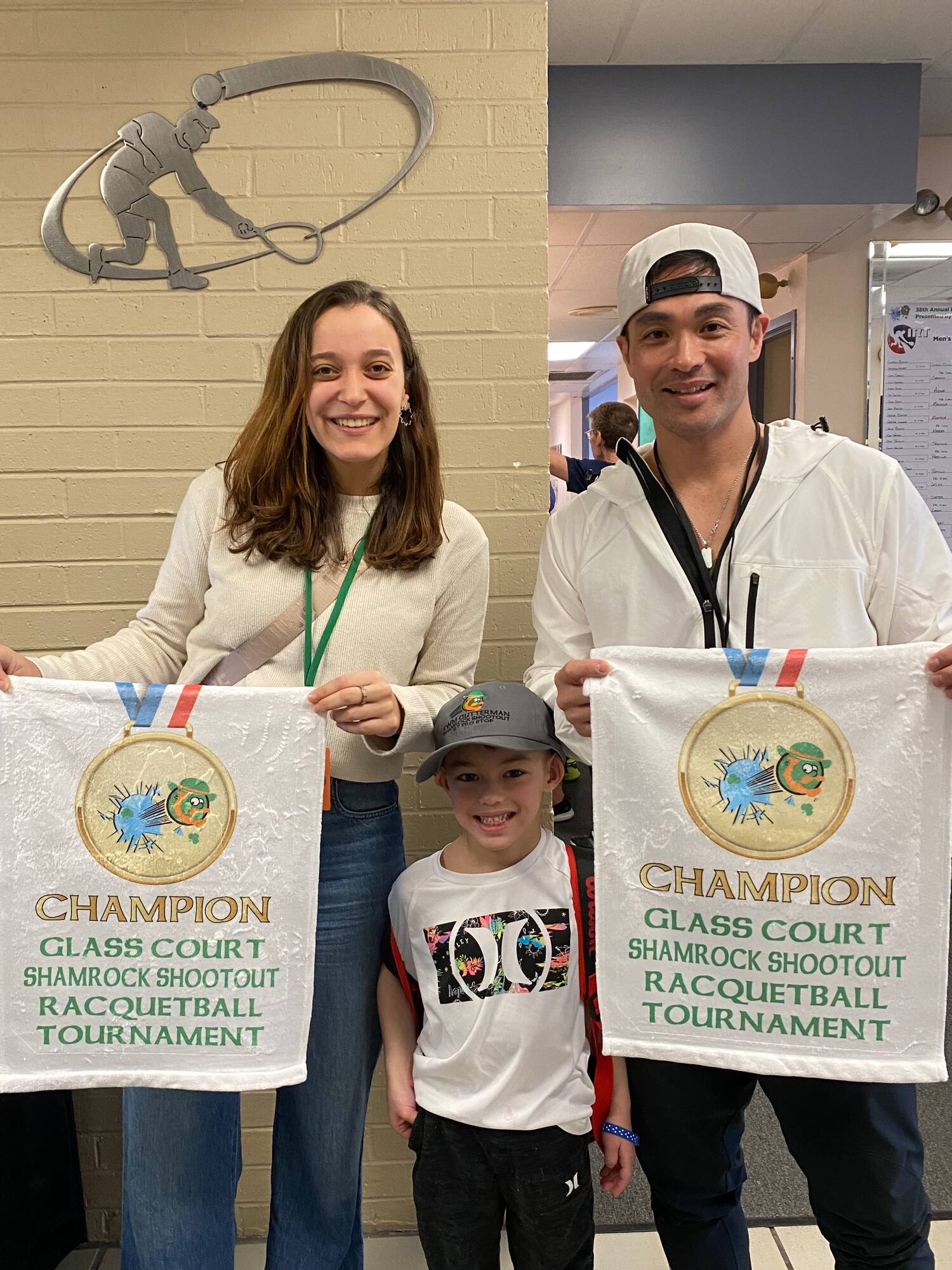 Mela and Mike with Favorite Fan Luke
One of the highlights of the weekend was the traditional Junior Clinic with the Pros on Sunday morning. Junior Team Illinois Coaches Barry Dixon and John Thorson coordinated, and Pros Thomas Carter, Erick Cuevas Fernandez, and Diego Gastelum took the 14 energetic juniors (ages 6-17) through their paces before having them try for prizes taped to the front wall (a real crowd-pleaser).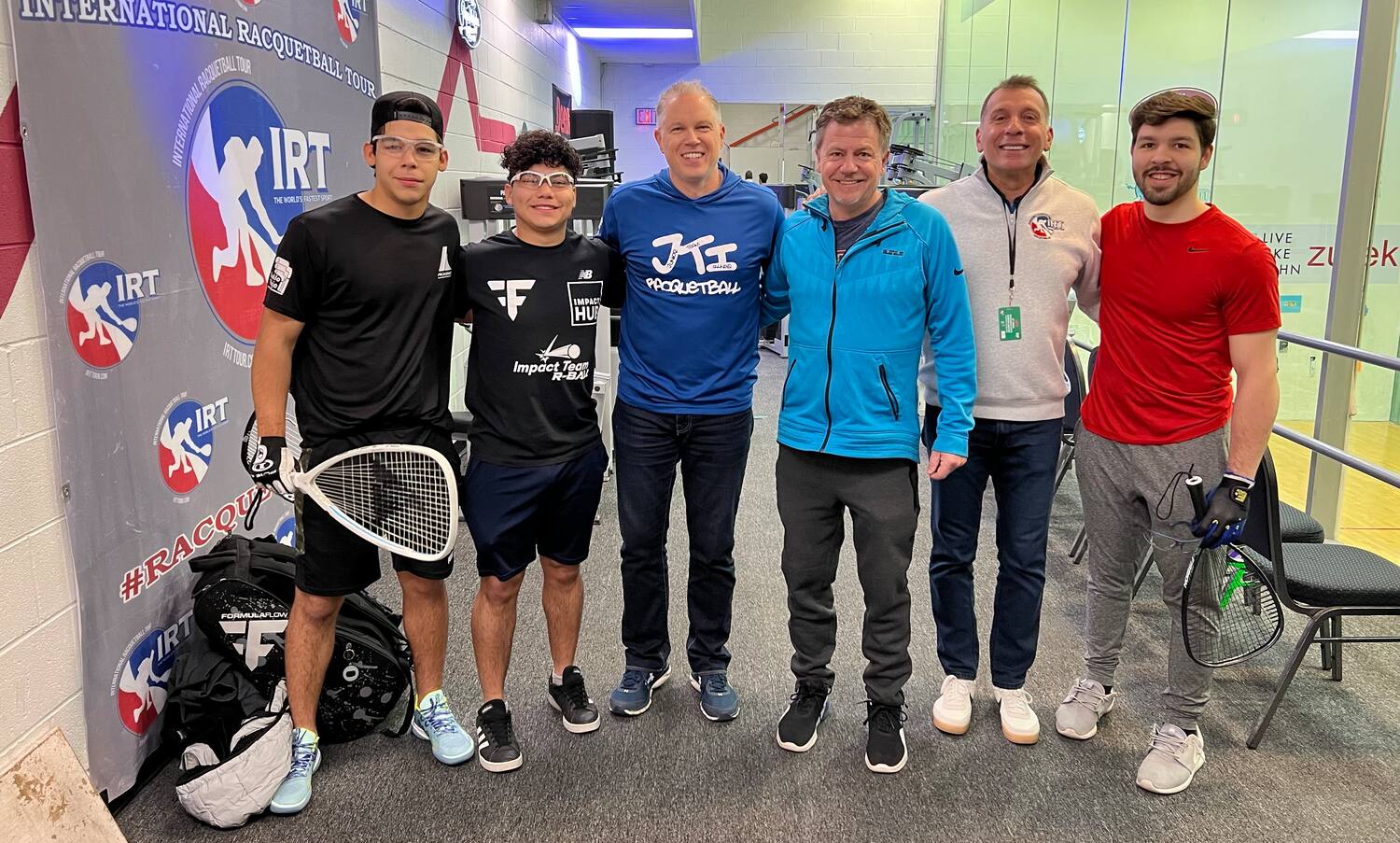 Diego Gastelum, Erick Cuevas Fernandez, John Thorson, Barry Dixon, Pablo Fajre, Thomas Carter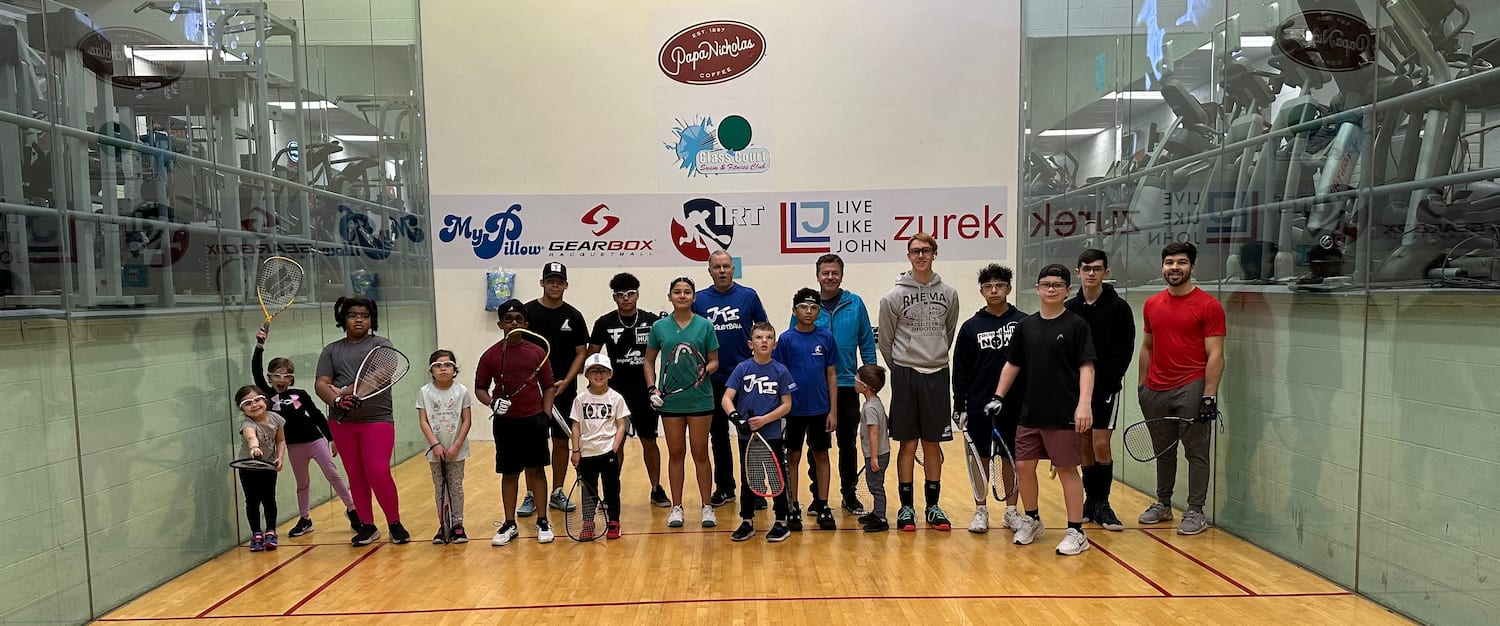 We sincerely thank our many sponsors. This event was the result of generous contributions by Illinois Racquetball Players, their companies, the ISRA, and Glass Court to bring this IRT Tour event to Chicagoland!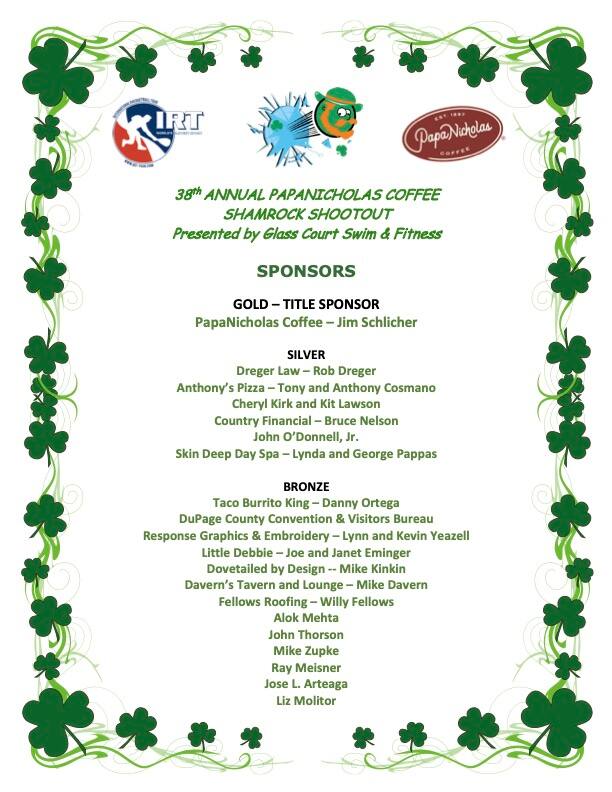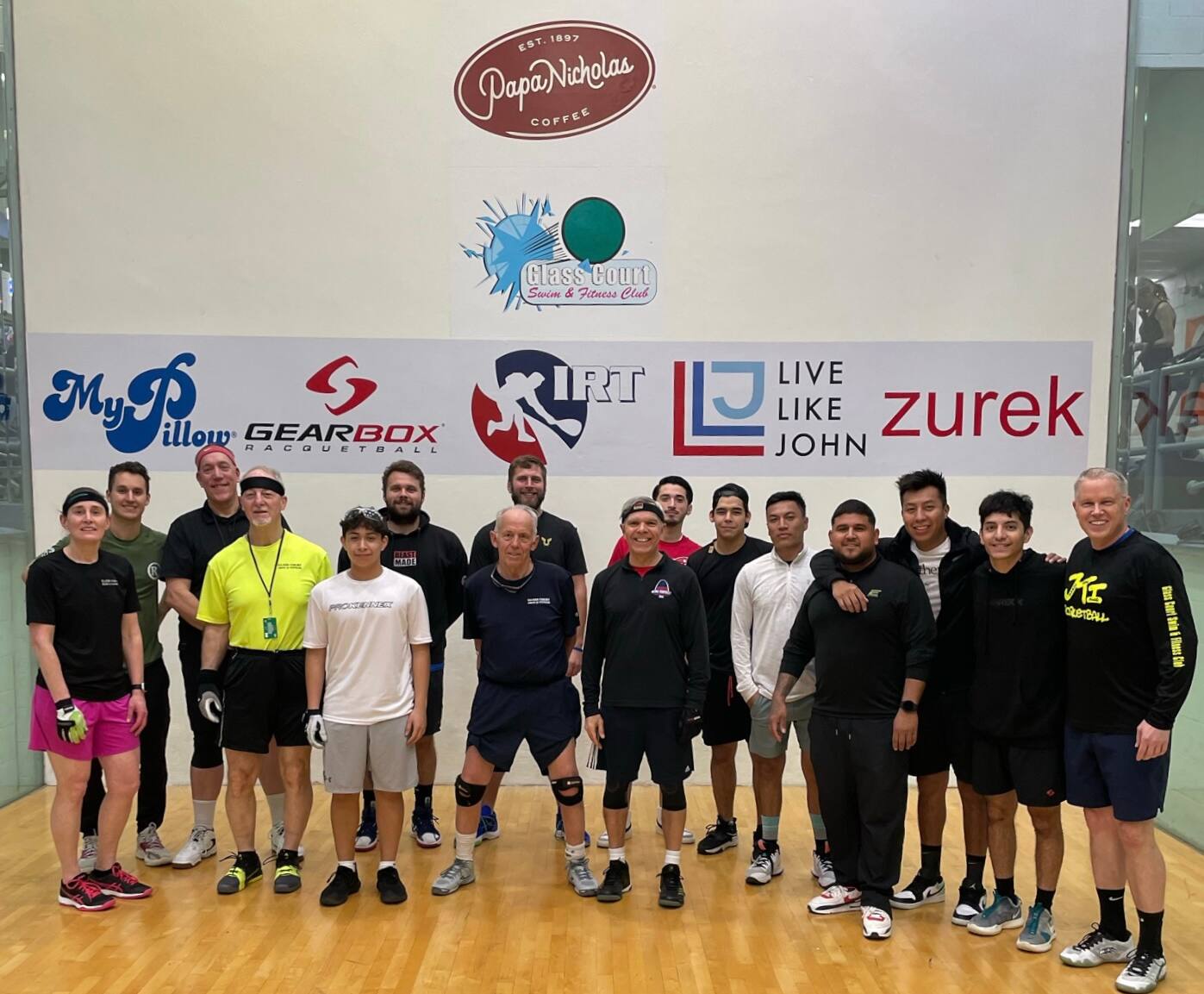 Thursday Night Sponsor Doubles Pro-Am
So much gratitude goes to the many volunteers who served the pros and amateurs in multiple capacities. We couldn't do this without them!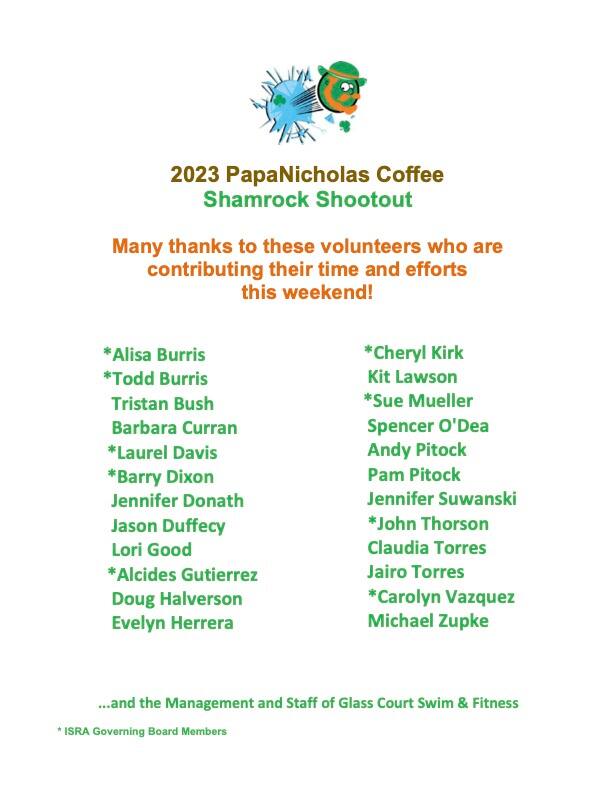 Thanks to the IRT staff for live streaming the matches and creating excitement for the event and our sport well beyond the four walls of Glass Court!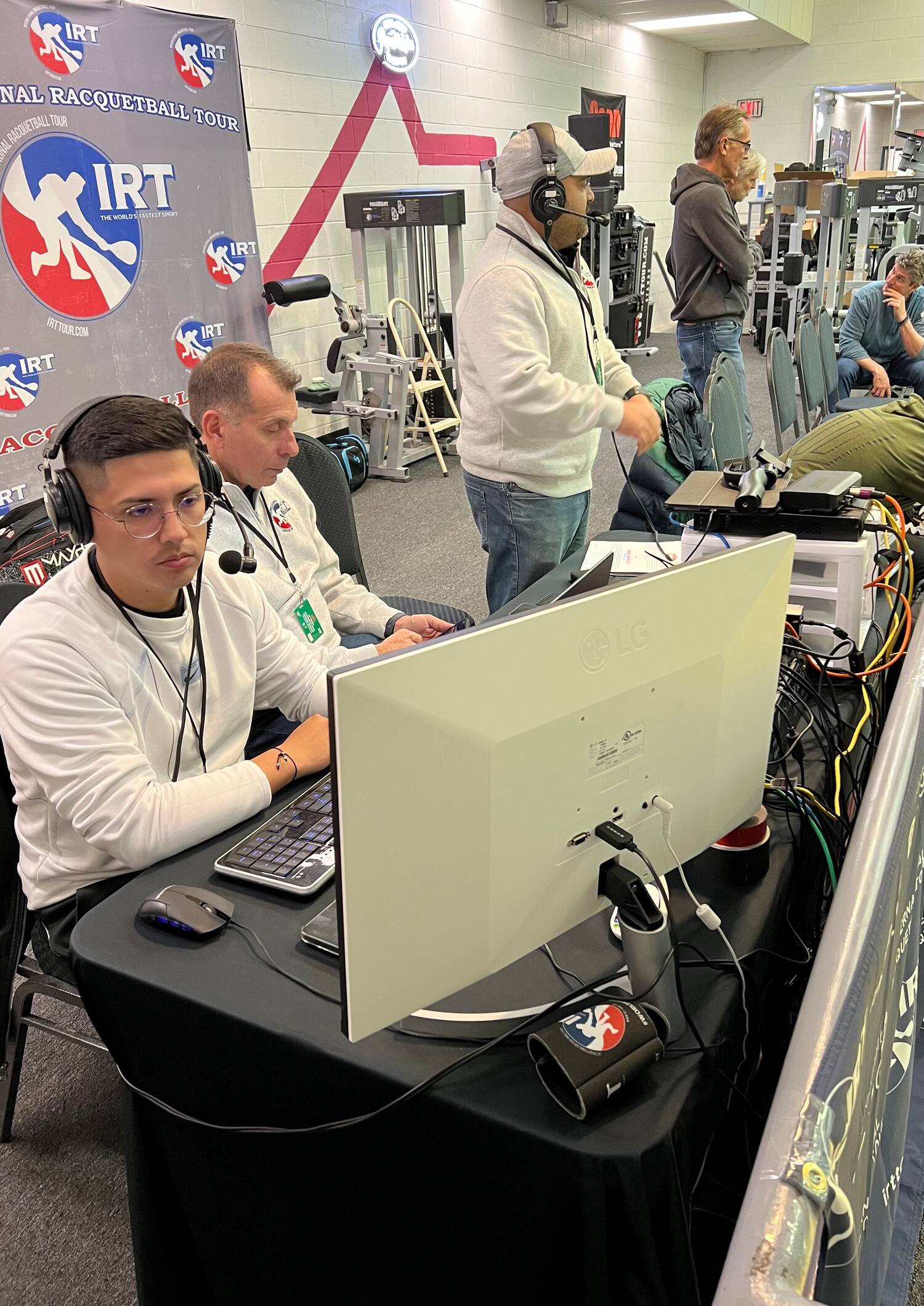 Again, division results can be viewed at: https://www.r2sports.com/website/event-results.asp?TID=40557
No wrap-up of pro stops here in Lombard would be complete without saying how deeply fortunate the ISRA feels to have Glass Court Swim & Fitness as the host club and indeed the prominent home of Racquetball in Chicagoland. Running a tournament at this club, whether a Glass Court or an ISRA event, is a lockstep collaboration. Our processes are in place, and we all work together much like long-standing doubles partners so often do.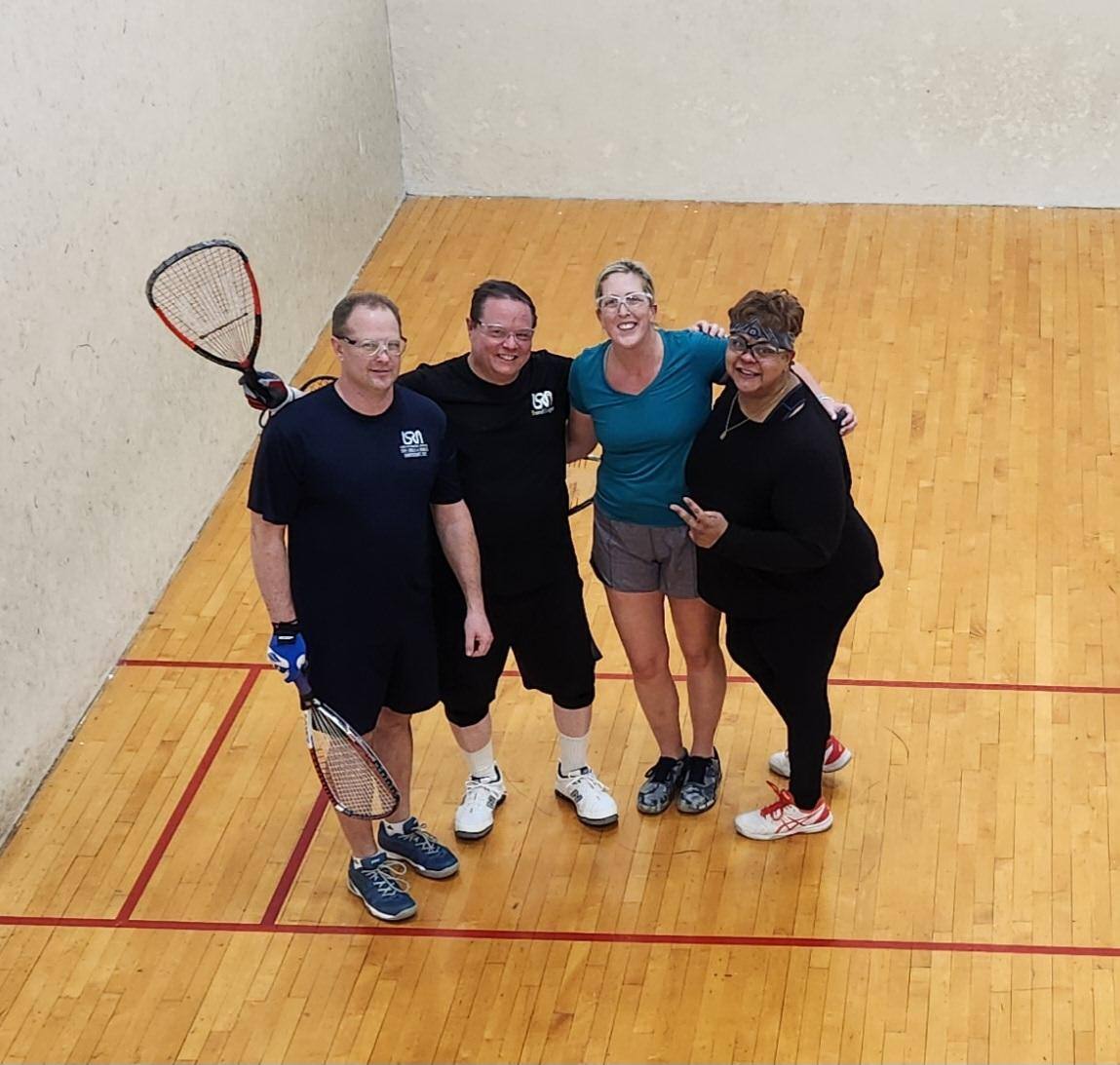 Glass Court's Dan Jaskier and Joe DeArmas with Jennifer Suwanski and Carolyn Vazquez
We can't conclude without saying how much we miss Geoff Peters, who was responsible during his lifetime for so many successes including securing sponsors to bring the pros to Glass Court many times over. This was the first Shamrock Shootout without him, and he was sorely missed. Geoff, we hope we made you proud.
Speaking of our friend Geoff, the Glass Stadium Court dedicated to him in September 2021 will be where qualifying matches will be competed at the USAR National Adult Team Singles Qualifying, In Memory of Geoff Peters/Glass Court Doubles Shootout. It's coming up May 25-28, 2023, and the site is live at https://www.r2sports.com/tourney/home.asp?TID=41063.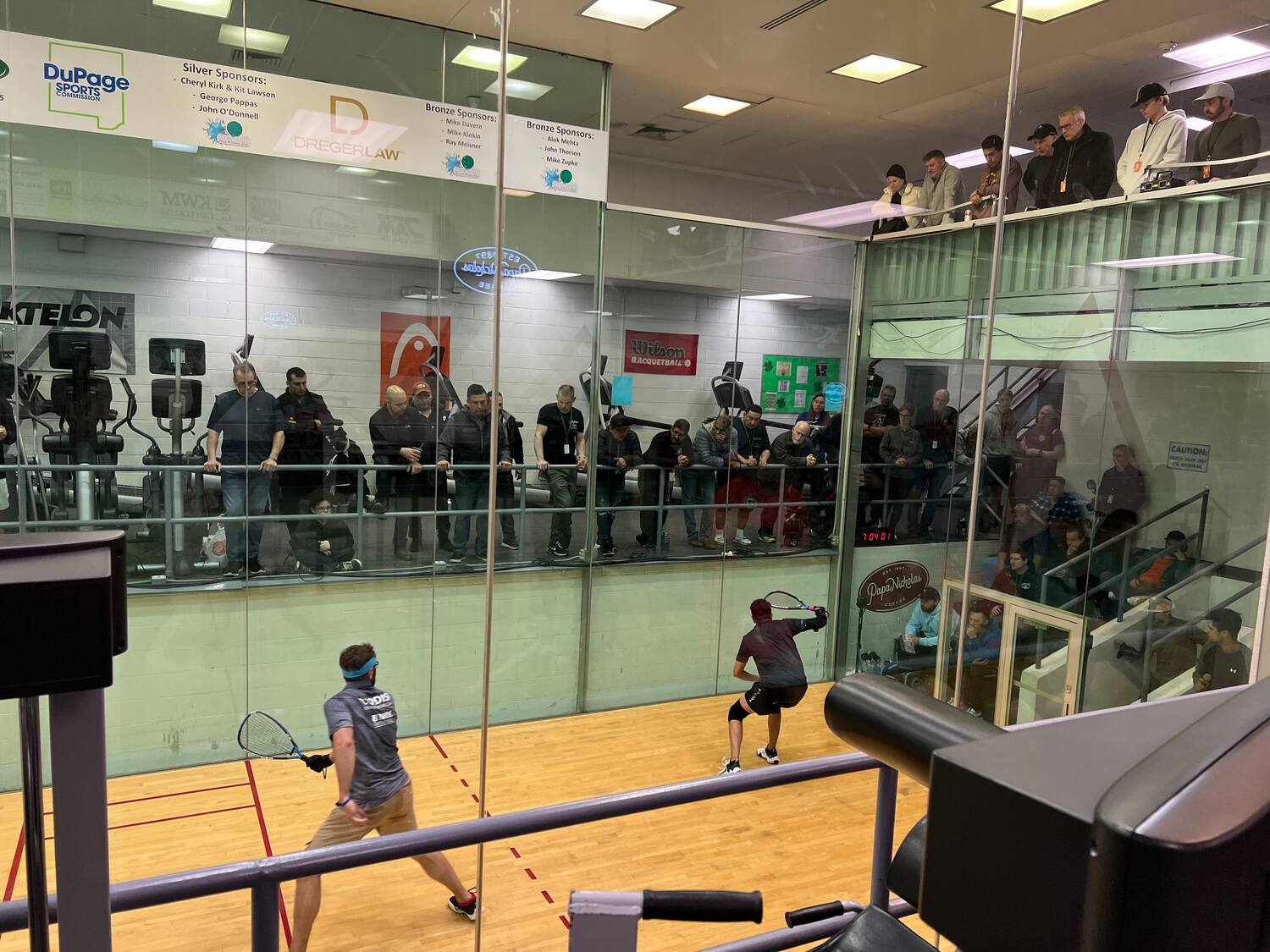 The Historic Glass Stadium Court
Photos by Cheryl Kirk