TEAM USA EARNS MEDALS AND AWARDS, QUALIFIES FOR POSITIONS FOR PAN AM GAMES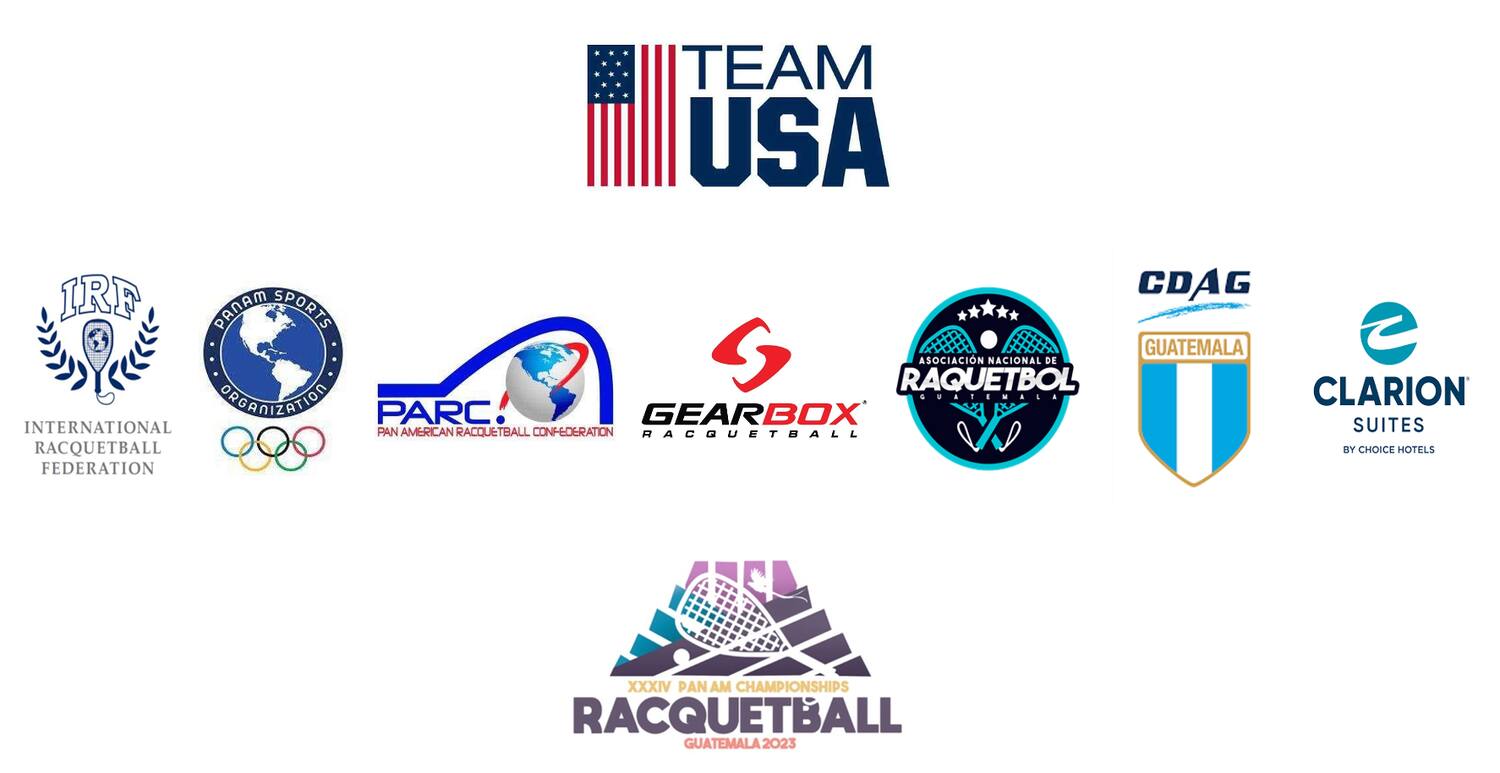 Team USA competed in Singles, Doubles, and Mixed Doubles, April 1-8, at the Pan American Racquetball Championships (PARC) in Guatemala City along with 13 other countries.
The U.S. Team Delegation consisted of:
Jake Bredenbeck (Minnesota): #1 Singles
Thomas Carter (Illinois): #2 Singles
Jake Bredenbeck and Sam Bredenbeck (Oregon): Doubles
Erika Manilla (Colorado): #1 Singles
Rhonda Rajsich (Arizona): #2 Singles
Erika Manilla and Michelle Key (Arizona): Doubles

Michelle Key and Sam Bredenbeck: Mixed Doubles
Supporting the U.S. Team Athletes were Rodger Fleming from Georgia (Athletic Trainer) and Cheryl Kirk from Illinois (Team Leader).
There were also two world-class cheerleaders in Victor Manilla (Erika's dad) and Jen Meyer (Junior Team Esprit Coach), who arrived Thursday the 30th and Wednesday the 6th, respectively.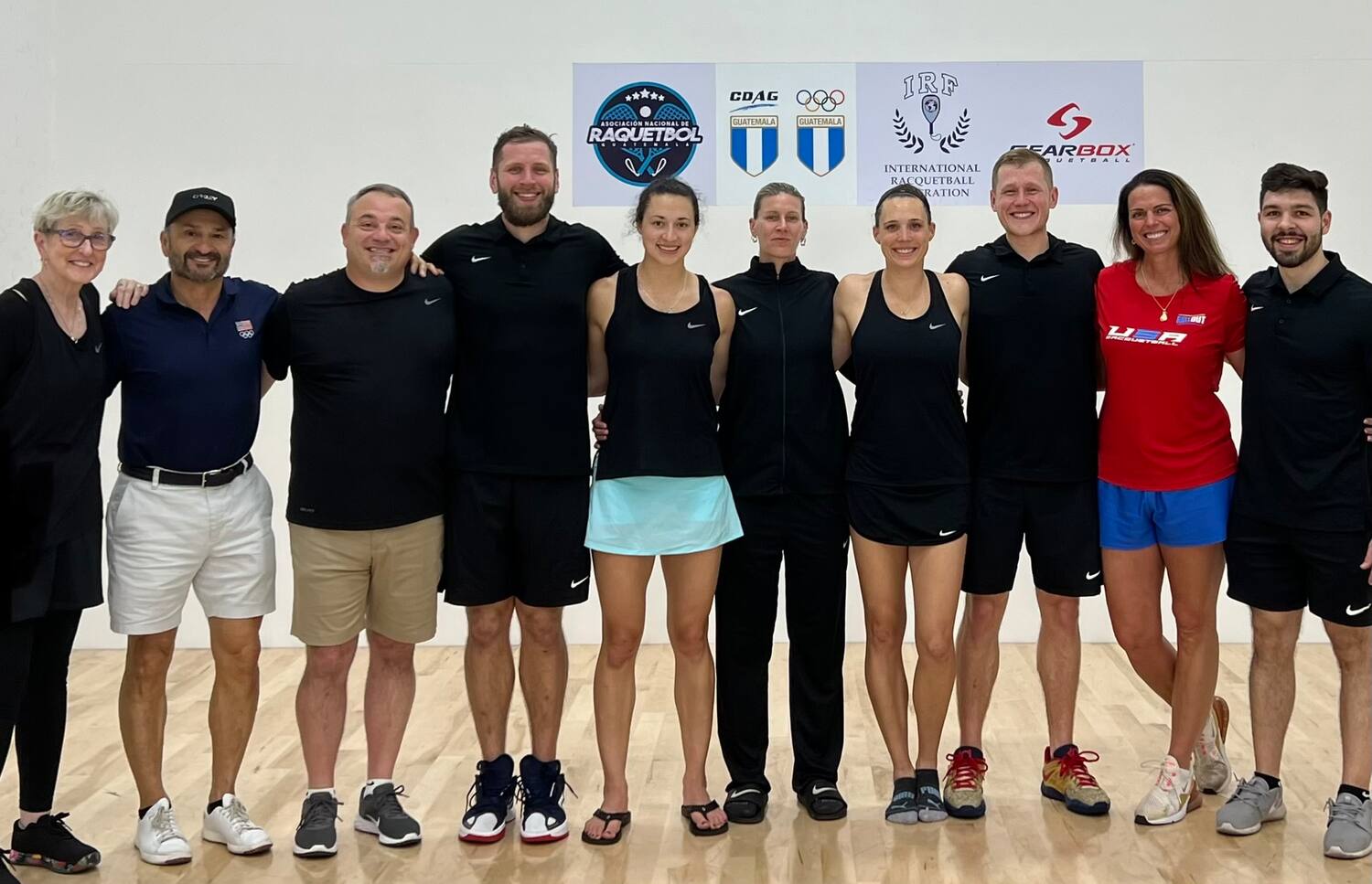 The Club
Domo Complejo de Racquetball, Guatemala's beautiful 10-court facility was the host club, not only for the Adult divisions but also for a number of Junior divisions (Singles and Doubles, 21 & Under down through 14 & Under).
The club's inaugural event was the IRF Adult & Junior Worlds in December 2021 and was then followed a year later by IRF World Juniors last December (with a LAMRA event in November).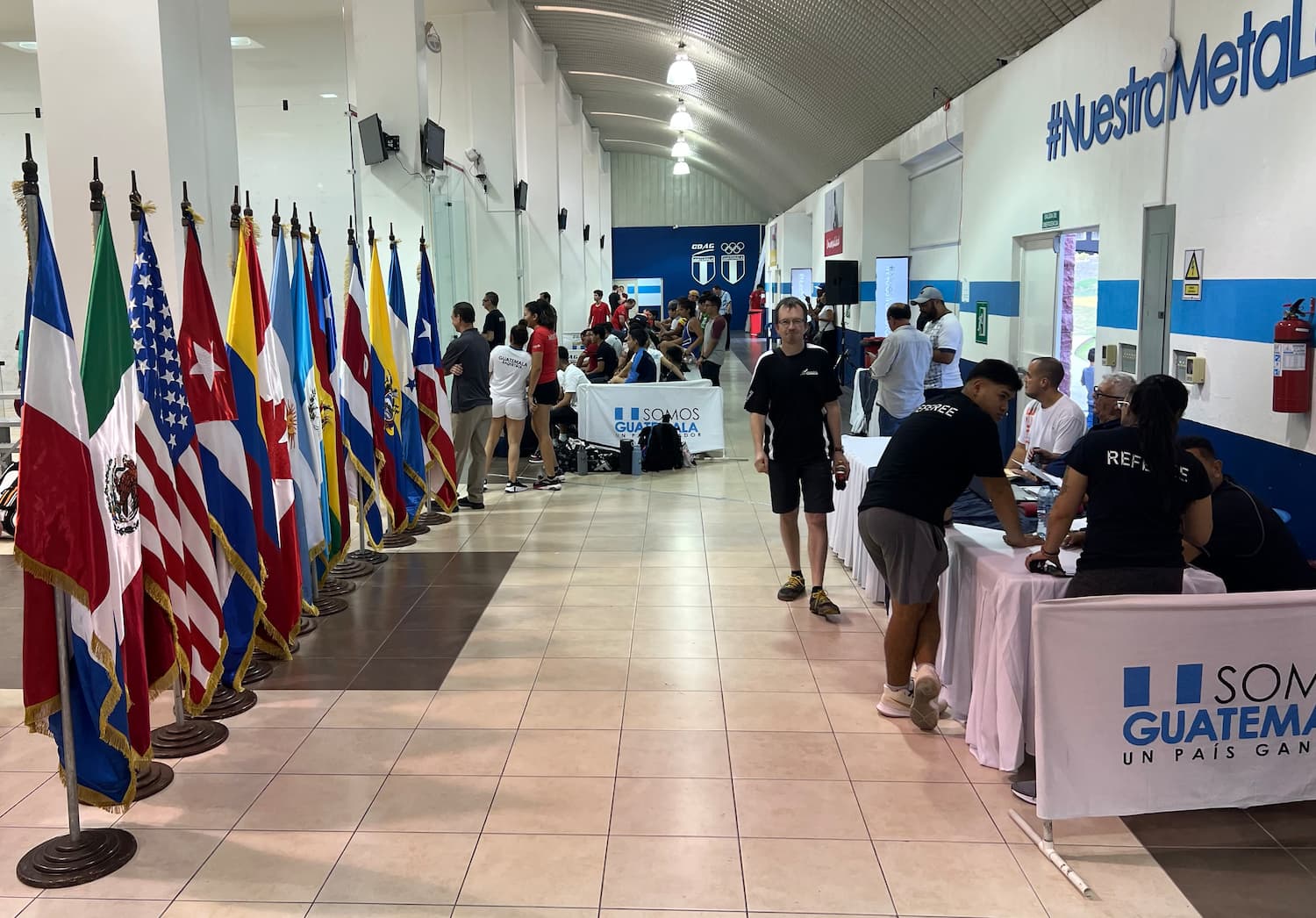 Coaches and Delegates Meeting
On Friday, March 31st, The Coaches and Delegates meeting commenced at 12:00 pm at the host hotel where a great deal of information about the event was provided to the 14 countries* in attendance, especially the draws/match schedules for the first phase of competition. Jake, Michelle, and Cheryl represented the USA.
* Argentina, Bolivia, Canada, Chile, Colombia, Costa Rica, Cuba, Dominican Republic, Ecuador, Guatemala, Honduras, Mexico, Puerto Rico, USA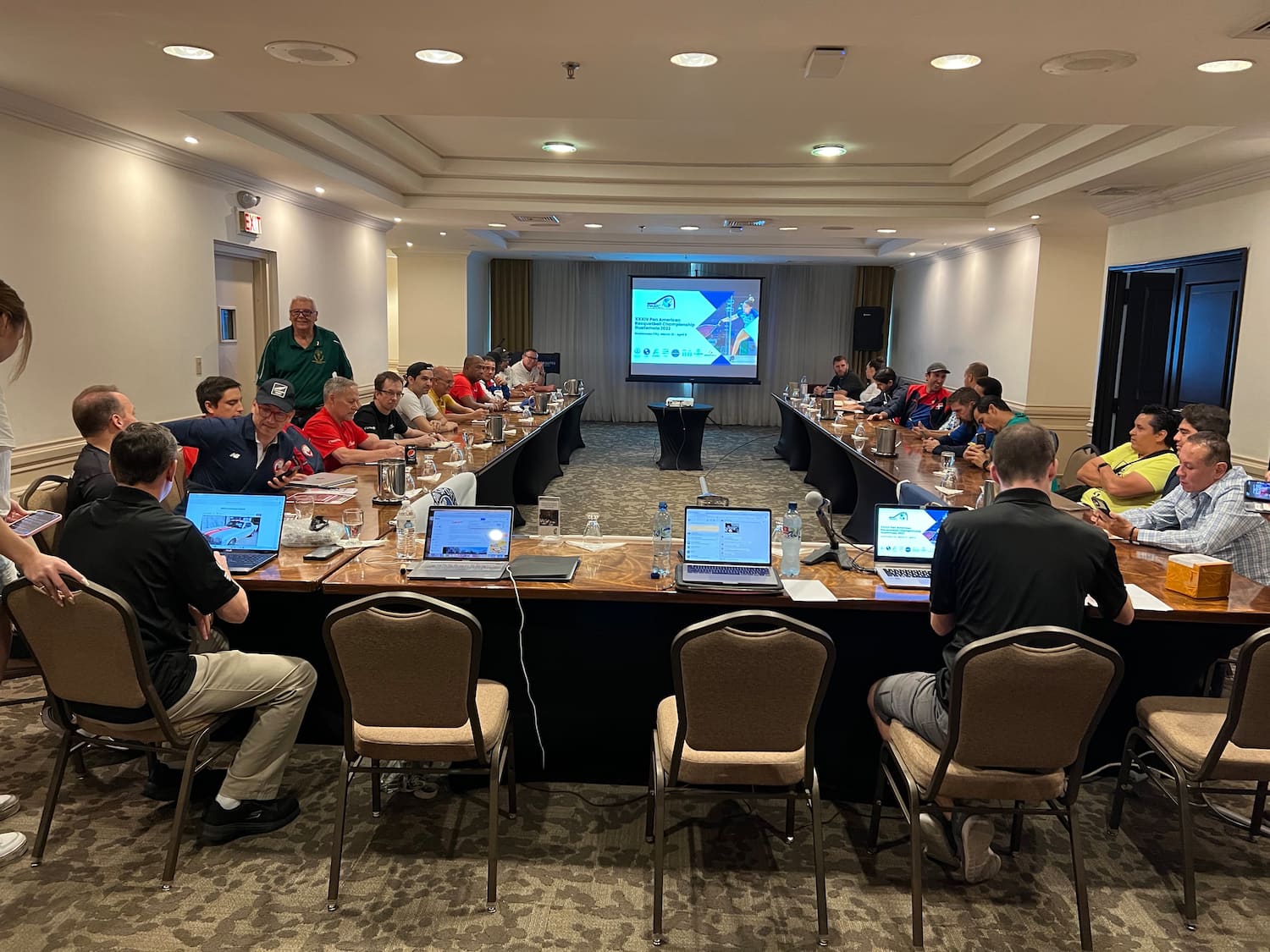 PARC Staff and Referees
The referees (aka officials, arbitros) met after the Coaches meeting on Friday, and Alexis Iwaasa grabbed a great group photo before their meeting started. The referees are the unsung heroes of each event, officiating many hours a day to ensure athletes get experienced referees and never have to think about being referees themselves.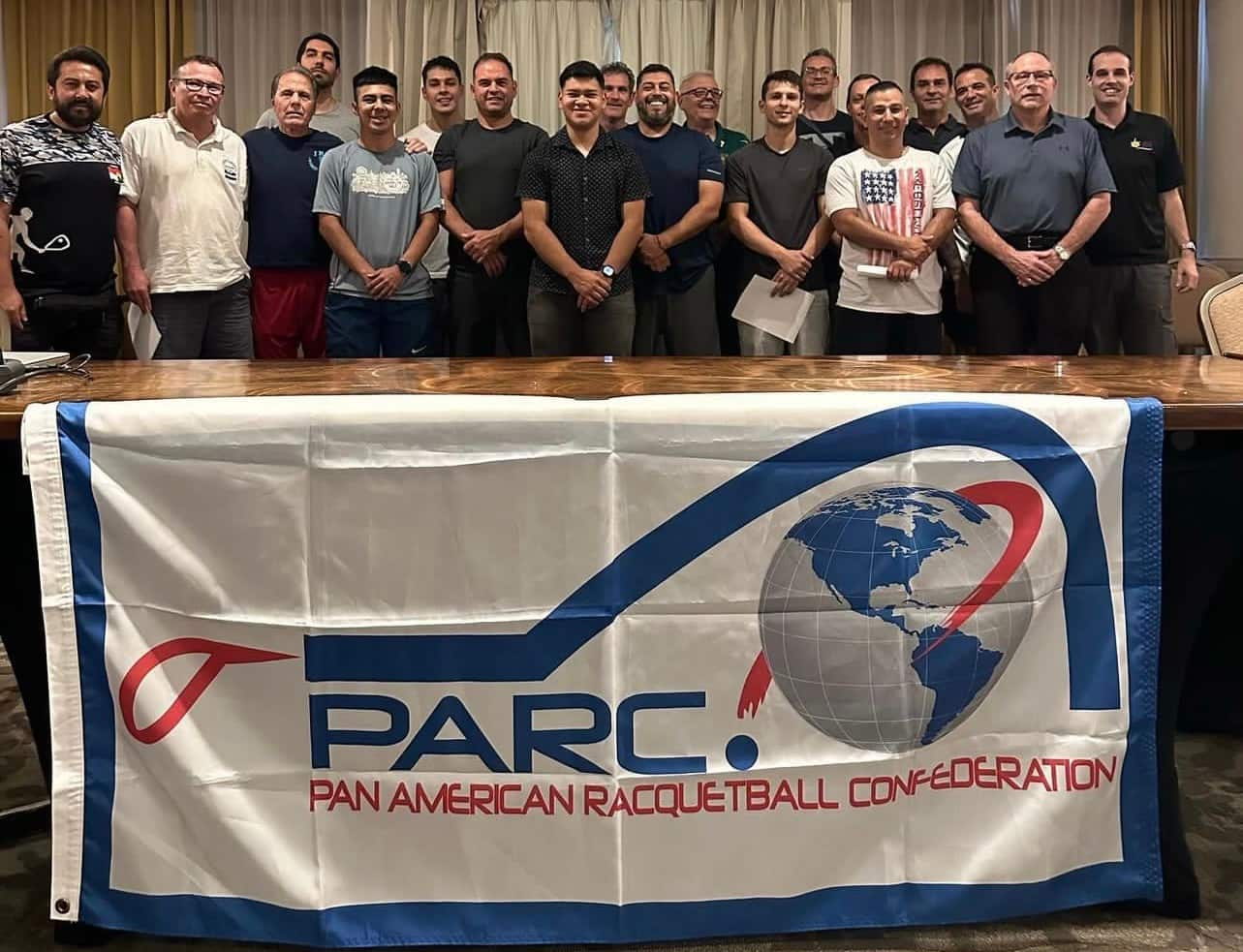 Team USA Got Organized
At a Friday night team dinner, Jake and Michelle were chosen as Team Captains, and great dialogue took place about how the six athletes would support each other over the course of the next week while making sure they themselves were ready for competition.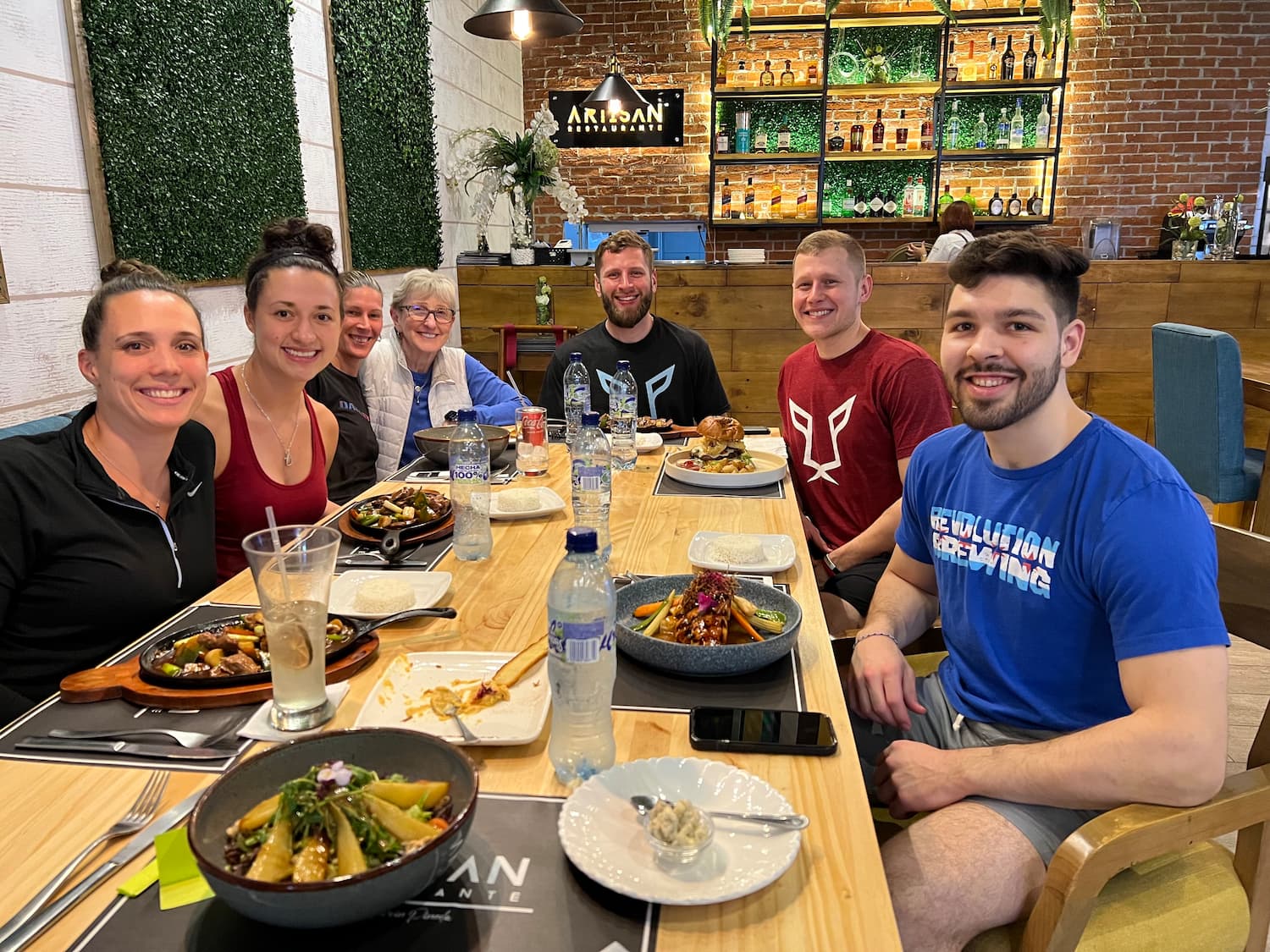 While everything was coming together for the racquetball competition, Victor Manilla had the experience of a lifetime on a volcano hiking excursion (see Daily Blog #3 for details of his exciting and arduous journey).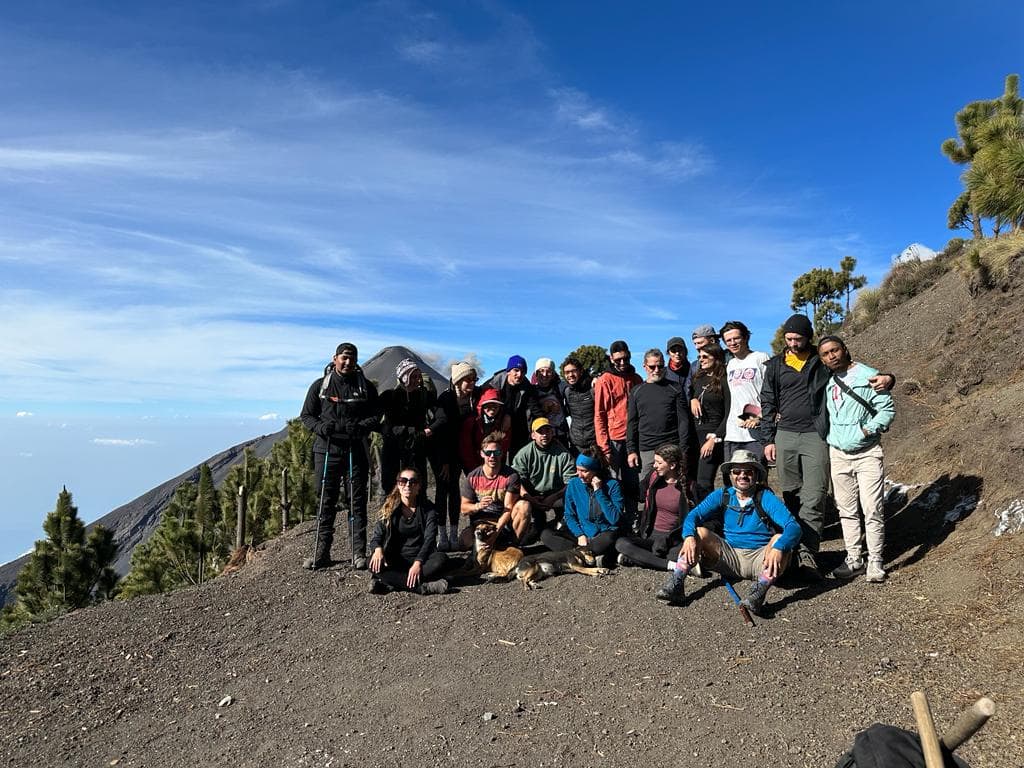 PARC 2023 Format/Scoring/Pan Am Games Qualifier
The format throughout was Best 3 Games of 5, all to 11 points, all win by 2 points. In other words, the first player/team to win three games is the match winner. If one player/team wins the first three games in a row, the match is over. If they split with their opponent(s), two games each, they go to a tiebreaker fifth game.
Rally scoring is standard, which means that a point is scored on every rally whether the rally winner was the server or the receiver.
The first part of the tournament was pool play/round robin, seeded by countries' past results. The outcome of the first phase determined the seeding for the main draws* that commenced on Tuesday 4/4. Individual medals and team honors were awarded on Saturday 4/8.
*Usually once the main draws have been established, it's single elimination from then on. However, this event was different in that it was the sole qualifier for the Pan American Games (Santiago 2023) that will take place in October. What this means is the 14 countries in attendance are vying for how many will be allowed to participate and then of those who qualify to go, how many players they will be allowed to bring (male and female, separately, based on this event's results). All places were played out via dropdown divisions to the very end. See Team USA results later in this article under the subheading Pan American Games Qualifier Standings.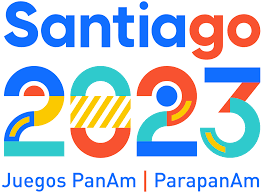 In Santiago, 24 men and 24 women will be invited to compete. At PARC, for the first four countries, male and female results earn a maximum of 3 positions (with Chile as the host country automatically being one of these four.) Then, another six earn positions for two players.
The U.S. Team athletes who competed for their country are not necessarily the ones who will go to Santiago. Once USA Racquetball would find learn how many slots would be earned, that number of athletes will be selected, via recommendation of the U.S. Team Committee then to be approved by the USAR Board of Directors. The recommendation will be formed from the roster of the new U.S. Team whose term runs from 6/1/23 through 5/31/24.
Long story short, these six athletes who played their hearts out at PARC in Guatemala did it for love of their country and their sport with no guarantee of a spot on the Santiago 2023 U.S. Team delegation. Thanks to each and every one.
PARC Coverage
It was so important to the U.S. Team Delegation to feel the support from back home. To help everyone back in the States feel like they were right there courtside, the following was in place:
1. The Daily Blog, accompanied by plenty of photos, posted on the USA Racquetball website. Daily Blogs #3-8 included comments made by U.S. Team members, one per day, as they gave their perspectives on their experiences. Their comments can be found at the end of this article.
2. Social media posts from USA Racquetball as well as the athletes themselves.
3. Live streaming provided by PARC and also broadcast on the PANAM Sports Channel (Download the app!).*
4. Encouragement to view the preliminary rounds, main draws, and overall results at www.internationalracquetball.com or R2 Sports: https://www.r2sports.com/website/division-list.asp?TID=40828&sortBy=defaultOrder
* As a qualifier event for the Santiago 2023 Pan American Games in October, it was exciting that the streaming from PARC was broadcast on the PANAM Sports Channel at www.panamsportschannel.org as well as on the IRF YouTube Channel and IRF Facebook.
Team USA's Secret Weapon -- Rodger Fleming
The Team was extremely fortunate for the presence, service, skill, and knowledge of Rodger Fleming, athletic trainer. Rodger worked 10 years in professional baseball; toured with a Rock & Roll Hall of Fame musician; worked on the set of "42" as an athletic trainer and Licensed Massage Therapist (LMT) for a lead actor; worked with Cirque Du Soleil performers from "Quidam" ... and much more. To say he is a master of his trade would be an understatement, and Team USA was the grateful recipient of Rodger's care and expertise. This was his fourth time working with Team USA at an international event, and he fits in beautifully.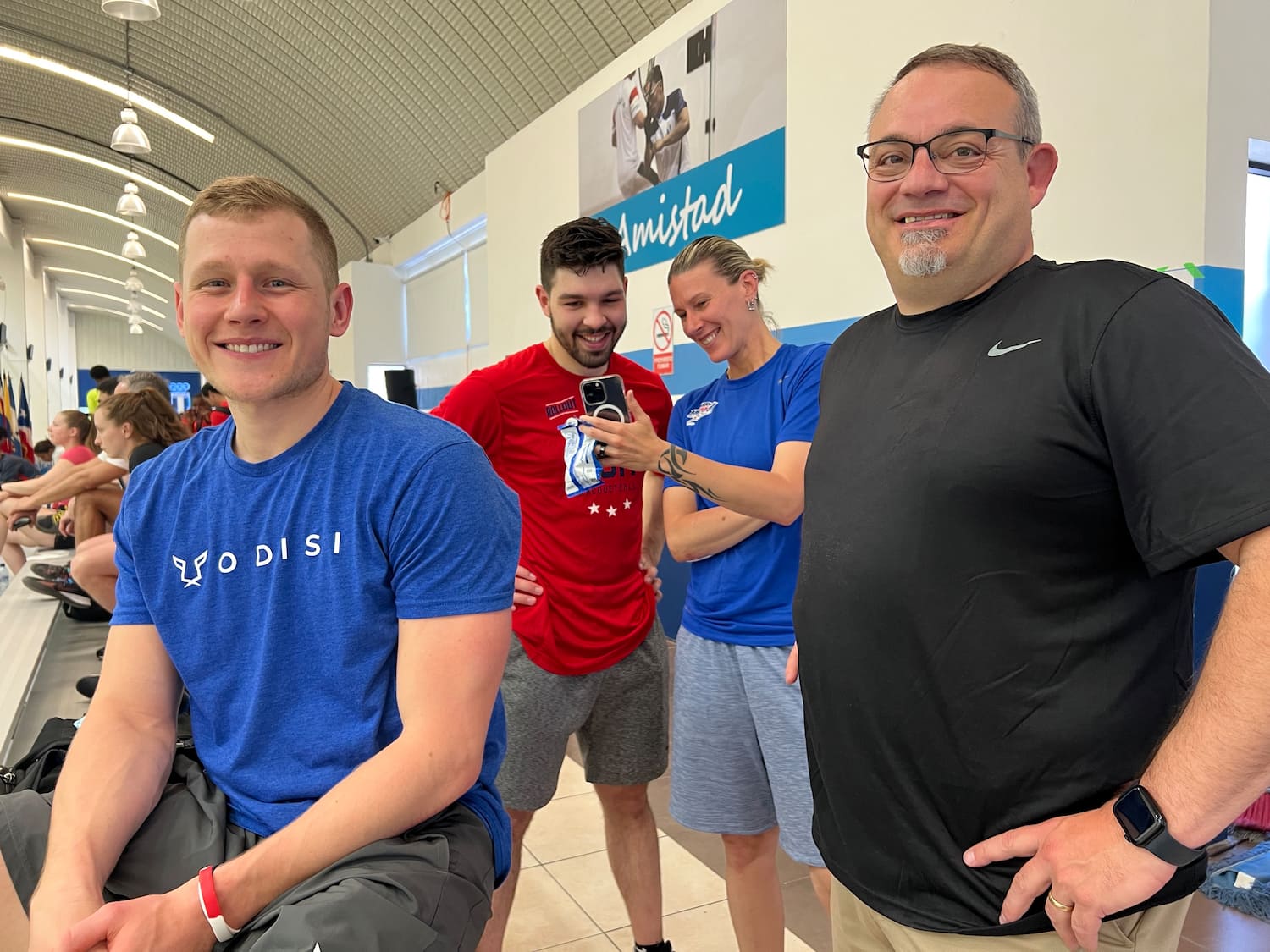 PARC General Assembly
All countries in attendance at this event were represented at the PARC General Assembly held Tuesday evening, April 4th, at the Clarion Suites (host hotel). The agenda included financial reports, an anti-doping update, IRF/PARC event report, and a Worldwide Racquetball Day presentation (the latter from Cheryl on behalf of Cindy Tilbury).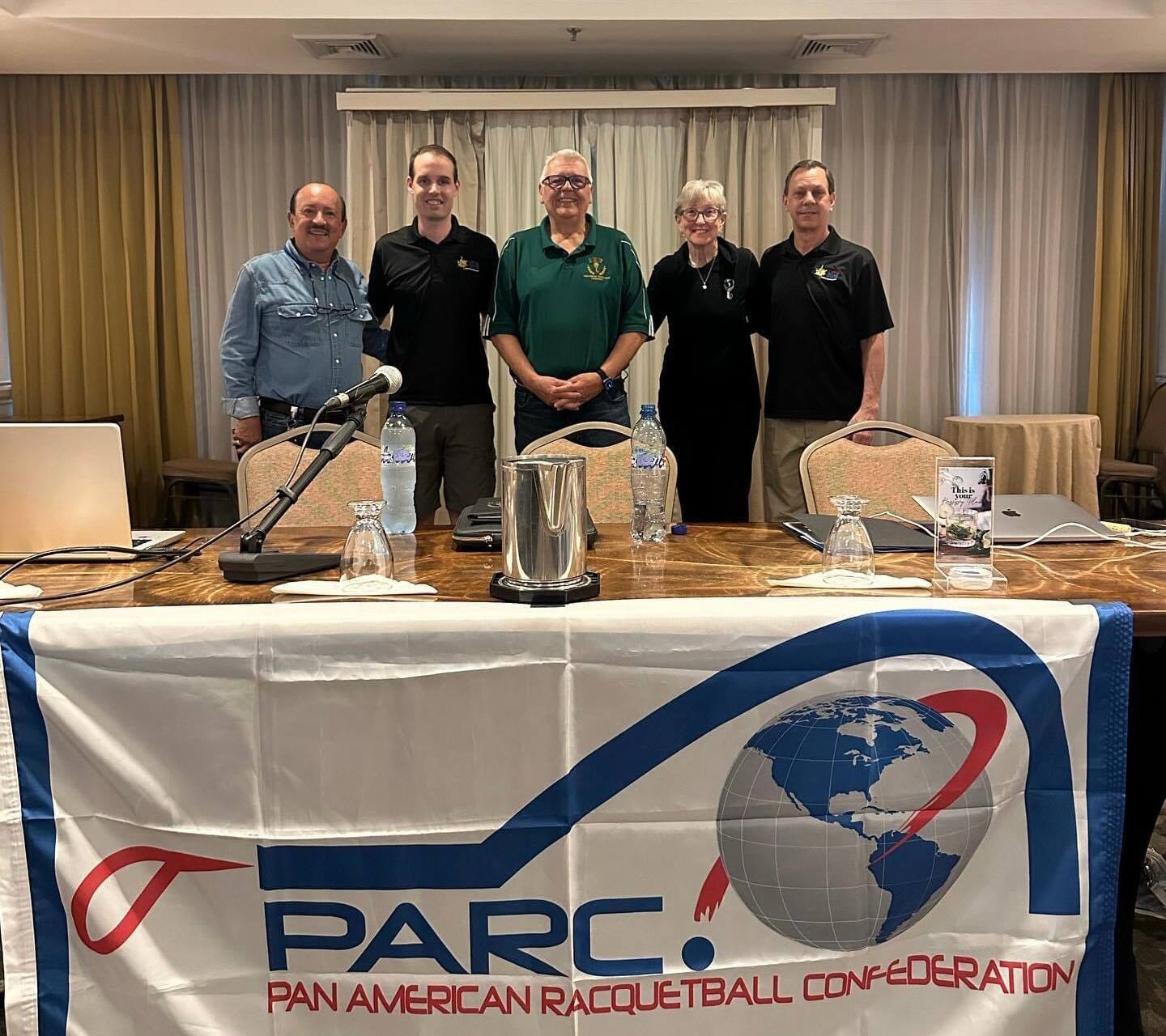 Wrapping It Up
Arriving at the event on Wednesday or Thursday and knowing there are 10 busy days ahead, it seemed like the Delegation would be there for so long! But the days do pass so quickly that by the end of the week, it's surreal to realize it's almost Saturday, time to pack, say our goodbyes, and head for the airport!
Following are the results for PARC as well as the Pan American Games qualifier standings.
Team USA Overall Results
Erika Manilla, Women's Singles 9/12, #11
Rhonda Rajsich, Women's Singles 13/16, #15
Erika Manilla/Michelle Key, Women's Doubles 5/8, #5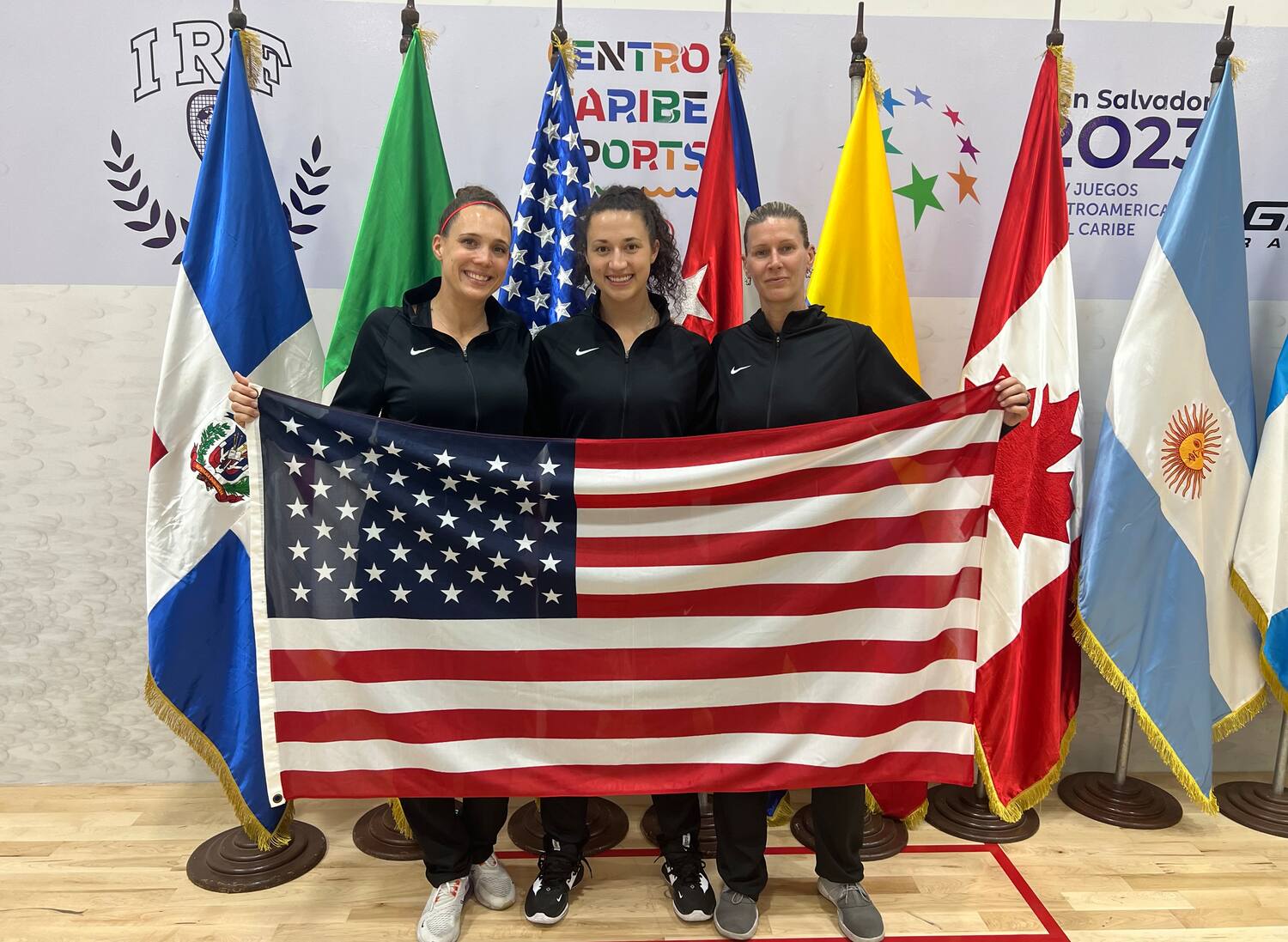 Jake Bredenbeck, Men's Singles, Bronze
Thomas Carter, Men's Singles 9/12, #10
Jake Bredenbeck/Sam Bredenbeck, Men's Doubles, Bronze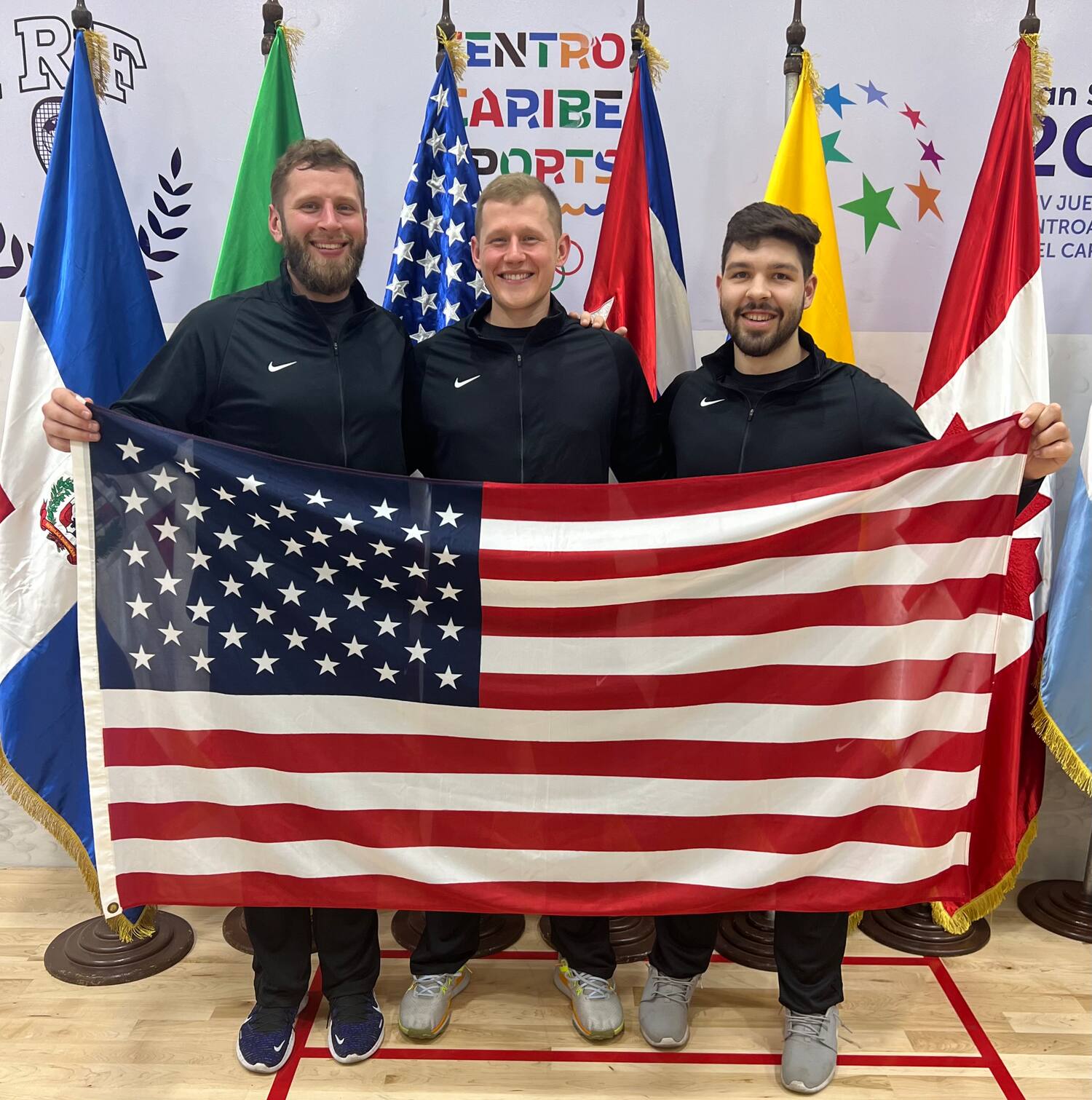 Michelle Key/Sam Bredenbeck, Mixed Doubles, Bronze
PARC Overall Results
Men's Open Singles
1st – Conrrado Moscoso (BOL)
2nd – Carlos Keller Vargas (BOL)
3rd – Jake Bredenbeck (USA)
3rd – Diego Garcia (ARG)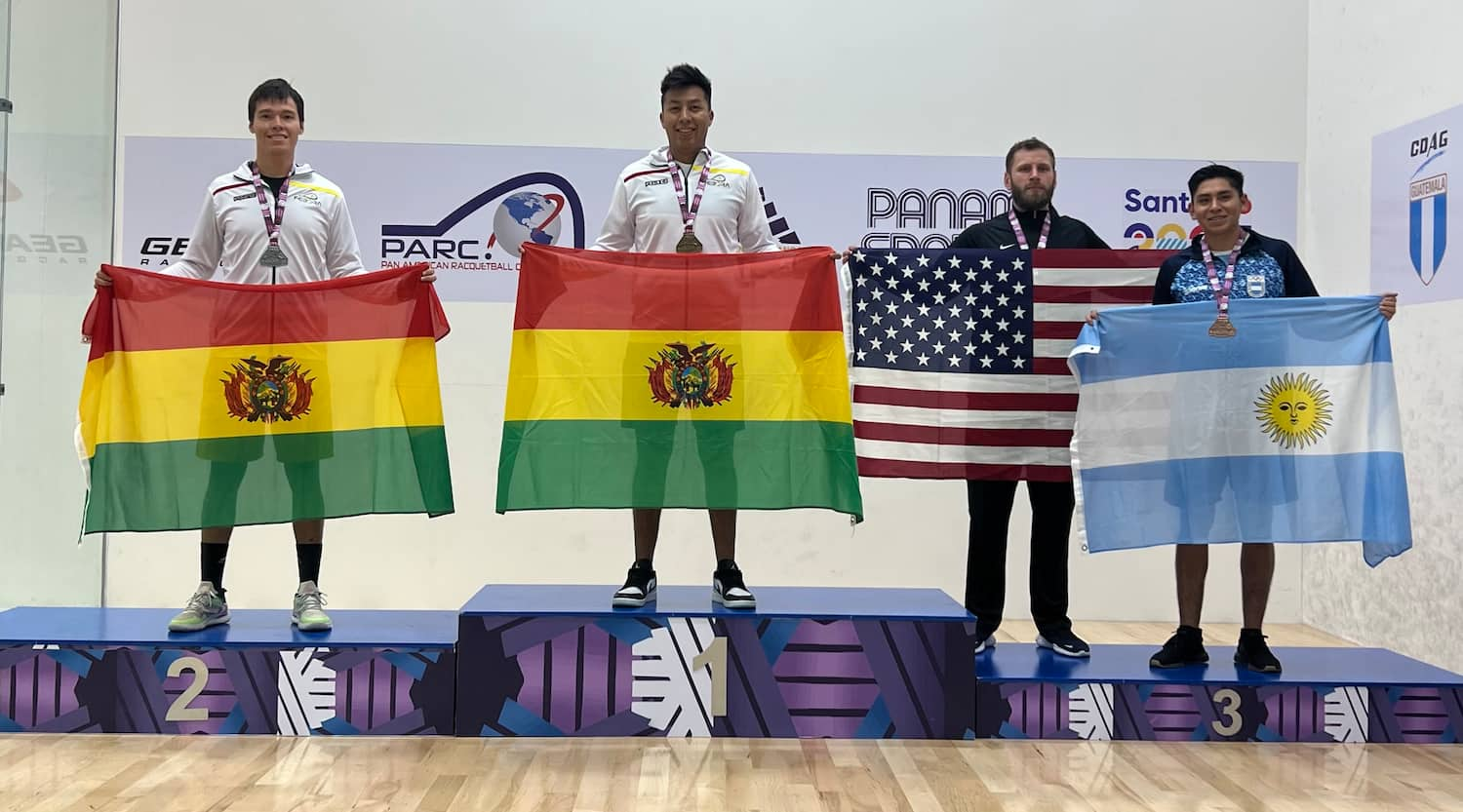 Men's Open Doubles
1st – Rodrigo Montoya/Eduardo Portillo (MEX)
2nd – Kadim Carrasco/Conrrado Moscoso (BOL)
3rd – Sam Bredenbeck/Jake Bredenbeck (USA)
3rd – Gabriel Garcia/Andres Acuña (CRC)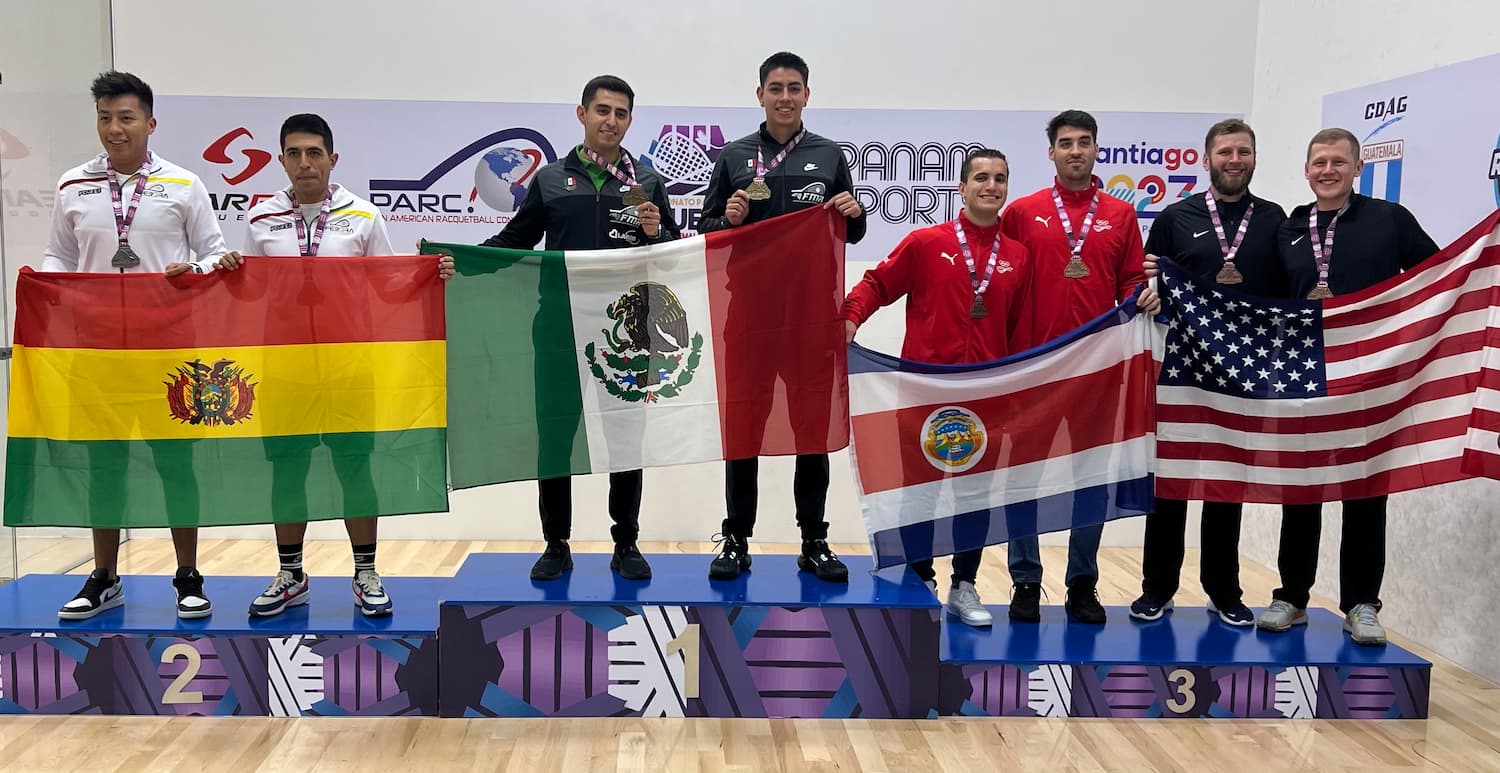 Women's Open Doubles
1st – Alexandra Herrera/Montserrat Mejia (MEX)
2nd – Gabriela Martinez/Maria Renee Rodriguez (GUA)
3rd – Jenny Daza/Angelica Barrios (BOL)
3rd – Valeria Centellas/Natalia Mendez (ARG)

Mixed Open Doubles
1st – Angelica Barrios/Conrrado Moscoso (BOL)
2nd – Paola Longoria/Rodrigo Montoya (MEX)
3rd – Michelle Key/Sam Bredenbeck (USA)
3rd – Maria Jose Vargas/Diego Garcia (ARG)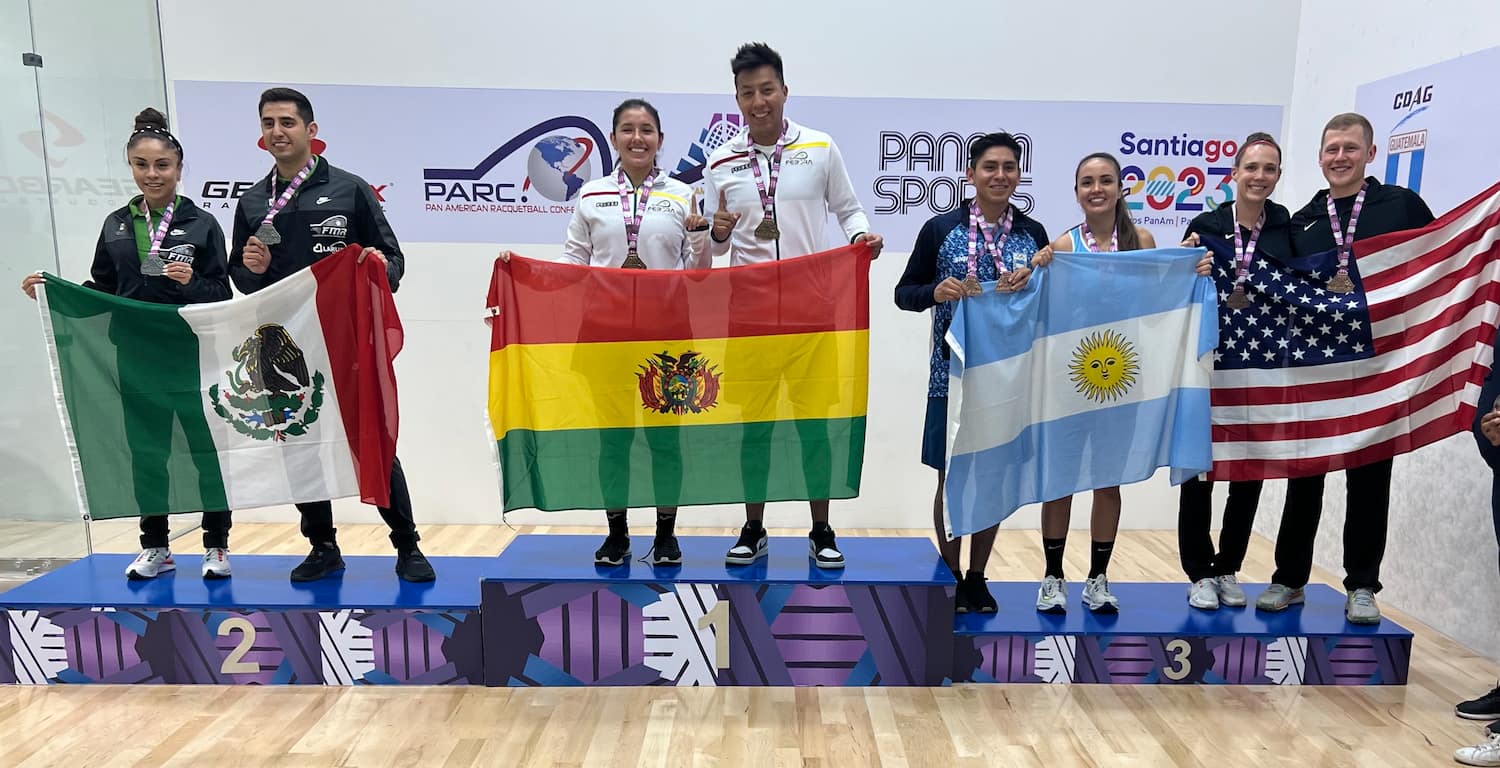 PARC Team Competition
Congratulations to all of the countries for their efforts and results at the Pan American Racquetball
Championships! Team USA was third in Men's Team and fourth in Overall Combined Team.
Women's Team
1st – Mexico
2nd – Argentina
3rd – Bolivia
4th – Guatemala

Men's Team
1st – Bolivia
2nd – Mexico
3rd – USA
4th – Argentina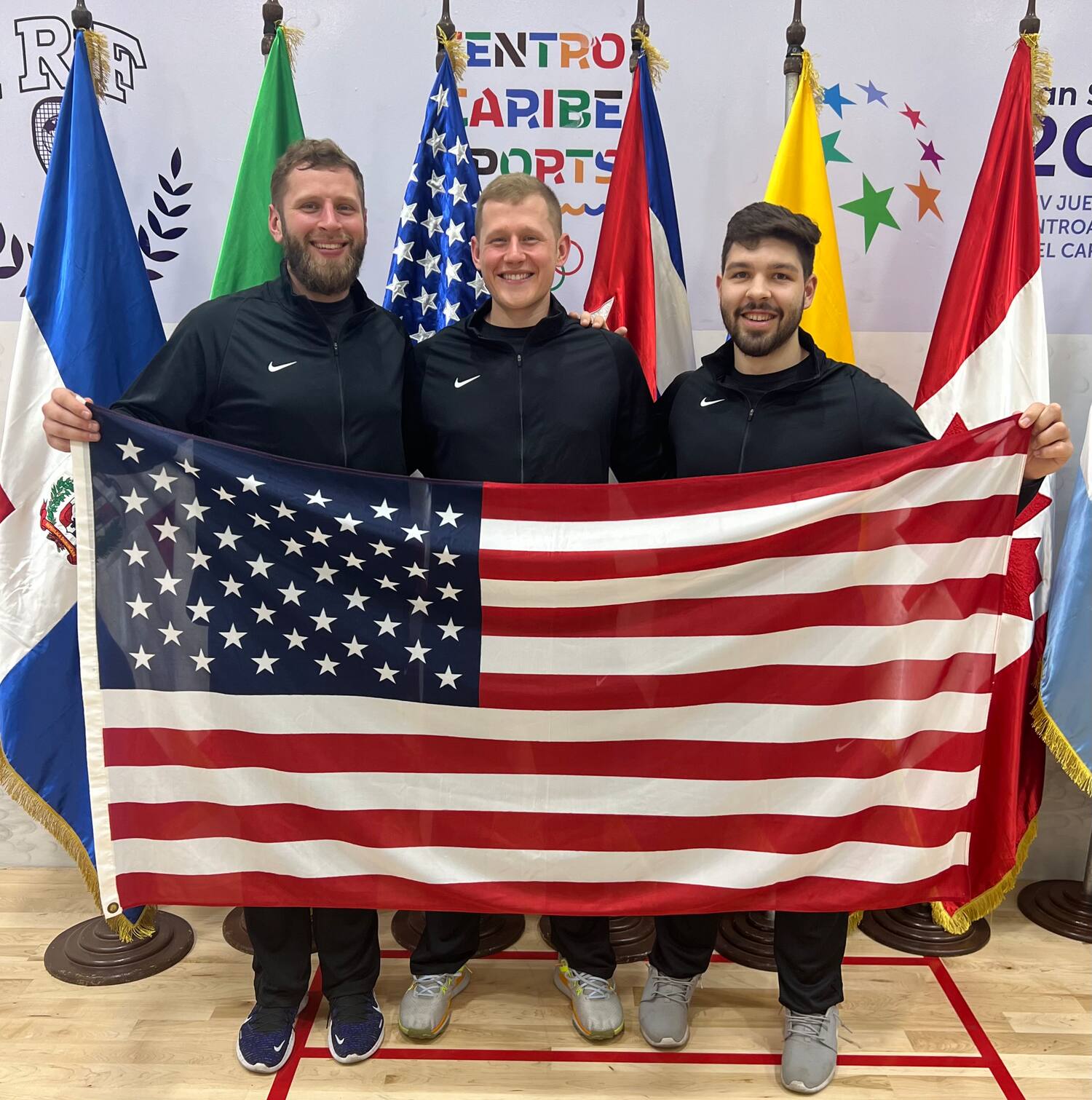 Combined Team (Overall)
1st – Mexico
2nd – Bolivia
3rd – Argentina
4th – USA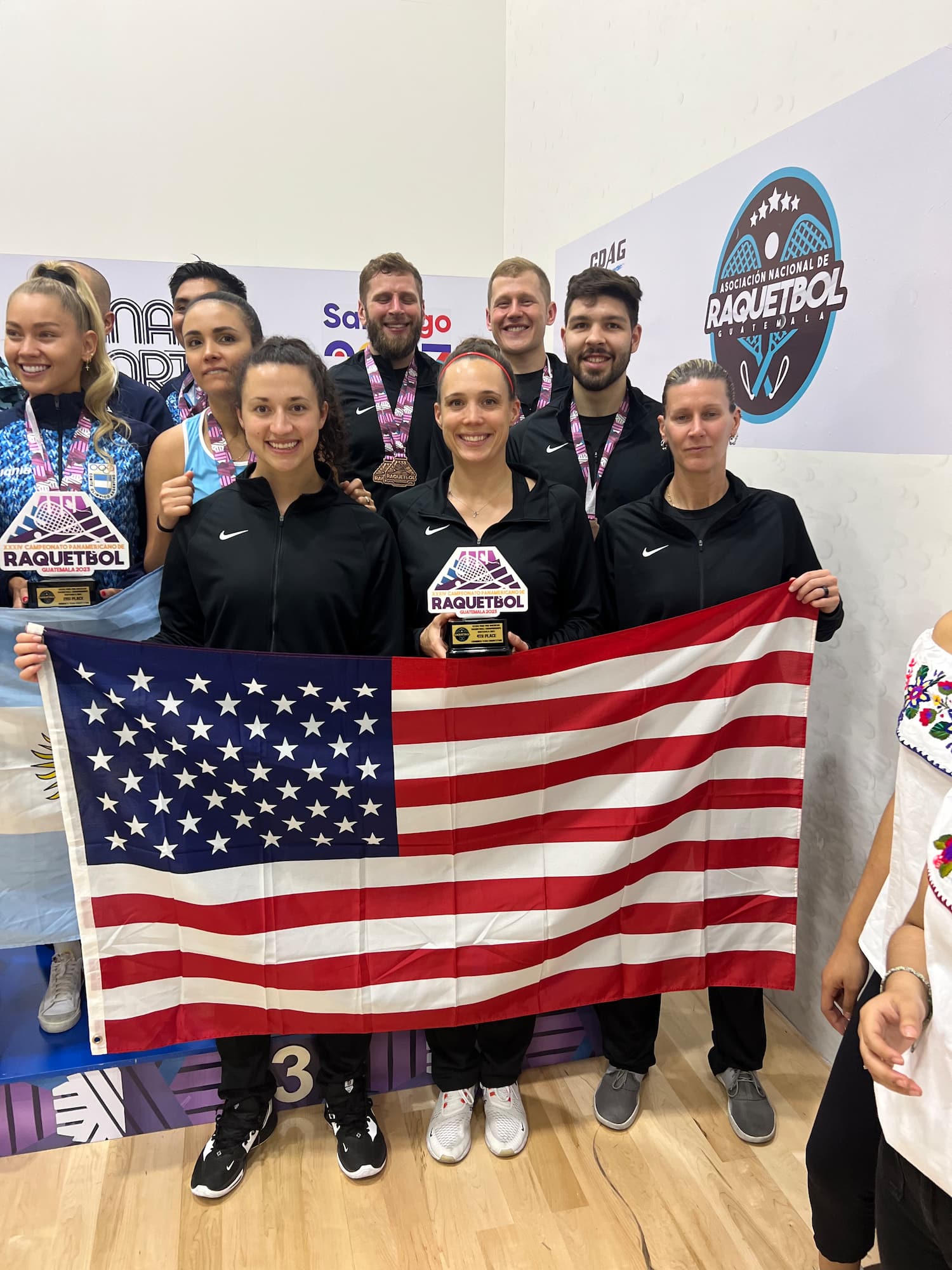 Pan American Games Qualifier Standings
Ten countries will be invited to the Pan American Games, 24 men and 24 women. With men's and women's divisions determined separately, the first four countries earned the maximum three positions; the next six countries earned two positions. (Note: The host country, Chile, automatically receives #1 position, regardless of performance results.)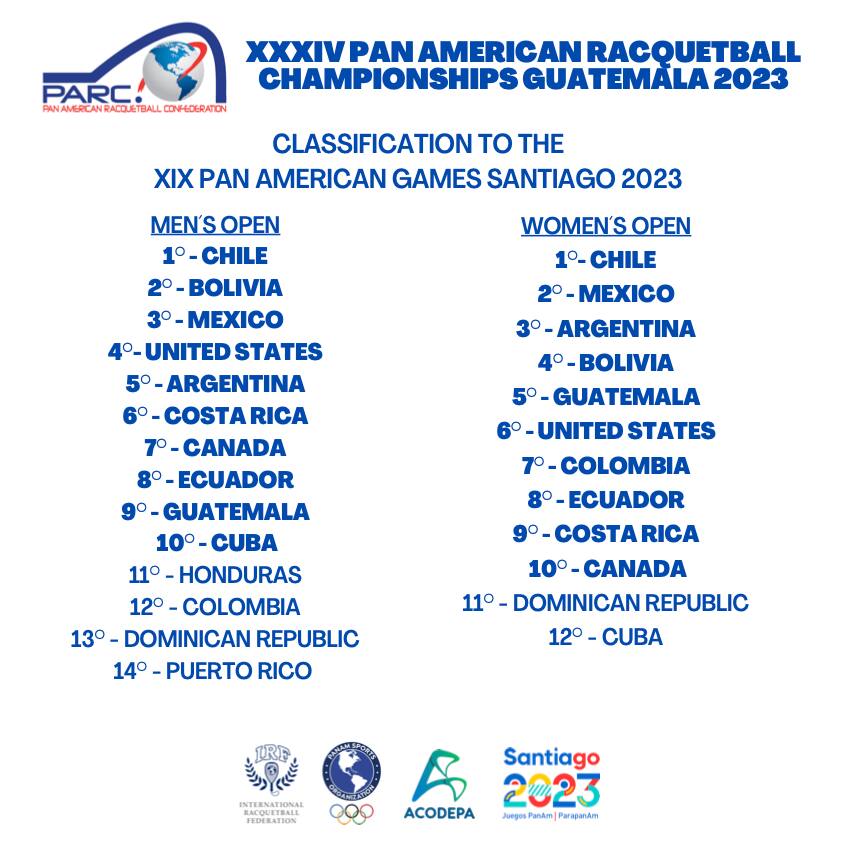 Calculated on places earned, USA men placed 4th and USA women placed 6th. This means that the USA men have earned three positions in the PAG and the USA women have earned two positions.
Thank You's
The U.S. Team Delegation wishes to deliver its gratitude to those who made this event so truly memorable:
The Local Organizing Committee, headed by Dr. Estuardo Wer, for hosting this very successful event. The work behind the scenes to host a tournament of this magnitude was extensive. Congratulations on a job very well done! From the hotel to the transportation, the awards, the coordination, this experience was smooth and enjoyable.
Javier Gomez and Marta Garcia of Las Americas Exclusive Service for their friendly and reliable ground transportation from airport/hotel/airport.
The staff of the Clarion Suites Hotel for their welcoming hospitality.
Erny Escobar, the club staff members, the many volunteers at the club, and the shuttle drivers who provided excellent service and hospitality. You did your country proud!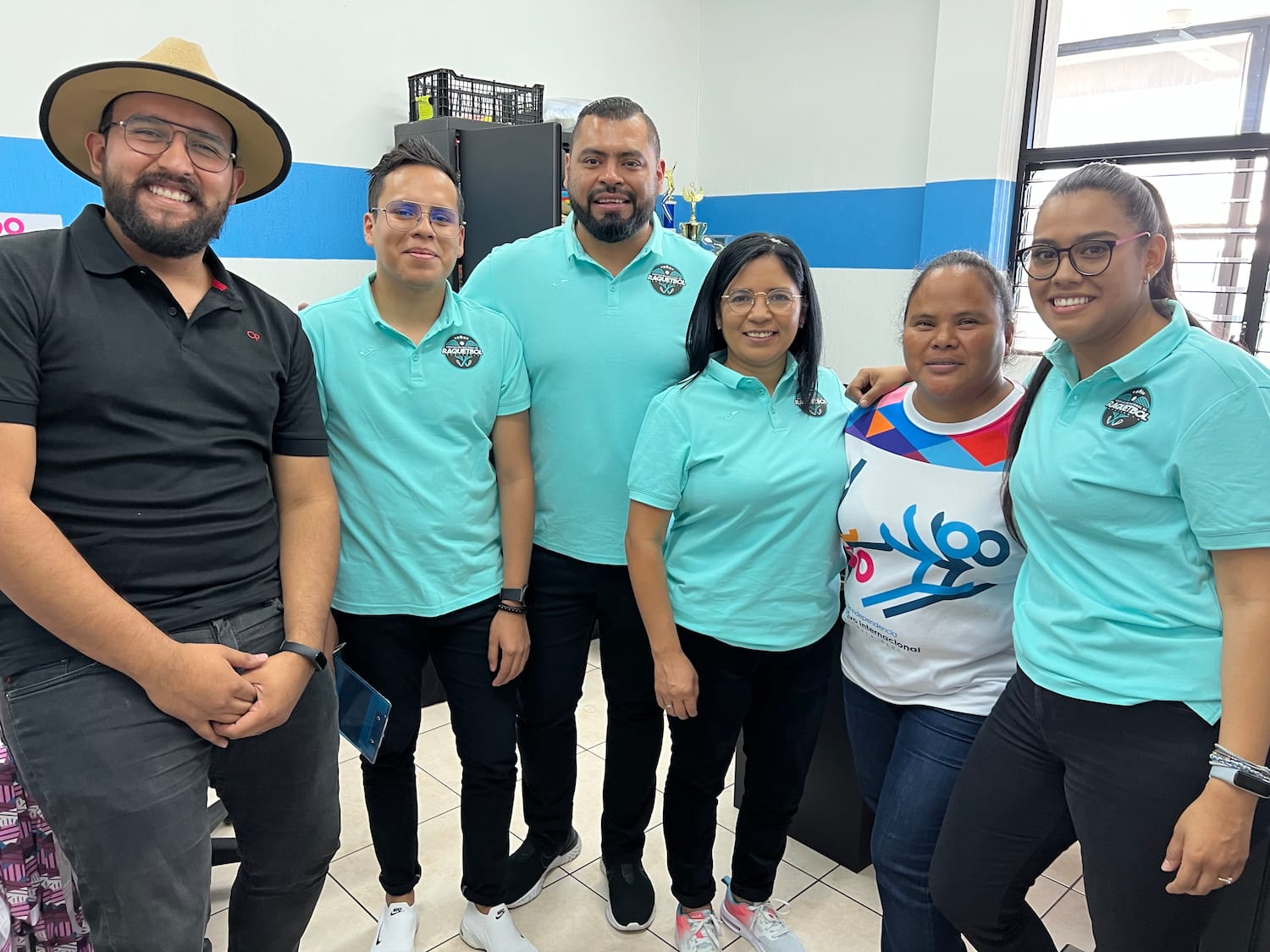 Marie Gomar deserves a very special thank you for the many, many things she did for Team USA (and everyone else!) and for the multitudes of questions she answered immediately upon receiving them. What a blessing to have such a wonderful friend to help us navigate logistics and details on this 10-day trip!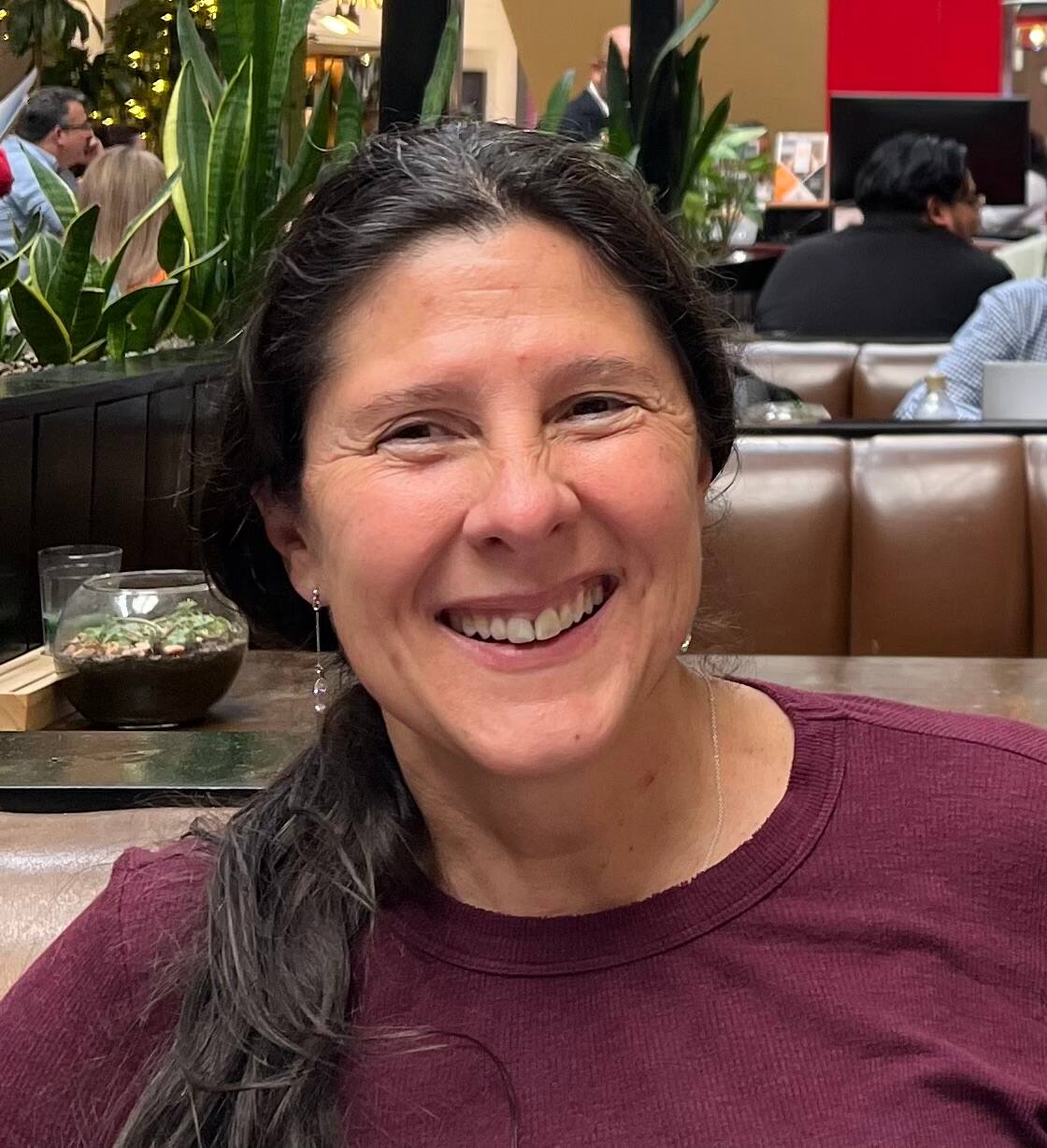 The desk staff and referees from eight countries who were on hand to provide a quality experience for the players:
=> Operations/Leadership: Osvaldo Maggi (Argentina), Mauro Grandio Buzeleh (Argentina), Dean Schear (USA), Gustavo Farell (USA/Uruguay)
=> Broadcast/Streaming/Social Media: Pablo Fajre (Chile), Gary Mazaroff (USA), Adrian Macrino (Argentina), Alexis Iwaasa (Canada)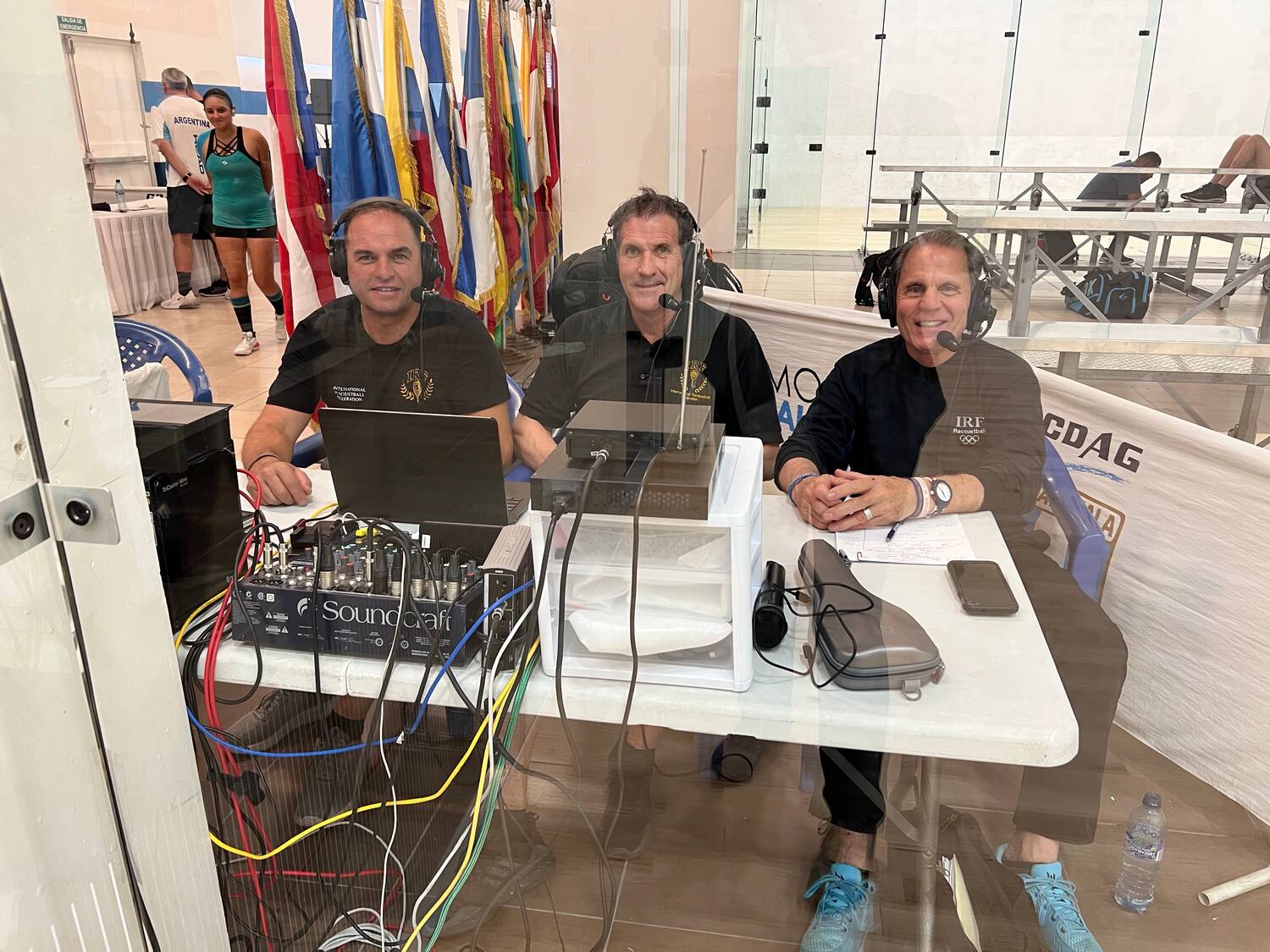 => Desk Staff and Referees: Alberto Sánchez (Venezuela), Sebastián Digón (Argentina); Ivan Valdéz, Diana Aguilar, Ricardo Gonzalez (Mexico); Fabián Torres, Francisco Gómez (Colombia); Alvaro Yáñez (Chile), Roland Keller, Daniel Villaroel (Bolivia); John Halko (Canada); Jehyson Franco, Luis Perez, Javier Martinez (Guatemala)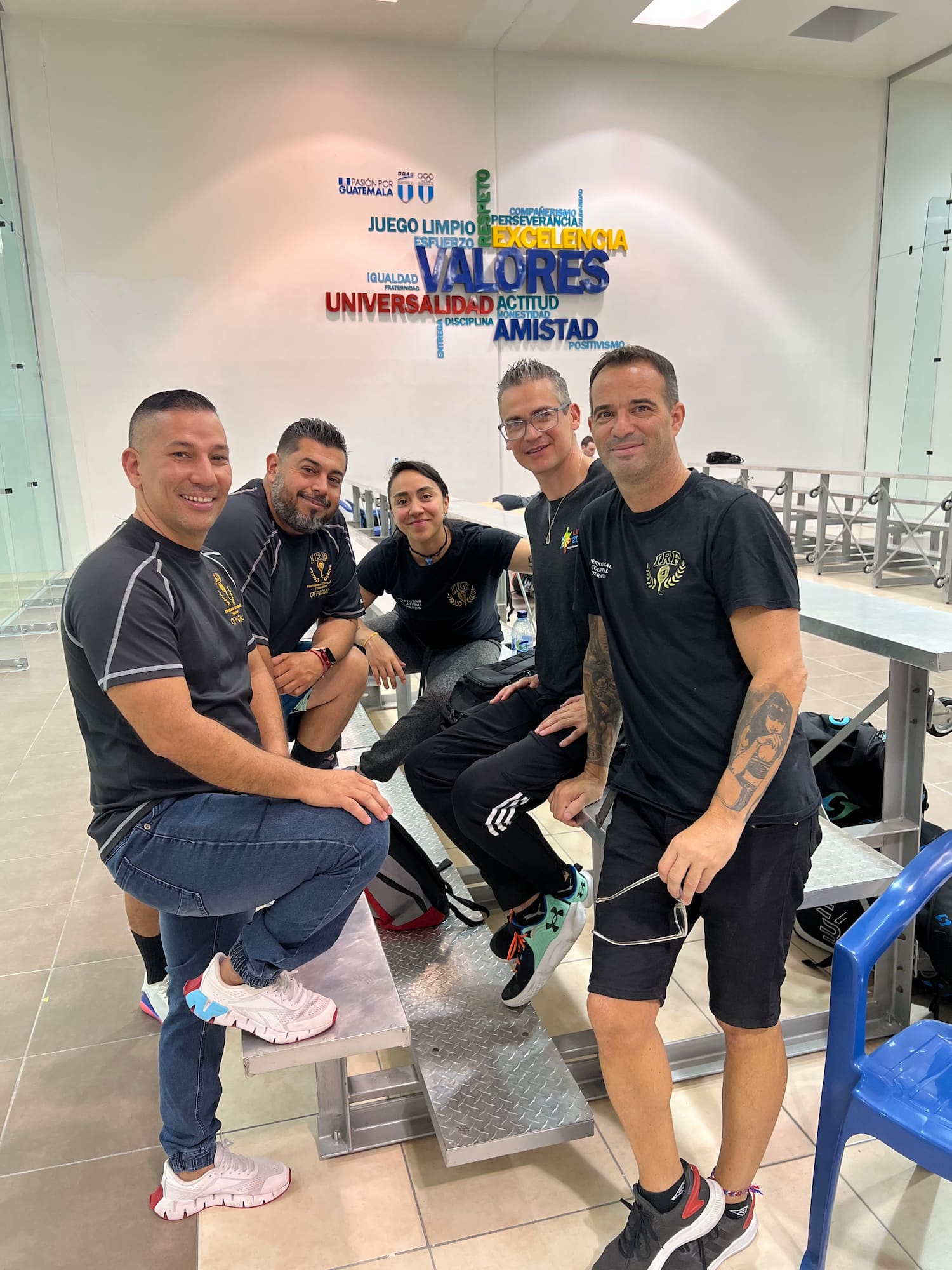 IRF sponsor Gearbox who contributes significantly to these international events.
Uniform sponsor Nike APS and Kevin Cowley – thanks for the outstanding assistance! Thanks also to Lynn Yeazell and her colleague Kris at Response Graphics & Embroidery in Plainfield, Illinois, for some last-minute uniform adjustments.
Jen Meyer and Victor Manilla for coming to hang with Team USA at PARC. Your uplifting presence made a big difference to all of us!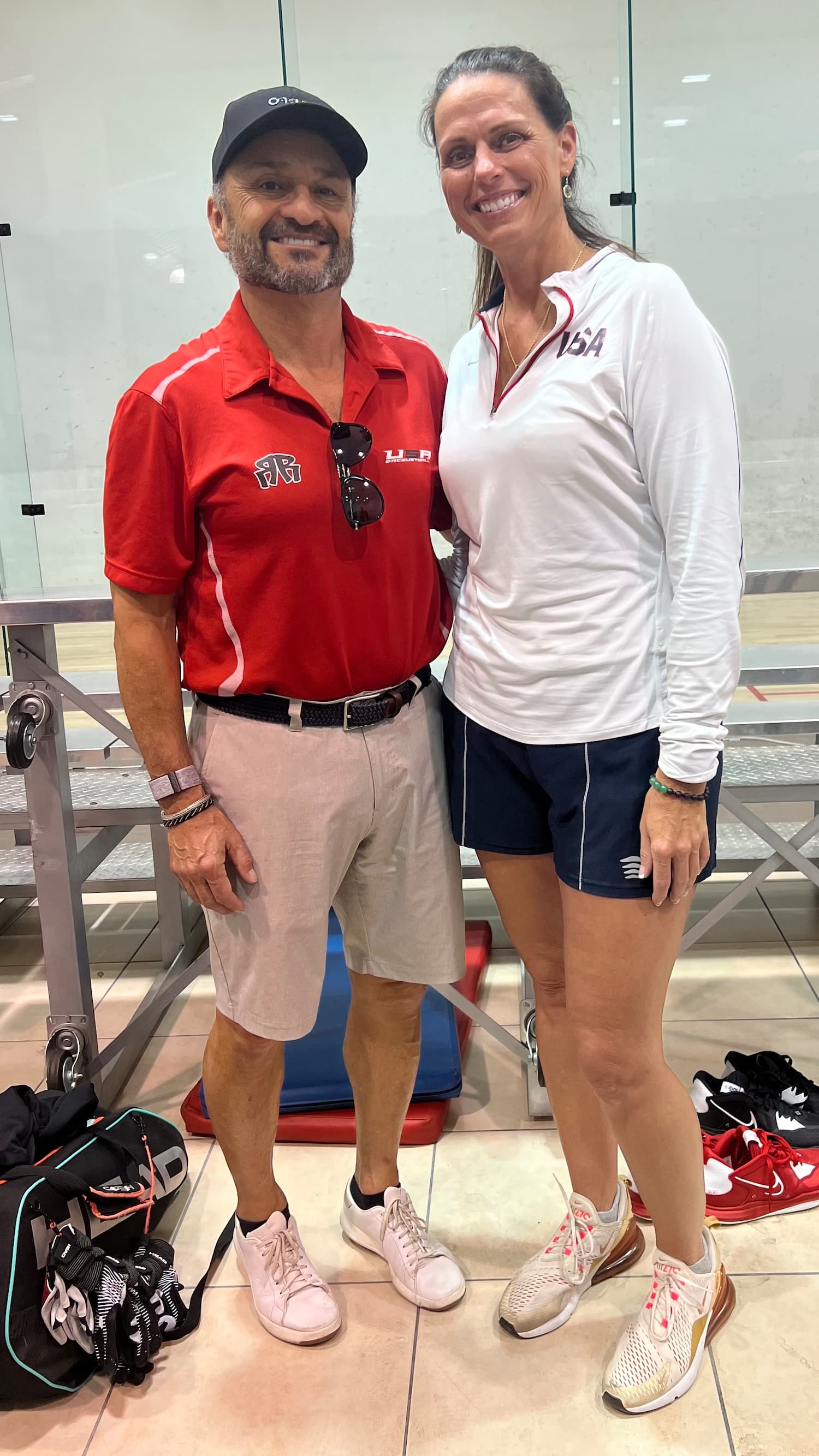 Tom Travers for the donated use of two massage tables so that Rodger could properly treat our athletes.
Antonio Olivieri, USOPC Director of Security Operations, for his unwavering support of Team USA, not only during this event but over many years. We know you have our back!
IRF President Osvaldo Maggi and IRF Vice President Marcelo Gomez Pacheco for their leadership and dedication to Racquetball and its development around the world. Also to Luke St. Onge and Keith Calkins whose earlier work set a solid foundation for the future.
Aimee Roehler who posted the blogs and photos on USA Racquetball Facebook and the website.
Last but not least, to all the readers of this blog, some reaching out with comments, who helped Team USA feel the love from back home!
THANKS FROM TEAM USA!!
________________________________________
PARC DAILY BLOG ATHLETE COMMENTS
April 2nd – Team Co-Captain Jake Bredenbeck:
"These first days in Guatemala have been great! The first two days of competition have gone very well for Team USA. We have won every match so far, but tomorrow will be the most difficult day of pool play for all of us. Nothing we can't handle. Not having a head coach here has been interesting but in a good way! Everyone on the team is supporting each other really well by being at matches when they can (have to take care of our bodies and our own needs to be prepared first of all), taking care of needs for others, etc. We have a good dynamic with other players coaching and helping in any way possible. Everything is running smoothly so far on that front. All of the players are dialing it in and turning it up, which is great to see knowing that each day is one step closer to our goal. I fully believe and know that this team can take home the overall title, as well as the men's and women's titles.
"I am very thankful and happy to be here playing for Team USA. There is nothing I love more in racquetball than representing my country while playing the sport I love. To be able to have my brother here and to be playing doubles with him means even more and is something I will cherish forever. This team has been awesome to be a part of, and I know they all want to win just as badly as I do. Time to get some rest and take another step towards the gold tomorrow.
"Thank you to everyone who is back home supporting us. Thank you to my parents for always supporting me.Thanks to my brother for being in my corner in singles and going to battle with me in doubles. Lastly, thanks to the team for putting in the effort and work needed accomplish our goals individually, as well as a team. Time to go to work."
April 3rd -- Team Co-Captain Michelle Key
"I've never been prouder to represent Team USA alongside these incredible athletes. Our team dynamic is incredible. We are so supportive of each other and always there for one another. I love this team and I'm so thankful for each unique aspect each and every one of my teammates bring to the table. I don't think I will ever be able to capture in words how much playing with you means to me.
"We have been overwhelmed with support from back home, and it's exciting to see people have something to unite them. I'm truly honored to be able to represent our country and play my heart out for all of you.
"This event has been awesome so far. The people are all very nice and the amount of work everyone puts in is outstanding. Thank you to everyone who made this event possible, we really appreciate it.
"To my fellow teammates. I'm so incredibly proud of you. You guys make me want to be better. You provide extra drive and motivation when I need it. You guys are all there for one another and it gives us something really special. I'm ready to battle it out with you guys and give it my all. Love you! Let's go, Team USA!
"To my family and friends...you know who you are. Thank you for moving mountains to get me here. I miss you like crazy, and I wouldn't be here without your help. Thank you for supporting me and my dreams. I carry you with me in my heart until I'm back home with you again... hopefully with some new "necklaces" 🥇🥰 See you soon!"
April 4th -- Thomas Carter
"After the completion of the pool play stage yesterday, today marked the start of the main draw. Team USA only had two matches this morning, so this set us up for a relatively light day. Erika and Rhonda both came away with good wins in their respective matches versus Canada. After they finished up, we all headed back to the hotel to relax and recharge. While I don't think anyone did anything incredibly noteworthy on our free afternoon and evening, I do believe the day was well spent recovering and getting focused on doing our job tomorrow. It will be a big day for us with two men's singles matches in the morning and two women's singles matches in the afternoon.
"I personally am very excited to watch everyone on the team compete in the upcoming days. We all have the same goal, and everyone's passion for achieving it is undeniable. I know for a fact that all of us are very grateful for the opportunity to play on this stage and that each of us will leave it all on the court.
"I want to thank everyone back home who is following along and supporting Team USA. It means a ton to all of us, and we are very appreciative. Representing Team USA is a very special honor that we do not take lightly. I also want to thank my teammates for their dedication to our goal. We have a great team dynamic, and I truly believe this puts us in the best possible position to succeed."
April 5th – Rhonda Rajsich
"What a week it has been so far! This may be one of the smaller delegations that I have been a part of, but it is definitely one of the strongest and most talented, incredibly unified in purpose and support. Especially since most of us play our respective pro tours mostly in solitude, it is tremendous to have the support of such a well-seasoned group of champions in this lineup.
"While each of us has run into an undesired outcome in at least one of our matches, we remain focused and determined to continue play hard and leave it all on the court. We want to achieve the best results for the USA for the Pan Am Games in October. The heart in this Team is stronger than I have the words to describe. I am incredibly proud to battle alongside each and every one of them, and will do so anytime, anywhere. Jake, Sam, Thomas, Erika, Michelle, just say when.
"That certainly includes our fearless and meticulous Team Leader, Cheryl, for putting in countless hours of preparation and diligence to ensure that the only thing we need to do when we get here is just play. She takes on so much to make sure that we don't have to. Since I have been on the U.S. Team "a few" times, I can tell you it is drastically different as an athlete when there are events where we are absent of her thoughtfulness and attention to detail. Thank you, Chief!
"I know I can speak for us all when I say that Rodger is absolutely our secret weapon. He provides what we wish we had at every event we play throughout the season. From patching up wounds to taping ankles, pre- and post-match stretching, and multiple disciplines of therapies and treatments, Rodger makes sure that we can physically be at our best, even when that means early mornings and late nights for him to get each of us taken care of. We couldn't play this hard for this long without his extensive experience and modalities to keep us ready and healthy. Thank you, Rodger!
"The support for this Team from our loved ones at home is deeply appreciated. The words of encouragement, the comments on the live feeds, the phone calls and voicemails that we get from YOU go a long way in knowing that there is a nation behind us, supporting us and cheering for us. I would personally like to thank my closest for their dedication to tuning in when we play, and sending me into every match with love and inspiration: my partner Lea and our puppy, Lezbo, my mother Deneen and her husband, Randy, Ms. Jacque, Sara & Fiona, Coach Jim Winterton and from another plane, my father, Dennis. Also, shoutouts to Kit Lawson, Frank Taddonio, Nick Materese, Joanne Pomodoro, and Laura (from across the street).
April 6th – Sam Bredenbeck
"Thursday was a busy one. We started the day off with an unfortunate USA vs. USA match-up between Rhonda and Erika. We always hope for that to happen in the finals but sometimes it doesn't work out that way. They both played hard and represented well. The team looked on as we prepared for the next few matches. Thomas took on Argentina, making sure to get in and out in three straight games. Jake came away with a great four-game win against Mexico's Andree Parilla to move on to the semifinals. Next, Erika and Michelle had a tough match against Bolivia, which did not go the way we had hoped. Next time 💪🏼. Next, Jake and I played Ecuador, winning in three straight games. Finally, Michelle and I finished off the day with a tough four-game win against Chile. Friday is another big day for everyone as we continue to play out all positions. We are excited and ready to get to work all day tomorrow. Let's keep it rolling!
"On a different note, this team has been phenomenal to be a part of. It is the ultimate privilege and honor to compete for the United States and to do it alongside these individuals makes it that much more special. There is nothing taken for granted by this group. We show up prepared, we support one another, we push each other to perform, and we walk away stronger each day. Thank you, guys, for being an awesome team to be a part of.
"Finally, like everyone else has stated, we are extremely appreciative of the endless support that we have received while being here. We are proud to represent you, each other, and our country. Thank you!"
April 7th -- Erika Manilla
What a trip. As you have seen in the results, today was a tough day for Team USA. Win or lose, the mental and physical difficulty of this tournament is something I have never experienced before, and I applaud and admire all of my teammates for leaving it all out on the court. The new environment, humidity, last-minute changes of schedules, rules differences, adjusting to new foods, representing your country…it adds up!! We had a job to get done this week and although we fell short, there is no other shirt that I would have rather worn with pride than the three letters that mean the world to each and every one of the athletes and representatives here.
What makes this IRF event so different from not only a regular LPRT/IRT event but even a different IRF event is the significance of our performance. It is about bringing our best, day in and day out, for 8 days (repeat and emphasis on 8 days) to allow USA to have the best possible representation at the Pan American Games, the highest we go as a sport in the Olympic movement. This past week no one has even been alone, and we have continued to lean on one another and bring each other up as Team USA. Every athlete not only repped our letters with Pride but was there for one another. You need something, your teammate has you. You feel like you can't get that last point, your team is there to give you the confidence that you can. Need a hug…well Jake has us all covered on that one! ha-ha
Shoutout to everyone who has been watching from home. The support is noticed, and we are grateful for it. I am blessed to be here, blessed to compete, blessed to be an American. Thank you all, we are still not done, for our match results tomorrow will continue to determine rankings for the Pan American Games as well as overall points. Forever and always bleed the Red, White, and Blue, and Go Team USA!