Intercollegiates – OSU and BYU Capture Top Honors!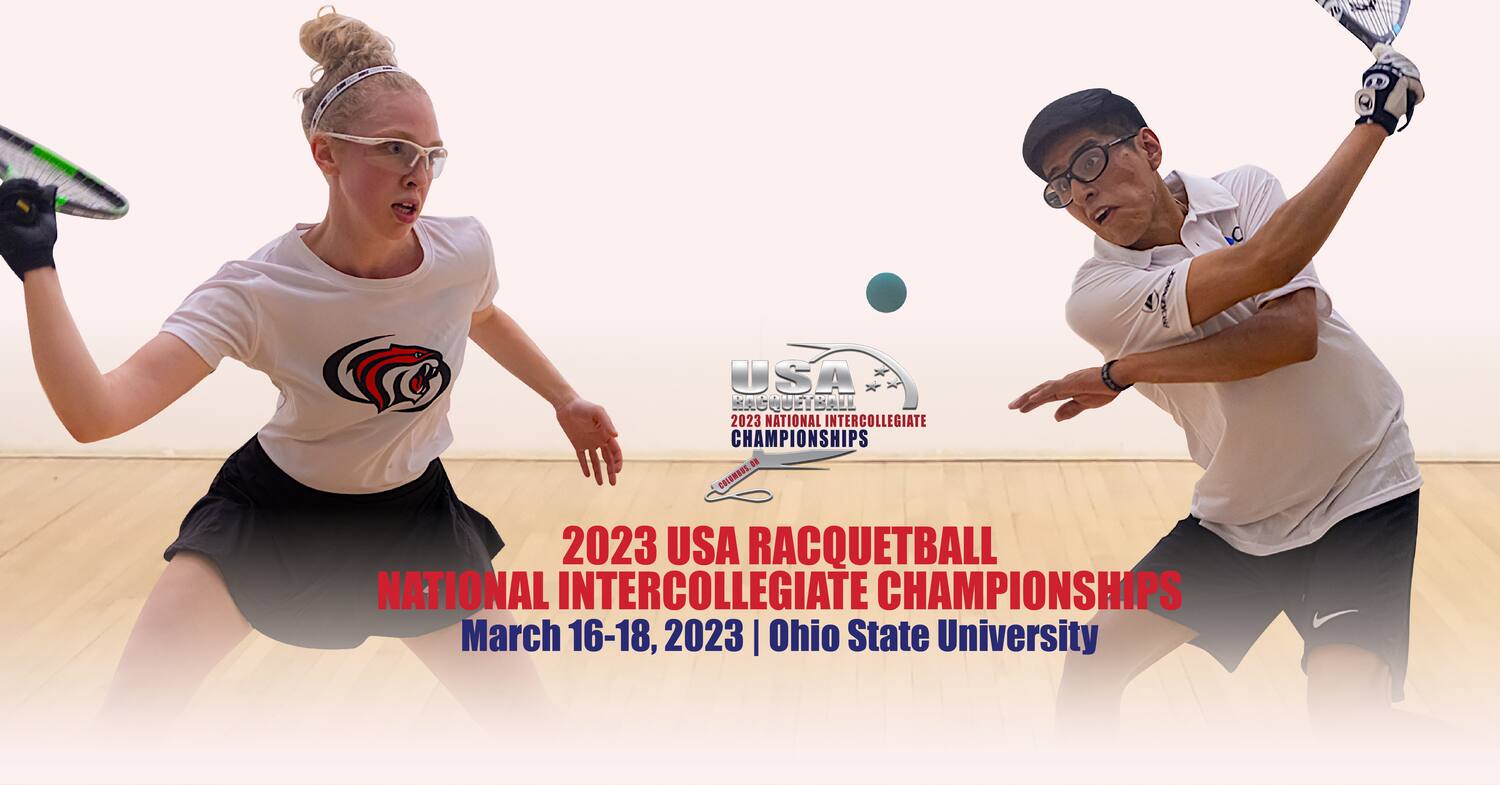 This year USA Racquetball took the intercollegiate Championships to Columbus, Ohio, March 15-18. First off, a big shout-out goes to The Ohio State University Rec Center, Shea Ryan, and all of The Ohio State Rec staff who helped us run a successful event!
It was an intense week of competition as 109 athletes from 15 schools across the country competed for top Intercollegiate honors. In summary:
Stats
12 states

15 schools

109 athletes (69 men/40 women)

45 divisions
Results
Congrats to Oregon State University for bringing home the Overall Team Title. Second place was earned by Brigham Young University, followed by the University of Missouri.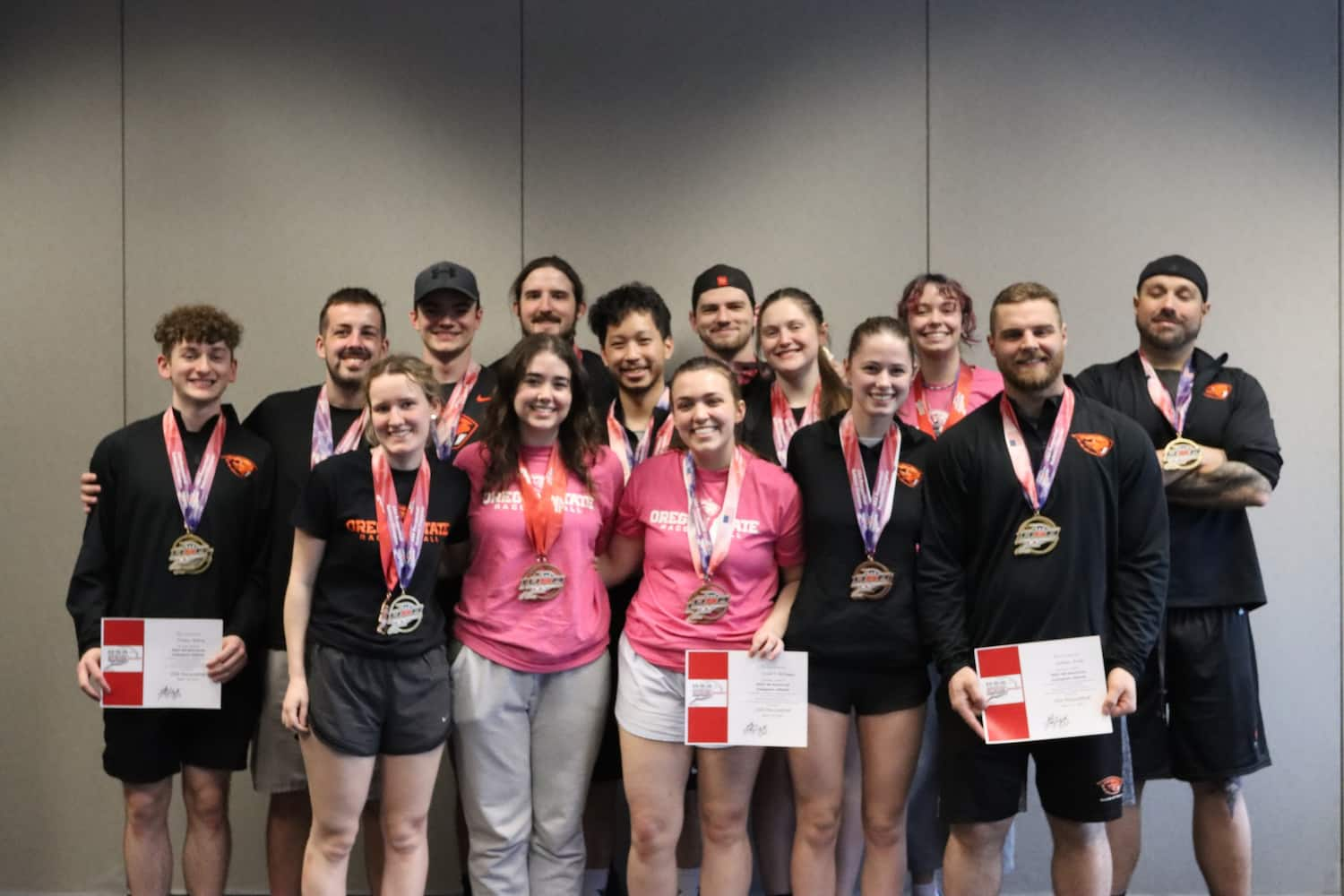 Overall Champions Oregon State University
The Men's Title was also captured by Oregon State University, with BYU in second and the University of Missouri in third.
The Women's Title was only separated by 25 points with Brigham Young University edging out the University of Missouri, followed by Oregon State.
The Finals
In the Women's #1 final, it was Annie Roberts (University of the Pacific) vs. Andrea Ibarra (University of New Mexico). Consistency paid off for Roberts as she won in two straight games, 15-7, 15-7. This is Roberts' 2nd straight Intercollegiate title.
In the Men's # 1 final, we saw John Dowell (University of Missouri) vs. Nathan Buring (Oregon State), and this was the match of the tournament -- a back-and-forth tiebreaker! Dowell fell behind in the breaker but he fought until the end and won 11-9 to take home his first-ever National Championship.
The Men's Doubles final pitted Cody Boucher/ Nathan Buring (Oregon State University) against Arthur Schmeiser / Patrick Biegun (Northern Arizona University). The Oregon State team took control of this match and didn't let go, winning 15-8. 15-0.
The Women's Doubles Final featured Angie Case / Julia Stein (Baldwin Wallace University) vs. Kate Zawalski / Abby Lachance (University of Missouri). It started out hot and heavy with Stein taking control of the match and not letting go! Mizzou had trouble with Stein's shot-making ability and power, which lead to Baldwin Wallace claiming the title 15-7, 15-8.
All-Americans
The semi-finalists (4) finishers in each of the men's and women's gold singles divisions #1 - #6 and finalists of gold doubles divisions #1 - #3 attained designation as 2023 Intercollegiate Racquetball All-Americans.
Natalie Andrus
Alexa Awerkamp
Rebekah Barney
Ashlyn Bell
Bella Bertarelli
Patrick Biegun
Cody Boucher
Alex Brieglub
Alex Bugnacki
Nathan Buring
Angie Case
Stephanie Cook
Caleb Cooper
Megan Curran
Marina Davis
Vincent Deutschmann
John Dowell
Tucker Elkins
Nathan Ellmo
Maddie Fichter
Robert Griffin
Luke Hagberg
Andrea Ibarra
Timothy Jack
Bryce Johnson
Foster Kirsch
Abby Lachance
Katt MacGregor
Molly McClanahan
Paul Morris
Will Neunreiter
Matthew Nielson
Bryce Palmer
Sam Perkins
David Prexta
Annie Roberts
Ryan Sanner
Arthur Schmeiser
Noble Smith
Heidi Snyder
Julia Stein
Garrison Walker
Kate Zawalski
Shoutouts
Very special thanks goes to Mike Kinkin, the Presenting Sponsor of the 2023 Intercollegiate Championships. Thank you, Mike, for your generous support of USAR National Championships – High Schools, Intercollegiates, and Juniors.
To the coaches who spent many long hours at the club supporting your players, you helped make this event a success!
For division and match results, visit https://www.r2sports.com/tourney/viewResults.asp?TID=40455