WOR Update August 2022
by Todd Boss, with contributions from Joey Logan, Cyrus Chinoy, Mike Coulter, Mary Jane Caltagirone, Keith Minor, Ron LaPlante, Pablo Andres Alvarado
3WallBall Coming Up!
The big story in our sport this month is, of course, the upcoming US OPEN in Minneapolis.

However, looking ahead, now is the time to make your logistical plans for 3Wall Ball at the end of October in Las Vegas. Gas prices are coming down, and so are flight prices, so act now and secure your flights. Furthermore, the block of rooms set aside for event players at The STRAT hotel is dwindling day by day; as of this writing in early September, fewer than 40 rooms remain available. It is best to book now, because you never know when a last-minute event will be announced in the city that sucks up all the open hotel rooms.

Last year the Hotel sold out of its 3WB block by Labor Day. Book now!
Stay at The STRAT hotel directly across Las Vegas Boulevard from the courts with discounted rates of only Sunday-Thursday $29, Fri $85, Sat $95. Discounted resort fee of $29.99.

Codes Group: World 3WallBall Championships 2022 and/or Code C-3BW22 (this is not a typo; this is the code the hotel assigned).

The STRAT hotel: Phone # 1-800 998 6937 7AM -10 PM PST
--
The big news out of 3WB is the recent announcement that long-time IRT #1 Kane Waselenchuk will be in attendance and will be partnering up in Men's Pro Doubles with none other than Rocky Carson.

The two players will form an amazing duo, each arguably the best-ever in their discipline of the sport on the Men's side. Kane has 14 IRT Pro Singles titles, while Rocky has 12 Outdoor Nationals Singles titles. Both are excellent and dominant doubles players, and together they should be seeded in the Top 4 in Vegas. In fact, they'll likely be the #3 seed, the highest possible seed behind the two defending finalists from last year (2021 champions Daniel De La Rosa/Alvaro Beltran and 2021 finalists Jason Geis/Micah Rich). The weekend matches of this event should be fantastic.
Kane made his heralded outdoor debut at 3WB in 2020 where he and partner Ben Croft made a run to the Pro Doubles final before losing to the two-time defending champions DLR/Alvaro. Kane's presence is super exciting, just as it was when he first played in Vegas in Oct 2020. If you're not already coming, maybe a ticket to see Kane is what you need.
--
The other big news is the prize purse announcement: this tournament now has more than $44K in prize money being offered for the various pro divisions! And that's outside of all the prize money available to the winners of the two Outdoor Cup series that are finishing up in Vegas! Players, get in on this prize pool!
Updates on the Outdoor Majors
Here's the latest news from the three Outdoor Major tournaments (see the Upcoming Events section for exact dates and locations).
3WallBall 2022
Event Dates: 10/26-30/22
R2sports site: https://www.r2sports.com/portfolio/r2-event.asp?TID=38844
Thanks to Keith Minor and his firm KWM Gutterman for the title sponsorship and your continued support of the sport. Keith is an excellent indoor and outdoor player, competes at all the majors, and will be in Vegas himself.
Site: The STRAT hotel, Las Vegas. GET YOUR HOTELS EARLY, last year a last-minute EDM concert sucked up all the available hotels and some people got gouged for rates.
3WB Hotel code: C-3BW22. This gets you the discounted rates at the hotel!
New for 2022: Squash57, with $2k of prize money!
Social activities planned for this year: Ladies Night Thursday, Ice Cream Social Friday night, Costume Party Saturday night.
Remember, this is the big finish for the 2022 Outdoor Cup Series.
The 2023 event is in limbo; play this event while it's guaranteed to be held!
Beach Bash 2023
March 8-12, 2023: Save the Date announced! Mark your calendars, the 2023 Beach Bash will be back!
Outdoor Nationals 2023
Mid July 2023 is the tentative date for next year's Outdoor Nationals.
August 2022 WOR/Outdoor Tournament Result Recaps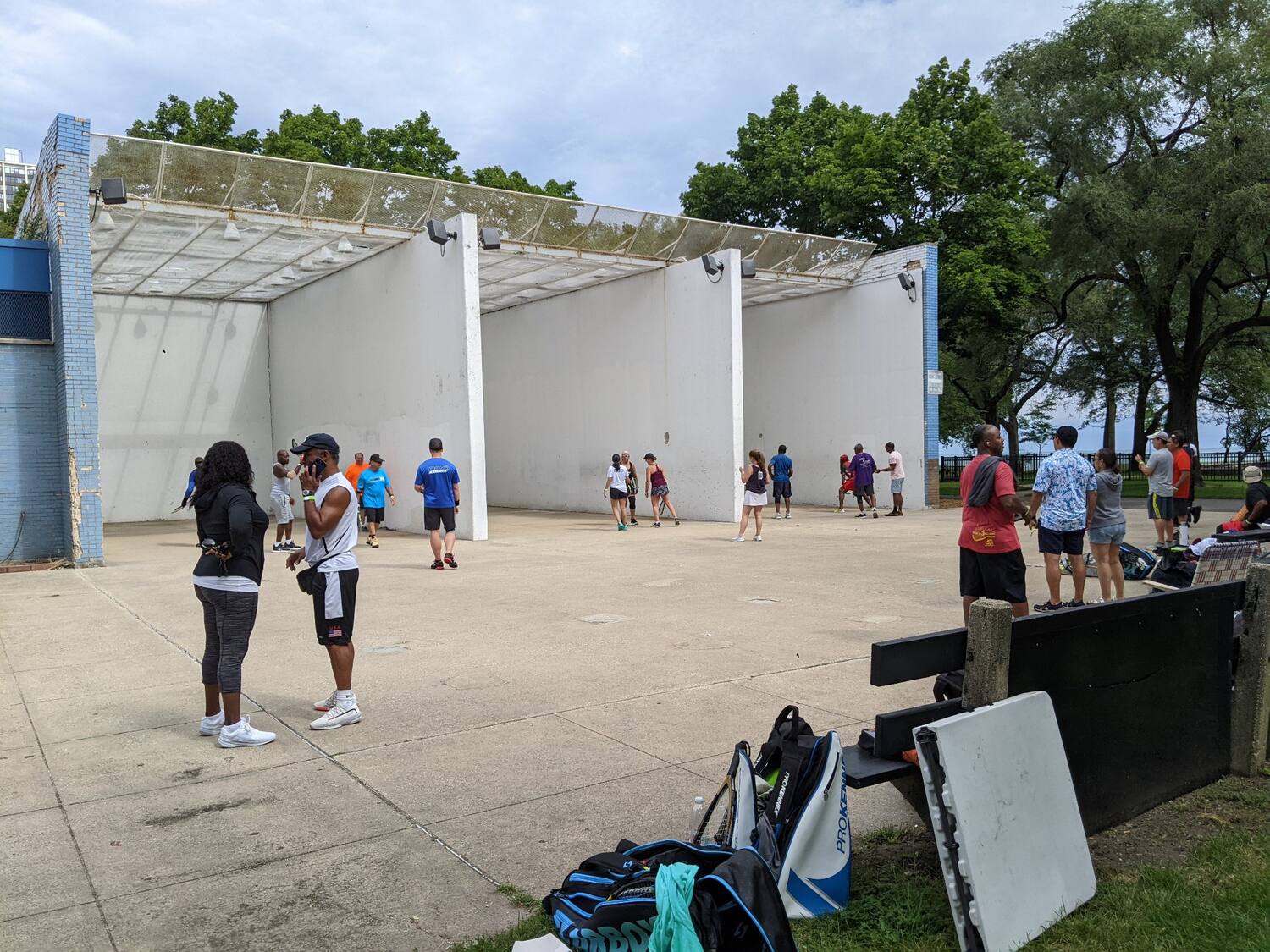 Rainbow Beach courts in mid-tournament action. Photo courtesy of Cyrus Chinoy
August 12-14, 2022: 7th Annual Windy City 3Wall Brawl Championships, Chicago
The Annual Windy City 3-wall tournament, hosted by Illinois State WOR Director Joey Logan, was held in mid-August at Rainbow Beach in downtown Chicago. Participants (53) from eight states entered to play in doubles action on the long walls of the famed Rainbow Beach, soon to be part of a multimillion-dollar renovation thanks to the hard work of Carolyn Vazquez.
R2 Sports home page: https://www.r2sports.com/portfolio/r2-event.asp?TID=39676
Congrats to the winners:
Men's Pro:

Fernando Javier Rivera / Thomas Carte

r
Men's Elite:

James Camasto / Carlos Ibarra

Men's A/B

:

Theophilius Richardson / Howell Johnson

Men's 75+:

Rodrigo Rodriguez / Suresh Vemulapalli

Men's 100+:

Alcides Gutierrez / James Camasto

Men's 120+:

Gregory Lewerenz / Alfonso Pugh

Mixed Open:

Kim Reimschisel / Frank Lopez

Women's Open/Elite:

Tahpenes Johnson / Latanya Jones
The following recap is excerpted from participant Cyrus Chinoy, who wrote a fantastic recap on Facebook after the event, from which this is drawn.
First off, a big shout out and a huge THANK YOU to our gracious host and hard-working tournament director Mr. Joey Logan. Joey always takes his time throughout the year to market and talk about this tournament and tries to get past players to return as well as recruit new players to attend this awesome event. Joey does a wonderful job in communicating to everyone in advance about the tournament and is always very warm in welcoming everyone to Chicago and providing great hospitality.
In typical Joey hospitality style, he started off the weekend on a Friday night with the players meet and greet party at Fatpour Tap Works. Here players could reunite with players they haven't seen for a while as well as meet up with new players in a chill and relaxed setting with good food, drinks, and fun before the competition started on Saturday.
Tourney play began early on a beautiful, 75-degree Saturday morning with light shimmering across the water on nearby Lake Michigan. Players were eager to get on the courts and showcase their talents and skills on the 3 longwall courts with a ceiling. This doubles-only tournament was played in a pool play format, one game only, which allowed for many players to play multiple games and matches. Points came at a premium as shortened games called for on-the-fly strategies to win as many games and points as possible and get to the Finals. There was great play all around by everyone in all the divisions.
Joey also arranged for the players to have a special treat for lunch: a food truck called "Joey's Red Hots" who provided us with hot dogs, hamburgers, cheeseburgers, Italian beef sandwiches, etc. Thanks, Joey, for thinking "outta the box" for a great lunch.
I encourage players who haven't played in this tournament to try something different and put this on your calendar for next year. You will have a great time with great people, delicious food, and a stunning view of Lake Michigan.
August 13, 2022: One-Day Outdoor Shootout, Memorial Park, Colorado Springs, Colorado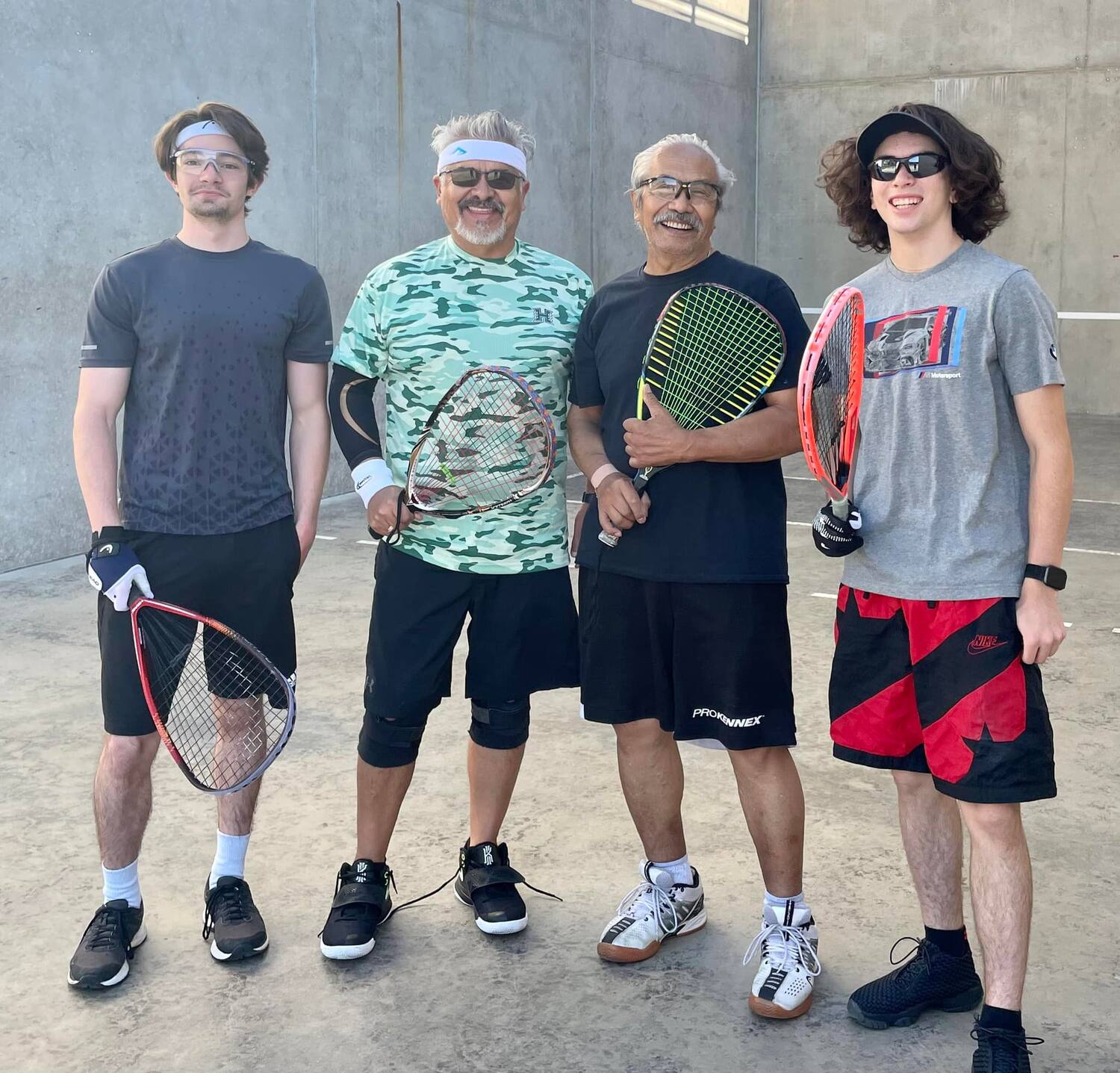 The B/C singles round robin group before they got down to business. Photo courtesy of Mary Jane Caltagirone
The latest in a series of Colorado outdoor shootouts hosted by Mary Jane Caltagirone was held on August 13th at Memorial Park in Colorado Springs.
Congrats to the divisional winners:
Pro/Open Singles: 1st - Nick Riffel, 2nd - CJ Sanders

Elite/A Singles: 1st - Sherwyn Phillip, 2nd - Ed Peterson

B/C Singles: 1st – Ramiro, 2nd - Zach Rodgers

Pro/Open Doubles: 1st - Jake Kingsford/Brady Yelverton, 2nd - Samuel/Ariel

Elite/A Doubles: 1st -Sherwyn/Jae, 2nd - Gabe/Ramiro

Junior/Senior: 1st - Adam/Clayton, 2nd - Lexi/Mark Sikorski
Thanks to all the participants, and thanks to Mary Jane for doing a ton of legwork to organize these monthly shootouts.
August 13, 2022: One-Day Saco Shootout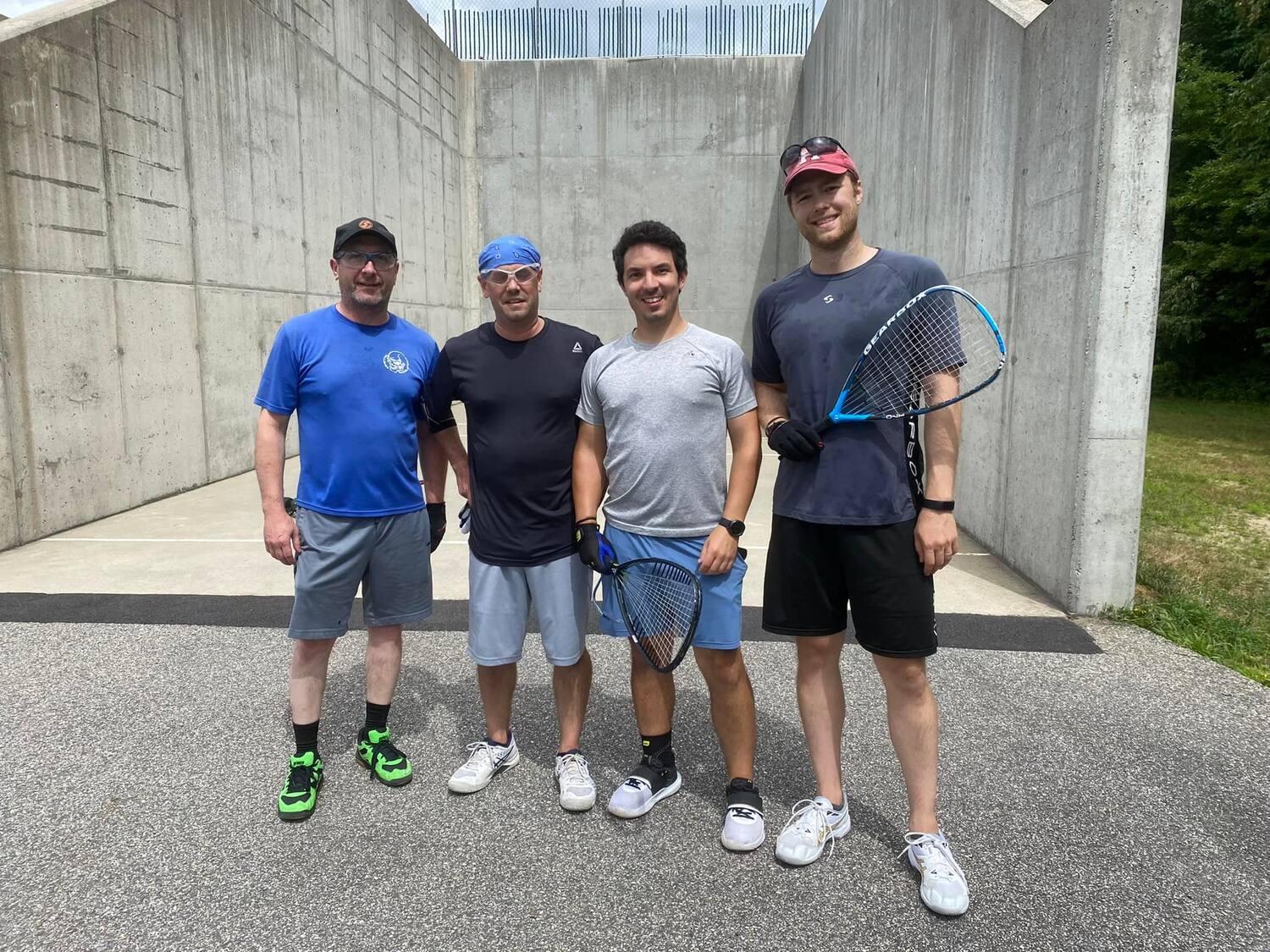 They play outdoor all the way up in Maine, too! Photo via Ron LaPlante
The following is adapted from Tournament Director Ron LaPlante's summary of the event.
It was a great day at this 3-wall doubles tourney held at Saco Middle School in Saco, Maine. The pair of 3-wall, long wall courts accommodated 8 teams of outdoor players who played round robin and knockout to determine the champion on the day. These courts are the northern-most known outdoor courts on the East coast.
There were 8 teams competing in the open draw with regulars and newcomers as well. There was plenty of pool play with the top 4 advancing to the playoffs.
In the final, Mike Spugnardi and Keegan Smith faced off against John Behm and Marco Fontana with Mike and Keegan pulling out the victory in a hard-fought battle.
Thanks to the Saco House of Pizza for a great lunch, and we look forward to seeing people at the next event in East Boston in September.
August 20, 2022: 2022 Connecticut Open One-Wall Tournament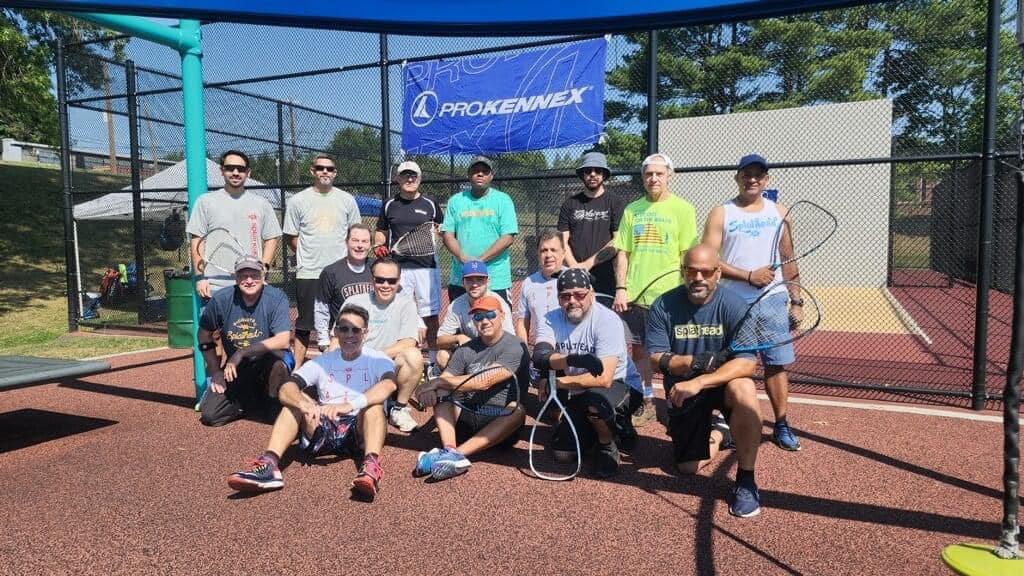 Group shot of the Connecticut Open participants. Photo courtesy of Pablo Andres Alvarado
A group of one-wall specialists from Connecticut got together on this particular Saturday for a one-wall doubles shootout, organized by Pablo Andres Alvarado.
WOR Upcoming Outdoor Racquetball Tournaments and Events

Here's a quick guide to upcoming WOR/Outdoor racquetball events.
September 24, 2022: Fallen Comrades 4, St. Claire Shores Outdoor Courts, St. Claire Shores, Michigan.
Tournament Director: Tom Blakeslee
https://www.r2sports.com/portfolio/r2-event.asp?TID=37864
September 24, 2022: One Day Outdoor Shootout, Memorial Park, Colorado Springs, Colorado.
Contact Mary Jane RN (Mary Jane Caltagirone) on Facebook via the Colorado Outdoor Racquetball FB group to sign up.
September 24, 2022: 2022 Greentree Festival Kirkwood Rball Fun-Raiser Outdoor Event, Kirkwood Park, Kirkwood, Missouri.
Tournament Director: Dan Whitley
https://www.r2sports.com/portfolio/r2-event.asp?TID=39919
October 7-8, 2022: Vegas Warmup Tourney, Stratton Woods Park, Herndon, Virginia.
Tournament Director: Maddie Melendez. Site/details tbd.
October 26, 2022: Team De La Rosa Outdoor Clinic, Las Vegas, Nevada. Daniel, Michelle, and a mystery guest will conduct an outdoor clinic.
https://www.facebook.com/ProkennexNorthAmerica/posts/pfbid02bAgmZ9YjekUfzfX4CzatCmEQMxZNuTDuHp57woWvxoUaGeSvzhUFehMWPCTZmKnJl

October 26, 2022: Manilla Athletics Outdoor Clinic, Las Vegas, Nevada. Adam, Erika, and Bobby to conduct a 6-8 pm clinic on the 3WB courts.

October 26-30, 2022: 13th Annual 3WallBall Outdoor Championships, Las Vegas, Nevada.
Tournament Director: Mike Coulter & Peggine Tellez.

November 12-13, 2022: WOR Florida State Championships, Waterford Park, Davie, Florida.
Tournament Director: Rob Mijares.
https://www.r2sports.com/portfolio/r2-event.asp?TID=39056
Was mid-May, rescheduled to mid-November.

December 16-18, 2022: 2nd Annual Hollywood Beach Battle, Hollywood, Florida.
Tournament Director: Maddie Melendez.
https://www.r2sports.com/website/event-website.asp?TID=39809

March 8-12, 2023: 2023 Beach Bash. Save the date announced.
Dane Elkins Update
The most recent possible sighting (as of mid-to-late August) comes from Hayfork, California. Hayfork is a small town to the west of Redding, and Redding is another in a series of inland towns along the I-5 and/or US Route 99, heading south-to-north from the spot in Los Angeles where Dane abandoned his car and disappeared back in December of 2020.

Dane is hitchhiking his way north, attempting to get to Oregon. He's maintained his vegan diet, has maintained his appearance (i.e., he looks like a traveler, not a vagrant), and has managed to keep himself from being photographed despite multiple verified sightings since late 2020.

The Elkins family hopes that anyone with family or friends in this area reaches out and asks to be on the lookout for Dane.
Stay in Touch with WOR on Facebook
The absolute best way to stay abreast of Outdoor events is to follow WOR – Outdoor Racquetball on Facebook. We post updates for upcoming events as soon as they're available!

https://www.facebook.com/WorldOutdoorRacquetball/

Plus, there's a slew of geographic-specific groups that talk about play all over the country. Wherever you live, there's likely to be a group that coordinates play in your area. Reach out to WOR to find a Facebook group or a state director to help you out.
Contact WOR
If you have any questions, please email WOR@usaracquetball.com. We'll get back to you ASAP.