WOR Update October 2022
by Todd Boss, with contributions from Mike Coulter and Peggine Tellez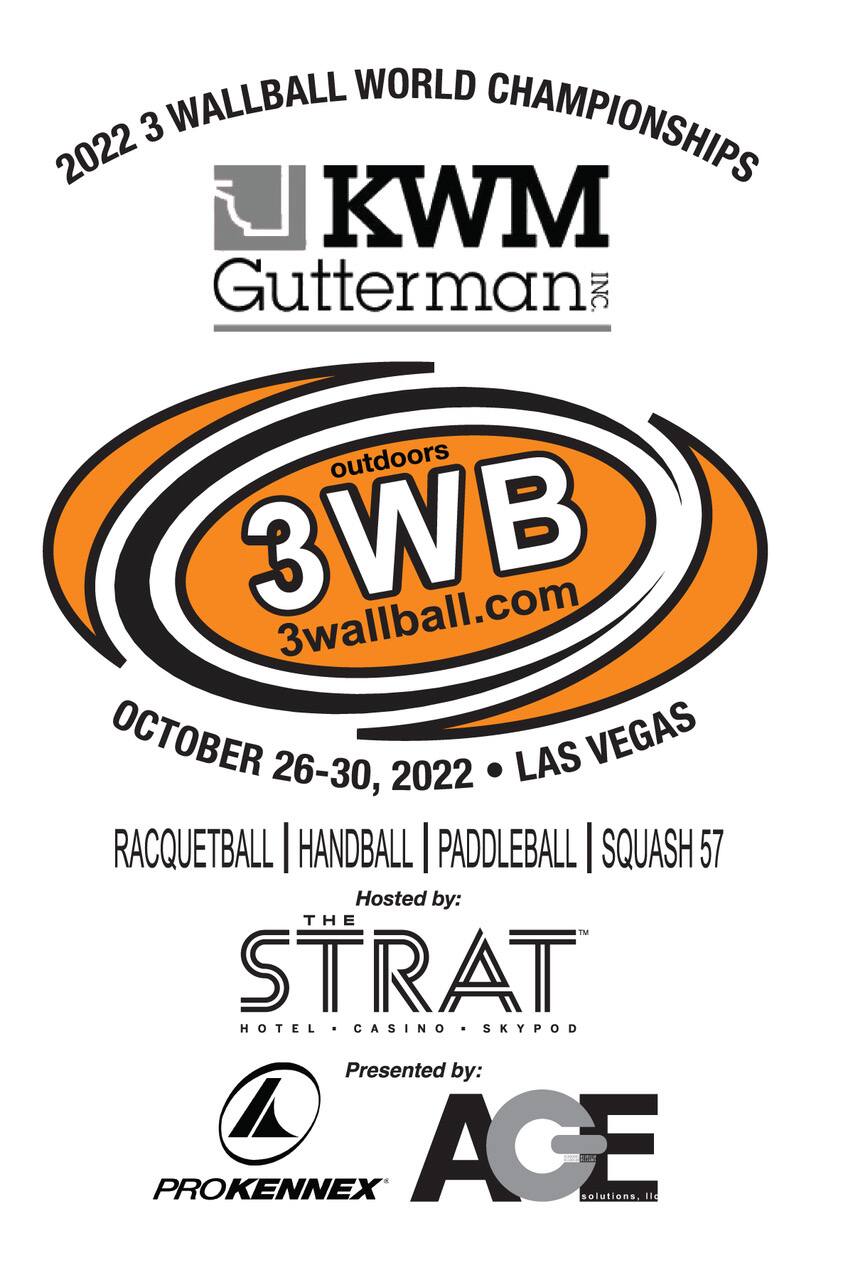 It's Vegas time!
The final Outdoor "Major" of the year is upon us, and the 13th Annual 3WallBall event looks to be amazing! There are a ton of social activities planned, the Halloween Party will be super fun, and the host hotel will be great as always.
Let's preview the Pro draws, which will have a huge part in determining the year-end Outdoor Cup series winners.
(Note: All previews were done in early October and participants/partners are subject to change.)
Men's 3-Wall Pro Doubles
The Men's Pro draw is filled with top outdoor specialists, and the early rounds will be a neutral's paradise to watch as top players from around the country descend into Vegas for this event. The 2021 champions (and now five-time defending champions) Daniel De La Rosa and Alvaro Beltran will be the #1 seeds, fresh off a US OPEN Pro Doubles championship. They'll be challenged by their frequent finals rivals Jason Geis and Micah Rich who have now vanquished DLR/Beltran in the Outdoor Nationals final two years running. For the betting crowd, this is your likely final if seeds hold, a rematch of last year's Vegas final. Rumors abound about Beltran's possible retirement from the sport. Could this be his swan song in Vegas? He'd certainly like to go out on top.
Dozens of other top players will be there as well, and the Pro draw will include multiple past Outdoor major champions. The draw was robbed when Kane Waselenchuk went down with a severe ankle injury in an IRT Pro Stop in mid-September; he was set to play with the legendary Rocky Carson. As of this writing, Waselenchuk is still technically entered but recently had surgery to repair the damage and seems unlikely to appear in Las Vegas. Look for Carson to pick up another partner (perhaps his long-time pro partner Jesus Ustarroz). Hall of Famer Robert Sostre is also seeking a partner for the pro draw and will make a team that will challenge for the title. Look for all-Florida teams Joe Young and Marcos Gravier to make some noise. Beach Bash winners Javier Mar and Mario Mercado will be a formidable team to watch out for. Former Outdoor Nationals champ Brandon Davis and big hitter Alejandro Barcelo will prove to be a tough out as well. Lastly, Beach Bash finalists Andres Acuña and Eduardo "Lalo" Portillo will look to rebound from their blow-out loss to the eventual champs in Huntington Beach.
Women's 3-Wall Pro Doubles
Michelle De La Rosa and Carla Muñoz together have dominated women's pro outdoor doubles for years; they've won the last four Outdoor Nationals and two of the last three 3WallBall titles together. But for Vegas in 2022, they've split up (at least on the 3-wall side). Michelle is playing with future WOR Hall of Famer Janel Tisinger-Ledkins in this event, while Muñoz has picked up Jessica Parrilla. Meanwhile, reigning USA National Doubles champs Kelani Lawrence and Hollie Scott will be there, looking to mix up the draw and take a pro outdoor title on top of their indoor title success (which included a LPRT Pro Doubles title in Virginia last month). US OPEN pro doubles champ Erika Manilla will team up with USAR Hall of Famer Aimee Roehler who has a huge advantage in outdoor by virtue of being a lefty. Who will come out on top?
Mixed 3-Wall Pro Doubles
To say that the De La Rosa husband-wife pair is dominant in Outdoor Mixed Doubles would be an understatement. They've won 7 of the last 8 Vegas 3-wall mixed pro titles (they lost in the final of the 2018 event) and they've won 5 of the last 6 Outdoor Nationals 3-wall mixed pro titles (Daniel missed the 2018 Huntington Beach tournament). So, they're the top favorites in Vegas, but there are some intriguing teams set to challenge them this year. All three semi-finalist teams from Outdoor Nationals are set to compete in this event, and the brother/sister team of Andree Parrilla and Jessica Parrilla in particular could be especially tough. The 2022 Huntington final was really close against Eduardo Portillo and Hollie Scott, two players whose outdoor accomplishments continue to rise event after event. Also look out for the intriguing team of Micah Rich and Kelani Lawrence, as well as Rick Koll and María Renée Rodriguez, whose doubles accomplishments in the sport speak for themselves.
Men's 3-Wall Pro Singles
Outdoor Nationals Singles champ Andres Acuña is here and is the favorite. He'll be challenged by fellow IRT touring pro Alan Natera, some enterprising outdoor specialists such as Yasmani Perez and Walter Ramos, and some primarily indoor players such as Derek Izzi and Doug Eagle. Eagle is a blast from the past. He was a US National Singles runner-up in 2000 but has almost no known pro or outdoor experience.
Women's 3-Wall Pro Singles
Outdoor Singles has been dominated lately by two players: Carla Muñoz and Hollie Scott. This year, Muñoz is here to defend her Vegas title, but she'll be challenged by Janel Tisinger-Ledkins, who owns no less than 12 outdoor major singles titles, six of them here in Vegas. Also thrown into the mix is the dangerous outdoor player, Jessica Parrilla. Look for a battle for the 2022 title here.
---
This year at 3WallBall, there's a ton more emphasis on One Wall competitions, so the One Wall Pro divisions are packed. Let's take a look at these competitions, which are an East Coast favorite (especially in New York and Florida) and feature a very unique style of play.
Men's 1-Wall Pro Doubles
The favorites have to be NYC-based Robert Sostre and William Rolon (known as "Ice Man" and "The Warrior" respectively), but they'll be challenged by Beach Bash finalists and top IRT pros Eduardo Portillo and Andres Acuña. And don't sleep on Ryan Lopez (2019 Beach Bash pro doubles champ), who's entered here with the powerful Floridian Joe Young. We'll have a shootout for this title.
Women's 1-Wall Pro Doubles
Beach Bash champions Katie Neils and Erika Manilla are entered and are the team to beat. However, they'll face a stiff challenge from several teams that don't always play one-wall doubles. Michelle De La Rosa is teaming with Carla Muñoz, her long-time 3-wall doubles partner. De La Rosa hasn't taken a one-wall doubles title since the 2015 Beach Bash, and Carla has never won a one-wall doubles title. And don't sleep on Aimee Roehler, who took the 2016 Beach Bash Pro Doubles title.
Mixed 1-Wall Pro Doubles
The one-wall Mixed pro doubles draw contains a who's who of One-Wall competition in this country. Eight of the ten entered players have outdoor major titles to their credit. Rick "Soda Man" Koll and Michelle De La Rosa are teamed up to defend their 2021 Vegas title and are the favorites. But some tough teams are lurking: Lalo and Hollie are in this draw, as are Lopez and Michbo, as are Sostre and Neils, as are Roehler and Pagan. It's anyone's ballgame this year.
Other Draws and Disciplines
Men's 3-Wall CPRT 40+ Doubles
This draw is so big that it counts towards the Outdoor Cup standings, and its semis and finals are generally on par with the Pro Doubles semis and finals. This year's draw is no different, featuring last year's champions Greg Solis and Robert Sostre (a rare all-HoF team) returning to defend their title. They'll be challenged by last year's losing finalists Patrick Allin and Thomas Gerhart, Beltran and Koll, former Outdoor National champions Carson and Ustarroz, top Florida teams like Gravier and Young, other top pros like Jason Geis, and even surprise Hall of Fame entrants like Craig "Clubber" Lane. Look for these matches all weekend on the show courts alongside the pro matches.
Men's 3-Wall Combined 75+ Doubles
One of the biggest non-pro events each year is the 75+ division, regularly drawing top pros and often featuring pro-level competition at its latter stages. This year's 75+ division features top pros such as Alvaro Beltran, top outdoor specialists such as Rob Mijares and Brian Pineda, and tough age-group players like Keith Minor. Look for some fun matches here.
Handball
The 3WallBall event regularly attracts hundreds of handball specialists from Southern California and beyond. The draws are massive, the crowds are awesome, and the camaraderie is top-notch. They play both 1-wall and 3-wall handball competitions in Vegas and are playing the "Big Ball" handball variant exclusively here. Note: "Big Ball" refers to handball played with a racquetball, as opposed to "Small Ball" which is played with the original handball, a much smaller and harder ball.
Paddleball 3-Wall Men's Pro Doubles
There's a slew of Paddleball specialists coming out for this event, not the least of whom is Emmett Coe, who's teamed up this year with former IRT touring pro and US National team member Todd O'Neil, now a San Diego resident and a convert to the sport. They'll be challenged by DLR and Beltran, who are looking for the 3-wall pro doubles "double" in both Racquetball and Paddleball. Also in the mix include the legendary Paddleball pro Aaron Embry, California Paddleball pros Cesar Chavez and Carlos Mercado, and SoCal's Victor Rodriguez.
Squash 57 Upper Doubles
The new variant of racquet sport, which uses racquetball equipment; a squash-like court with a "tin" at the bottom; and a Squash 57 ball that's somewhere between a squash ball and a racquetball in terms of elasticity and bounce-ability is included in the slate of events this year in Vegas. We have a slew of teams entered into the "Upper Doubles" event, which include some enterprising familiar names in the sport such as Adam Manilla, Brian Pineda, Robert Sostre, Emmett Coe, and the like. Look for Paddleball specialists to dominate here, given the pace of the ball and the nature of the strategy.
Fan and Player Info on the 3WallBall event
Racquetball Tournament: KWM Gutterman 2022 3WallBall World Championships at THE STRAT HOTEL - Racquetball
Dates: Oct 26-30, 2022
Location: Las Vegas, Nevada, USA - THE STRAT HOTEL
Director: Peggine Tellez
Entry Deadline: 10/15/2022 10:00 PM CT
Website Link: https://www.r2sports.com/tourney.asp?TID=38844
ProKennex & AGE Solutions present the 2022 KWM Gutterman 3WallBall World Championships.
October 26-30 at THE STRAT on Las Vegas Blvd. The pinnacle of Outdoor Racquetball, Handball, Paddleball, and introducing the inaugural competition event for Squash 57. Doubles -- Upper & Lower-- are limited to 8 teams apiece, and Singles is limited to 8 players. Extra One-Wall divisions have been added due to positive response to the 2022 Beach Bash event. Grab those extra points for the Cup Race! Streamlined Handball divisions will be in high demand starting on Friday morning. Outdoor wall sports, Vegas, sunshine: you don't want to miss this.

DEADLINE TO ENTER - OCTOBER 15th

MAXIMUM # OF DIVISIONS: Typically you are limited to four divisions (max of three 3-wall or 1-wall divisions), but you may play a fifth as long as it is Squash 57.

INFO TAB: This is your FAQ for the event - soooo much information, all of your questions just might be answered.

STREAMING: This event is a not-to-be-missed spectacle in Racquetball supported by both the Men's & Ladies Pro Tours with streaming available for those who can't make it. https://www.lprtour.com/

CUP RACE: The grand finale of the Men's & Ladies Cup race will be revealed. To boost the point opportunities beyond the points acquired at Beach Bash and/or Huntington, three divisions will count toward your totals in Vegas. (At least one division must be One-Wall.)

VIP SEATS: Watch all the action high up. Only 20 will be sold at $395 for Players and $495 for Non-Players. Watch the Show Court matches from the Sky Box under the shade with replays on the Big Screen. Wednesday starting with the Pro-Am until the last Pro match on Sunday afternoon. Snacks, Food and Beverages (water, soda, beer, wine, energy drinks) with hostess service. Color Program, Event Shirt, and Souvenir Credentials

SPECIAL CLINICS: On Wednesday, book your spot ASAP at one of the two limited-space opportunities to work on your game with Daniel De La Rosa (3PM - 5PM PST) and/or the Manilla Athletics team of Adam Manilla and Bobby Horn (6PM - 8PM PST).

PRO-AM: The Military Racquetball Federation Pro-Am kicks off at 6:30 Wednesday night and is already 50% sold out. Contact Terry Rogers - rogersta@comcast.net or (650) 245-8743

SPECIAL EVENTS: We'll host special events again this year including the ever-popular Ladies Night on Thursday at the Remix Lounge in The STRAT Hotel (first 25 ladies receive drink ticket), Ice Cream Social/Raffle on Friday, and a Halloween-themed costume party on Saturday night with judging and cash prizes starting at 9 pm at the Show Courts. Adjourn to the View Lounge in The STRAT Hotel (first 50 players receive drink ticket).

HOTEL ROOMS: The hotel block at the STRAT hotel for the event is now sold out. If you have yet to make your reservations, you might try the STRAT to see if any rooms remain available, or you might try some nearby hotels like the Ahern, Stegel Suites, or the Sahara.

COURT MONITORS: You can make a difference for the 3WallBall tournament. Consider becoming a court monitor for a couple hours a day to keep the matches moving. An ON-TIME tourney is the best tourney! Please contact Darryl Hunter Darrylvhunter@aol.com (313) 623-7755

REFEREES: For all Prize Money divisions - Losers will Ref and Line Judge. LPRT / IRT will provide education on these responsibilities. All Amateur divisions - Winners ref. If you bail, your next match may be forfeited. If you have back-to-back matches, you will need to find a substitute referee. Any Early Birds out there? Getting the morning off on the right foot as our lead-off referees is another area where we need your help. Ref early then you don't have to when you win later in the day. Please contact Darryl Hunter Darrylvhunter@aol.com (313) 623-7755

PRIZE MONEY: All Sports have Prize Money pages on 3wall.com under the Prize Money Tab.

REGISTRATION: All players - Please visit the Registration Desk at least 15 minutes ahead of your 30-minute match check-in to sign your waiver and pick up your souvenir shirt and goodie bag. If you are able to register on Wednesday evening, the desk will be open from 6:30 pm - 8:30 pm. Check that off your list!

MATCH CHECK-IN / STACKING for Racquetball & Paddleball: 30-minute match check-in prior to each of your matches, Pros and Amateurs alike. You may be called to court earlier than your scheduled match time. We will be employing a way to keep the courts full and moving, but we will need your help. Stay close to the match desk for your court assignment once you've checked in.

PLEASE READ! What is STACKING? While a match is in progress, we will have a court monitor report to the match desk as soon as the second game has begun. The next match / players will be sent to that court with their scorecard to give to the existing referee. This will give the incoming players time to stretch, put shoes on, get water etc. and be ready to warm up. When the prior match completes, the existing ref will give the new scorecard to the winners and then return the scorecard to the match desk. The winner (aka next ref) will start the next match after the 5-minute warm-up.

VOLUNTEERS: We are having some special events and can use some help Friday evening to put up some Halloween decorations in preparation for Saturday's Costume Party. Contact Lori O'Meara (313) 570-0560 Loriomeara@gmail.com

RULES: Please click on the link to familiarize yourself with Outdoor rules for your sport.
Racquetball 3-wall & 1-Wall - https://www.teamusa.org/USA-Racquetball/rules/6-Outdoor-Racquetball

Paddleball 3-wall - http://npa.paddleball.org/wp-content/uploads/2022/07/NPA-Rules-Updated-July-2022.pdf pages 12-14

Paddleball 1-wall - http://paddleballfamily.com/wp-content/uploads/2020/10/PFA-Official-Paddleball-Rules-Final-V21.pdf

Handball 3-Wall - https://www.ushandball.org/four-wall-rulebook/ after 5.9 addresses 3-wall rule differences.
Handball 1-Wall - https://www.ushandball.org/one-wall-rulebook/

Squash 57 3-Wall - Doubles Rules are the same as outdoor racquetball. Singles rules - announce first serve and then alternate same as current. Rally scoring to 15, win by 2, and to win match you must win 3 of 5 games.

See you in October!
Team 3WallBall
WOR Upcoming Outdoor Racquetball Tournaments and Events
There were a TON of September outdoor tournaments around the country! Here are some links to the events and locations. Thanks to all outdoor tournament directors for continuing to support the sport.
September 10, 2022: NorCal Vegas WOR Warmup, West High School, Tracy, California.
Tournament Directors: Frank Biehl & Erica Williams
https://www.r2sports.com/portfolio/r2-event.asp?TID=39880

September 10, 2022: Boston WOR Outdoor One-Wall Racquetball Doubles - J. Pomodoro's 70th B'day Invitational, Constitution Beach, Boston, Massachusetts.
Event Director: Jim Bove
https://www.facebook.com/events/849674196015521/

September 10, 2022: Out of the Hat Racquetball Doubles & BBQ, Henry M Jackson Park, Lower East Side New York, New York.
Point of Contact: Jasmine India Suarez
https://www.facebook.com/events/420396823485890

September 17, 2022: Vegas 3 Wall Ball Warm-Ups, Esperanza High School, Anaheim, California.
Tournament Director: Geoff Osberg
https://www.facebook.com/events/1113124736267070

September 24, 2022: Fallen Comrades 4, St. Claire Shores Outdoor Courts, St. Claire Shores, Michigan.
Tournament Director: Tom Blakeslee
https://www.r2sports.com/portfolio/r2-event.asp?TID=37864

September 24, 2022: One-Day Outdoor Shootout Vegas Warmup, Memorial Park, Colorado Springs, Colorado.
Mary Jane RN (Mary Jane Caltagirone)
On Facebook via the Colorado Outdoor Racquetball FB group for pictures and results.

September 24, 2022: 2022 Greentree Festival Kirkwood Rball Fun-Raiser Outdoor event, Kirkwood Park, Kirkwood, Missouri.
Tournament Director: Dan Whitley
https://www.r2sports.com/portfolio/r2-event.asp?TID=39919

WOR Upcoming Outdoor Racquetball Tournaments and Events

Here's a quick guide to upcoming WOR/Outdoor racquetball events.
October 26, 2022: Team De La Rosa Outdoor Clinic, Las Vegas, Nevada. Daniel, Michelle, and a mystery guest will conduct an outdoor clinic.
https://www.facebook.com/ProkennexNorthAmerica/posts/pfbid02bAgmZ9YjekUfzfX4CzatCmEQMxZNuTDuHp57woWvxoUaGeSvzhUFehMWPCTZmKnJl

October 26, 2022: Manilla Athletics Outdoor Clinic, Las Vegas, Nevada. Adam, Erika, and Bobby to conduct a 6-8 pm clinic on the 3WB courts.

October 26-30, 2022: 13th Annual 3WallBall Outdoor Championships, Las Vegas, Nevada.
Tournament Director: Mike Coulter & Peggine Tellez.

November 12-13, 2022: WOR Florida State Championships, Waterford Park, Davie, Florida.
Tournament Director: Rob Mijares.
https://www.r2sports.com/portfolio/r2-event.asp?TID=39056
Was mid-May, rescheduled to mid-November.

December 16-18, 2022: 2nd Annual Hollywood Beach Battle, Hollywood, Florida.
Tournament Director: Maddie Melendez.
https://www.r2sports.com/website/event-website.asp?TID=39809

March 8-12, 2023: 2023 Beach Bash
Tournament Directors: Mike Coulter & Peggine Tellez.
https://www.r2sports.com/portfolio/r2-event.asp?TID=39926
Tournament Directors: If you're planning an outdoor event and it's not on this list, please let me know and I'll add it to the list going forward. The more awareness, the better the turnout!
Tournament Directors: When you set up your Outdoor event in R2 Sports, PLEASE make sure you select "World Outdoor Racquetball (WOR)" as your organization. That way your event will show up on the new WOR webpage we're working on in the dynamic "Upcoming Events" widget. If your event doesn't show up in this link below, then it isn't referencing the correct organization in the tourney setup page. https://www.r2sports.com/r2sports-event-search.asp?searchNow=YES&eventSportOrgID=58
Stay in Touch with WOR on Facebook
The absolute best way to stay abreast of Outdoor events is to follow WOR – Outdoor Racquetball on Facebook. We post updates for upcoming events as soon as they're available!

https://www.facebook.com/WorldOutdoorRacquetball/

Plus, there's a slew of geographic-specific groups that talk about play all over the country. Wherever you live, there's likely to be a group that coordinates play in your area. Reach out to WOR to find a Facebook group or a state director to help you out.
Contact WOR
If you have any questions, please email WOR@usaracquetball.com. We'll get back to you ASAP.