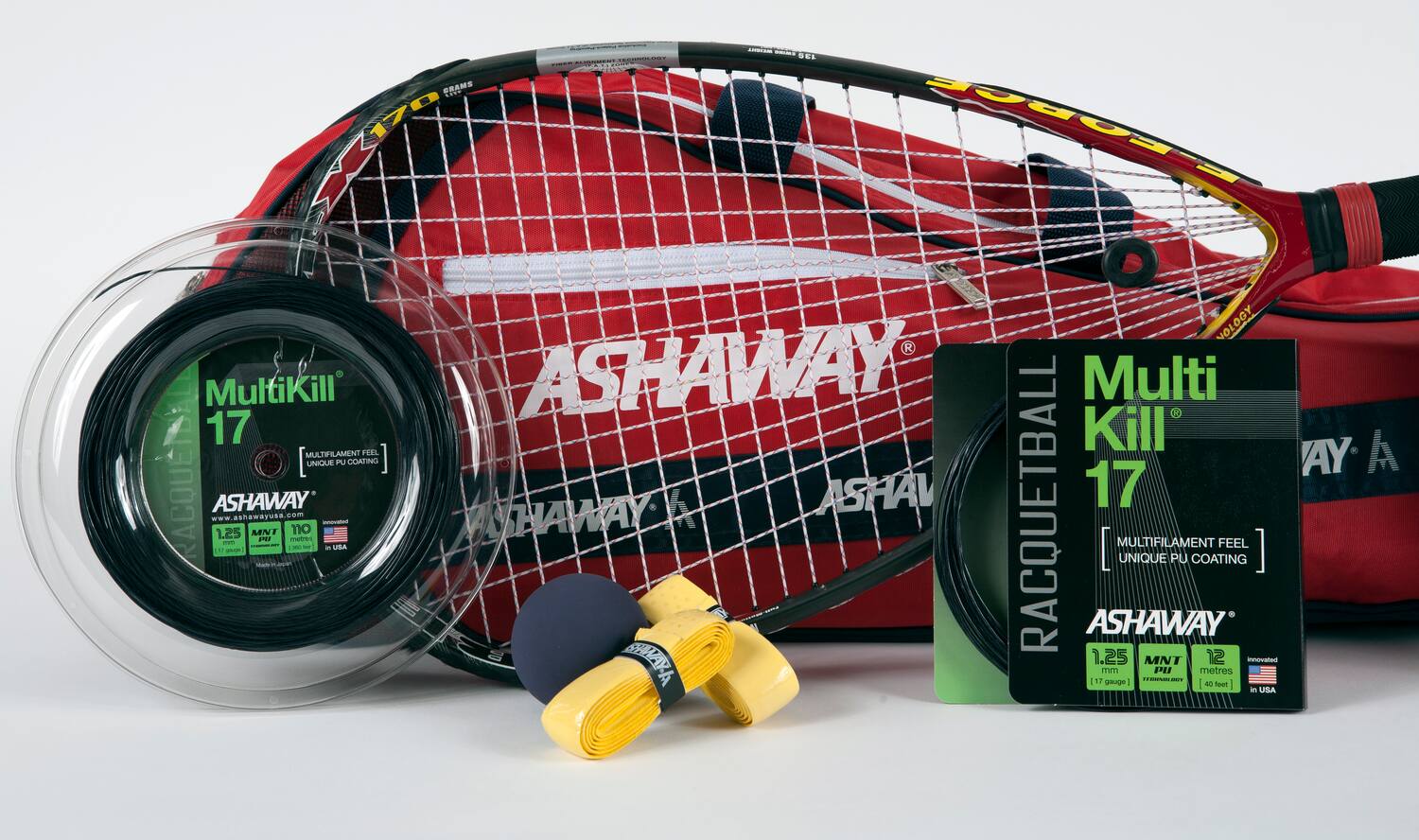 As 2022 winds down, it's a good time to think about next year and whether you'd like to make any changes to your racquetball equipment for 2023. While changing your racquet is a very bold and potentially risky option, trying another string that may be better suited to your game is relatively easy to accomplish, with potentially significant benefits.
When it comes to racquetball string, there are several major types (designs. In addition, there are several key factors to consider when looking for a new string. What are you looking for in a new string? Better durability or string life -- has your current string been breaking too often at the side of the frame or in the sweet spot? More power or pop from the strings -- are you looking to use your string to increase ball speed off the string bed? Gaining more control of the ball from your string bed -- are you trying to improve the feel and grip on the ball for a more controlled style of play?
When it comes to adding power to your game, string designs produced with PEEK filaments are known to be extremely lively, returning maximum energy to the ball with every stroke. PEEK-based strings are also known to be excellent at holding tension, providing consistent power to the ball for a longer period of time than 100% multifilament strings. If adding more power to your game is your objective, then monofilament PEEK-based strings, like Ashaway PowerKill strings, are worth considering. They are available in several gauges to accommodate the durability needs of a wide variety of players.
If ball control is your highest priority, true multifilament string designs with nylon or PEEK multifilament fiber constructions tend to be optimum for gripping and spinning the ball. They tend to have a textured surface or a polyurethane construction that really bites into the ball. Ashaway SuperKill XL and UltraKill are two Ashaway string models that provide excellent ball control from specialized multifilament constructions.
For durability, it's always a good idea to use heavier gauge strings if you are breaking strings frequently at either the side of the frame or in the sweet spot of the racquet. While thinner 18 gauge strings provide a string bed that grips the ball more effectively, heavier 17 gauge strings will not wear as quickly in the sweet spot and provide superior loop strength to minimize frame breakage from mishits and damaged grommet strip issues.
Ashaway's newest string, MultiKill 17, provides a great combination of both control and durability. With a multifilament nylon core in a polyurethane matrix, this unique string design has great control characteristics from the multifilament design and the sticky urethane surface. In addition, this string design in 17 gauge is very popular with string breakers, due to the tensile and knot strength associated with its polyurethane matrix design.
So, don't be afraid to experiment with a new string to perk up your game next year. It's an easy adjustment to have your stringer set you up with a new string bed, and you may find the results will add significant value to your game!