World Outdoor Racquetball Update for May 2022
by Todd Boss, with contributions from Michelle De La Rosa, Ryan Rodgers, Mike Coulter, Maddie Melendez, Marcos Gravier, Rod Van Dyke, Hale Sakoff
WOR Outdoor Rankings Added to USAR Website!
After a couple of years' absence, and with the help of the R2 Sports development team, Outdoor Rankings are finally back online! In late March, just ahead of the 2022 Beach Bash, the WOR Outdoor Committee finished its months-long data entry and analysis work to arrive at a starting point for the Outdoor rankings. Then, the R2 Sports team plugged in the starting data to their rankings algorithm and kicked it off.
The Outdoor rankings separately rank One-Wall outdoor results and Three-Wall outdoor results. Since there is such wide variation of three-wall courts, any three-wall court with sides of any length are grouped together and ranked as one (short wall, mid-wall, long-wall). Otherwise, there is no difference in the way the algorithm works for outdoor results from the way it works for indoor results; rankings are driven by on-the-court results, and adjust every time someone gets a win against a higher-ranked opponent. The system has rankings for Singles, Doubles, and Mixed for both Men and Women, for both One-Wall and Three-Wall.
All WOR/Outdoor sanctioned tournament results are available from the rankings search page; click "Match History" and then "WOR Outdoor" for full outdoor data. If your event is "greyed out" in the match pulldown window, it means the tournament director has not yet officially submitted those results to USA Racquetball. In this case, please contact the tournament director and request the releasing of the results.
The Outdoor Rankings are now available from the same USAR Rankings home page as the existing Indoor Rankings, at this link: https://www.r2sports.com/system/rankings/ITArankings.asp?sportOrganizationID=1
For any additional questions, please refer to the comprehensive Frequently Asked Questions link for all things USAR Rankings here: https://www.teamusa.org/usa-racquetball/rankings
These rankings have been a long time in the making, and we owe thanks to a host of people who have worked behind the scenes to generate the data and enable the rankings to automatically run from here forward. This includes a slew of WOR state directors who provided input to the preliminary rankings; the WOR Committee; and a ton of volunteers/interns in St. Louis who "caught up" past results to get us to a starting point.
If you missed it, we talked at length about these rankings as well as the overall machinations of the USAR rankings system on the USAR "Real Racquetball" Facebook live show on May 2nd. Click here for a replay of that show: https://www.facebook.com/USARacquetball/videos/417977669668833
Updates on the Outdoor Majors
Here's the latest news from the three Outdoor Major tournaments (see the upcoming events section for exact dates and locations):
Outdoor Nationals 2022
Title sponsors announced: Team Root and Pro Kennex! Thanks to Randy Root and Mike Martinez for your continued support of Outdoor Racquetball.
Team 3WallBall is taking a larger interest in this event as well, bringing their involvement into all three Outdoor Majors.
Event Dates: 7/14/22 – 7/17/22; the dates have been pushed back a week to get the tournament away from being the same week as the July 4th holiday.
Other Gold sponsors of the 2022 event include Melissa's Restaurant, KWM Gutterman (Keith Minor), Gearbox (Rafael Filippini), Bloom Injury Law (Mark Bloom), Splathead (Joe Hall), Daily Racquetball (Jeffrey Thompson), Roundabout Entertainment, Coca-Cola, and RH Enterprises.
3WallBall 2022
KWM Gutterman 2022 3WallBall Championships officially announced!
Dates: 10/26/22 – 10/30/22
Site: The STRAT Hotel, Las Vegas, Nevada. GET YOUR HOTELS EARLY, last year a last-minute EDM concert sucked up all the available hotels and some people got gouged for rates.
New for 2022: Squash57
Social activities planned for this year: Ladies Night Thursday, Costume Party Saturday
Remember this is the big finish for the 2022 Outdoor Cup Series.
Beach Bash 2023
Thanks to all the players and sponsors who made 2022 such a great event. No news for next year as of now, but it's safe to assume 3WB will continue to operate the event going forward.
April 2022 WOR/Outdoor Tournament Result Recaps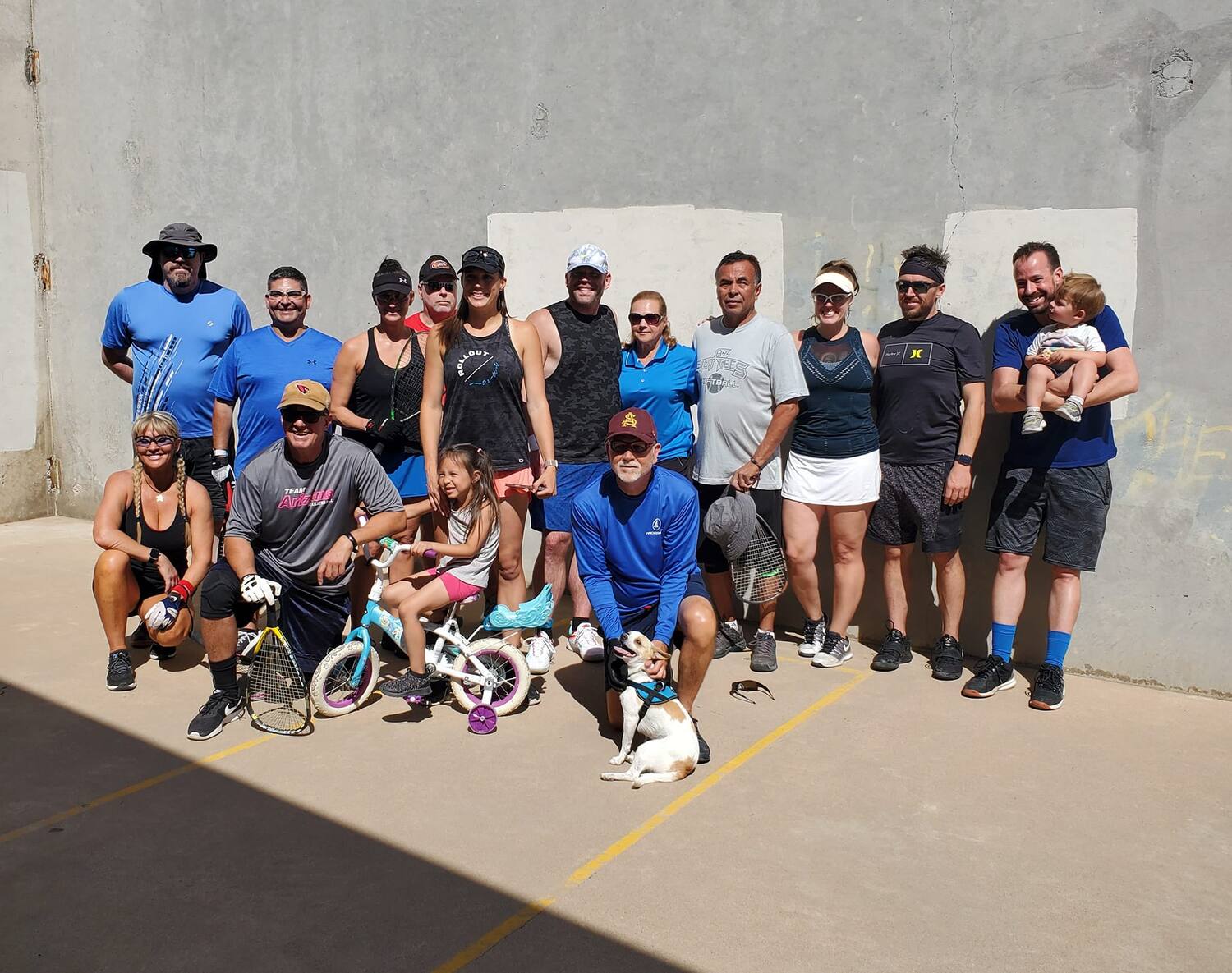 Group shot from the 4/2/22 WOR AZ Final Battle. Photo via Arizona Outdoor Racquetball group/Jeffrey Thompson aka JTRBall
April 2-3, 2022: WOR AZ Final Battle. Horizon High School, Scottsdale, Arizona. Tournament Director: Michelle De La Rosa. https://www.r2sports.com/tourney.asp?TID=38069
The final "Battle" of the 2021-22 Arizona Outdoor series took place at Horizon High School in Scottsdale, Arizona, the first weekend of April. Twenty-eight players came out to compete, including the traveling man Jeffrey Thomas from Southern California.
Here's how the action shook out.
Congrats to the Singles division winners:
Men's Open Singles: Alonso Taveres, who took a 3-person RR group
Men's A Singles: Nicholas Rowley, who won a 5-person RR group
Men's B Singles: Rob Craig, who won a 4-person RR group
Congrats to the Doubles division winners:
Open/Pro Doubles: Thomas Gerhardt/Michelle De La Rosa went 4-0 to capture the title. Coming in second was Michelle's father Darold Key playing with Mike Schulte.
Centurion 100+ Doubles: Jeffrey Thomas/Nick Coons took the three-team RR group.
A Doubles: Thomas Gerhardt/Michelle De La Rosa got the double, going 6-0 in the seven-team RR bracket to take A doubles. Coming in second was Jason S./Luis Garcia.
B Doubles: The all-Gardner team of Garrison & Gavin Gardner took the four-team RR group.
Mixed Advanced Doubles: Matthew Barcellos/Michelle De La Rosa won the four-team RR group, with Arizona stalwarts Charlie Stalder/Susie Boulanger coming in second.
A solid weekend for the host and tournament director Michelle De La Rosa, who won thirteen straight games to go undefeated and take home three titles.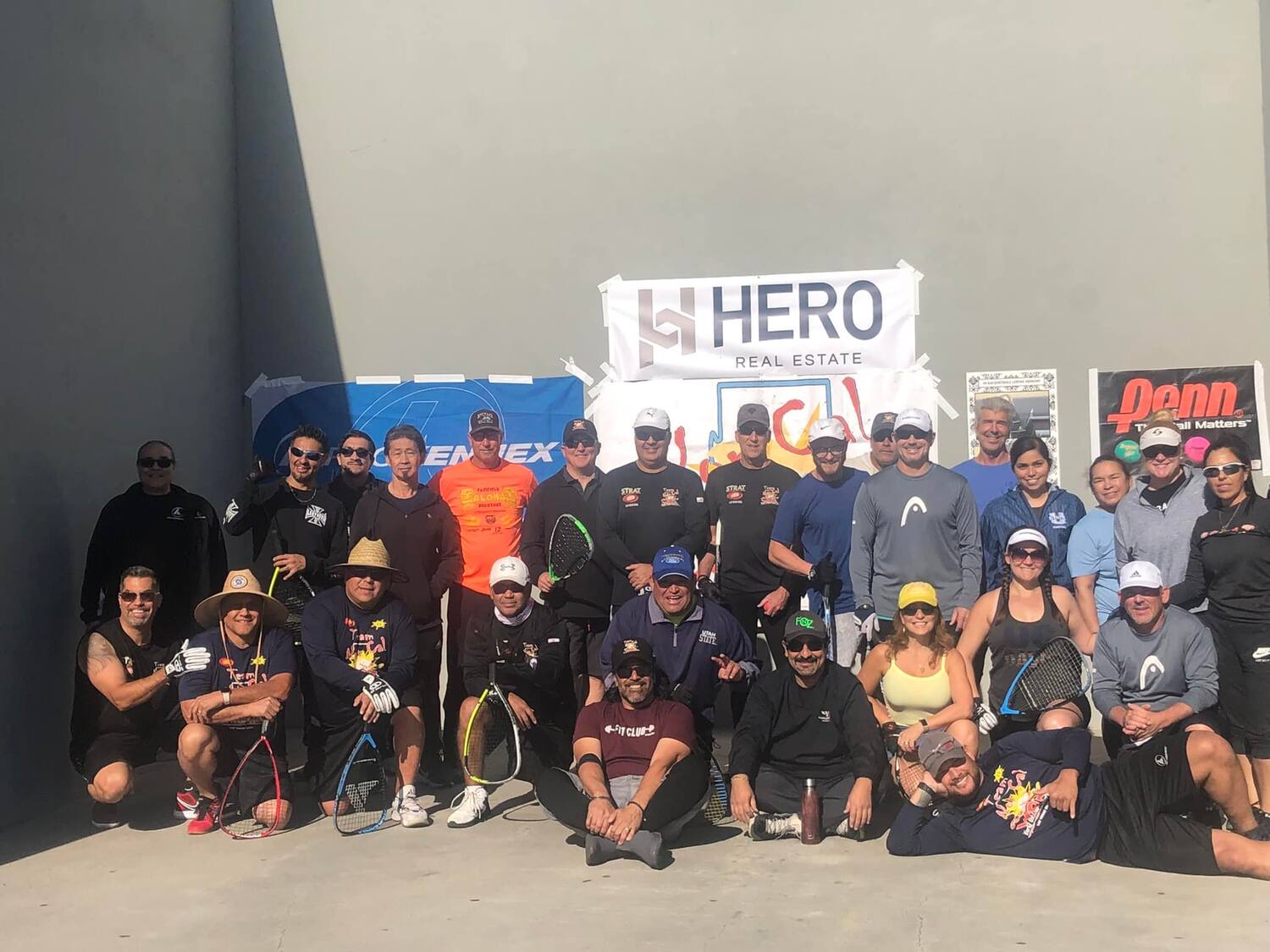 Group shot of the One-Day 3-Wall Memorial NorCal Shootout participants. Photo courtesy of Frank Biehl
April 23, 2022: One-Day 3-Wall Memorial NorCal Shootout, West High School, Tracy, California. Tournament Director: Frank Biehl. https://www.r2sports.com/website/event-website.asp?TID=39213
West High School in Tracy was the site of this year's annual WOR Memorial NorCal Shootout. Twenty-seven players competed at the six-court three-wall facility at the high school. Here are the results from the top divisions competed:
In Men's Open/Upper Doubles, three teams of top players competed. In the final, the area's two best outdoor players Walter Ramos and Izzy Torres took out U.S. National Team Coach Jim Durham playing with the tournament host Frank Biehl.
In Men's Elite/Lower Doubles, Hien Doan/Ivan Velasquez took out the #1 seeds Javier Alvarez/Aaron Dumas in the final.
In Women's Open/Elite Doubles, Jazmin Trevino and Kim Randolph defeated Regina Martinez and Sandra Mowry in the RR playoff final.
In Combined 75+, Jim Durham/Aaron Dumas took out Alfonso Ybarra/Luis Almanza in the final of an upset-filled afternoon RR draw.
In Mixed Open Doubles, Torres teamed up with Jazmin Trevino to win the doubles, topping the husband-wife pairing of Ramos and NorCal WOR Director Erica Williams in the final.
A quick note from the tourney director Frank Biehl: "Thank you to everyone that came out to play in our annual WOR memorial tournament. Thank you to our Sponsors that help us keep this tourney an awesome experience! Special thank you to Ana Marie Tacotaco and Michelle for your help all day including making runs for ice, picking up and setting up lunch, and final clean up. Your help is truly appreciated! Thanks to Erica Williams and Walter Ramos for tourney desk help and keeping things going. Huge thank you to Butch Fish for behind the scenes planning and help with all phases of this tourney. Always thank you to our Tracy crew for getting there early for set up, it really takes all your help to make this tourney run smooth." Thanks again to Frank, who posted a great recap on 4/27/22 to summarize the draws as per above.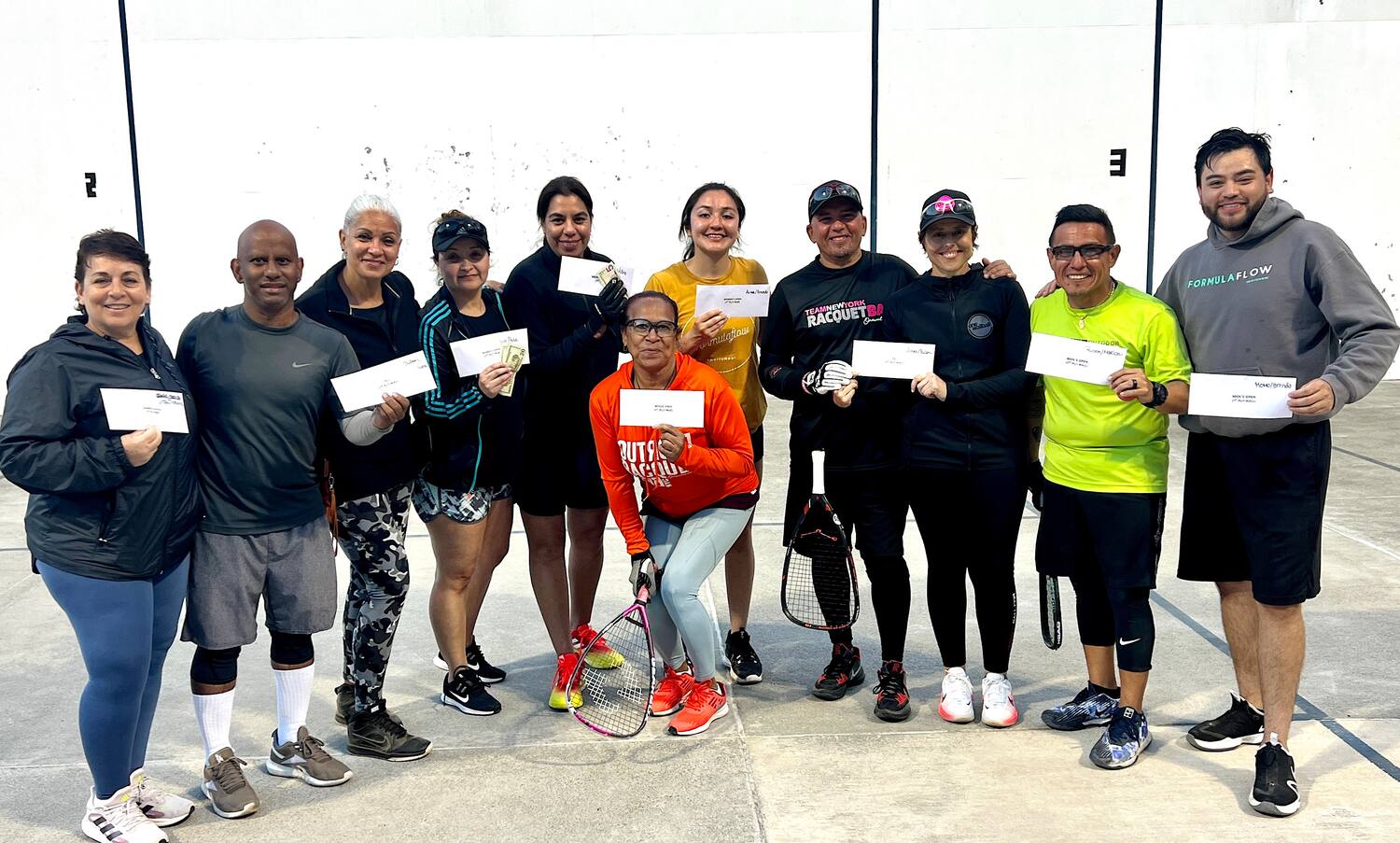 Some of Team onewallball.com from NY/NJ poses with some of the VA locals. Photo via onewallball.com
April 29-30, 2022: Mid-Atlantic Spring Fling, Stratton Woods Park, Herndon, Virginia. Tournament Directors: Maddie Melendez. https://www.r2sports.com/portfolio/r2-event.asp?TID=39113
The Mid-Atlantic Spring Fling drew 43 players from up and down the east coast and included a slew of one-wall pros from the tri-state area and a handful of LPRT touring pros to complete in a combination of one-wall and three-wall action at Stratton Woods. There were only doubles draws this weekend, no singles.
Here's how some of the top draws turned out…
In the Men's One-Wall Open draw, six teams competed in two RR groups to determine the top four semi-finalists for the knockouts. In the elimination draw:
In Semi #1, Ruben Pagan/Marlon Kocher took out Suresh Vemulapalli/Sudheer Tata.
In Semi #2, Mauricio Zelada/Brenda Laime took out Guillermo Castellon/Ariel Garcia.
In the final, Maryland's Zelada/Laime topped Pagan/Kocher to win the Men's draw.
In Women's One-wall Open: the top team of Aimee Roehler/Brenda Laime cruised to a win in their three-team RR group, with Veronica Nogales/Ana Paola Nunez finishing second.
In the Mixed Open One-Wall, seven teams battled it out in two RR groups. The two top teams in each group advanced to the knockouts. Here's how they went:
In Semi #1: Team OneWallBall Aimee Roehler/Ruben Pagan took out Delia Silva/Marlon Kocher in an all-NY/NJ battle.
In Semi #2: Suresh Vemulapalli/Ana Paola Nunez took out team Formula Flow Mauricio Zelada/Brenda Laime in an all DC-Area battle.
In the final, the visiting Roehler/Pagan took out Suresh/Paola to claim the title.
Other division results include:
Three-Wall Centurion+: Mike Grisz/Mark Baron, both Herndon residents, claimed the Centurion+ title on home soil.
Three-Wall Elite Doubles: Five teams duked it out in a big RR: Suresh Vemulapalli/Christopher Ruanofinished on top over Claude Elton/Frank McCabe.
Three-Wall Mixed Elite/A: Husband and wife team Karen & Mike Grisz took first.
Three Wall Men's A: Brandon Bellotti/Carlos Calderon took the Men's A doubles title over Guillermo Castellon and Bill Bouie, who was the person most responsible for the building of the Stratton Woods Park.
One-Wall 75+ combined: No one could stop the Roehler/Pagan train, as they cruised to a title over second place finishers Vemulapalli/Tata.
One-Wall Men's Elite/A: Jamie Sparks/Leland Rupp out lasted Anthony "Suede" Harris/Mike Waters in the knockout final to earn the title.
One-Wall Mixed Elite/A:The Griszes make it a double, winning this RR group as well.
One-Wall Women's Elite/A: Linda Triantafilo/Jhasmine Galvez took the title.
Thanks to Maddie Melendez for organizing the weekend, and to her team of helpers that always includes Suresh Vemulapalli, and others. Thanks to the main sponsor AGE Solutions and the great patronage for outdoor racquetball by Andy Gomer.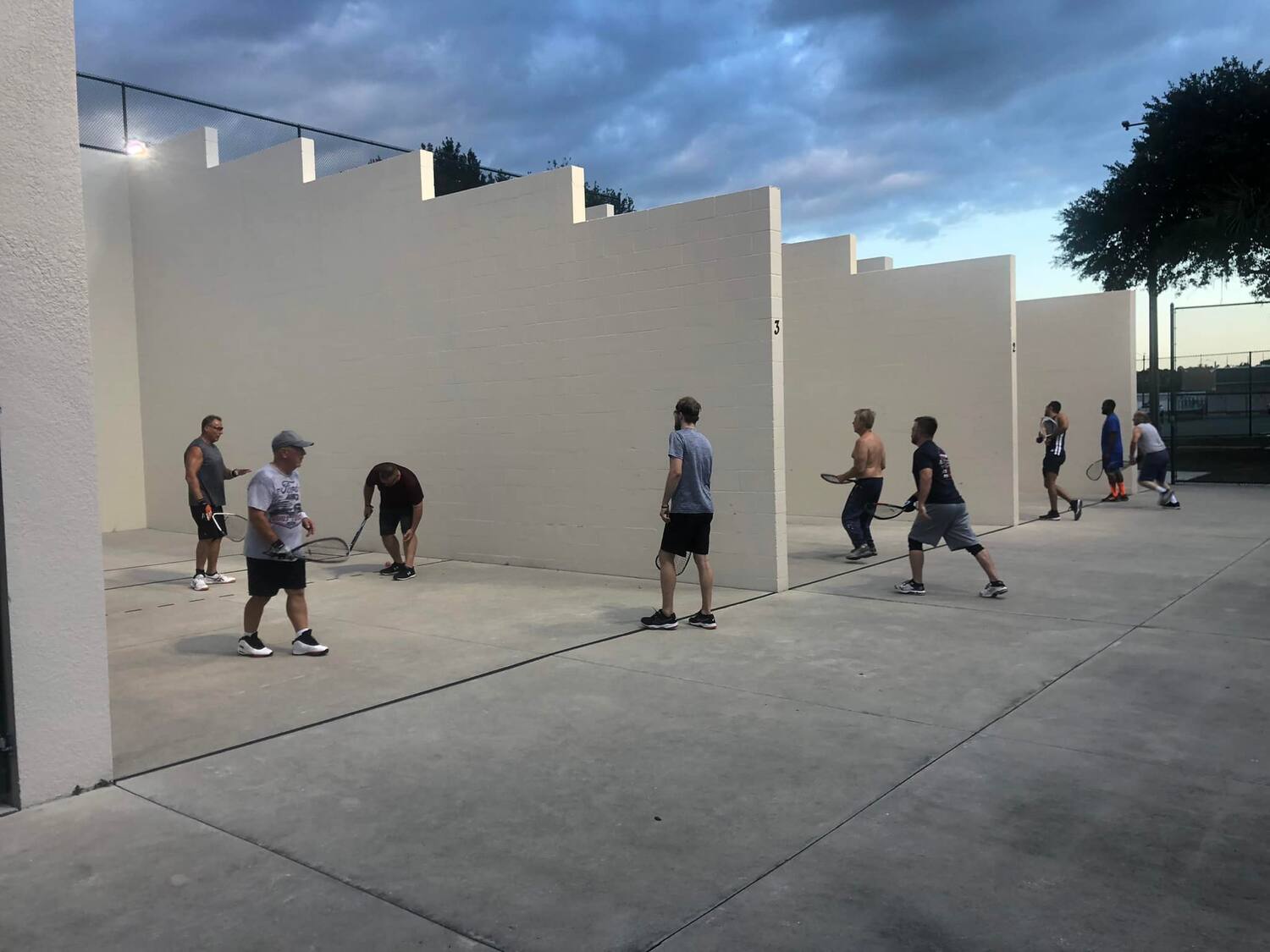 Long Wall players in action on Saturday at Sunset Island in Eustis. Photo via Team Eustis Racquetball Facebook page.
April 30-May 1, 2022 Eustis Long Wall Championships, Eustis, Florida. Tournament Director: Rod Van Dyke. https://www.r2sports.com/portfolio/r2-event.asp?TID=39057
More than 50 players, which included most of Florida outdoor royalty plus a couple of featured traveling stars in Robert Sostre, Ruben Gonzalez, Angel Rosa, and Tito Montanez, played on the weekend. Here's a summary of the major draws, which were played Saturday outside at the Sunset Island complex, and then Sunday inside, thanks to the patronage of Ron Miller.
In the "Big Draw" of the weekend, Men's Combined 75+, 21 teams entered and played round robin action to determine the two top finishing teams for the knockout stages.
In the knockouts:
Semi #1: Top seed Bobby Morales/Alejandro Barcelo topped #4 Roy Hernandez/Yelandi Rivero in two, 10,11.
Semi #2: Second seeded Nolsen Jimenez/James Berry took out #3 Norberto Denico/Scott Reid in two games, 10,11.
In the final, Jimenez and "Thunder Arm" Berry cruised to a title over Bobby & Alex, 3,12.
Fifteen (15) teams entered the Men's Doubles Outdoor Pro division, also playing round robin groups to determine the top four to the knockouts.
In the knockouts:
Semi #1: the top seeds and frequent outdoor partners Roy Hernandez/Marcos Gravier held serve against the tough long-wall specialists from Jacksonville Aaron Metcalf/Nolsen Jimenez in a tiebreaker.
Semi #2: the #3 seeds Yasmani Perez/Javier Trujillo upset the top outdoor pro team of Joe Young/Yelandi Rivero 11-6 in the breaker.
In the final, #1 seeds Roy/Marcos cruised to a title against Yasmani & Javier, 10, 8.
In Men's Elite, seven teams played in two RR groups to advance group winners Joddy Stahl/Jim Russell and Seran Ramkissoon/Kevin De Marco to the winner-take-all final. Stahl & Russell outlasted the Broward County duo to take the title, 13,10.
In Men's B, three teams played a small RR group. There, Mitchell Earwalker/Eric Blamick went 2-0, topping 2ndplace Tim Wilden/Tim Wegner and 3rd place Daniela Ganci/Kelly Van Zant-Russell for the win.
Thanks to tournament director Rod Van Dyke for coordinating the weekend. Thanks to frequent WOR Florida tournament helpers Marcos Gravier, Hale Sakoff, and Rob Mijares with the R2 data work and getting me the information I needed to write this up. Thanks to all the sponsors, including State Farm (Van Dyke), Firehouse Subs, Team Dovetail and everything Mike Kinkin is doing for the sport right now, Vangie Berry Realty, Eustis Parks & Rec, Above & Beyond pest control, Penn, Carter's Ace Hardware, and Erick Blamick of Edward Jones Investing.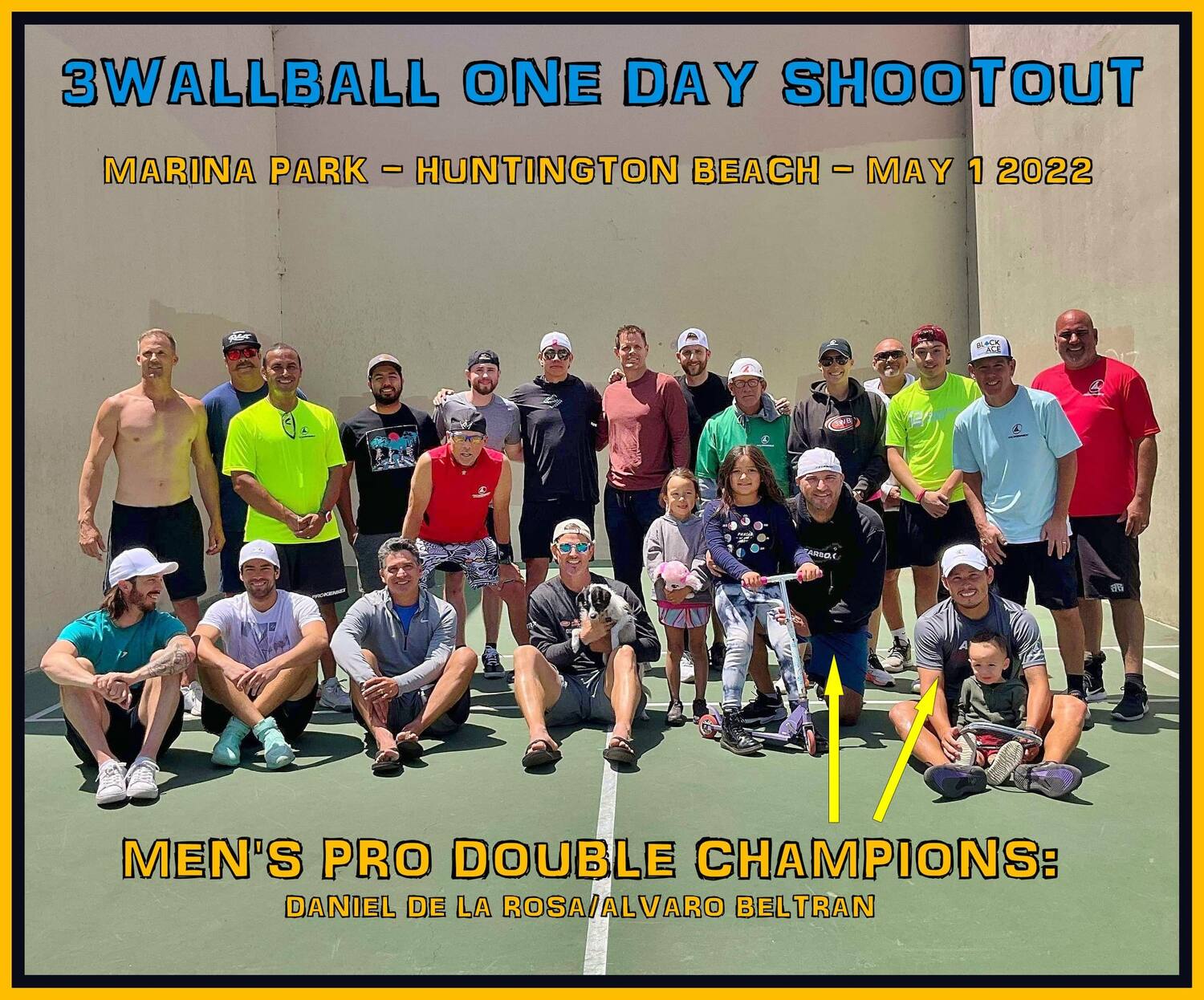 Group shot of the IRT SoCal Outdoor shootout participants. Photo via Mike Peters's share on Facebook and courtesy of Ginnie Boetel
May 1, 2022: One-Day IRT SoCal Outdoor Shootout, Marina Park, Huntington Beach, California
In order to promote the crossover between the IRT and Outdoor racquetball, 3WallBall's founder Mike Coulter worked with IRT Commissioner Pablo Fajre to organize a one-day pro doubles shootout at Marina Park, the site of this coming July's Outdoor Nationals, and invited all the traveling IRT pros to come play/come try the sport. More than $1,500 in prize money was up for grabs, and 28 top outdoor players and IRT pros battled it out before flying out of town.
https://www.r2sports.com/portfolio/r2-event.asp?TID=39332
Here's a review of the Round Robin Groups:
RR Group A: The top overall seeds, Alvaro Beltran/Daniel De La Rosa, took this group over Eduardo Portillo/Mike Peters, who latter of whom dusted off his racquet to team with the youngster Lalo to finish second.
RR Group B: #1 seeds Brandon Davis/Josh Tucker, the 2018 Outdoor Nationals Pro Doubles champs, topped the group over 2nd place finishers Thomas Gerhardt/Patrick Allin.
RR Group C: #1 seeds Rocky Carson/Jesus Ustarroz, frequent doubles partners and multi-Outdoor Pro champs, went 3-0 to top this group. Finishing #2 was NorCal pros Bobby Horn/Wayne Antone IV.
The top 9 teams moved into the knockouts, while the remaining teams competed in the consolation bracket for a $100 prize. Here's how the knockouts went:
In the quarters:
#1 Beltran/De La Rosa topped #9 Emmitt Coe/Michelle De La Rosa, 15-10
#4 Carson/Ustarroz topped #5 Gerhardt/Allin, 15-11
#3 Lalo/Peters took out #6 Horn/Antone
#2 Davis/Tucker were upset by #7 Greg Solis/Tom Durham, 15-12. It isn't really an upset when you're topped by a Hall of Famer, I suppose.
In the semis:
#1 Beltran/DLR beat out #4 Rocky & Jay, 15-10, in a meeting of teams that have combined to win nine doubles titles at Outdoor Majors since 2015.
#7 Solis/Durham continued their upsetting ways, crushing #3 Lalo/Peters, 15-3, to move into the final.
In the final, #1 De la Rosa & Beltran were not to be denied, taking the title convincingly, 15-5, and claiming the $800 first prize.
The consolation bracket was won by Geoff Osberg & Luis Avila, which should tell you how deep this draw was … Avila was the Outdoor Nationals Pro Singles champion in 2018 and Osberg is a frequent pro competitor and one of the Tournament Directors of Outdoor Nationals.
Thanks to Jesus Ustarroz for running things this weekend, thanks to the IRT for working with Mike Coulter and 3WB to make this event happen. Thanks to JTRball (aka Jeffrey Thompson) for streaming. Thanks to Rick "Soda Man" Koll for sponsoring the event, along with Gearbox & Pro Kennex who do so much to support the players, the sport, and outdoor racquetball in general.
Mark your calendars for these Upcoming Outdoor Events for 2022
Here's a quick guide to known upcoming WOR/Outdoor racquetball events.
Changes for this month: the WOR Florida State Championships were postponed from mid-May to a future date in the summer. Instead, the big annual Holiday Park Memorial will be held in mid-May. Chicago has added a new Father's Day Shootout with details to come
May 21-22, 2022: 15th Annual Memorial Tournament, Holiday Park, Ft. Lauderdale, Florida.
Tournament Director: Rob Mijares.
https://www.r2sports.com/portfolio/r2-event.asp?TID=39055

Mid May, 2022: (tentative) Raybro Memorial Doubles Shootout, Tracy McDonald Park, Tracy, California.
Tournament Director: Frank Biehl.

May 28-29, 2022: Sacramento Outdoor tournament, Florin High School, Sacramento, California.
Tournament Director: Brent Hoskins.

June 3-5, 2022: Capital City Championships, Stratton Woods Park, Herndon, Virginia. Tournament Directors: Amie Brewer and Carrie Handfinger Hoeft
https://www.r2sports.com/website/event-website.asp?TID=39432

June 18, 2022: No Frills Father's Day Shootout, Rainbow Beach, Chicago, Illinois.
More details to follow.

Mid-Summer 2022 TBD: WOR Florida State Championships, Waterford Park, Davie, Florida. Tournament Director: Rob Mijares.
https://www.r2sports.com/portfolio/r2-event.asp?TID=39056 (Was mid-May, rescheduled to mid-Summer)

July 14-17, 2022: 2022 Outdoor Nationals, Marina Park, Huntington Beach, California.
Tournament Directors: Geoff Osberg & Jesus Ustarroz.
https://www.r2sports.com/portfolio/r2-event.asp?TID=38652
August 12-14, 2022: Windy City 3Wall Brawl Championships, Chicago, Illinois.
Tournament Director: Joey Logan.
Mid-August, 2022: (tentative) Silicon Valley Shootout, Mitchell Park, Palo Alto, California.
Tournament Directors: Erica Williams & Walter Ramos

September 24, 2022: Fallen Comrades 4, St. Claire Shores Outdoor Courts, St. Claire Shores, Michigan.
Tournament Director: Tom Blakeslee.
https://www.r2sports.com/portfolio/r2-event.asp?TID=37864

Mid-September, 2022: Two-Day Shootout, Florin HS, Sacramento, California.
Tournament Director: Frank Biehl.

October 26-30, 2022: 13th Annual 3WallBall Outdoor Championships, Las Vegas, Nevada. Tournament Directors: Mike Coulter & Peggine Tellez.

December 16-18, 2022: 2nd Annual Hollywood Beach Battle, Hollywood, Florida. Tournament Directors: Maddie Melendez & Thao Le.
The Latest on Dane Elkins Search
Dane has now been missing since 12/21/20. His last known location was in Oakdale, California, on 7/12/21, and the last credible sighting was in September 2021. The family had some hope raised this month with a couple of reported sightings closer to Stockton, but nothing has panned out. If you are in the NorCal area where Elkins is most likely at present, definitely keep an eye out for someone who fits Dane's description (early 20s, brown hair, green eyes, 5'11, 170, athletic, possibly with a beard).
If you see Dane or may know about his whereabouts, his mother Deborah Kassin Elkins respectfully asks you to contact her at 562-504-6005 and to send any pictures or videos to searchingfordaneelkins@gmail.com.
To keep updated, please consider joining the Facebook Group "Searching for Dane Elkins" at this link: https://www.facebook.com/groups/findingdaneelkins. The Elkins family is continually providing updates, possible sightings, and news articles/media coverage on the search.