Strategies for Saving Courts
The below article describes USA Racquetball's available information and resources on Strategies for Saving Courts.
On the USA Racquetball website (www.usaracquetball.com), the first item in the dropdown menu is "About." That's where you'll find the section entitled Strategies for Saving Courts, or click on the link below.
https://www.teamusa.org/usa-racquetball/about/strategies-for-saving-courts
Once there, note that there are four choices in the boxes across the top of the page:

Here's a brief description of what appears in each:
COURT PROGRAMMING
https://www.teamusa.org/usa-racquetball/about/strategies-for-saving-courts/court-programming
One of the fastest and most effective ways for facilities to increase profitability is to designate a resource dedicated to optimizing court utilization. A CPC or Court Programming Coordinator works with facilities to develop programs and administer activities to promote racquetball and other court sports to new and existing members, maximize utilization of court space, and create new fitness opportunities for facility members. Preliminary analyses suggest that a CPC, providing a basic level of court programming support to a smaller facility with 4-5 indoor racquetball courts, could almost double or otherwise significantly increase court-related annual cash flow. The following documents describe this role and provide additional information that may be helpful to a CPC in accomplishing this goal.
Racquetball Benefits and Basics
Strategic Plan to Preserve Courts
COMMUNICATION
https://www.teamusa.org/USA-Racquetball/Programs/Future-of-Racquetball/Sample-Communication
Sample Letter of Appreciation from Players
Sample Letter of Appreciation from State Association
Sample Petition from Facility Members to Save Courts
MORE INFORMATION
https://www.teamusa.org/usa-racquetball/about/strategies-for-saving-courts/more-information
CLUB INSIDER ARTICLES
Six articles with the overall theme of "Saving Courts Profitably" were published in Club Insider in 2021. We hope these articles have proven useful in collaborating with club owners and managers to keep courts creatively busy and profitable.
Greetings to Clubs and Fitness Facilities from "The Court People" March 2021
Using Courts and Court Sports Programming as a Competitive Advantage April 2021
Gratitude...Belonging...Inspiration -- Our "Third Place May 2021
Keeping Courts Busy for Fun and Fitness June 2021
Thinking Outside AND Inside of the (20x40) Box July 2021
Court Sports: It's Academic! September 2021
RESOURCES
https://www.teamusa.org/usa-racquetball/about/strategies-for-saving-courts/resources
With the advent of the pandemic, our lives have been seriously affected. Racquetball is no different. Even prior to this event, we were seeing signs of impacts to our sport, particularly with decreasing court availability. Recognizing these signs, USA Racquetball chartered a small group of individuals with a wealth of experience to develop strategies and programs to keep racquetball healthy and vibrant. After all, without a court, we don't have a sport!
Mike Grisz mgrisz@aol.com
(Past President -- Texas; Treasurer -- Virginia)
Larry Haemmerle unclelarry2all@yahoo.com
(Past President – USA Racquetball/Colorado)
Cheryl Kirk cherylkkirk@aol.com
(Past President – USA Racquetball/State President -- Illinois)
Laura Pesek lapesek@yahoo.com
(Past President -- Indiana)
USA Racquetball is here to serve our members and assist anyone who desires information about saving courts through club programming (lessons, clinics, leagues, as well as alternative uses while not affecting playability).
If you have any questions or need additional assistance, please also reach out to the USA Racquetball staff:
Renée Isherwood, Director of Operations and National Teams, risherwood@usaracquetball.com
Connor Shane, Director of National Events, cshane@usaracquetball.com
Mike Wedel, Executive Director, mwedel@usaracquetball.com
**
USAR Website -- The USA Racquetball website at www.usaracquetball.com is the platform from which much happens within our sport. USAR Staff Director Renée Isherwood manages it and makes periodic modifications. A "carousel" at the top of the home page features current newsworthy articles and features.
Additionally, numerous articles are housed there and linked over from the mid-month publication Serving Up the News.
There's so much to discover about Racquetball on the USAR website. Have a seat one quiet weekend afternoon with your coffee and a cookie...and explore away!
The WE ARE USA RACQUETBALL infographic below describes the role USAR plays in the sport of Racquetball.
Dear USA Racquetball Members (and Racquetball Players Across the United States),
The USA Racquetball infographic below has appeared in Serving Up the News monthly since September 2020. The contributors and editors of this newsletter observed that while many of our members have appreciated the infographic's high-level description of the value USA Racquetball brings, perhaps they would appreciate more detail on each point, to understand more about what USA Racquetball provides to the infrastructure of our sport.
We covered #1 US OPEN and #6 U.S. Adult and Junior National Teams in the May 2021 of this newsletter. In June 2021, we continued with #2 National Championships/Sanctioned Events, #4 Junior, High School, and Collegiate, #12 Rules and Equipment Specifications; August 2021 was #3 World Outdoor Racquetball and #13 Website, Social Media, and Publications; in September we covered #7 Hall of Fame and Annual Awards, and in October we discussed #8 Our Partners Across the Sport. November addressed #11 Technology - Communication, Membership, Rankings, and R2Sports. In January 2022, we devoted this space to #9 We Support State Organizations and Event Directors. February is National Racquetball Month, and the above article describes USA Racquetball's available information and resources for #10 We Help Our Members with Strategies to Save Courts.Download the flyer here.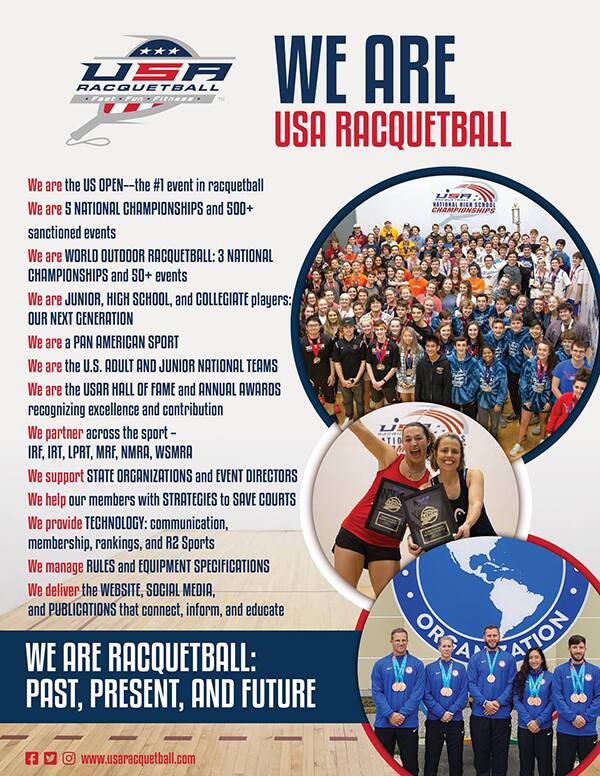 In conclusion, we take our role very seriously in serving all of you and in saving and strengthening our sport, and we hope this infographic resonates with you as an inspiration for working together to do whatever we can to preserve this treasure in our lives.
It will take all of us to do it, and USA Racquetball accepts and embraces our sacred responsibility to lead and to inspire everyone to participate in solutions.
Sincerely,
The Staff, Board, and Volunteers of USA Racquetball