2022 High School Nationals
What a week! An impressive 183 boys and 163 girls entered and competed at the USA Racquetball 2022 National High School Championships, March 2-6, on 16 courts at Vetta Racquet Sports - Concord in St. Louis, Missouri, and Vetta Racquet Sports - West in St. Peters, Missouri.
TEAM RESULTS
The National High School Championships is all about teams! Players numbering 346 represented 8 states and 29 high schools.
Congratulations to the 1st place Boys Team, St. Louis University High School, for the 11th straight year and 15 titles overall in the history of National High Schools! Amazing!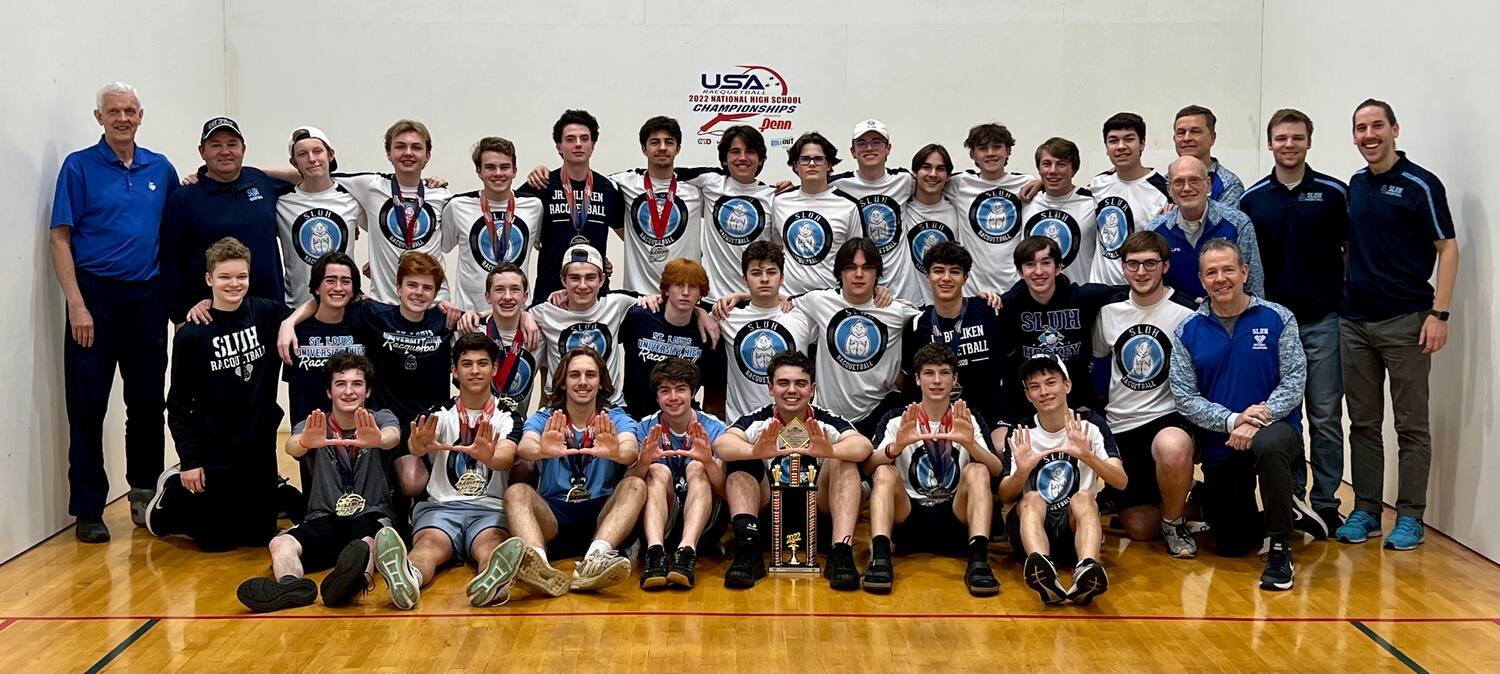 Photo by Tim Windler

The 1st place Girls Team, Lafayette High School, took this title for the first time in school history! Nice work, Ladies!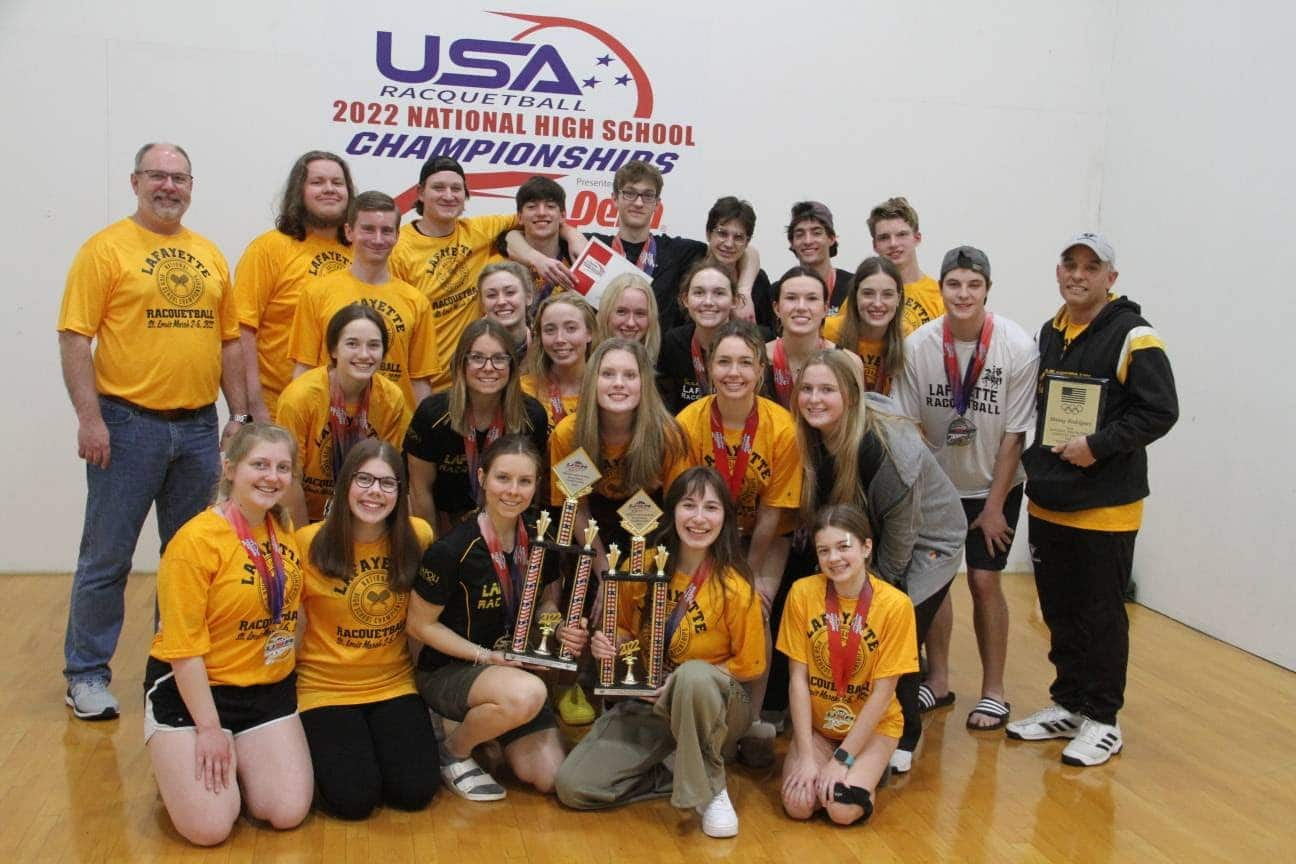 Photo by Debbie Graven

The Overall Team Champion was Kirkwood High School, capturing the title for the first time since 2003! Congratulations -- we're so happy for you!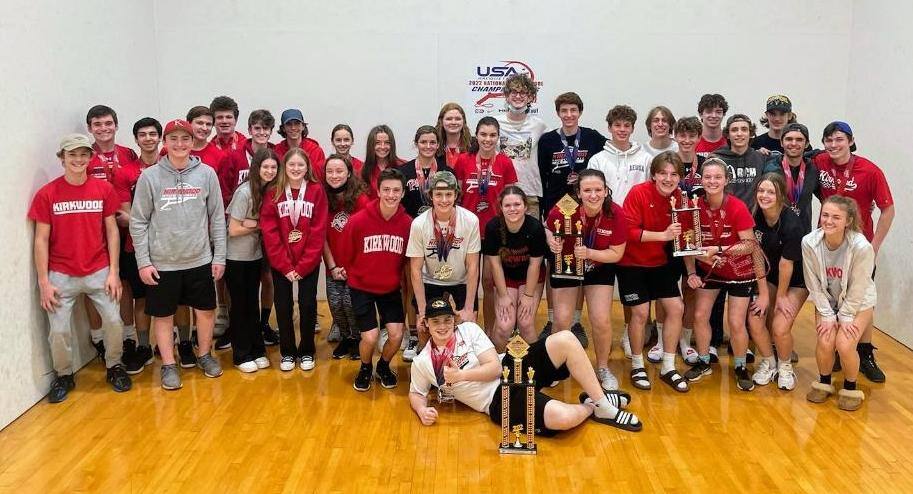 Photo by Daniel Witt
Click here to view the entire list of team standings!
Stat and math geeks, you'll like this one -- click here to see the point scoring for calculating the standings.
Read on for stats, formats, more on winners, recognition, and a recap from Connor Shane, USAR National Events Director!
STATS
Players: 346
One division: 99
Two divisions: 143
Three or more divisions: 104
Total divisions competed: 66
FORMAT AND MEDALS
This event was structured in Olympic Format with four flights in each age group: Gold, Blue, Red & White, thus ensuring that a player typically had a minimum of three matches per division and eventually competed against similarly skilled players during the event. All Divisions received 1st- 4th place National Championship medals.
Players competed for Team and individual National Racquetball Championships in Boys, Girls, and Overall Team Competition. Teams consisted of players in 6 singles divisions, 3 doubles divisions for boys, girls, and 3 mixed divisions. Divisions were numbered 1 thru 6 in singles and 1, 2, and 3 in doubles. The top-ranked player on a team was to enter Division #1, the second-ranked player in Division #2, and so on. Division #6 in singles and Division #3 in all doubles events were open to all players not entered in a higher division. No two players from the same school could play in the same division, except Division #6 in singles and Division #3 in all doubles events. If there were fewer than 6 players, boys or girls, on a team, divisions were filled from the top first, that is Division #1 Singles, then Division #2 Singles, and so on.
All singles players were guaranteed 3 matches, including forfeits and byes. All players earned points for their school toward the Team Championships. Players could enter 3- events, however, they had to be separate events, and the 3rd event had to be mixed doubles. Singles divisions used Olympic Format (Gold, plus Blue, Red, and White).
Doubles divisions were single elimination and had only one consolation round. In doubles, just as in singles, the intent was for the best doubles team from each school to enter Division #1, the second-best team to enter Division #2, etc.
INDIVIDUAL MEDALISTS
Congratulations to all of the players who attained All-American status at these Championships! Check out the list in this, the 34th year, of High School Nationals competition! https://www.mohsrball.com/all-american-teams)
Highlights
Boys Singles -- Josh Shea (Hendrick/Hudson HS, New York) def. Andrew Gleason (Johnston School District, Iowa), 15-4, 13-15, 11-3
Girls Singles -- Naomi Ros (Douglas MacArthur HS, Texas) def. Heather Mahoney (Casa Grande HS, California), 15-9, 15,6
Girls Doubles -- Heather Mahoney/Ava Naworski (Casa Grande HS, California) def. Avery Oppermann/Gabbie Roseman (Kirkwood HS, Missouri), 15-3, 15-11
Boys Doubles -- Jacob Schmidt/Gabe Collins (Christian Brothers College HS, Missouri) def. Jared Thornberry/Will Shorey (St. Louis University HS, Missouri), 15-13, 15-14
Mixed Doubles -- Naomi Ros/DJ Mendoza (Douglas MacArthur HS, Texas) def. Christine Malek/Adam Lancia (Parkway West HS, Missouri), 15-5, 15-2
COACH OF THE YEAR
Very special recognition and congratulations go to Manny Rodriguez of Lafayette High School in Wildwood, Missouri, who was announced as the recipient of the 2022 High School Coach of the Year on Sunday at the final awards ceremony. Manny delivered a well-articulated and inspiring message to those on the court and many, many more watched on live streaming of the ceremony.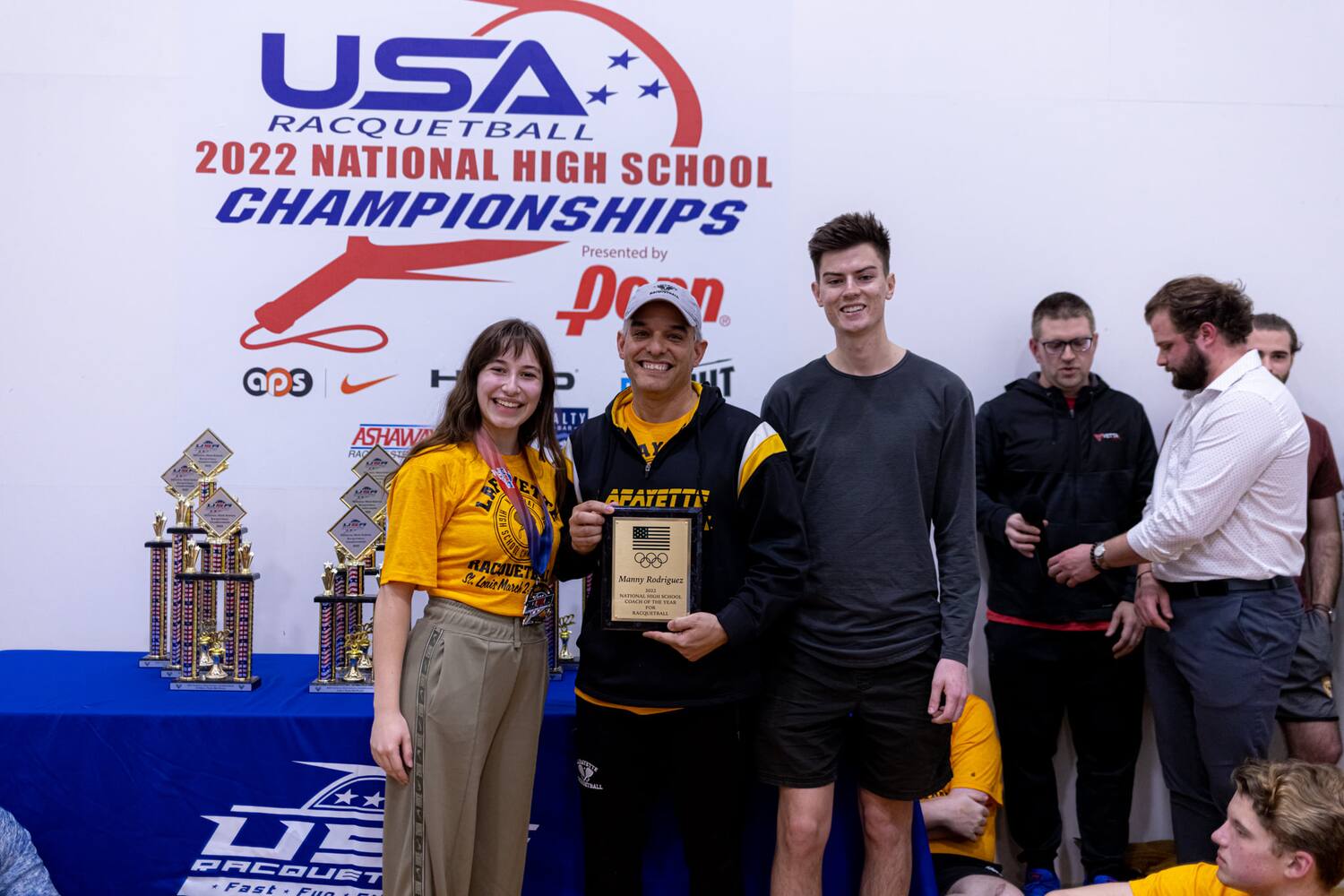 SPONSORS, YOU ARE APPRECIATED!
PRESENTING SPONSOR:

APS Nike
Ashaway
Head
Intent Beverages
Rollout
Talty Bar
Court Sponsors
Mosby Building Arts, Mark McClanahan
Molly Maid
South County Chiropractic, Dr. Laura White, Dr. Brendan Giljum
Sweet Hope Bakery, Colleen Williams
Regional Eyecare Associates, Dr. Lisa Mackey
Saleeby Associates
Oakmont Financial, LLC, Todd Buss
MVG Painting, Michael Von Gerichten
Kirkwood High School Racquetball
MOHSRA - Missouri High School Racquetball Association
MORA - Missouri Racquetball Association
Live Stream Sponsors
Mike Lippitt, Jim Hiser, Carrie Reitmeier, Michael Kaplan, and Armando Perez
THANKS TO THE HEROES BEHIND THE SCENES!
As we all know, it takes a village, and those who pitched in to make this a very special event for the players numbered in the hundreds. Let's take a stab at it...and every single hero, whether identified by name or not, is deeply appreciated for their support. You know who you are!
Shari Coplen (Tournament Operations)
Jazmin Trevino (Tournament Operations)
Dan Horner (Tournament Operations)
Jordan Giljum (Tournament Operations)
Leo Vasquez (Live streaming -- 58 matches streamed plus the awards ceremony!)
Live Stream Dream Team (aka Leo's Support Group): Samuel Schulze, DJ Mendoza, Jason Sauer, Cody Elkins, Benjamin Horner, Zane Horner, and Katie Bain.
Jim Hiser (Draws aka match schedules)
Dylan Shoemaker (Photography)
Heather Chavez (Hospitality)
Hanna Schuermann (Vetta Ops)
Mark Kissel (Stringer)
Sarah Plaskett and Laurie Phillips (Volunteer Coordinators)
Tim Marlo (Official Team Scorer)
Leaders are people, too!
Dan Whitley (Tournament Operations/Vetta Sports Host/USAR Board President, etc., etc.)
Mike Wedel (Executive Director, USA Racquetball)
Connor Shane (USAR Staff/National Events Director)
Renee Isherwood (USAR Staff/Operations Director)
Last but never least
All of the hundreds of parents who volunteered all weekend
All of the coaches who spent 12-14 hours a day at the clubs for 5 days
YOU are the BEST!!
To put a bow on this 2022 gift to the Sport of Racquetball, Connor Shane, USAR National Events Director, offered these behind-the-scenes comments:
With the final days of the 2022 High School Championships only days ago, I don't think there is a soul who wouldn't say the event was a great success. Nearly 350 athletes from 30 high schools came together to compete in St. Louis, Missouri. This event marks the first High School Championships to take place in two years, the last being Portland, Oregon, in 2020.
Many aspects made this event successful, but a few made it truly special. As many may know, the two largest High School programs in the U.S. are located in St. Louis and Portland, these also being the largest locations bringing athletes to this championship event each year. For this reason, this tournament is always rotated between these two locations. St. Louis and the Local Organizing Committee rose to the challenge of hosting this year, and we couldn't be more thankful for the work of the Vetta staff, Missouri Racquetball Association, Missouri High School Racquetball Association, volunteers, and local families that all pitched in to make this competition a reality. This event was particularly special due to the complications we continue to face with COVID and the ever-changing regulations across the country.
No more than four weeks prior to the first day of competition, USA Racquetball staff along with Missouri and Oregon state leaders met via Zoom to discuss the possibility of cancelling the event due to the rise of Omicron variant regulations across the U.S. During that meeting and after much discussion, the dialogue changed course. All parties involved began planning for the event as quickly as possible. This pivot was made with the high school players in mind and all parties willing to jump through any hoops necessary to give the kids an opportunity to make the journey if they and their families so chose. This decision turned out to be the right one, and the event saw many more athletes than expected.
This marks the first regular-cycle national event we have been able to host since before the pandemic. The energy in the building during the finals was unbelievable. All of the teams, parents, and athletes were invested in making the event successful, and the tone was one of excitement and enthusiasm. We are very much looking forward to next year in Portland. Congratulations to all the athletes and another very big thank you to the behind-the-scenes team that made it happen!
https://www.r2sports.com/tourney/home.asp?TID=38151
2020 - PORTLAND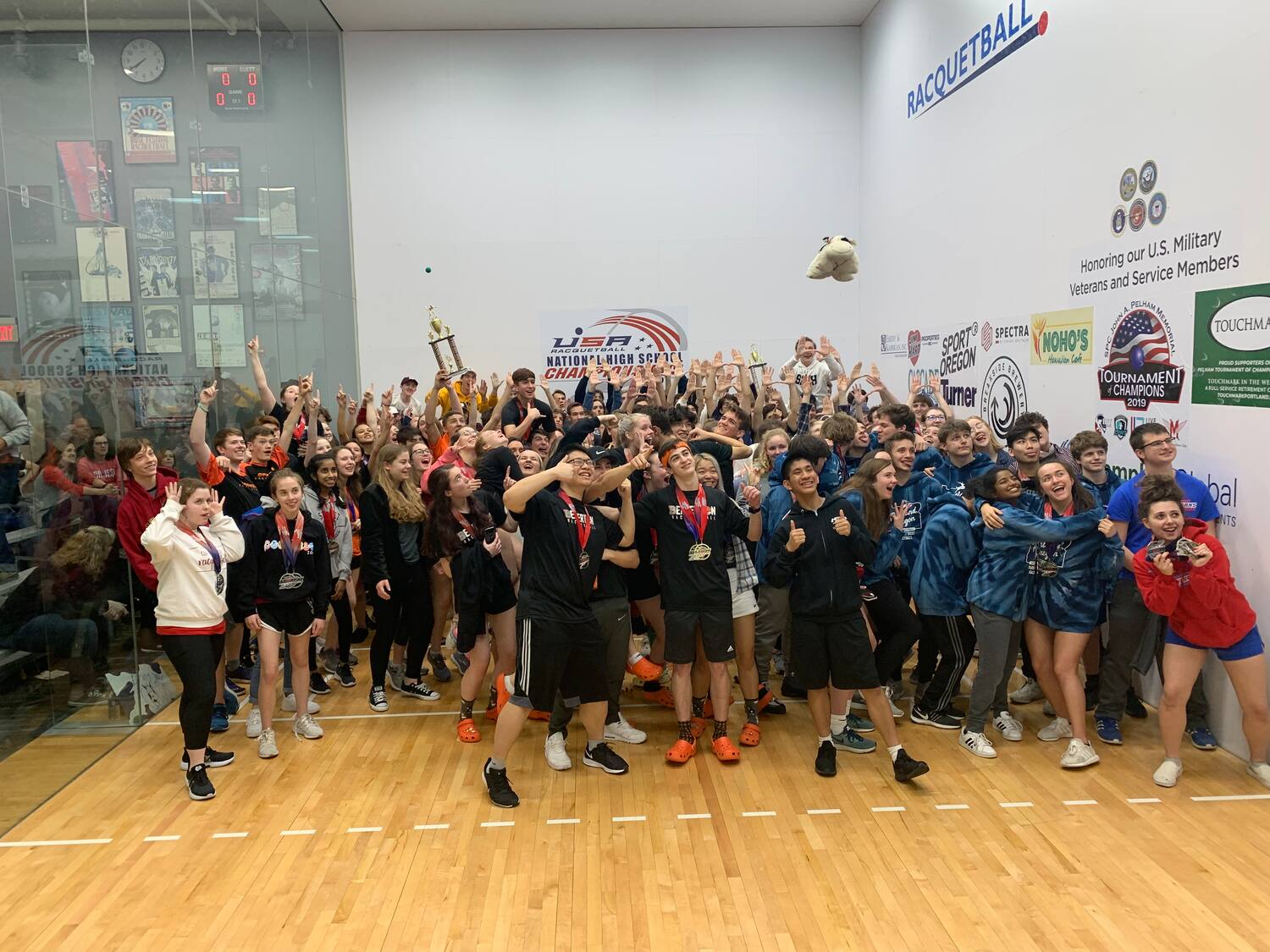 Photo by Dan Whitley
2022 - ST. LOUIS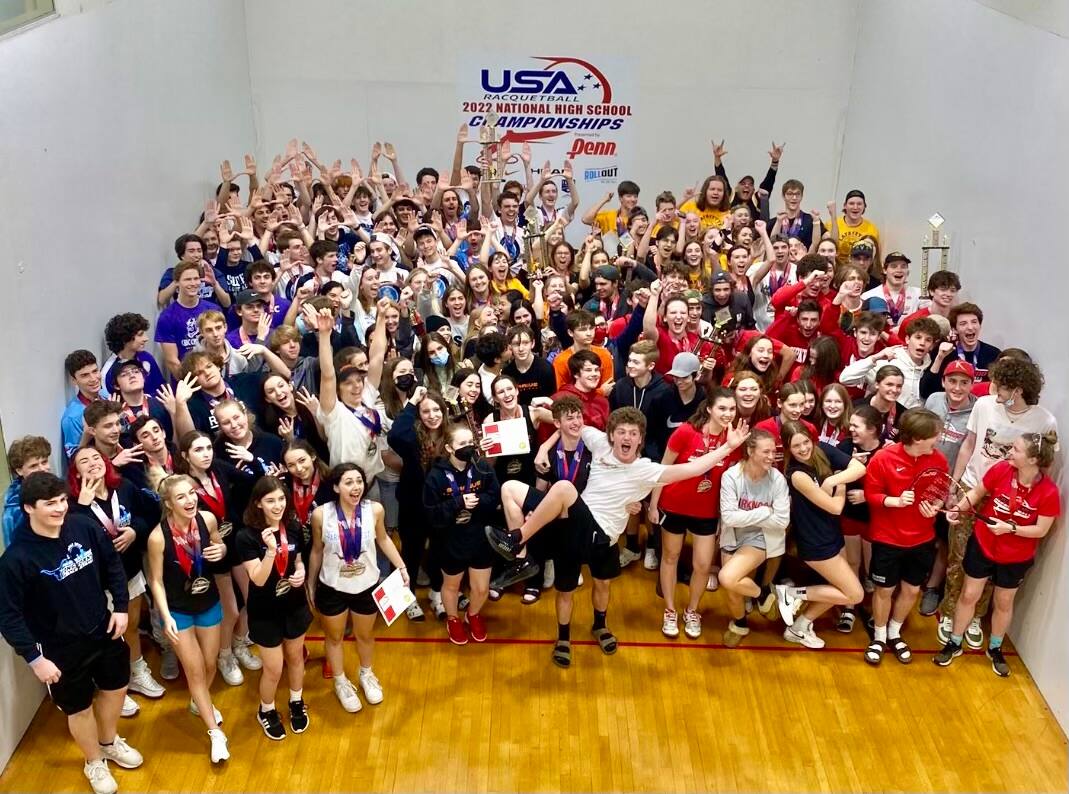 Photo by Jennifer Rappaport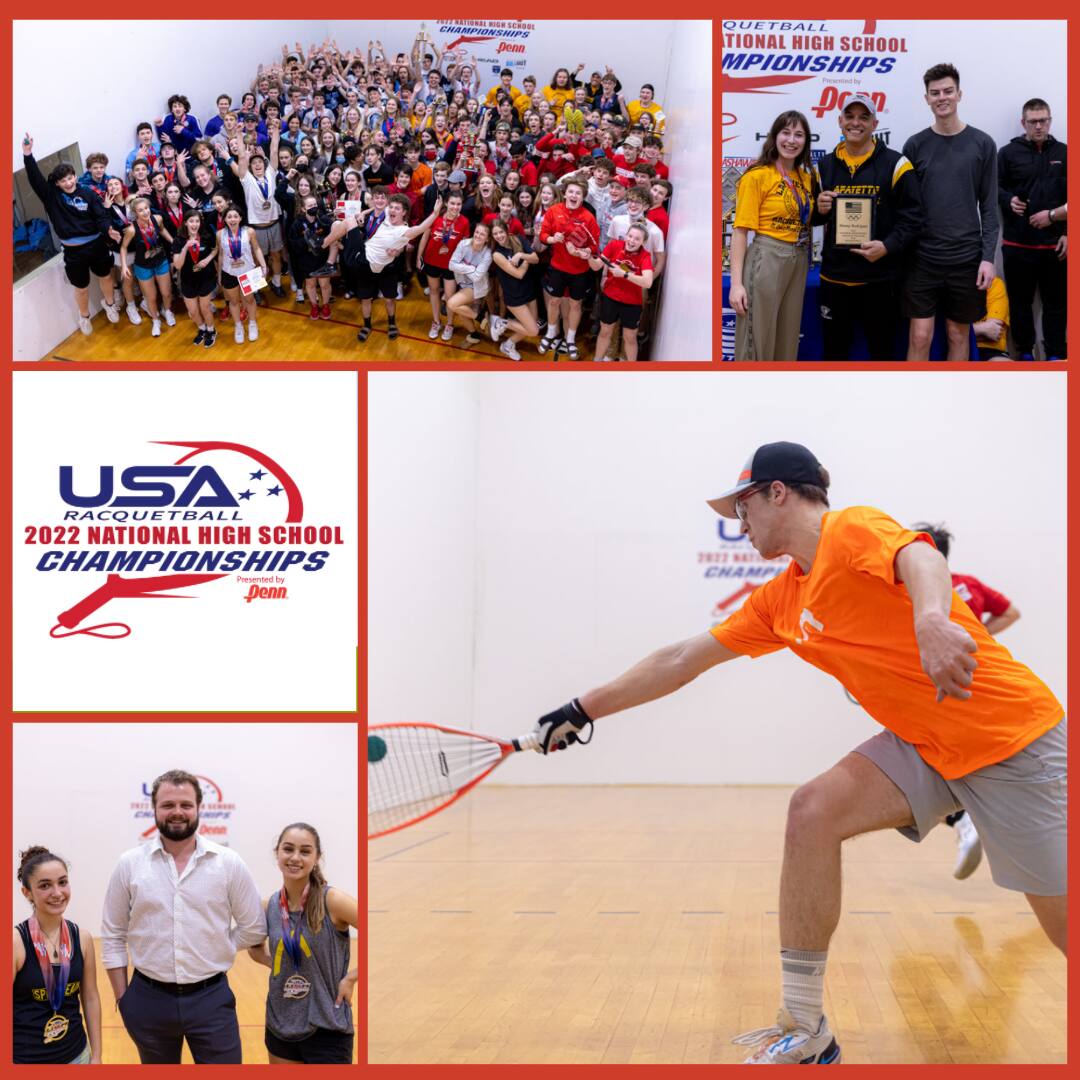 Photos by Dylan Shoemaker