World Outdoor Racquetball Update for June 2022
by Todd Boss, with contributions from Jim Bove, Mike Coulter, Greg Lewerenz, Ginnie Boatel, Lou Orosco
Updates on the Outdoor Majors
Here's the latest news from the three Outdoor Major tournaments (see the upcoming events section for exact dates and locations):
Outdoor Nationals 2022
Title sponsors announced: Team Root and Pro Kennex! Thanks to Randy Root and Mike Martinez for your continued support of Outdoor Racquetball.
Team 3WallBall is taking a larger interest in this event as well, bringing their involvement into all three Outdoor Majors.
Event Dates: 7/14/22 – 7/17/22. The dates were pushed back a week to get the tournament away from the July 4th holiday.
Other Gold sponsors of the 2022 event include Melissa's Restaurant, KWM Gutterman (Keith Minor), Gearbox (Rafael Filippini), Bloom Injury Law (Mark Bloom), Splathead (Joe Hall), Daily Racquetball (Jeffrey Thompson), Roundabout Entertainment, Coca Cola, and RH Enterprises.
3WallBall 2022
KWM Gutterman 2022 3WallBall Championships officially announced!
Thanks to Keith Minor for the title sponsorship and his continued support of the sport.
Dates: 10/26/22 – 10/30/22
The STRAT hotel, Las Vegas, Nevada. GET YOUR HOTELS EARLY, last year a last-minute EDM concert sucked up all the available hotels and some people got gouged for rates.
New for 2022: Squash57
Social activities planned for this year: Ladies Night Thursday, Costume Party Saturday
Remember, this is the big finish for the 2022 Outdoor Cup Series.
Beach Bash 2023
March 8-12, 2023: Mark your calendars, the 2023 Beach Bash will be back!
May 2022 WOR/Outdoor Tournament Result Recaps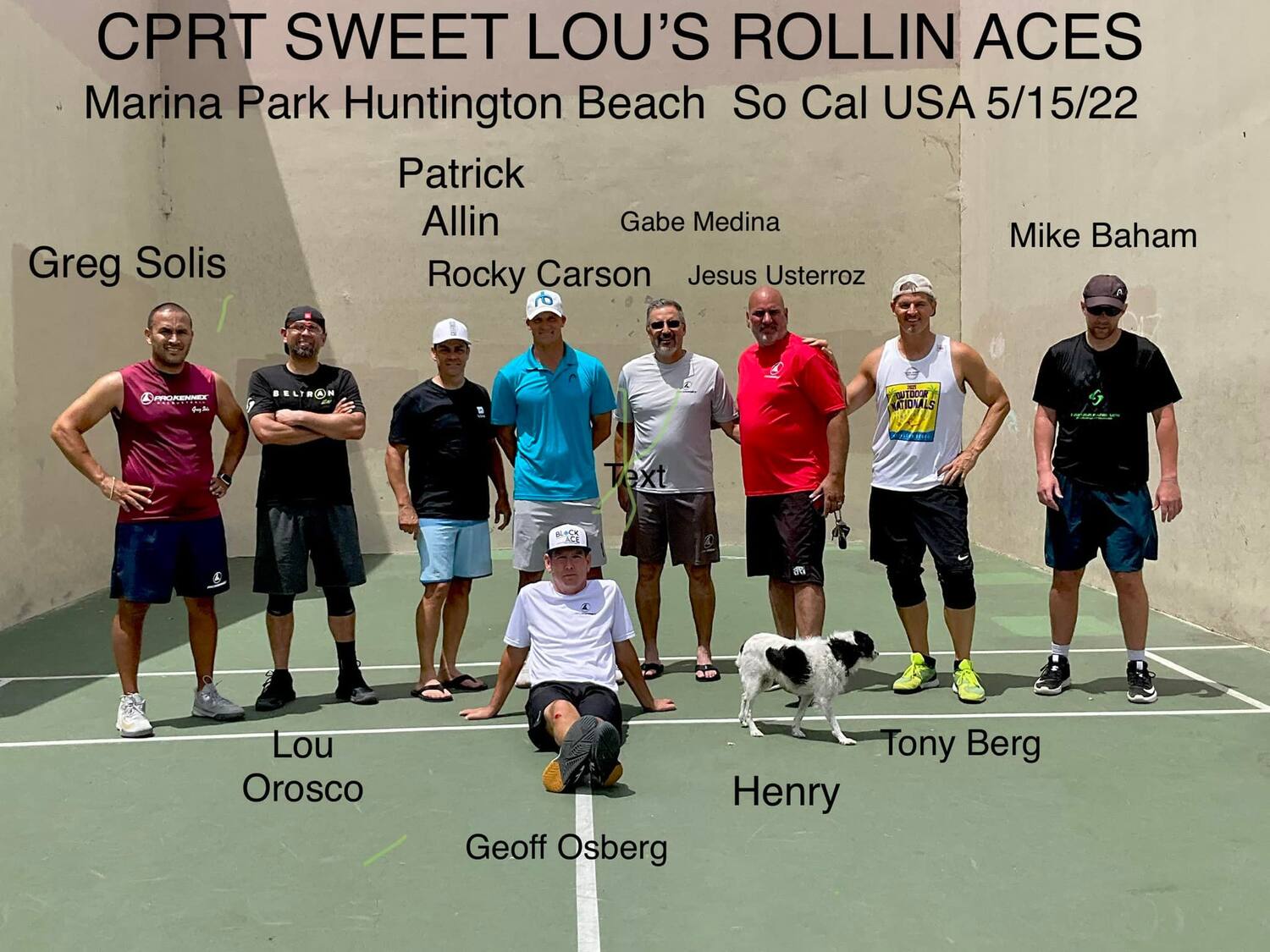 Group shot of the competitors in the Sweet Lou's Lower Doubles bracket. Photo and captions courtesy of Ginnie Boetel
May 14-15, 2022: Sweet Lou's Rollin' Aces Shootout, Marina Park, Huntington Beach, California. https://www.r2sports.com/portfolio/r2-event.asp?TID=39056. Tournament Director: Lou Orosco
Congrats to all the participants and winners from Sweet Lou's Rollin' Aces Shootout:
Upper Doubles: Jason Geis and Micah Rich
Lower Doubles: Scott Greenberg and Bill Rivera
CPRT 40+: Lou Orosco and Tony Berg
In the Upper Division, Danny Lavely and Patrick Allen upset the #1 seed Rocky Carson and Jesus Ustarroz to meet the #2 seeds Geis and Rich in the final (who had topped Lou Orosco and Emmett Cole in the semis). There, the reigning Outdoor National champs took yet another title on the big Marina Park courts, another sign they're the team to beat in July.
In the Lower division, Scott Greenberg and Bill Rivera took home the first-place prize in the final, defeating 2nd place finishers JC Guzman and Enrique Mayer.
In the 40+ division, Lou Orosco and Tony Berg took out Greg Solis and Josh Tucker in the final, 15-6
May 21-22, 2022: 15th Annual Memorial Tournament, Holiday Park, Ft. Lauderdale, Florida. https://www.r2sports.com/portfolio/r2-event.asp?TID=39055.
Tournament Director: Jeff Wrightt
The tournament drew 25 participants to the legendary Holiday Park in Fort Lauderdale.
In Men's Open/Pro doubles, four teams advanced to the knockout rounds from the round robin competition:
Roy Hernandez / Marcos Gravier
Rodrigo Mendoza / Garry Smith
Bobby Morales / Alejandro Barcelo
Jonathan Telles / Joe Young
In the end, Hernandez/Gravier topped Mendoza/Smith to take the championship on the fast Holiday Park courts.
May 28, 2022: 11th Annual WOR Southfield King & Queen of the Court, Southfield Civic Center, Southfield, Michigan. Tournament Director: Greg Lewerenz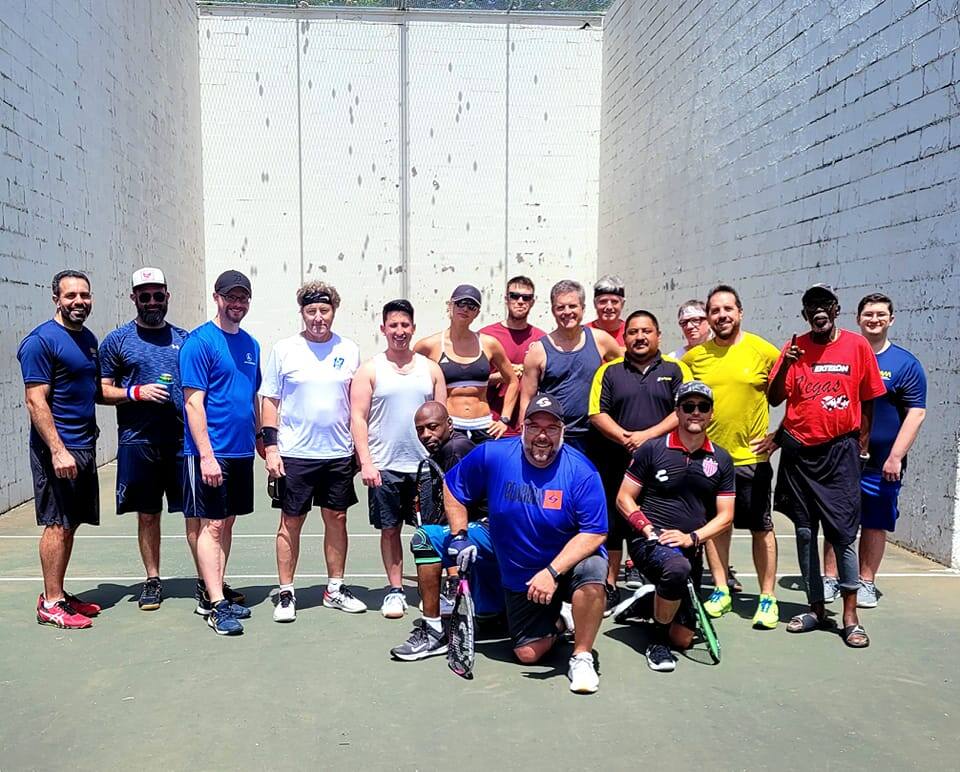 Group photo of 11th King & Queen participants, courtesy of the Racquetball Association of Michigan Facebook group/Emma EM
The 11th Annual King & Queen of the Court is in the books, and it was a great way to open the outdoor season! Special thanks to Greg Lewerenz for putting on another awesome season opener and to HEAD Penn Racquetball for generously donating the balls for the tournament.
Perfect weather, good food and lots of solid matches!
Here were the winners in both brackets:
King Division:
1st Place: Ian Brooks
2nd Place: Mark Reed
3rd Place: Steve Goedker
4th Place: Alex Kazarian

Prince Division:
1st Place: Frank Jauregi
2nd Place: Mark Sendo
3rd Place: Greg Lonc
4th Place: Ty Bowman
And, the one and only Queen of the Court is Paulina Peach.
May 28, 2022: 2022 Boston WOR. Season Opener, Constitution Beach, Boston, Massachusetts. One-wall doubles tournament. Tournament Director: Jim Bove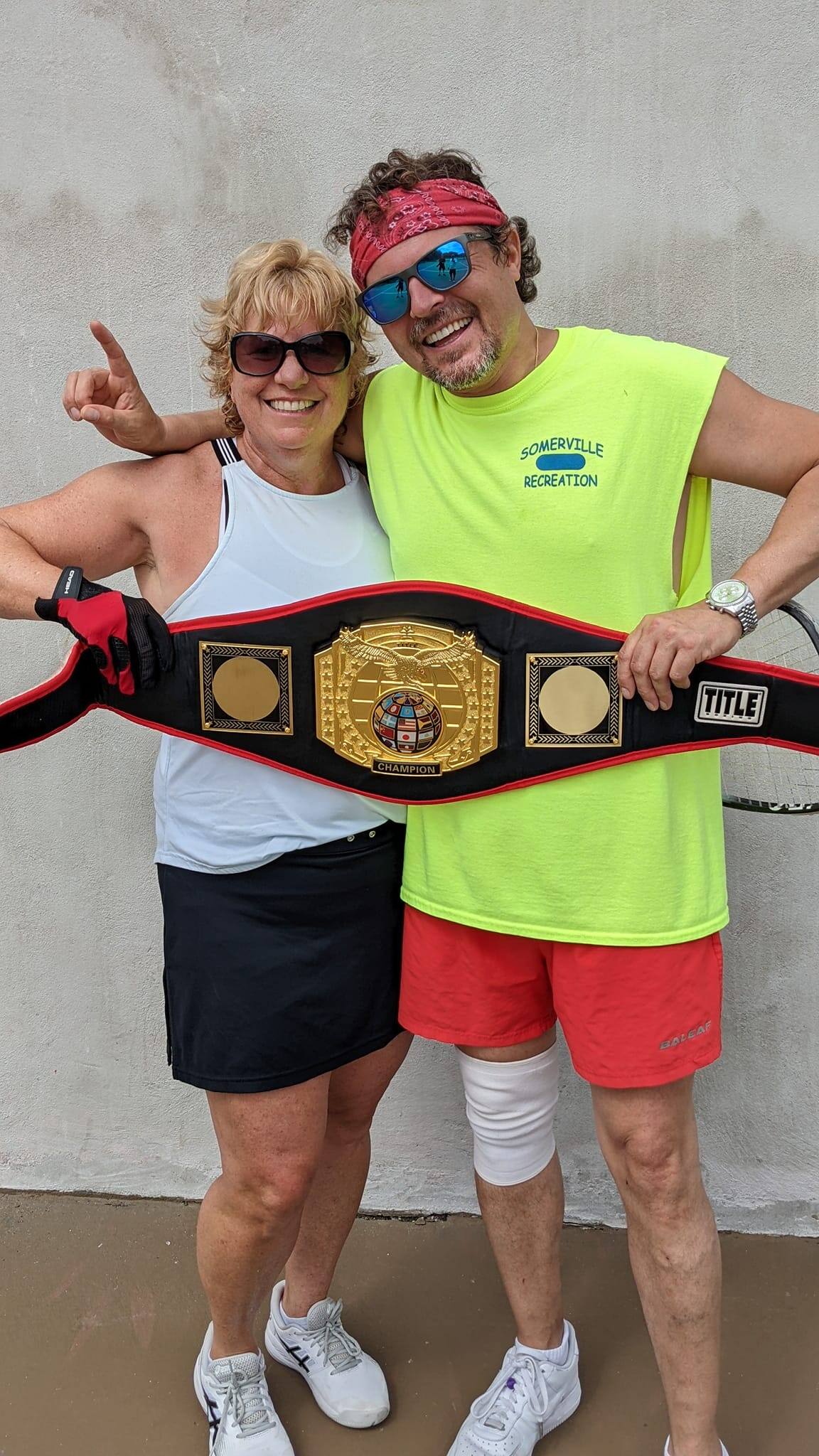 Mixed Open/Elite champs Tony Sharp and Estelle Dill display the championship belt. Photo courtesy of Jim Bove.
Mixed Open was won by Tony Sharp/Estelle Dill. Second taken by Elliott Saunders/Christine Ferrario.

Men's Open was won by Elliott Saunders/Jim Bove. Second went to Sean Bryan/Tony Sharp.
Great weather, games, food and friends. Thanks to everyone who came!
Mark your Calendars for these Upcoming Outdoor Events for 2022
Here's a quick guide to known upcoming WOR/Outdoor racquetball events.
Changes for this month: the WOR Florida State Championships were postponed from mid-May to a future date in the summer. Instead, the big annual Holiday Park Memorial will be held in mid-May. Chicago has added a new Father's Day Shootout with details to come

June 18, 2022: No Frills Father's Day Shootout, Rainbow Beach, Chicago, Illinois.
Tournament Director: Joey Logan
https://www.facebook.com/toddeboss/posts/10159840453838859
June 18, 2022: RAM Outdoor Championships, St. Claire Shores Outdoor Courts, St. Claire Shores, Michigan.
Tournament Director: Tom Blakeslee

June 25-26, 2022: Alien Outdoor Racquetball Pro-Am, Escobar Park, San Antonio, Texas.
Tournament Director: Ramon Flores. Pro Kennex sponsored players to appear and play exhibitions.

July 2, 2022 (tentative): NorCal WOR Summer Warmups, West High School, Tracy, California.
Tournament Directors: Frank Biehl/Walter Ramos/Erica Williams

July 14-17, 2022: 2022 Outdoor Nationals, Marina Park, Huntington Beach, CA.
Tournament Directors: Geoff Osberg & Jesus Ustarroz
https://www.r2sports.com/portfolio/r2-event.asp?TID=38652

August 12-14, 2022: Windy City 3Wall Brawl Championships, Chicago, Illinois.
Tournament Director: Joey Logan

Mid-August 2022: (tentative) Silicon Valley Shootout, Mitchell Park, Palo Alto, Califonia.
Tournament Directors: Erica Williams/ Walter Ramos

September 24, 2022: Fallen Comrades 4, St. Claire Shores Outdoor Courts, St. Claire Shores, Michigan. Tournament Director: Tom Blakeslee
https://www.r2sports.com/portfolio/r2-event.asp?TID=37864

Mid-September, 2022: Two-Day Shootout, Florin HS, Sacramento, California.
Tournament Director: Frank Biehl

October 26-30, 2022: 13th Annual 3WallBall Outdoor Championships, Las Vegas, Nevaa.
Tournament Directors: Mike Coulter and Peggine Tellez

November 12-13, 2022: WOR Florida State Championships, Waterford Park, Davie, Florida.
Tournament Director: Rob Mijares. Note: Originally mid-May, rescheduled to mid-November.
https://www.r2sports.com/portfolio/r2-event.asp?TID=39056

December 16-18, 2022: 2nd Annual Hollywood Beach Battle, Hollywood, Florida.
Tournament Director: Maddie Melendez
The Latest on Dane Elkins Search
Dane has now been missing since 12/21/20. His last known location was in Oakdale, California, on 7/12/21, and the last credible sighting was in September 2021. The family had some hope raised this month with a couple of reported sightings closer to Stockton, but nothing has panned out. If you are in the NorCal area where Elkins is most likely at present, definitely keep an eye out for someone who fits Dane's description (early 20s, brown hair, green eyes, 5'11, 170, athletic, possibly with a beard).
If you see Dane or may know about his whereabouts, his mother Deborah Kassin Elkins respectfully asks you to contact her at 562-504-6005 and to send any pictures or videos to searchingfordaneelkins@gmail.com.
To keep updated, please consider joining the Facebook Group "Searching for Dane Elkins" at this link: https://www.facebook.com/groups/findingdaneelkins. The Elkins family is continually providing updates, possible sightings, and news articles/media coverage on the search.
Stay in Touch with WOR on Facebook
The absolute best way to stay abreast of Outdoor events is to follow WOR – Outdoor Racquetball on Facebook. We post updates for upcoming events as soon as they're available!
https://www.facebook.com/WorldOutdoorRacquetball/
Plus, there's a slew of geographic-specific groups that talk about play all over the country. Wherever you live, there's likely to be a group that coordinates play in your area. Reach out to WOR to find a Facebook group or a state director to help you out.