Sweet Caroline Features Two Exciting Finals and HOF Induction
In May, the LPRT was invited back to Greenville, South Carolina, for the 6th Annual Sweet Caroline Open (SCO), Presented by Proactive MD.

This unique event, which exudes southern hospitality, could really be a blueprint for other groups interested in hosting the pro tour. The SCO group of volunteers fundraise over a year's time to support charities in the local community while combining their efforts to showcase the LPRT at a local amateur racquetball tournament. This year, they selected two charitable organizations: Fostering Great Ideas and Carolina C.O.P.S.:
Fostering Great Ideas advocates for children and teens who struggle in the foster care system by providing significant support to them during their foster care journey (fgi4kids.org).
Carolina C.O.P.S. assists the families and departments of those who have fallen in the line of duty (carolinacops.org).
Supportive fans enjoyed exciting pro finals in both singles and doubles. Paola Longoria (Mexico) won the SCO pro singles title for the sixth time. Nipping at her heels at this event was #2 ranked player Alexandra Herrera (Mexico) who had won the last two LPRT events (Boston and Vero Beach). Herrera took Longoria to the edge of everyone's seats in an 11-7 tiebreaker.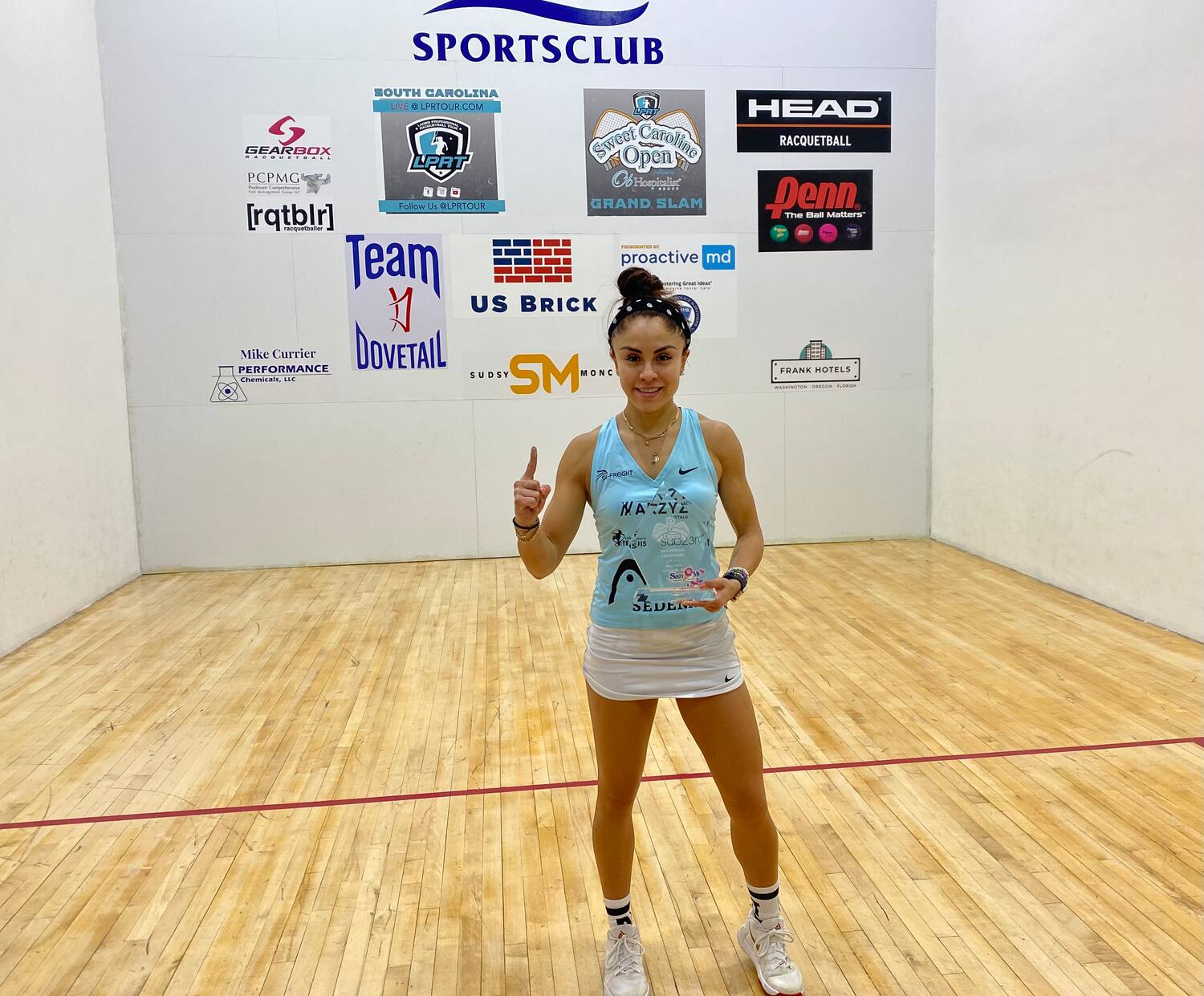 Pro Singles Champion Paola Longoria
Longoria faced Jessica Parrilla (Mexico) in the semifinals, while Herrera faced first-time semifinalist Kelani Lawrence (USA).
The pro doubles title was won by the #2 seeds, Herrera and Parrilla, who were a dominant force and played the final almost flawlessly. They overcame #1 seeds Longoria and partner Samantha Salas Solis (Mexico) in two games.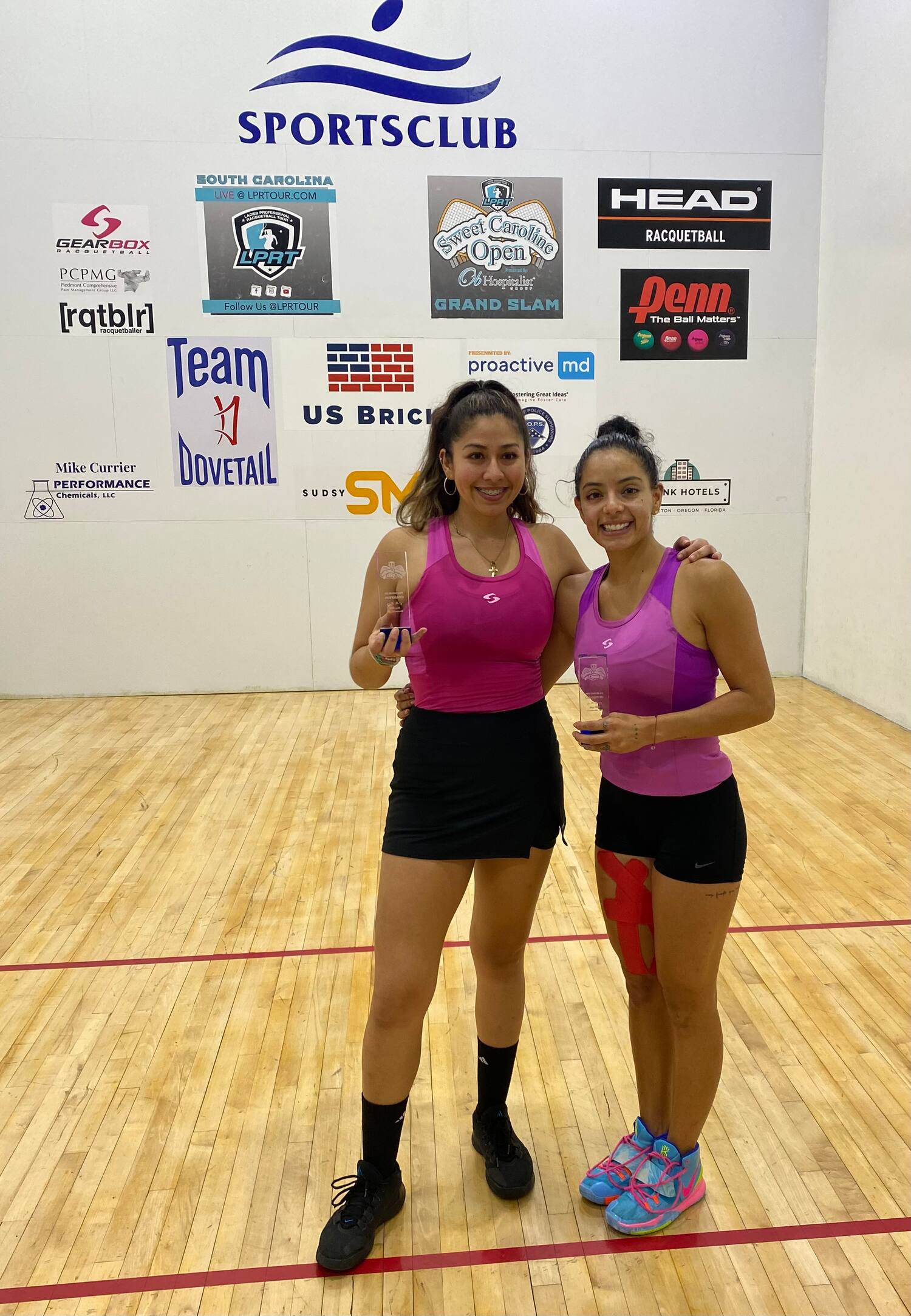 Pro Doubles Champions Alexandra Herrera & Jessica Parrilla
Honorable mention goes to the doubles team consisting of junior players Shane Diaz (USA) and Naomi Ros (USA) who battled to an 11-6 tiebreaker against the talented duo of veteran and former doubles World Champion Aimee Roehler (USA) with her partner, LPRT Top 10 player Erika Manilla (USA).

In singles action, an honorable mention goes to the performance by Maria Renee Rodriguez (Guatemala) who won a tiebreaker match over Adriana Riveros (Colombia), her first time besting the Colombian. Rodriguez then went on to take #3 ranked tour player Maria Jose Vargas to a close tiebreaker.

The event location, Sportsclub Greenville, houses the Ladies Professional Racquetball Hall of Fame, and we thank PCPMG (piedmontpain.com) for sponsoring again this year. This year the LPRT, along with Hall of Fame Committee Chairperson Malia Bailey, committee members Lynette Froelich, Shari Coplen, Mary Kirchoff, and former pro Laura Fenton Kovanda, celebrated Shannon Wright as the inductee for 2022. Wright dominated women's racquetball throughout the late 1970's and early 80's. During her 12-year career, she racked up over 35 professional tournament victories, captured 7 national championships, and finished #1 on the Ladies Professional Racquetball Association (LPRA) Tour four times. To view the full induction ceremony along with all of the archived matches from this event, visit the LPRT YouTube page at (https://www.youtube.com/results?search_query=ladies+professional+racquetball+tour).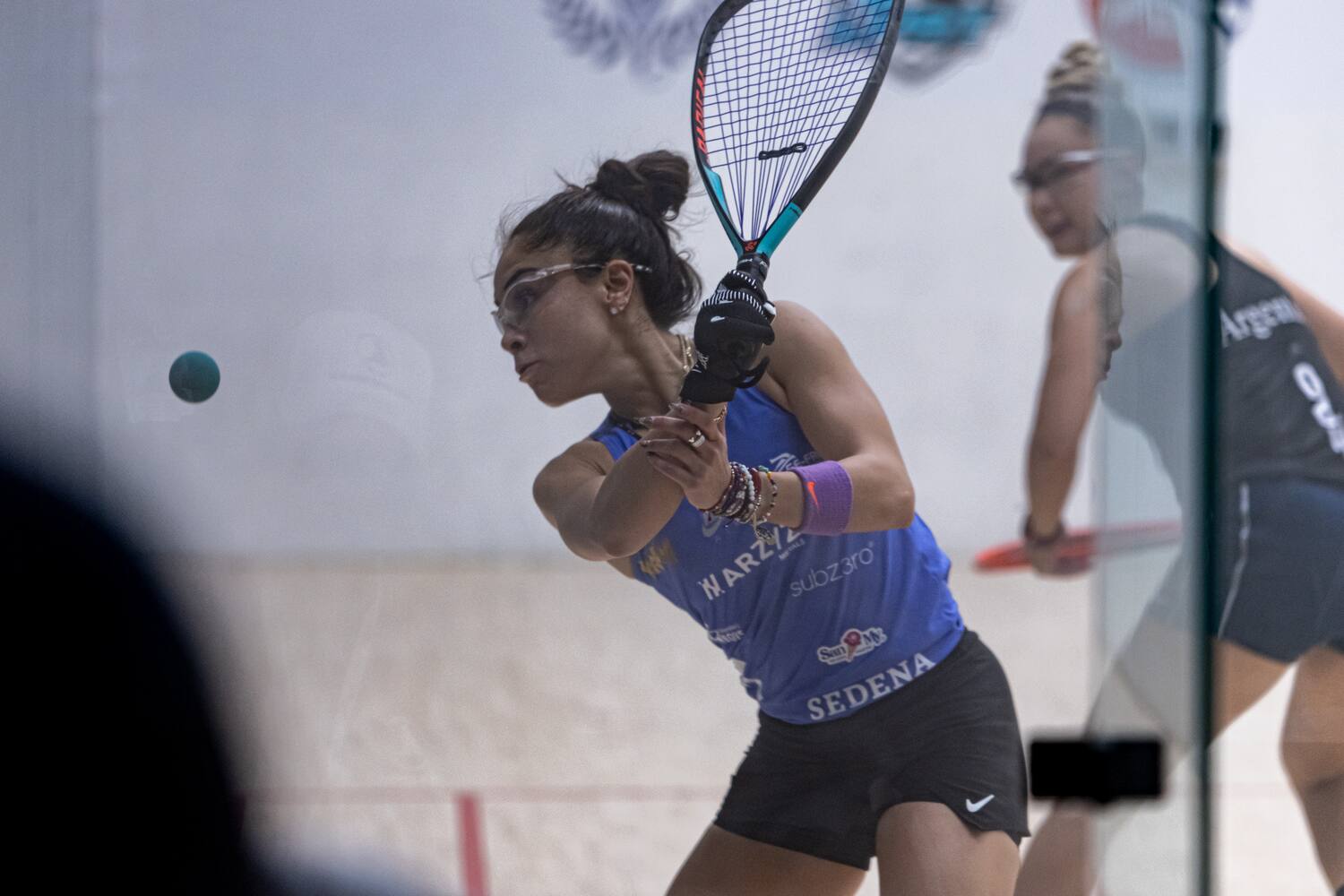 T. J. Baumbaugh & Malia Bailey honoring Shannon Wright at the LPRT Hall of Fame
Southern hospitality, plenty of great food, friendly tournament volunteers, a Saturday night out at the county bar (with bull riding!), and the annual trays of banana pudding, all contributed to making the Sweet Caroline Open 2022 a memorable one. Thank you to everyone who volunteered their time and energy to make the SCO possible, including all of the generous and supportive sponsors.
Special thanks to:

The Swain Family
Proactive MD
US Brick
Piedmont Pain
Sportsclub Fitness & Wellness

Brittany Brackett
Kooper Buchanan
Matt Dersch
Kellie Dietz
Amy Farmer
Geoff Goldberg
Jeff Hoffman
Jerry J. Josey, Jr.
Creighton Magoun
Holli Meindl
Amber Ritacco
Maria Renee Rodriguez
Jacob Varughese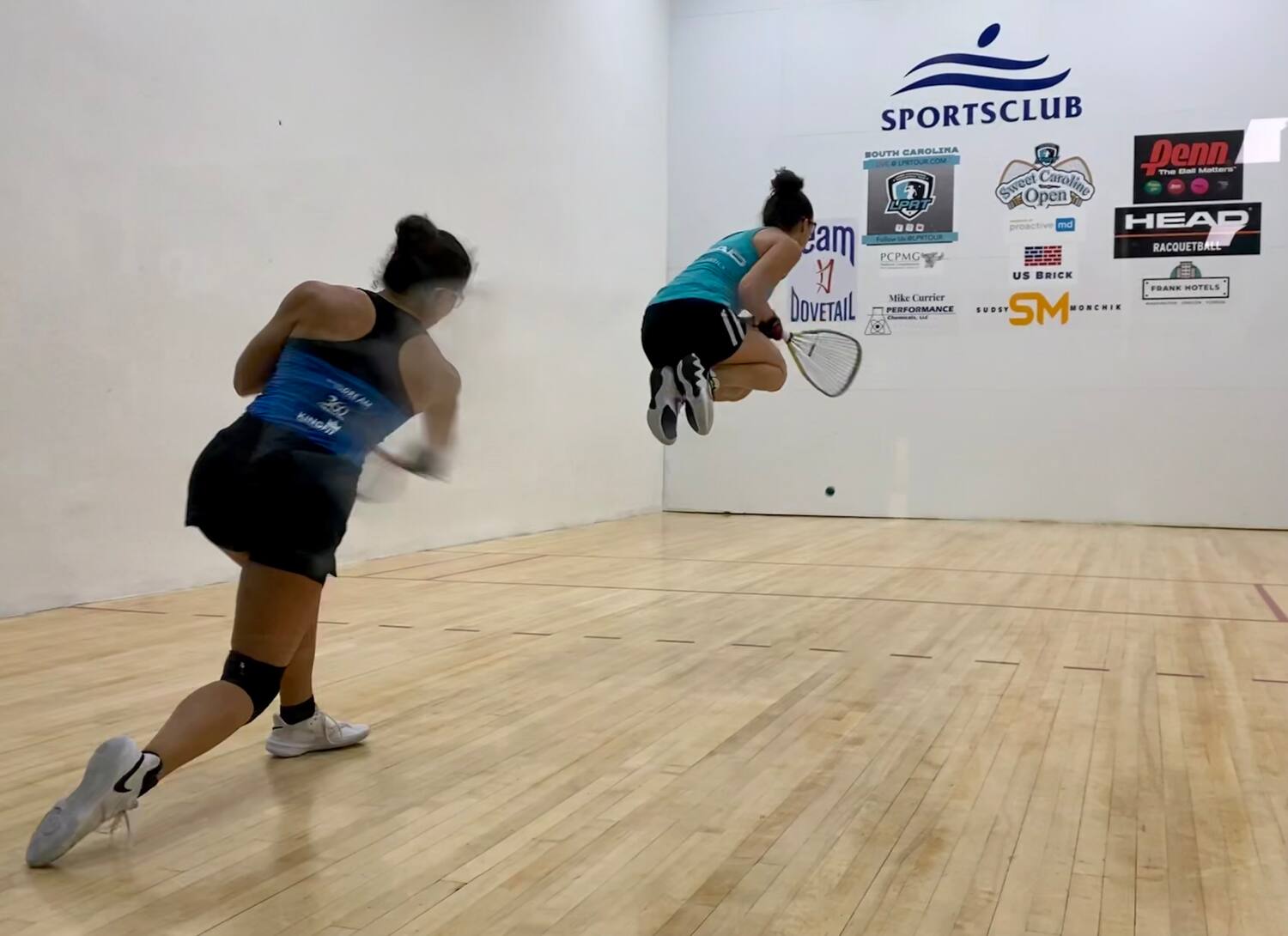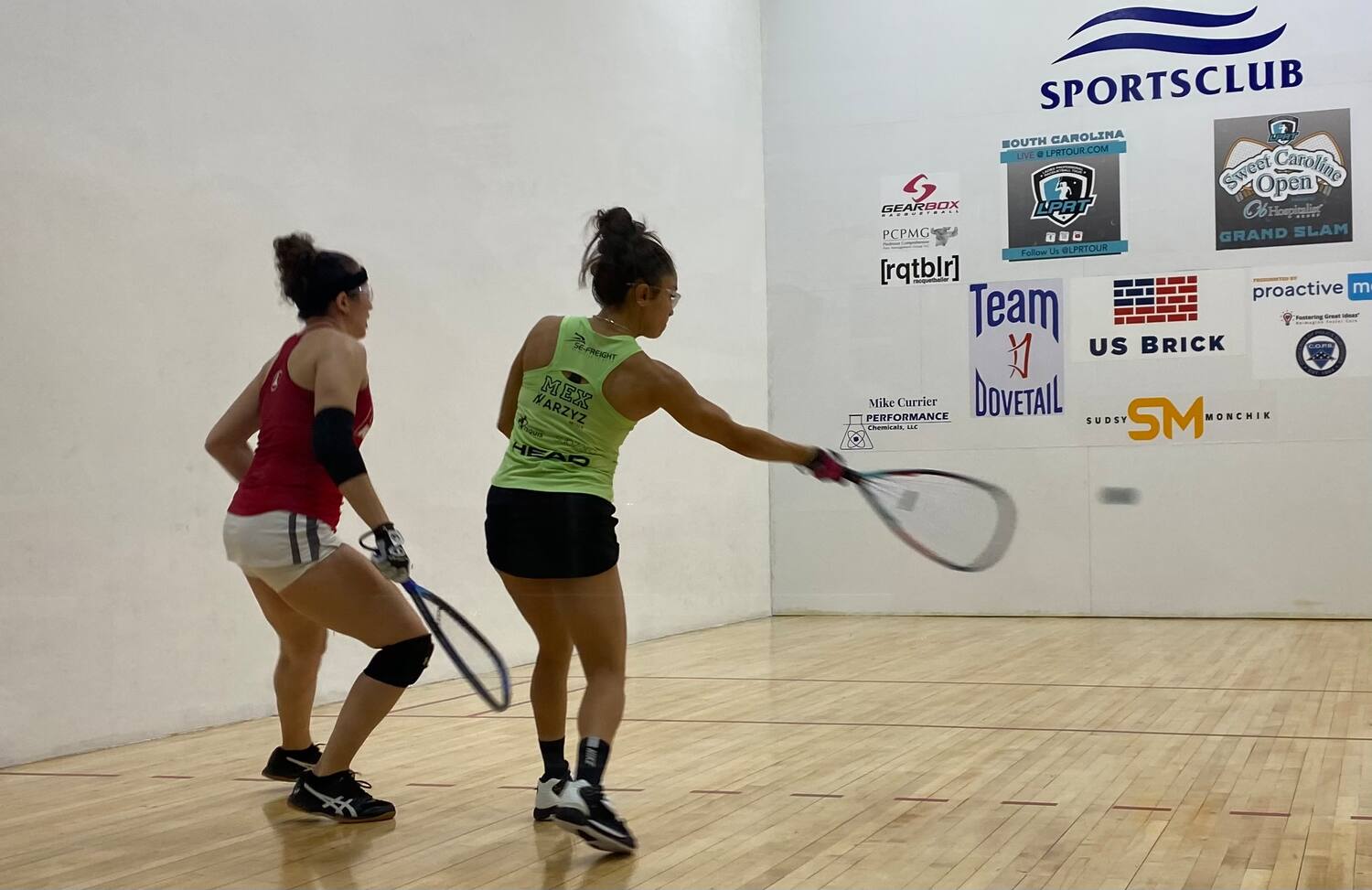 Action photos from the event.
Photos Courtesy of T. J. Baumbaugh