WOR Update July 2022
by Todd Boss, with contributions from Barry Wallace, Bob Wetzel, Cyrus Chinoy, Greg Lewerenz, Joey Logan
Outdoor Nationals Preview
** Note: At the time of this writing, the Outdoor Nationals was about to take place. Enjoy this preview and then visit https://bit.ly/3zPr9OR for a full list of the divisions and results.

By the time you're reading this, Outdoor Nationals event will be underway. The 48th Annual event runs from July 14-17, 2022 at the Marina Park outdoor courts in Huntington Beach, California.
This tournament was first held in 1974, on the grounds of Orange Coast College in nearby Costa Mesa, California. It was the brainchild of two Kinesiology professors, Bob Wetzel and Barry Wallace, who had converted from handball to racquetball in the early 1970s. The two professors were so enamored of the sport that they began teaching it at the college and began a huge wave of interest in the sport in Orange County. They organized the first-ever "National Championship" to be held on the July 4th weekend in 1974 and convinced all the top indoor pros of the day to compete in it as well. After much cajoling, Bob Kendler (head of the NRC, which was the main "pro tour" of the day) signed off on the event and encouraged his players to attend. The first Outdoor Nationals included a who's who of the top "indoor" pros of the day, including historic names like Charlie Brumfield, Bill Schmidtke, Steve Keeley, Steve Serot, Craig McCoy, Dr. Bud Muehleisen, and a precocious 16-year-old named Marty Hogan, who was just about to take over the pro tour and forever transform the sport. These top NRC pros competed with the best outdoor players of the day, a list that included Wallace and Wetzel, Jim Carson (who would later become the director of this tournament for a number of years), RO Carson (father of Rocky Carson), Rich Carson (RO's brother and Rocky's uncle), and Mark Susson. In the end, Brumfield topped Serot to take the inaugural outdoor singles title, and Brumfield teamed with Dr. Bud to win the doubles title over the two professors.
After some time, the tournament moved from the Orange Coast College to nearby Golden West College. Then, in 2006, it moved to its current location at Marina Park. This will be the 16th iteration of this event at Marina Park, and the pink and green courts are now the de-facto home of outdoor racquetball in Southern California. The courts are big, very big: the front wall is nearly 23' tall, the courts are 22 1/2 ' wide, and the back line is an inch short of 46 feet, making these courts the largest regularly played courts in the country. The size of the court (and the height of the front wall) makes for some very specialized strategies, and you'll see these strategies in play all weekend. Look for players with local knowledge to use angles and lobbed shots deep into the court, as well as to make heavy use of "out the door" serves all weekend to take advantage of the available space.
The 2022 event is shaping up to be a very strong field, thanks in no small part to the two Outdoor Cup Series going on. Outdoor Nationals is the second leg of the LPL Financial LPRT Outdoor Cup and is also the second leg of the KWM Gutterman Men's Pro Outdoor Cup. With thousands of dollars on the line going to the best finisher amongst the three Outdoor "Majors," interest in competing is high and the draws are littered with touring pros who do not normally enter outdoor tournaments.
Here's a quick preview of the Men's and Women's Pro draws:
Men's Pro Doubles
Last year, the talented team of Micah Rich/Jason Geis topped the presumed "best doubles team in the world," Alvaro Beltran/Daniel De La Rosa, en route to taking the title. However, Alvi and Daniel got some revenge a few months later, beating Rich & Geis in the Vegas final. Both teams are back for 2022 (presumably as the #1 and #2 seeds), and they'll be joined by a dozen other top pro teams competing for the title. Some of the teams to watch for this year include:
Andres Acuña/Lalo Portillo: Acuña has proven to be a quick study on the outdoor courts, and Lalo, recovered from a knee injury, should be in full form. These two made the final of the 2022 Beach Bash and are a formidable team.
Rocky Carson/Jesus Ustarroz are a long-time pairing and are two-time winners here. They continue to play together in the regularly held shootouts on the court and are usually found in the back end of the draws. But they've been bedeviled in the latter stages of this event the last few years, losing in the final of 2018 and in the semis in both 2019 and 2021. They'll still be a top seed and will look to get an upset on Saturday of the event.
Brandon Davis/Josh Tucker won this event together in 2018, and Tucker is a constant presence in the semis of this event. He's been a semifinalist or better ten times since 2007, with three resulting titles. Davis is no slouch either; he's been in the semis or better five times since 2011.This is the team nobody wants to see in the quarters...or perhaps at all in this tournament.They're both frequent players on the Marina Park courts and are cerebral tacticians when it comes to the outdoor genre.
Greg Solis/Scott Davis: Solis has six Men's titles dating to 1995 and made the final last year with Tucker. This year he's entered with Brandon's brother Scott, who is also a mainstay in the quarters and semis of this event and was a finalist in 2014.
Andree Parrilla/Robert Sostre: Parrilla doesn't have much of an outdoor pedigree, but Sostre certainly does. He's won no less than 11 Men's Major outdoor titles in his career and is now teamed up with one of the most skilled indoor pros out there.
Don't forget about solid pairings such as Natera/Fernandez, Coe/Koll, and Lavely/Gerhardt, all of whom are solid teams.

From the Round of 16 onwards, there are no easy matches at Outdoor Nationals. This will be a neutral's paradise to watch from afar.

Women's Pro Doubles

Last year, Michelle De La Rosa/Carla Muñoz cruised to the Women's Doubles title, dominating the five-team round robin. This year the draw will be significantly deeper, with a number of LPRT players pouring in. Here are some teams to watch for:

Kelani Lawrence/Hollie Scott: The newly crowned USA National indoor champs are teaming up to give it a go in outdoor, and Scott's one-wall pedigree should help power this team.
Jessica Parrilla/Maria Renee Rodriguez are teaming up for the first time to compete here this weekend.Parrilla has competed in outdoor before, while this is a first for MRR.
Heather Mahoney/Jazmin Trevino bring some California presence to this draw. Mahoney is fresh off of Junior Nationals, where she captured the 18 & Under title with ease.

Mixed Doubles

The Mixed draw is of course headlined by the husband/wife pair of Daniel & Michelle De La Rosa; they've now won 14 major outdoor titles together since 2014, and they have not lost a match together since the final of the 2018 3WB event in Las Vegas. Who can challenge them? Here are the teams shooting for an upset this weekend:

Rick "Soda Man" Koll/Maria Renee Rodriguez: Koll always competes well in Mixed and has a number of titles to his credit. MRR is newer to outdoor but may prove to be a quick study.
Micah Rich/Kelani Lawrence: this could be my pick to make some noise this weekend. Rich, of course, is one of the best outdoor players out there while Kelani can hold her own against any female player on the right side.
Alan Natera/Carla Muñoz: for years Munoz has played with Sostre in Mixed and was a regular finalist. Now she's trading Hall of Famer Sostre for Natera (understandable, her husband), and will look to make it an all husband/wife affair in the finals against the DLRs.
Andree & Jessica Parrilla: Perhaps the best brother-sister combination in the history of the sport teams up to play Mixed in California. These are two Top 10 touring pros who both can play.
Eduardo Portillo/Hollie Scott: Scott is quickly becoming an outdoor force, and Portillo can hang with most any player.
Robert Sostre and …. A game day decision to see who pairs with Sostre. As of this writing, the Hall of Famer and multi-mixed titlist was seeking a partner. Sostre can carry a player to the final; can he find a partner to break through and win it?
Men's Singles features five brave players battling it out on the massive Marina Park courts. Parrilla, Natera, Lavely, Acuña, and Elkins will battle it out to determine the champion. Not one of last year's semifinalists is returning to attempt to defend their title in 2022.
Women's Singles: Carla Muñoz is back to defend her 2021 singles title, and she's got a slew of regular touring pros challenging her for the 2022 title. Lawrence, Parrilla, Rodriguez, and Scott are in the draw, along with outdoor specialists Victoria Rodriguez and Mexican Junior Angela Ortega. Scott has won the last three Beach Bash singles titles, but three-wall is a different beast in singles than one-wall. This should be a competitive draw.
---
The men are also competing in the CPRT division, which is a pro-quality draw that also counts towards the Outdoor Cup. There are also very strong Open and Age Group draws being competed on the weekend.
---
A special mention of WOR Hall of Famers Martha & Greg McDonald, who continue a rather amazing streak: the McDonalds have participated in every single Outdoor Nationals tournament (save for one when the tournament fell near the due date for their son in 1981) since the tournament's inception in 1974. They're here for 2022, entered into multiple divisions and ready to compete for more titles.
---
We should have comprehensive streaming all weekend from Huntington Beach thanks to JTRball, a Southern California native and outdoor enthusiast who frequently broadcasts shootouts on the Marina Park courts.
We look forward to the Outdoor Nationals, and to all the players competing for the 2022 Outdoor Cups!
Updates on the Outdoor Majors
Here's the latest news from the three Outdoor Major tournaments (see the Upcoming Events section for exact dates and locations).
Outdoor Nationals 2022
Title sponsors announced: Team Root and Pro Kennex! Thanks to Randy Root and Mike Martinez for your continued support of Outdoor Racquetball.
Team 3WallBall is taking a larger interest in this event as well, bringing their involvement into all three Outdoor Majors.
Event Dates: 7/14-17/22. The dates were pushed back a week to get the tournament away from the July 4th holiday.
Other Gold sponsors of the 2022 event include Melissa's Restaurant, KWM Gutterman (Keith Minor), Gearbox (Rafael Filippini), Bloom Injury Law (Mark Bloom), Splathead (Joe Hall), Daily Racquetball (Jeffrey Thompson), Roundabout Entertainment, Coca Cola, and RH Enterprises.
3WallBall 2022
KWM Gutterman 2022 3WallBall Championships officially announced!
Thanks to Keith Minor for the title sponsorship and your continued support of the sport.
Dates: 10/26-30/22
Site: The STRAT Hotel, Las Vegas. GET YOURHOTELS EARLY, last year a last minute EDM concert sucked up all the available hotels and some people got gouged for rates.
New for 2022: Squash57
Social activities planned for this year: Ladies Night Thursday, Costume Party Saturday
Remember this is the big finish for the 2022 Outdoor Cup Series.
Beach Bash 2023
March 8-12, 2023: Save the Date announced! Mark your calendars, the 2023 Beach Bash will be back!
June

2022

WOR/Outdoor Tournament Result Recaps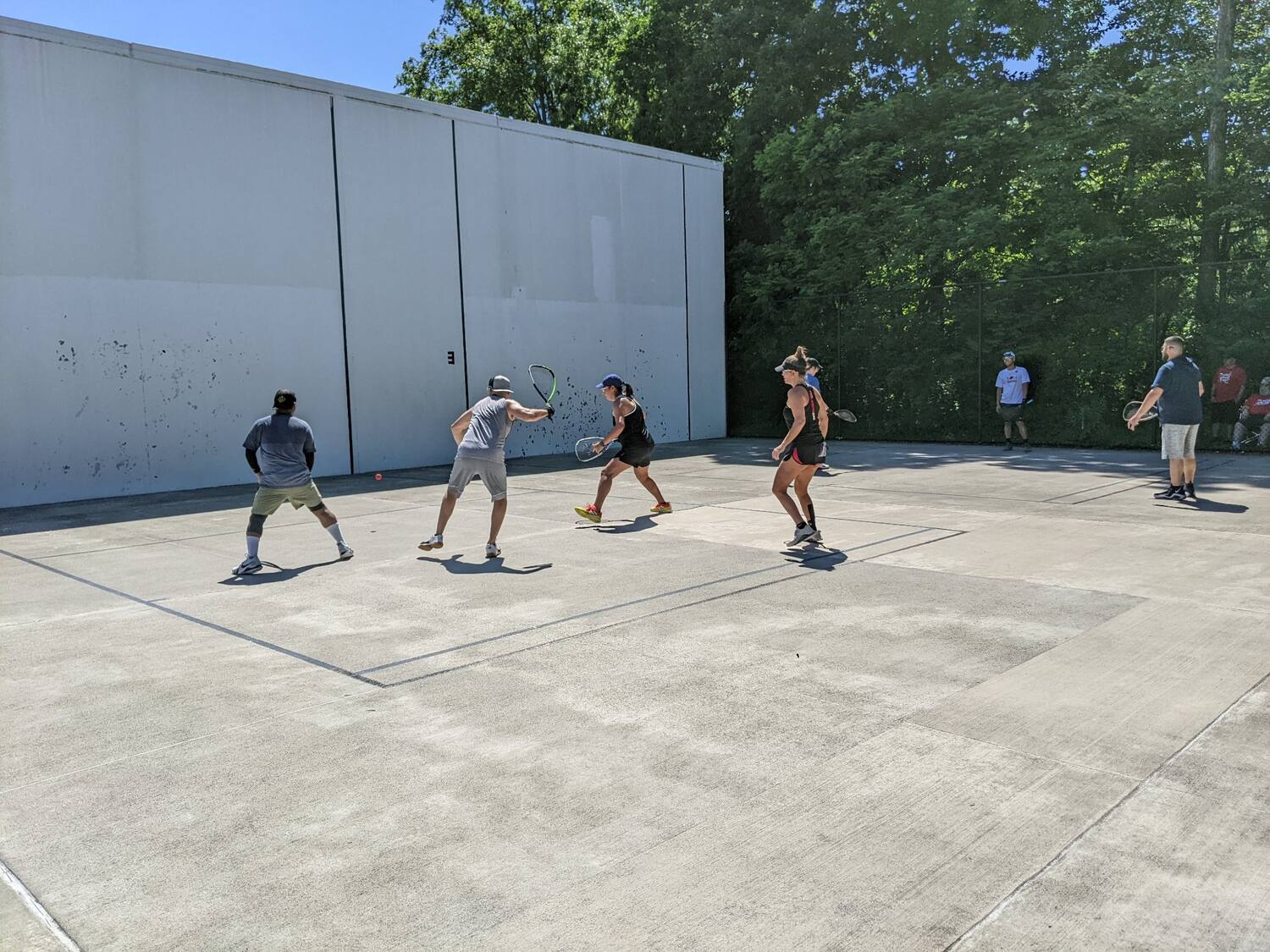 One-wall players in action at Stratton Woods for the 2022 Capital City championships.
June 3-5, 2022: Capital City Championships, Stratton Woods Park, Herndon, Virginia. Tournament Directors: Amie Brewer and Carrie Handfinger Hoeft. https://www.r2sports.com/website/event-website.asp?TID=39432
Capital City WOR Championships Recap
One of the biggest non-major outdoor events of the year, the Capital City WOR Championships were held on the Stratton Woods courts in Herndon, Virginia (just outside of Washington, DC).
Eighty-three players from 11 states descended on this one-wall/three-wall complex to play both iterations of outdoor racquetball (plus some paddleball events) and celebrated the great weather with some great ball.
Pro/Open Divisions Recap
Singles 3-wall: IRT top pro Sebastian Franco won the small three-man RR group to win the iron man competition that is 3-wall singles. All three matches between Franco, Juan Pablo Rodriguez, and Nathan Tucker were close though. A few points either way and we would have had a different winner.

Singles 1-wall: Maryland's Dylan Pruitt took out NYC's one-wall specialist William Rolon in the final.

Men's 3-wall Open/Pro Doubles: #1 seeded local team Mauricio Zelada & Sergio Rivera held off the competition to take the title. In the semis they took out Maryland-based team of Pruitt/Bleyer. The vanquished finalists were top outdoor players Sebastian Franco & Thomas Gerhardt, who outlasted the NY pairing of Goldenberg/Sostre in the semis.

Men's 1-wall Open/Pro Doubles: The biggest draw of the event featured 15 teams playing one-wall top-level doubles. In the top side of the draw, #1 NYers Sostre/Rolon took out team FormulaFlow #5 Zelada/Mercado in one semi, while #2 Franco/Gerhard took out team

onewallball.com

#3 Pagan/Benny in the other semi. In the final, Sostre & Rolon prevailed in two.

Men's 3-wall Combined 75+: The final came down to NY's best vs. Florida's best, as Sostre/Goldenberg took out Hernandez/Mijares to take the title.

Women's 3-wall Open/Pro doubles: Tournament Director Amie Brewer took the "Queen of the Court" competition over three fellow outdoor women pros to take this title.

Women's 1-wall Open/Pro: USAR Hall of Famer Aimee Roehler teamed up with LPRT touring pro Brenda Laime to win the 3-team Women's 1-wall RR title.

Mixed 3-wall Open: Pruitt & Laime teamed up to win a solid three-team RR group for the title.

Mixed 1-wall Open: Laime got the Mixed doubles "double," winning the 1-wall event with fellow FormulaFlow Pro Mercado. They took out the accomplished Mixed doubles team of Pagan/Roehler in the final.
Thanks to Tourney Directors Amie Brewer and Carrie Handfinger Hoeft for their tireless work on this event. Thanks to photographer Ken Fife for taking pictures all weekend and posting them for all to see. Thanks to lead sponsor Andy Gomer and AGE Solutions, along with other sponsors who made this event possible.
__________
June 11-12, 2022: Sweet Lou's Summer Slam, Marina Park, Huntington Beach, California. Tournament Director: Lou Orosco. https://www.r2sports.com/website/event-website.asp?TID=39638
All the "regulars" from the Marina Park Scene showed up for Lou's Summer Slam event in mid-June. Familiar teams such as Tony Berg/Scott St. Clair, Brandon Davis/Josh Tucker, Jason Geis/Micah Rich, Greg Solis/Tom Durham, Walter Ramos/Izzy Torres, and Rocky Carson/Jesus Ustarroz competed for the Open/Upper title and in many cases the CPRT/40+ title the next day.
Many of the teams here are competing together in the Outdoor Nationals coming up in July, and these shootouts serve as excellent practice sessions.
June 18, 2022: No Frills Father's Day Shootout, Rainbow Beach, Chicago Illinois. Doubles only, drop-in shootout. Tournament Director: Joey Logan.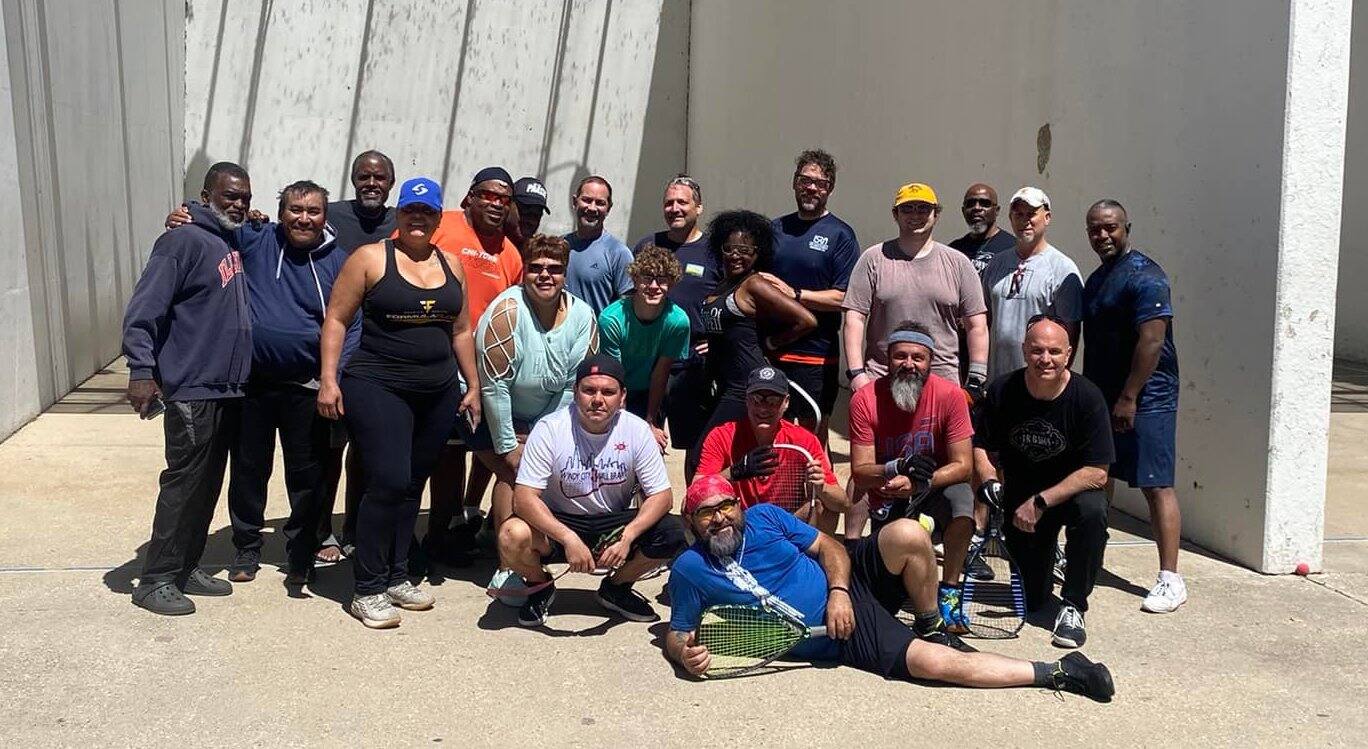 Great Turnout from Chicago outdoor players for the Father's Day Shootout. Photo via Illinois Outdoor Racquetball
June 18, 2022: RAM Outdoor Championships, St. Claire Shores Outdoor Courts, St. Claire Shores, Michigan. Tournament Director: Tom Blakeslee.
https://www.r2sports.com/portfolio/r2-event.asp?TID=39679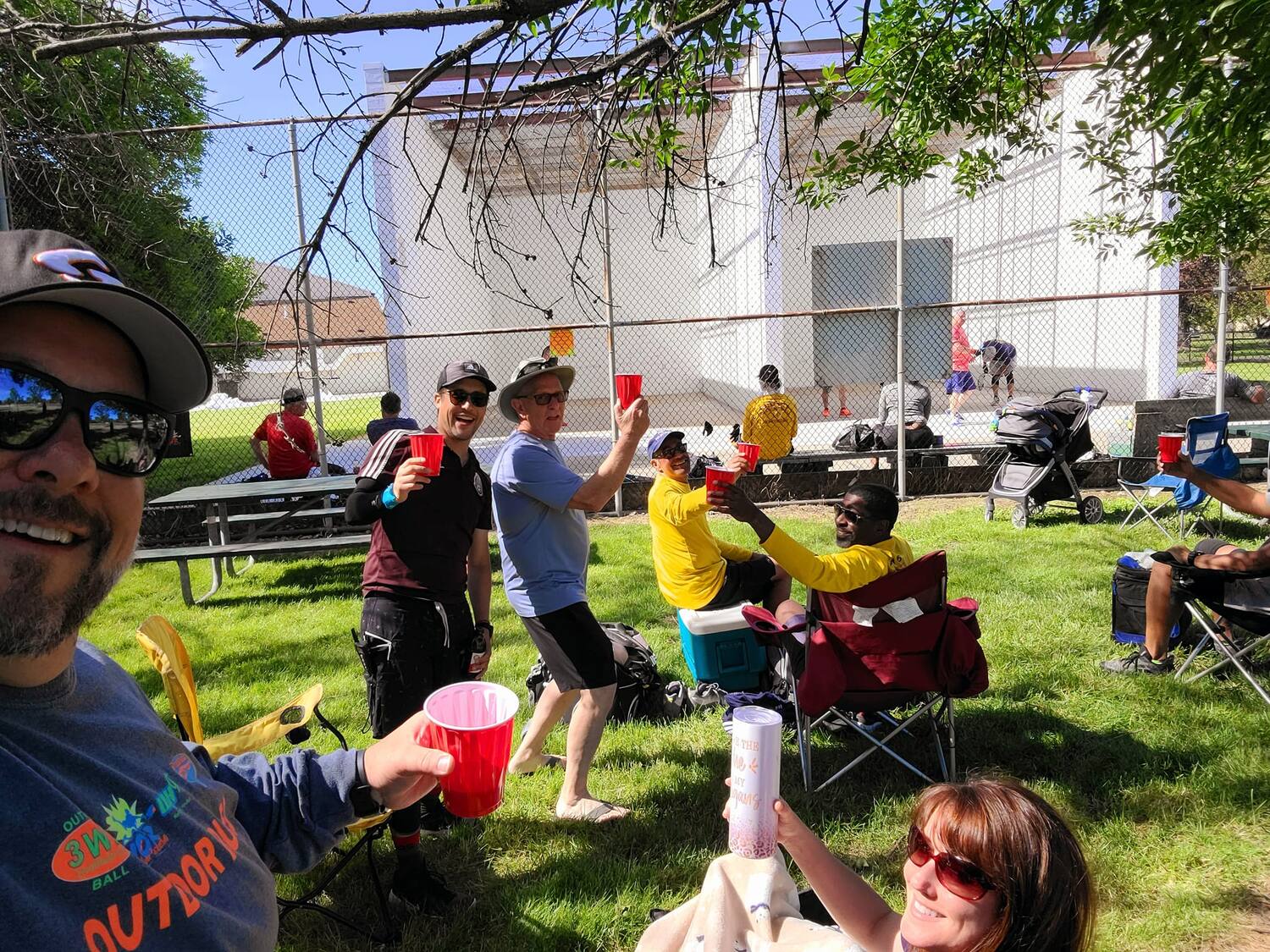 A glimpse of the St. Claire Shores courts and tournament participants. Photo courtesy of Greg Lewerenz.
Thirty-six players arrived at St. Claire Shores to compete in the Racquetball Association of Michigan (RAM) Outdoor championships.
Men's Pro Doubles: Cyrus Chinoy & Cheven Kimbrough took out the father/son team of Greg & Ross Lewerenz in a three-team Men's Pro Doubles division.
Men's Elite Doubles: Chinoy went for the double, teaming with Howard Webb, Jr. to win the Elite doubles final over Carlos Jones & Mark Reed.
Eric Washington & Greg Lewerenz took Men's Centurion.
Men's Super-Centurion was taken by Dan Spear & Timothy Scott, who eked out a RR win by virtue of point differential.
Polina Peach & Ernesto Reyes took Men's A Doubles.
Ray Emerson & Daniel Mullin took Men's A Centurion.
Great playing all! Special thanks to all the players, Tournament Director Tom Blakeslee, and HEAD Penn Racquetball for the generous donation of balls, tournament volunteers, spectators, and the RAM Board!
Mark your Calendars for these Upcoming Outdoor Events for 2022!
July 22-23, 2022: Wisconsin State Outdoor Games¸ Rubicon, Wisconsin
https://www.facebook.com/groups/329323770506884/posts/4873914892714393
July 23, 2022: 2022 Hot Tamales Outdoor Shootout, Stratton Woods, Herndon, Virginia.
Tournament Director: Maddie Melendez
https://www.r2sports.com/website/event-website.asp?TID=39810

July 23, 2022: Boston WOR Independence Day Outdoor One-Wall Doubles Shootout, Constitution Beach, Boston, Massachusetts.
Tournament Director: Jim Bove.

August 12-14, 2022: Windy City 3Wall Brawl Championships, Chicago, Illinois. Tournament Director: Joey Logan.
https://www.r2sports.com/portfolio/r2-event.asp?TID=39676

Mid-August 2022: (tentative) Silicon Valley Shootout, Mitchell Park, Palo Alto, California.
Tournament Directors: Erica Williams & Walter Ramos.

September 24, 2022: Fallen Comrades 4, St. Claire Shores Outdoor Courts, St. Claire Shores, Michigan.
Tournament Director: Tom Blakeslee.
https://www.r2sports.com/portfolio/r2-event.asp?TID=37864

Mid-September 2022: Two-Day Shootout, Florin HS, Sacramento, California. Tournament Director: Frank Biehl.

October 26, 2022: Team De La Rosa Outdoor Clinic, Las Vegas, Nevada. Daniel, Michelle, and a mystery guest will conduct an outdoor clinic.
https://www.facebook.com/ProkennexNorthAmerica/posts/pfbid02bAgmZ9YjekUfzfX4CzatCmEQMxZNuTDuHp57woWvxoUaGeSvzhUFehMWPCTZmKnJl

October 26, 2022: Manilla Athletics Outdoor Clinic, Las Vegas, Nevada. Adam, Erika, and Bobby to conduct a 6-8 pm clinic on the 3WB courts.

October 26-30, 2022: 13th Annual 3WallBall Outdoor Championships, Las Vegas, Nevada.
Tournament Director: Mike Coulter & Peggine Tellez.

November 12-13, 2022: WOR Florida State Championships, Waterford Park, Davie, Florida.
Tournament Director: Rob Mijares.
https://www.r2sports.com/portfolio/r2-event.asp?TID=39056
Was mid-May, rescheduled to mid-November.

December 16-18, 2022: 2nd Annual Hollywood Beach Battle, Hollywood, Florida.
Tournament Director: Maddie Melendez.

March 8-12, 2023: 2023 Beach Bash. Save the date announced.
Stay in Touch with WOR on Facebook

The absolute best way to stay abreast of Outdoor events is to follow WOR – Outdoor Racquetball on Facebook. We post updates for upcoming events as soon as they're available!

https://www.facebook.com/WorldOutdoorRacquetball/

Plus, there's a slew of geographic-specific groups that talk about play all over the country. Wherever you live, there's likely to be a group that coordinates play in your area. Reach out to WOR to find a Facebook group or a state director to help you out.
Contact WOR

If you have any questions, please email WOR@usaracquetball.com. We'll get back to you ASAP.