We Are USA Racquetball Infographic: #9 State Organizations & Event Directors
This WE ARE USA RACQUETBALL infographic describes the role USAR plays in the sport of Racquetball.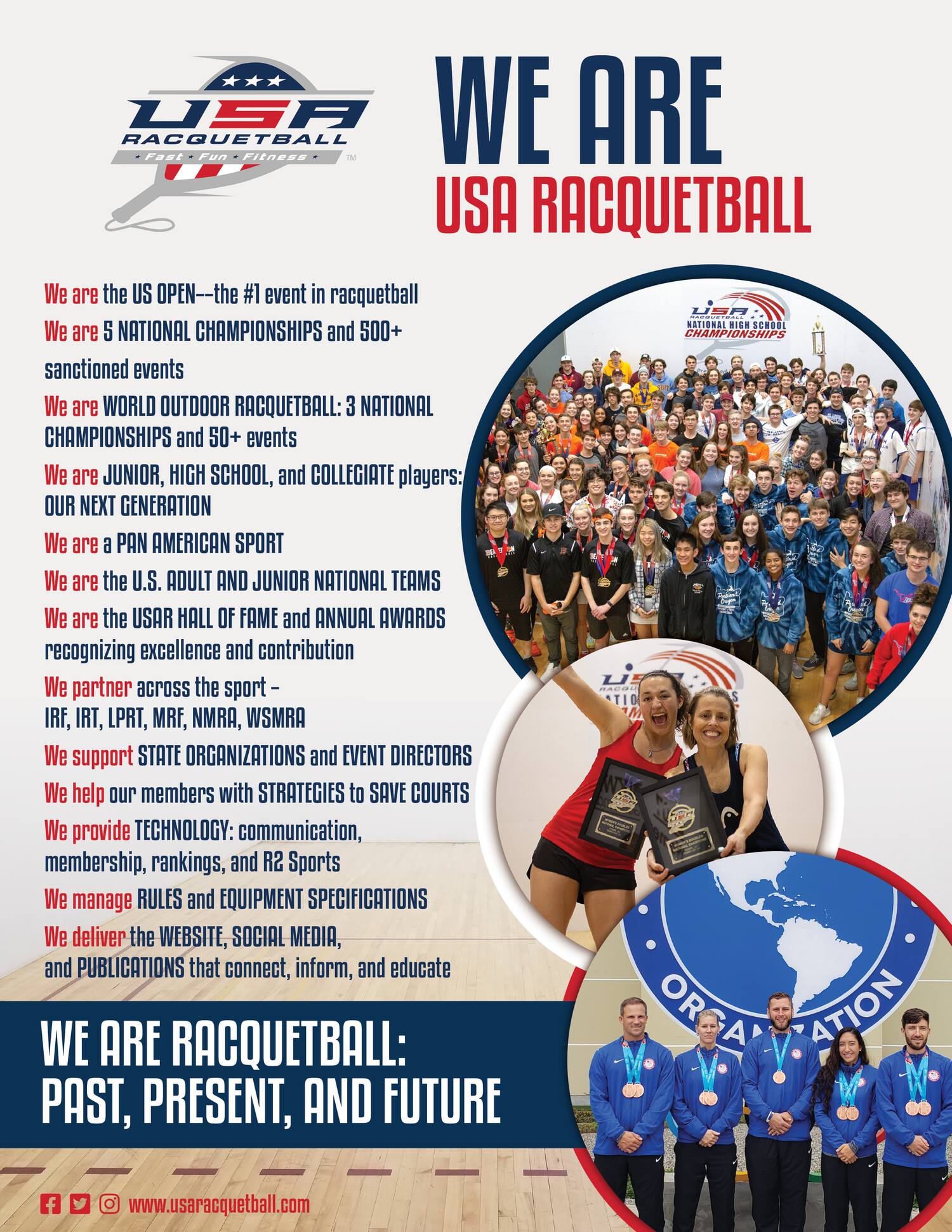 The USA Racquetball infographic above has appeared in Serving Up the News monthly since September 2020. The contributors and editors of this newsletter have observed that while many of our members have appreciated the infographic's high-level description of the value USA Racquetball brings, perhaps they would appreciate more detail on each point, to understand more about what USA Racquetball provides to the infrastructure of our sport.
We covered #1 US OPEN and #6 U.S. Adult and Junior National Teams in the May 2021 of this newsletter. In June 2021, we continued with #2 National Championships/Sanctioned Events, #4 Junior, High School, and Collegiate, #12 Rules and Equipment Specifications; August 2021 was #3 World Outdoor Racquetball and #13 Website, Social Media, and Publications; in September we covered #7 Hall of Fame and Annual Awards, and in October we discussed #8 Our Partners Across the Sport. November addressed #11 Technology - Communication, Membership, Rankings, and R2Sports.
To kick off 2022, we'll continue now to grab another of the remaining three of the 13 points on the infographic and give more detail:
#9 We Support State Organizations and Event Directors
Did you know $10 of every adult one-year membership is funneled back into that member's State Association?
Yes, your membership helps supports grassroots programming in your area! At the end of each quarter, Connor Shane works with USAR's accounting firm to send rebate checks to the states. Prior to COVID, the requirement was that a state hold at least one tournament each quarter and be compliant with SafeSport requirements. Since the onset of COVID, the tournament requirement has been temporarily waived for states to receive their rebates.
USA Racquetball schedules a State Board Member and Tournament Director Quarterly Call, typically held the first Tuesday of each quarter, to discuss current happenings inside USA Racquetball; provide updates and insights; hear concerns; and offer tutorials on the R2Sports tournament management system (TMS). With more than 250 invitees, these calls are targeted to not only provide information but also to provide an exchange of best practices, i.e., what other states and organizations are doing. Each call is recorded so that those who cannot attend won't miss out.
USA Racquetball staff members are always available to support states and tournament directors who need assistance, updates, and new ideas. Additionally, have you ever dived into the USAR website beyond the home page? A great number of topics with corresponding information are offered up. For your convenience, at the end of this article, we have placed the portion of #13 (August 2021) that specifically covered the website. **
Throughout the pandemic, USA Racquetball has also offered discounts on sanctioning fees in an effort to bring tournaments come back across the country. Our staff provides tutorials on R2Sports; resources and forms for tournaments; and can even help a tournament director partner with their local sports commission and/or visitors' center to assist with discounted hotel rates, sponsorships, and volunteers.
USA Racquetball is here to serve our members and assist all event directors and state board members however we can! If you have any questions or need assistance, please reach out to us:
Renée Isherwood, Director of Operations and National Teams, risherwood@usaracquetball.com
Connor Shane, Director of National Events, cshane@usaracquetball.com
Mike Wedel, Executive Director, mwedel@usaracquetball.com
In conclusion, we take our role very seriously in serving all of you and in saving and strengthening our sport, and we hope this infographic resonates with you as an inspiration for workingtogether to dowhatever we can to preserve this treasure in our lives.
It will take all of us to do it, and USA Racquetball accepts and embraces our sacred responsibility to lead and to inspire everyone to participate in solutions.
Sincerely,
The Staff, Board, and Volunteers of USA Racquetball
**
USAR Website -- The USA Racquetball website at www.usaracquetball.com is the platform from which much happens within our sport. USAR Staff Director Renée Isherwood manages it and makes periodic modifications. A "carousel" at the top of the home page features current newsworthy articles and features.
Additionally, numerous articles are housed there and linked over from the mid-month publication Serving Up the News.
A look inside the website brings much more than most realize. The dropdown menu on the home page starts with this: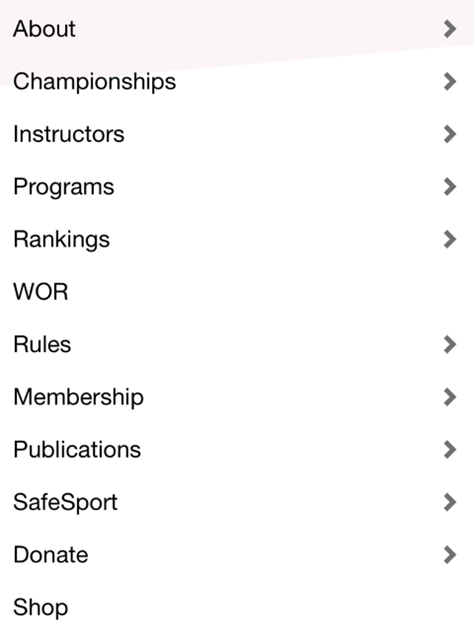 Everywhere you see a right-pointing arrow, there is additional information waiting to be discovered. To give one example, a closer look at the Rules section includes five more places to learn about various aspects of the Rules of Racquetball: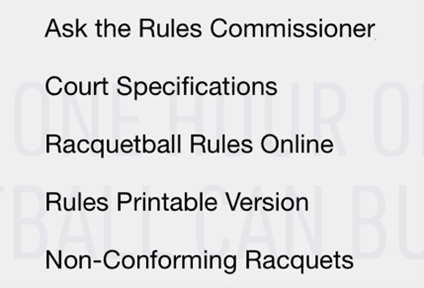 There's so much to discover about Racquetball on the USAR website. Have a seat one quiet weekend afternoon with your coffee and a brownie...and explore away!