World Outdoor Racquetball Update for January 2022
by Todd Boss, Carolyn Vazquez, Joey Logan, Deborah Elkins, Jeff Wright, Vic Leibofsky, Mike Coulter, Michelle De La Rosa
Rainbow Beach Outdoor Racquetball Courts Selected for City-Funded Project!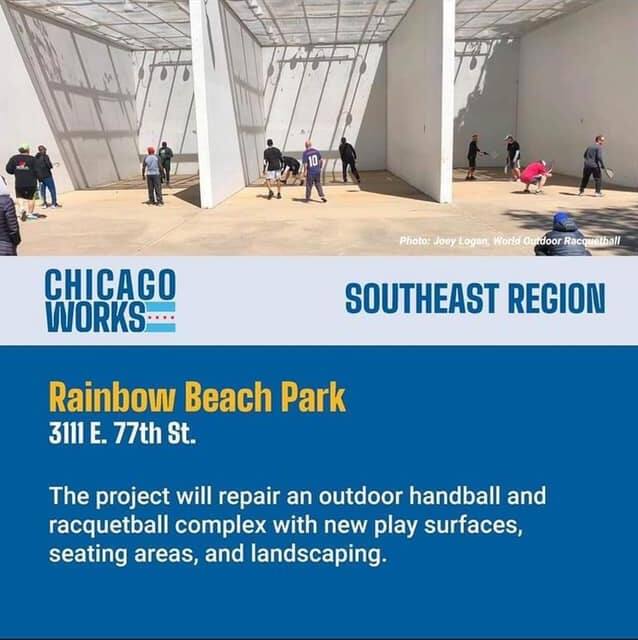 Chicago Works Rainbow Beach Project, Courtesy of Chicago.gov
Chicago-based racquetball enthusiast, Illinois State Racquetball Association board member, and Junior program developer/coach Carolyn Vazquez wrote and submitted a youth fitness program-based grant proposal titled "Racquets for Rainbow Beach" to the Chicago Community Works Challenge in August 2021. Competing against 500+ submissions, and after a series of presentations to the community and the selection committee, the proposal was selected to receive a $1.5 million grant for programs development and improvements to the Rainbow Beach outdoor racquetball courts.
The winners were announced at an award ceremony on January 18, 2022, where the Mayor of Chicago, Lori Lightfoot, spoke about how the Challenge invited Chicago residents to submit ideas for improvements to their community public parks, schools, libraries, and city-owned residential lots. This was a unique opportunity that gave Chicago residents a chance to share with Chicago officials what public investments they wanted to see prioritized in their neighborhoods. Racquets for Rainbow Beach was selected as the winner representing the Southeast Region of the city, and the project is anticipated to be complete by 2023.
Per the city of Chicago's home page announcing the results, "…the project will repair an outdoor handball and racquetball complex with new play surfaces, seating areas, and landscaping. The work is also expected to include clubhouse improvements involving the building roof, plumbing, windows, ADA-accessible entrances, and artwork."
See https://www.chicago.gov/city/en/sites/chicago-works-community-challenge/home.html for the official announcement.
The grant is valued up to $1.5 million and brings welcomed updates to the park, one of the few known places to play outdoor racquetball in America's third largest city. Vazquez's proposal also funds youth programs on the courts and will bring more awareness and introduction of the sport to Chicago youth.
Rainbow Beach currently houses three 3-wall/long-wall courts and is the host of an annual long-wall WOR tournament, the Windy City 3WallBrawl, run by Illinois State WOR Director Joey Logan every August.
This project win highlights a crucial point about the nature of outdoor racquetball courts. Many of them are in public parks, controlled by park authorities and local governments. These organizations have budget dollars to effect park updates and readily solicit proposals from the public for projects of interest, year after year. All it takes is someone's time and effort to identify a park with courts that need updating and/or to make a proposal to add courts to an existing park with available space (similar to what happened a few years ago at Stratton Woods Park in Northern Virginia), in order to kickstart an outdoor racquetball project.
Click here for the 1/18/22 press conference where Chicago Mayor Lori Lightfoot announces the winners of the Chicago Community Works challenge. At the 21-minute mark, Vazquez gives a great acceptance speech where she talks about her history, her introduction to racquetball, and the park:
https://www.facebook.com/CityofChicagoOfficial/videos/639949177423081.
Click here for the 1/24/22 USA Racquetball "Real Racquetball Show" where Executive Director Mike Wedel and USAR Board Member Maurice Miller interviewed Vazquez about this great achievement: https://www.facebook.com/164703169528/videos/628291835141750.
Congrats to Carolyn on this amazing accomplishment that will help revitalize the park and the courts and will surely help build a stronger outdoor racquetball community going forward in Chicago.
Announcing the 2022 LPL Financial LPRT Cup!
3WallBall Incorporated, the leading outdoor racquetball tournament production organizer in the nation, in partnership with the Ladies Professional Racquetball Tour (LPRT), Pro Racquetball Stats, with thanks for the generous support of LPL Financials' Rosco Halsey and Jason Hupp, is proud to announce the 2022 LPL Financial LPRT Outdoor Cup! This is a new year-long racquetball cup challenge series incentivizing women players to compete in our major Outdoor Championships in 2022.
Competition Details
This competition is open to any female racquetball player and is being run in association with the Ladies Professional Racquetball Tour (LPRT).
The 2022 LPRT Cup will be held in conjunction with the three Outdoor "Major" championships in 2022:
2022 APCON MZ Companies Beach Bash, March 24-27, 2022, in Hollywood, Florida
2022 TeamRoot.com Outdoor Nationals, July 14-17, 2022, in Huntington Beach, California
2022 KWM Gutterman 3WB World Championships, October 26-30, 2022, in Las Vegas, Nevada
Players will accrue LPRT Cup bonus points based on their finishes in the competition events at the three outdoor majors. Players can compete in Pro Singles, Women's Pro Doubles, or Mixed Pro Doubles, and the best two results per tournament will be used to assign LPRT Cup points.
Prizes
At the end of the third 2022 Outdoor Major in Las Vegas in October 2022, the 1st, 2nd, and 3rd place women's finishers will be named. The prizes will be as follows:
1st Place: $1,500 plus a two-night suite reservation at The STRAT Hotel, good for one year
2nd Place: $1,000
3rd Place: $500
Series Managers and Points of Contact
LPRT Commissioner T.J. Baumbaugh and 3WB's Mike Coulter will co-manage the series and will answer any questions or concerns. ProRacquetballStats.com's Todd Boss will keep the statistics and provide updates at the end of each outdoor major to be shared on 3wallball.com and on social media.
Updates on the Outdoor Majors
Here's the latest news from the three Outdoor Major tournaments:
Beach Bash 2022
Title sponsor: APCON (Abel Perez). Thank you, Abel, for your support of Outdoor Racquetball.
March 24-27, 2022, at the Garfield Street courts in Hollywood, Florida
New event coordinator is 3WallBall and Mike Coulter. The tournament director will be Peggine Tellez.
Supporting Sponsors of 3WallBall and this event include KWM Gutterman (Keith Minor), LPL Financial (Rosco Halsey), AGE Solutions (Andy Gomer), and SodaMan.com (Rick Koll).

R2sports.com website:

https://www.r2sports.com/portfolio/r2-event.asp?TID=31509

200-person limit! Act now! We're nearly at capacity already.
Hotel space is limited; get your hotel reservations now. See Vic Leibofsky's Facebook posts to the WOR Facebook page to learn more about travel logistics recommendations for this event. Stay near the courts, don't get a rental car; you can walk everywhere you need to go. It's a beach vacation while playing some one-wall.
Flight costs may be high since this is during spring break and some west coast-based players are reporting higher-than-expected flight costs.
Outdoor Nationals 2022
Title sponsors announced -- Team Root and Pro Kennex! Thanks to Randy Root and Mike Martinez for your continued support of Outdoor Racquetball.
Team 3WallBall is taking a larger interest in this event as well, bringing their involvement into all three Outdoor Majors.
R2sports.com home page: https://www.r2sports.com/portfolio/r2-event.asp?TID=38652
Event Dates: July 14-17, 2022; the dates have been pushed back a week to create some time between the tournament and the July 4th holiday.
Other Gold sponsors of the 2022 event include Melissa's Restaurant, KWM Gutterman (Keith Minor), Gearbox (Rafael Filippini), Bloom Injury Law (Mark Bloom), Splathead (Joe Hall), Daily Racquetball (Jeffrey Thompson), Roundabout Entertainment, Coca-Cola, and RH enterprises.
3WallBall 2022
Contracts for the site and hotels are nearing completion -- official announcement soon!
Tentative dates: October 26-30, 2022
January 2022 WOR/Outdoor Tournament Result Recaps
January 2, 2022: WOR AZ Battle Clash of Chavez, Cesar Chavez Park, Laveen, Arizona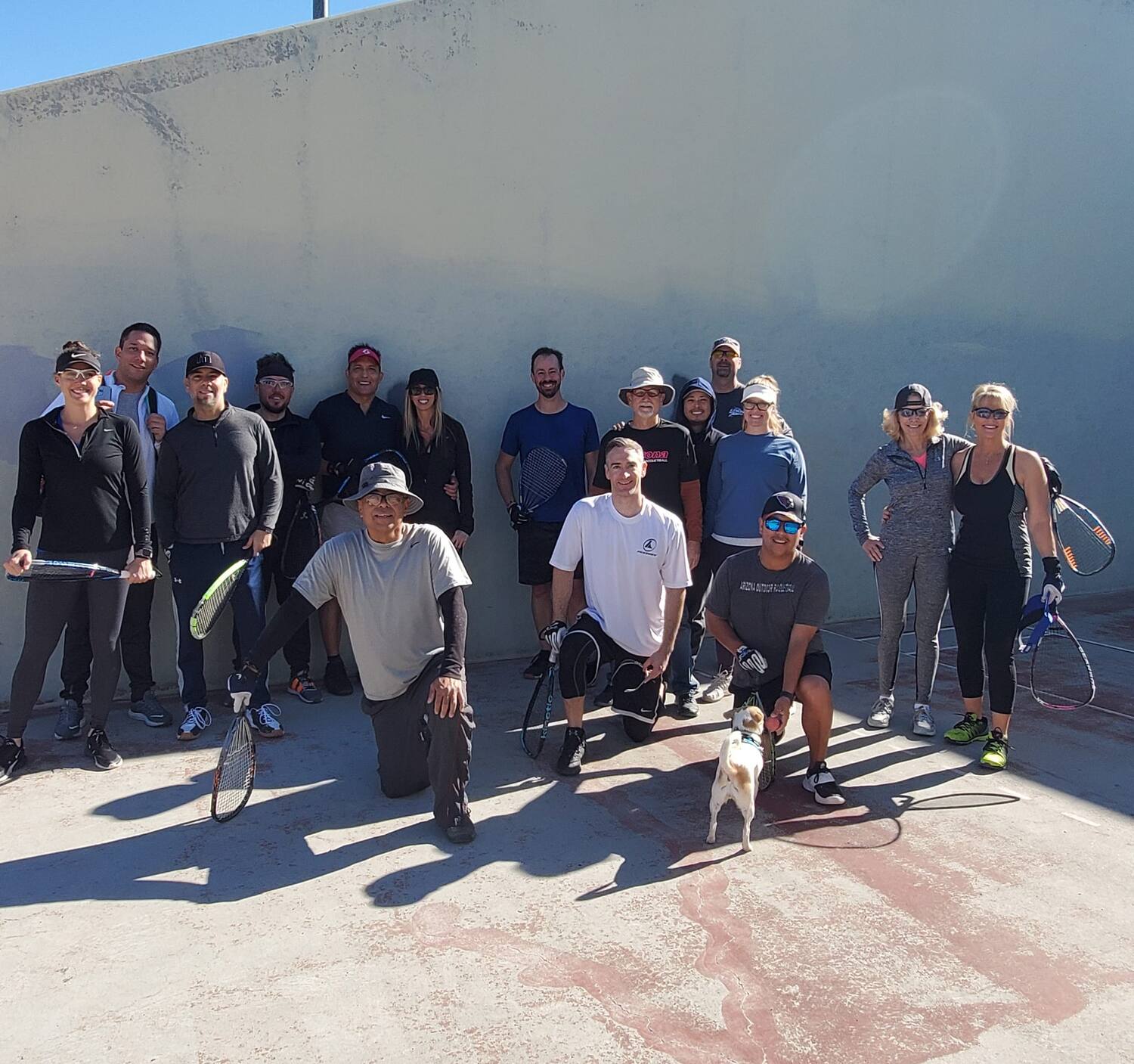 Clash of Chavez participant group shot. Photo courtesy of Key Racquetball
WOR Arizona and Key Racquetball kicked off the new year with a one-day shootout at Cesar Chavez Park. Sixteen players competed in multiple round robins. Here were your winners on the day:
Open Doubles: Daniel De La Rosa and Susie Boulanger
A Doubles: Curt Baumgarth and Nicholas Rowley
Mixed Doubles Advanced: Thomas Gerhardt and Susie Boulanger
A Singles: Luis Garcia
------------------------
January 8, 2022: Outdoor Season Kickoff shootout, West Newport Park, Newport Beach, California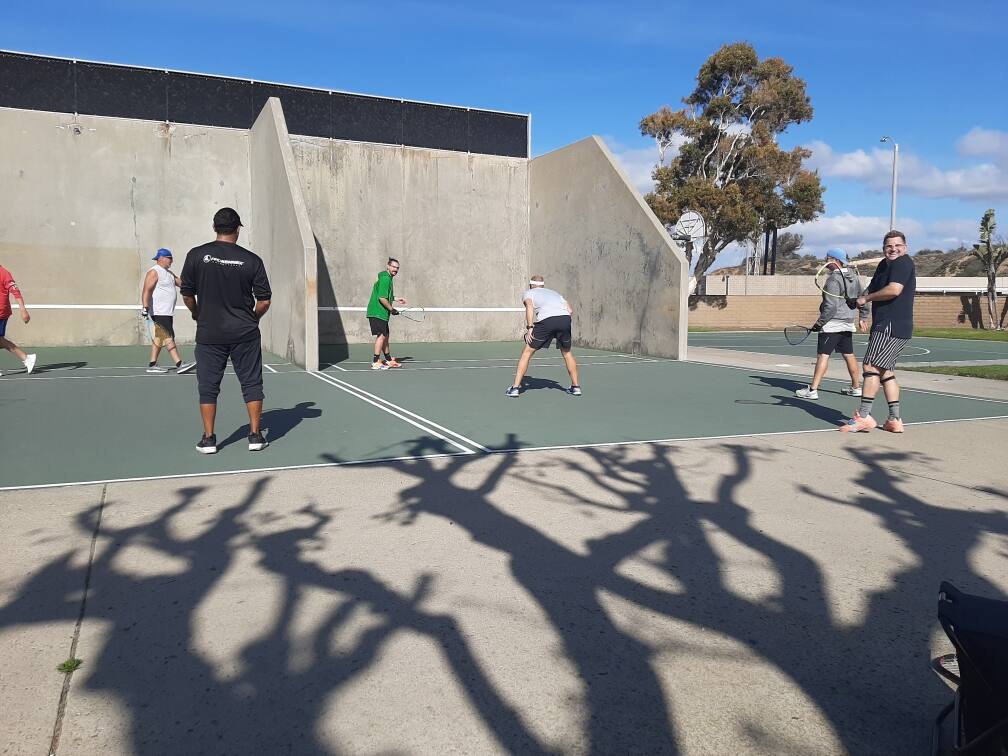 Action shot from the Newport Beach Shootout. Players shown from L-R: Rocky Carson, Jesus Ustarroz, Greg Solis, Cesar Chavez, Micah Rich, Jason Geis, and Jeremy McGlothin. Photo courtesy of Mike Coulter
To kick off the 2022 season, 3Wall Ball and MC Vegas hosted an invitational Outdoor shootout on January 8, 2022, at the courts of West Newport Park, right on Highway 1 in Newport Beach, California. These 3-wall/mid-wall courts are Rocky Carson's favorite––his "home courts" that he practices on most frequently––and he was part of one of nine top-level teams invited to play in this shootout. Some of the players were rusty since it had been several weeks of inaction for most of the competitors, but eight games of round robin play cleared off the dust by day's end for everyone. The shootout featured a great collection of top talent from SoCal and beyond.
The nine teams played a pure round robin, one-game to 11 against the other eight teams, making for a ton of racquetball. The top six teams from the RR stage advanced to a knockout round. Two teams dominated in the RRs (Geis/Rich and Lavely/Solis), going 8-0 and 7-1 respectively and looked to be the favorites for the cash.
Here's how the knockouts went:
In the quarters:
- #5 Tom Durham and Matt Barserian upset #4 Tony Berg and Scott Sinclair, 15-10. This is a great result for the relatively unknown Barserian, who (like Micah Rich) is a great player who plays recreationally and can put up results when he's in practice.
- #3 Rick Koll (aka "Soda Man") and Emmett Coe took out the home-court playing Carson and his regular partner Jesus Ustarroz, 15-11. Soda Man traveled to LA with Coulter from Vegas and teamed up with the ever-tough paddleball champion Coe to take out the two-time Outdoor National champs Carson & Jay.
In the semis:
- #1 Jason Geis and Micah Rich, your 2021 Outdoor National champs and Vegas 3WB pro finalists, topped Durham/Barserian, 15-5, to move into the final.
- #2 Greg Solis, WOR Hall of Fame inductee in 2018, and partner Danny Lavely crushed Koll & Coe, 15-2, to move into the final.
In the final, Lavely got hot and made the best adjustments to the fast Penn ball being used, took advantage of some tiring arms after a long day, and pushed his team to the upset win over #1 Geis/Rich, 15-5.
Thanks to Mike Martinez and Pro Kennex for stopping by, thanks to 3WB and other sponsors, thanks to Mike Coulter as always for his support of the sport, and thanks to the players for putting on a show.
----------------------------------
January 15-16, 2022: WOR Racquetball Shootout at Holiday Park, Holiday Park, Fort Lauderdale, Florida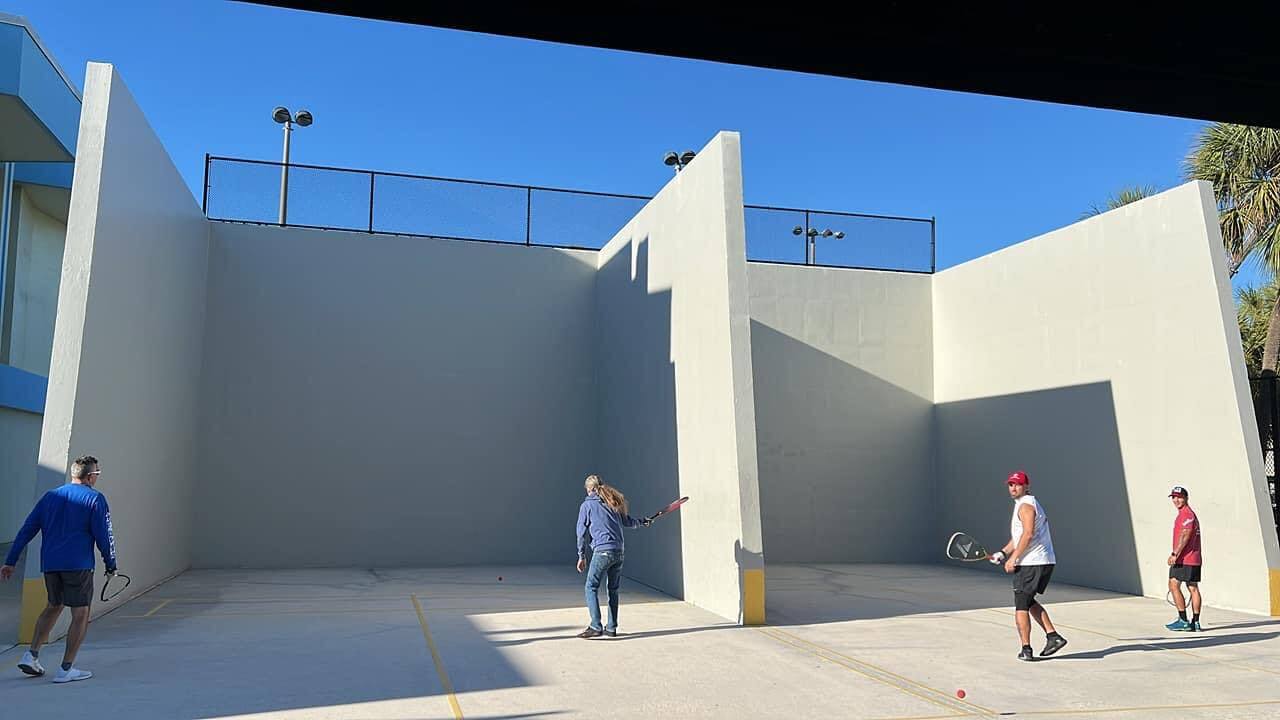 Shootout participants in action at Holiday Park. Photo courtesy of Jeff Wright.
While huge swaths of the country were bracing for a debilitating snowstorm, it was 75 and sunny in Fort Lauderdale for the 2022 Holiday Park Shootout.
Holiday Park is a cool facility. It is home to the Jimmy Evert Tennis center, a 21-court tennis facility named for its long-time teaching professional who happens to be the father of long-time #1 female tennis player Chris Evert who grew up playing on the courts. The outdoor courts are tucked between a gym and a roller rink on the grounds. They're three-wall mid-wall courts that are a bit wider than normal (23'), and have side walls that run well past the short line, which makes for very unique strategy and play on the courts as compared to other 3-wall/mid-wall courts. Like many places in Florida, the regulars at the park have the advantage over traveling parties due to these unique factors and welcome all comers to challenge the locals.
The park's leading benefactor for decades has been the legendary George Daurio, who has worked with local officials for years for upgrades and is known as the "Godfather" of the courts. Tournament play has been present here for decades as well, and the park has been the home court for many top outdoor players over the years, including Ken Mooney, Billy Montana, Dave Smith, Ken Grandy, Dave Conway, and Rob Mijares.
Here's a recap of the day's action, which featured 37 of some of the best outdoor players in the state:
Men's Open Doubles
12 players/6 teams split into two RR groups of three to determine a group winner advancing to the knockouts. One group was taken by top seeds Joe Young and Garry Smith, while the other group was surprisingly taken by Max Heyman and Javier Trujillo who played consistently all morning and made it to their first-ever Open finals.
In the final, the powerful Young/Smith pairing vanquished the upstarts to take the title.

Men's Elite Doubles
The story of the day was longtime Holiday Park veteran Valeria Trabucco Clemmensen. The women's draw was depleted due to some COVID exposures, so she entered the Men's Elite division with partner Justin Cooklin and won the draw. She is a warrior and played amazing against some tough competition. Fittingly, Valeria hit a flat rollout to win it all in the tiebreaker. She has won many tournaments over the years, but this one was epic! They topped the very tough Eric Gomez and Luis Gonzalez in the Elite final.
Additional Event Winners
- Men's A/B Doubles: Giovanni Pezo/Luis Salinas
- Women's Elite Doubles: Susan Suid/Carolina Pisana
- Mixed Elite Doubles: Miriam Benard/Max Heymann
Thanks to Tournament Director Jeff Wright for hosting the event and for all you do for Florida outdoor racquetball. Thanks to tournament staff Rob Mijares and Hale Sakoff, who are ever-present figures at outdoor events in the state. Thanks to Vic Leibofsky for providing breakfast for the tournament. Vic is another behind-the-scenes supporter of programming who never asks for credit but who has been a great help to me and so many others over the years. And thanks to the City Parks and Rec staff who gave the courts a fresh pressure wash ahead of the event.
-----------------------
January 30, 2022: WOR AZ Battle of Roses, Rose Moffett Sports Complex, Phoenix, Arizona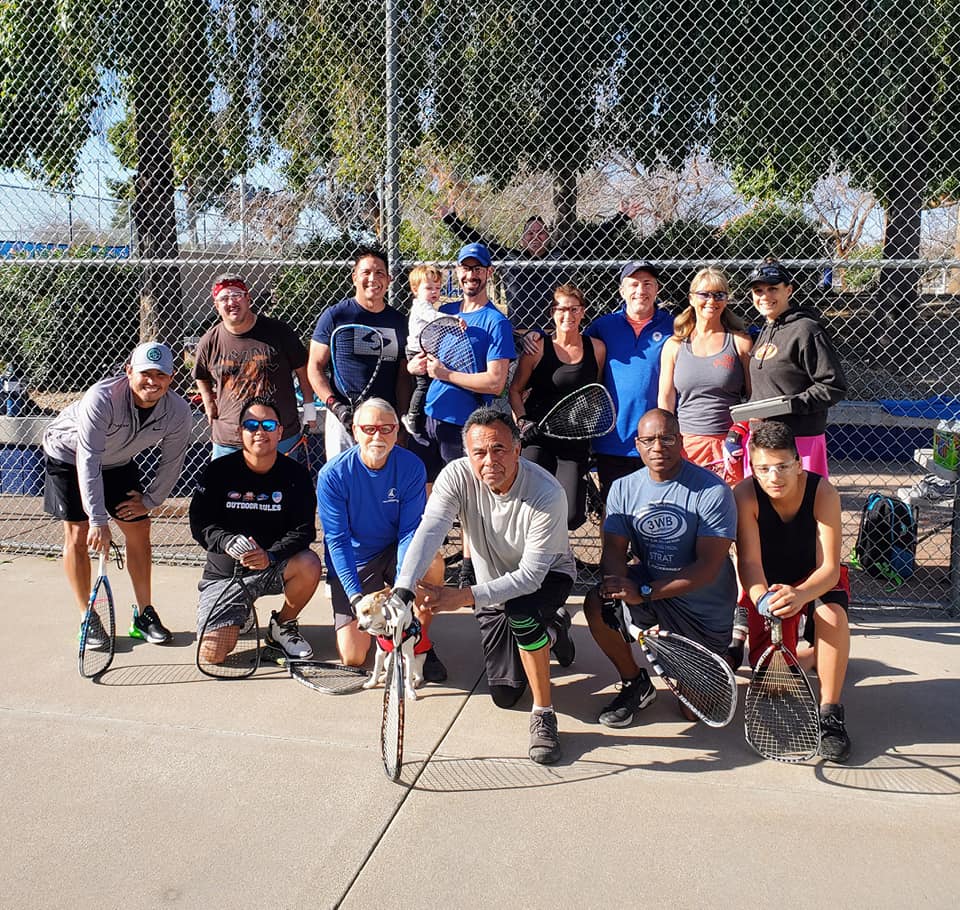 Shootout participants posing for a group shot before getting into action. Photo via Key Racquetball
Twenty players showed up to compete in the latest of the WOR Arizona's Battle series, this time the "Battle of the Roses" shootout, held at the Rose Moffett Sports complex in Phoenix. Key Racquetball runs these events, with Darold Key and daughter Michelle (Key) De La Rosa serving as the event coordinators/tournament directors.
In Open Doubles, 8 teams split into two RR groups. Group A was taken by Charlie Stadler and Michelle De La Rosa, while Group B was won by Lisa Bu and Daniel De La Rosa. Second place teams Terry Kisling / James Garcia and Luis Garcia / Curt Baumgarth qualified for the semifinals of the knockout phase, but both were vanquished in the semis by the De La Rosa-led teams.
In the final, it was husband versus wife, and the wife won (as always). Michelle led her team to victory over her husband Daniel's team, 15-8, to take the shootout Open title.
Three other divisions were competed in addition to the large Open Draw:
A Doubles was taken by open semifinalists Terry Kisling/James Garcia
B Doubles was taken by Ellis Murphy/Carlitos Reyes
C Doubles was taken by Nick Coons/Rob Craig
Congrats on another successful shootout, and thanks to all the Arizona outdoor diehards who make this series successful!
Mark your Calendars for these Upcoming Outdoor Events in 2022
Here's a quick guide to known upcoming WOR/Outdoor racquetball events.
• April 2-3, 2022: WOR AZ Final Battle, Location TBD, Arizona. Tournament Director: Michelle De La Rosa R2sports site pending
• Late April, 2022: (tentative) One-day NorCal Shootout, West High School, Tracy, California. Tournament Director: Frank Biehl
• Early May, 2022: (tentative) Raybro Memorial Doubles Shootout, Tracy McDonald Park, Tracy CA. Frank Biehl = Tournament Director
• June 3-5, 2022: Capital City Championships, Stratton Woods Park, Herndon, Virginia. Tournament Directors: Amie Brewer and Carrie Handfinger Hoeft
• August 12-14, 2022: Windy City 3Wall Brawl Championships, Rainbow Beach, Chicago, Illinois. Tournament Director: Joey Logan
• October 27-30, 2022: 13th Annual 3WallBall Outdoor Championships, Las Vegas, Nevada. Tournament Directors: Mike Coulter & Peggine Tellez
The Latest on Dane Elkins Search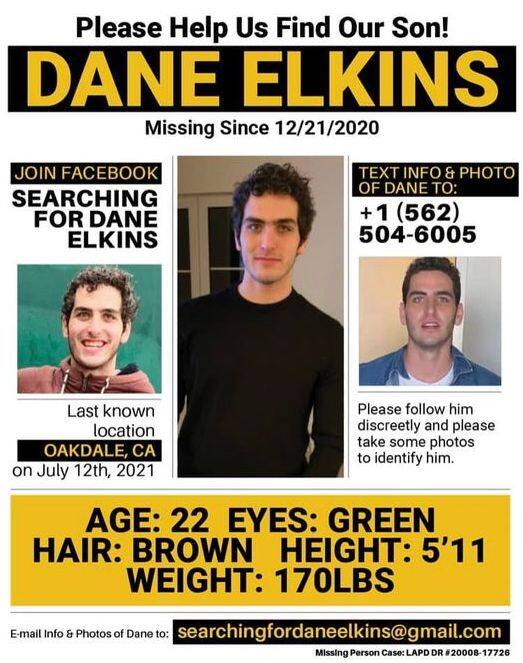 February 2022 marks month 14 of the search. There was a reported possible sighting earlier this month in Oakdale that is now believed to be a false alarm. Dane's latest communications indicate that he's heading north to Oregon, which is consistent with his path northward since he abandoned his car. This is consistent with other sightings over the past year, seemingly all along north-south running local roads/non-interstates inland of the coast of California.
If you see Dane or may know about his whereabouts, his mother Deborah Kassin Elkins respectfully asks you to contact her at 562-504-6005 and to send any pictures or videos to searchingfordaneelkins@gmail.com.
To keep updated, please consider joining the Facebook Group "Searching for Dane Elkins" at this link: https://www.facebook.com/groups/findingdaneelkins. The Elkins family is continually providing updates, possible sightings, and news articles/media coverage on the search.
WOR Website Updates
We have updated the WOR Hall of Fame page for 2021 Inductees Dave Trenton and Steve Fey, a fearsome doubles tandem who won the 1979 Outdoor Nationals Doubles title and was a force on the court during the late 1970s-early 1980s in the heyday of outdoor racquetball on the old OCC courts.
https://www.teamusa.org/usa-racquetball/wor-home-page/wor/about-wor/hall-of-fame/inductees
Thanks to Brett Elkins, WOR Hall of Fame Chairperson, for nearly 10 years of work on Hall of Fame coordination, biographies, and leadership.
Stay in touch with WOR on Facebook
The absolute best way to stay abreast of Outdoor events is to follow WOR – Outdoor Racquetball on Facebook. We post updates for upcoming events as soon as they're available!
https://www.facebook.com/WorldOutdoorRacquetball/
Plus, there's a slew of geographic-specific groups that talk about play all over the country. Wherever you live, there's likely to be a group that coordinates play in your area. Reach out to WOR to find a Facebook group or a state director to help you out.
Contact WOR
If you have any questions, please email WORusaracquetball.com and we'll get back to you ASAP.