Darrin Schenck Named Januarys Real Racquetball Champion
Darrin Schenck of Phoenix, Arizona, has been Arizona State University's Racquetball Coach for the past 15 years. He appeared on the Real Racquetball Show on January 24th where he was recognized as January's Real Racquetball Champion.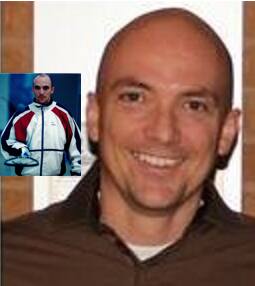 Darrin played professionally for about six years in the '90's. He was ranked in the top 20 for three of those years before retiring from professional competition in 2000. After taking a break for a bit, he was invited by a local tournament player to come and help out with a one-hour clinic for the ASU Team. That clinic ended up morphing into 10 hours a week during each school year for the next 15 years!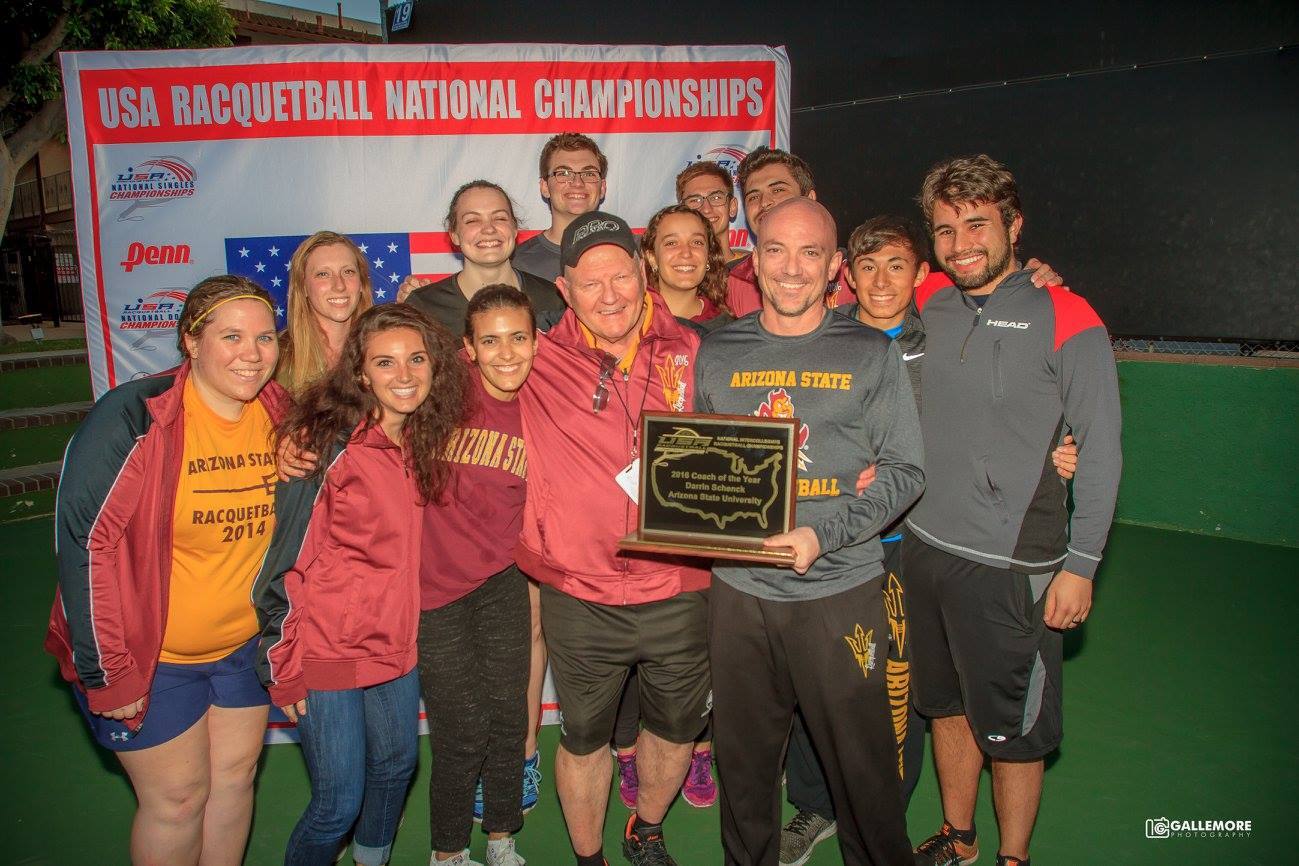 2017 ASU Racquetball Team. Photo By Jeff Gallemore
Susan Hendricks has some great things to say about her time (2018-2020) on the ASU Racquetball Team with Darrin as coach: "One cannot help but think of these character traits when reflecting about Darrin: Courageous! Driven! A 'Go-Giver'! For those of us lucky enough to have received his wisdom, we appreciated how he combined humor, enthusiasm, and that tower of optimism. He motivated us to improve our game and ourselves as we went about our journey, enjoying the unique camaraderie of our racquetball community. Above all, Darrin exemplifies integrity in all of his endeavors." (Susan shares a quote by Theodore Roosevelt that she feels is the essence of who Darrin is and what he has become as a leader: https://www.worldatlas.com/articles/man-in-the-arena.html.)
It's been an amazing journey," Darrin said on the show. "I've loved every minute of it. The game has been a huge part of my whole adult life. Being the coach of the ASU Team is the most personally rewarding thing I've ever done, and that's what has kept me coming back."
He added, "High School and Collegiate Racquetball are some of the most exciting aspects of the sport. It's awesome to watch the pros, but the most rewarding part of my racquetball life has been volunteering as a coach. It's also teaching life lessons and skills disguised as racquetball -- marketing, promotion, and fundraising, for example, as well as self-discipline, dealing with adversity, and more."
Executive Director Mike Wedel asked, "If someone is looking to start a college program, how could they get started?" Darrin replied that those interested in getting involved shouldn't be daunted by his own 10-hour-per-week participation. "At ASU, a club was already established as a student-run organization. I helped with the on-court support and instruction. If you're a tournament player and have been around the game awhile, you can bring yourself and other resources to help a team. Any time that you have to contribute will make a difference.
"Thanks to everyone who has helped along the way and especially Arizona State University for their support," continued Darrin. "Special thanks go to Head Racquetball for all they've done over the years for the ASU Team. And I cannot let the opportunity pass to thank Jim Winterton as well; he has been side-by-side with me since 2014 and has been a huge part of our success."
Visit USA Racquetball's Facebook page and watch the Real Racquetball Show, Game 35, to see Darrin's interview and get some real-world specifics on how to get involved in assisting at the college racquetball level: https://fb.watch/b68KkzZFFK/.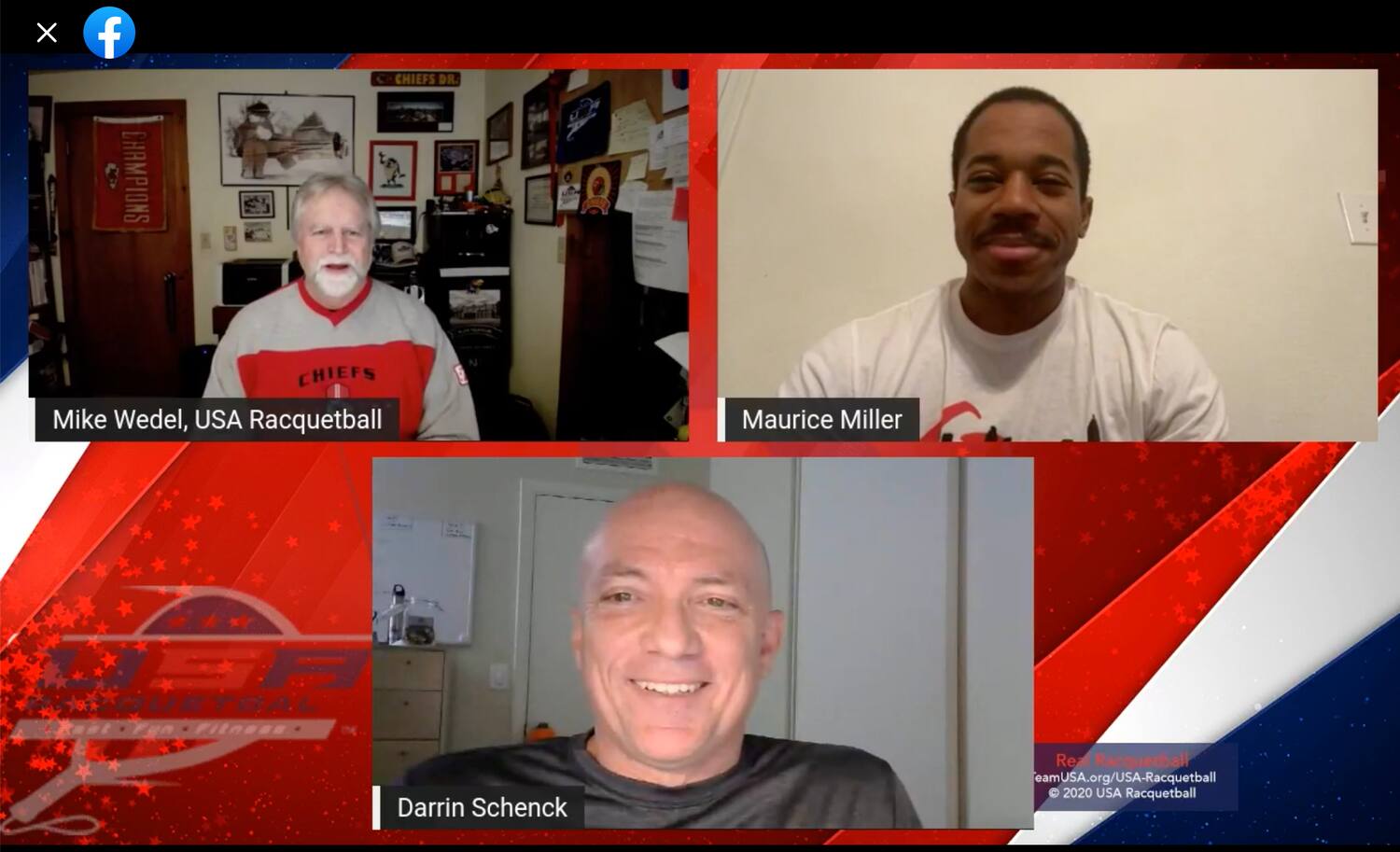 Game 35 Real Racquetball Show
Darrin, for all you do for the sport and its players, congratulations on this well-deserved recognition!