August 15, 2022 WOR Update August 2022
by Todd Boss, with contributions from Brett Elkins, Brian Hawkes, Mike Coulter, Stephen Fitzsimons, Mary Jane Caltagirone, Maddie Melendez, Cyrus Chinoy, Jim Bove, Ron LaPlante
Outdoor Nationals Recap

The 48th Annual Outdoor Nationals tournament is in the books, held July 14-17 at Marina Park in Huntington Beach, California.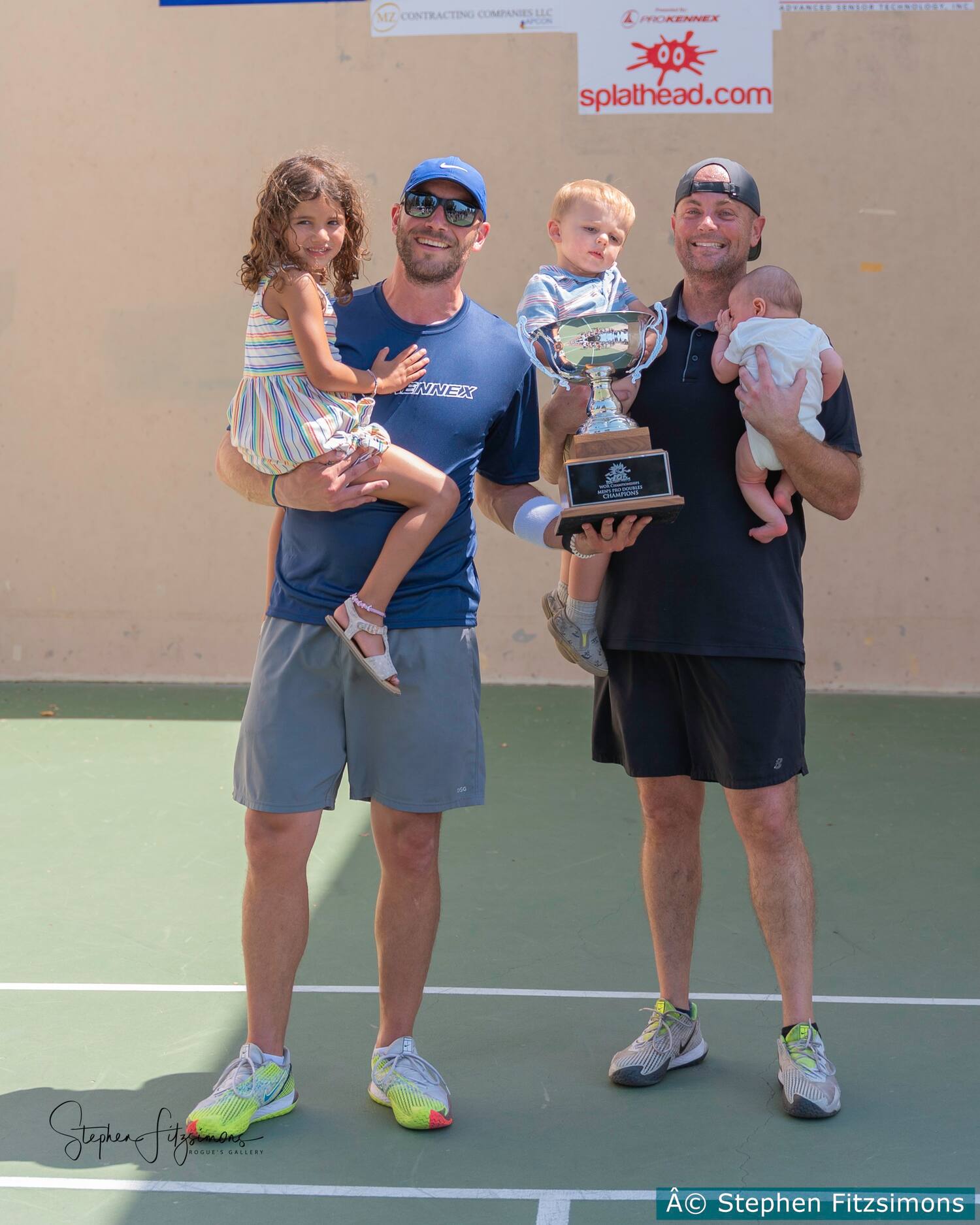 Men's 2022 Pro Doubles Outdoor Champions Micah Rich and Jason Geis accompanied by future Outdoor champions. Photo courtesy of Stephen Fitzsimons

Pro Winners:

• Men's Pro Doubles: Jason Geis & Micah Rich
• Women's Pro Doubles: Michelle De La Rosa & Carla Muñoz
• Mixed Pro Doubles: Michelle De La Rosa & Daniel De La Rosa
• Men's Singles: Andres Acuña
• Women's Singles: Carla Muñoz
• CPRT: Josh Tucker & Greg Solis
https://www.r2sports.com/website/event-website.asp?TID=38652

Pro Draw Recap:

In Men's Pro Doubles, thanks to the new outdoor player ranking system in place, the seedings were un-assailable at this event, and the draw was almost entirely chalk. Out of the 13 pro doubles matches played on the weekend, there was just one upset (#10 Robert Sostre & Andree Parrilla over #7 Thomas Gerhardt & Danny Lavely in the Round of 16).

Geis and Rich, #1 seeds and defending champions destroyed the indoor-pro team and finalists at Beach Bash of Acuna/Portillo 1,3 in the quarters to set the tone for the rest of the weekend. They advanced frequent Marina Park shootout rivals Rocky Carson and Jesus Ustarroz in the semis to advance to the anticipated final.

From the bottom-side, #2 Daniel De La Rosa and Alvaro Beltran (the 2019 winners here) defeated the 2018 winners in Josh Tucker and Brandon Davis in two games to advance to the title match.

In the final, DLR/Beltran came out firing, winning the first game 15-3 and giving the crowd a buzz; this is the third time in two years these two teams have met in a 3-wall outdoor pro doubles final. However, Rich/Geis came back and took game two 15-12 … but not before some real drama. At game point against, a ball came across the court to Alvaro on the right-hand side, who prepared to take a backhand. However, Geis was pinned and moved off the court. Beltran took the shot and hit Geis, looking for an avoidable hinder, but the referee (and line judge) ruled the ball was struck in a way that it wouldn't have made the front wall; point against DLR/Beltran and game two to Geis/Rich. DLR and Beltran were furious, and argued vociferously. Once everything settled down, the tiebreaker was a back-and-forth streaky affair, with DLR/Beltran taking the early lead but Rich/Geis running a few points at the end to take the title.

The expected Las Vegas rematch should be interesting.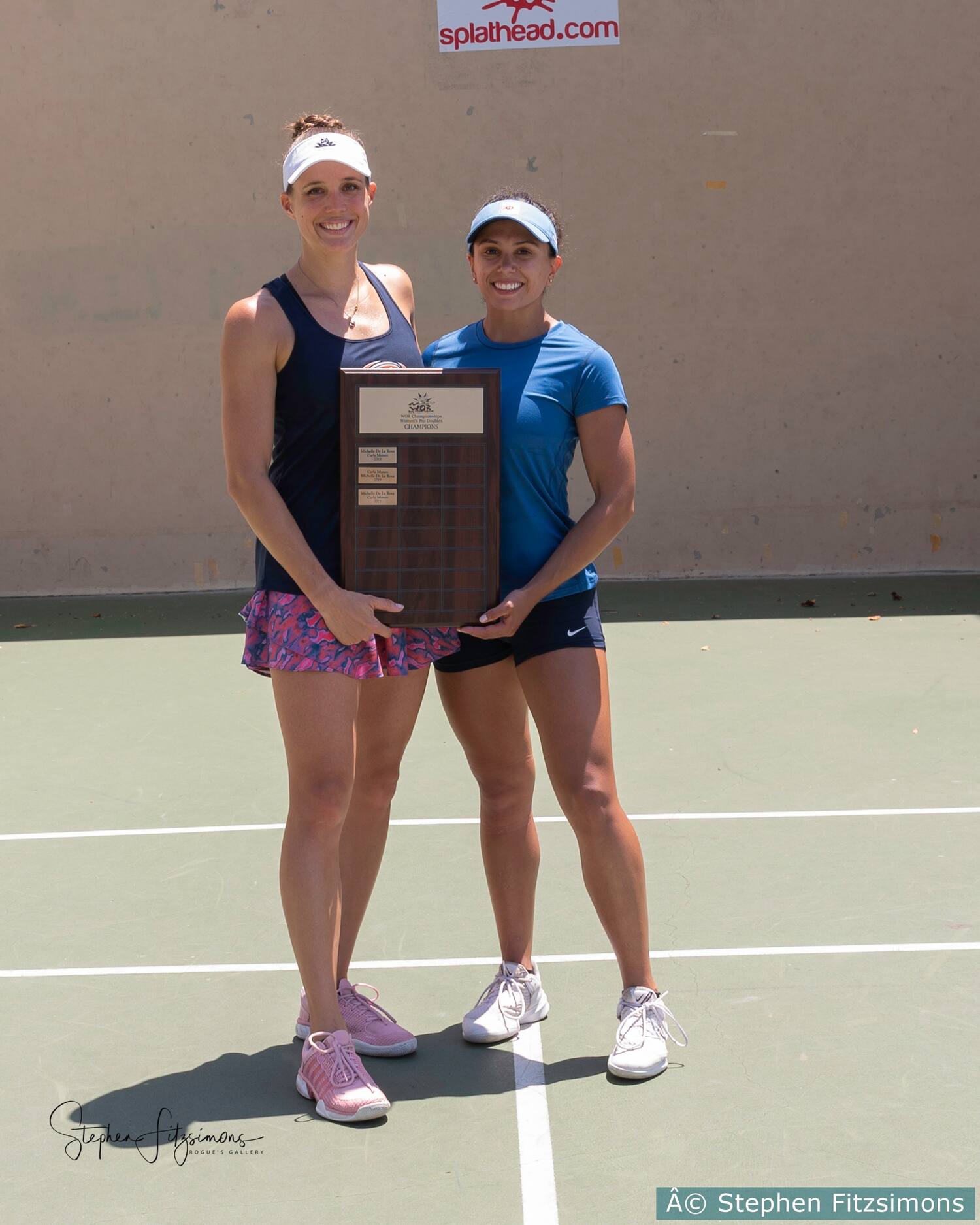 Women's Pro Doubles Champions De La Rosa and Muñoz continue their dominance as a team. Photo courtesy of Stephen Fitzsimons
In Women's Pro Doubles, Michelle De La Rosa and Carla Muñoz won their 4th straight Outdoor Nationals Women's Pro Doubles event, and 6th Outdoor Pro Major together, by twice holding off the reigning USA Indoor National Doubles Champions Kelani Lawrence and Hollie Scott. The seven pro ladies' teams played a double elimination draw, so DLR/Muñoz had to beat the reigning US National indoor Doubles champions twice to take the title. Bravo to Angela Veronica Ortega and Victoria Rodriguez who advanced to the loser's bracket final and finished 3rd by defeating some seasoned Outdoor and Pro teams.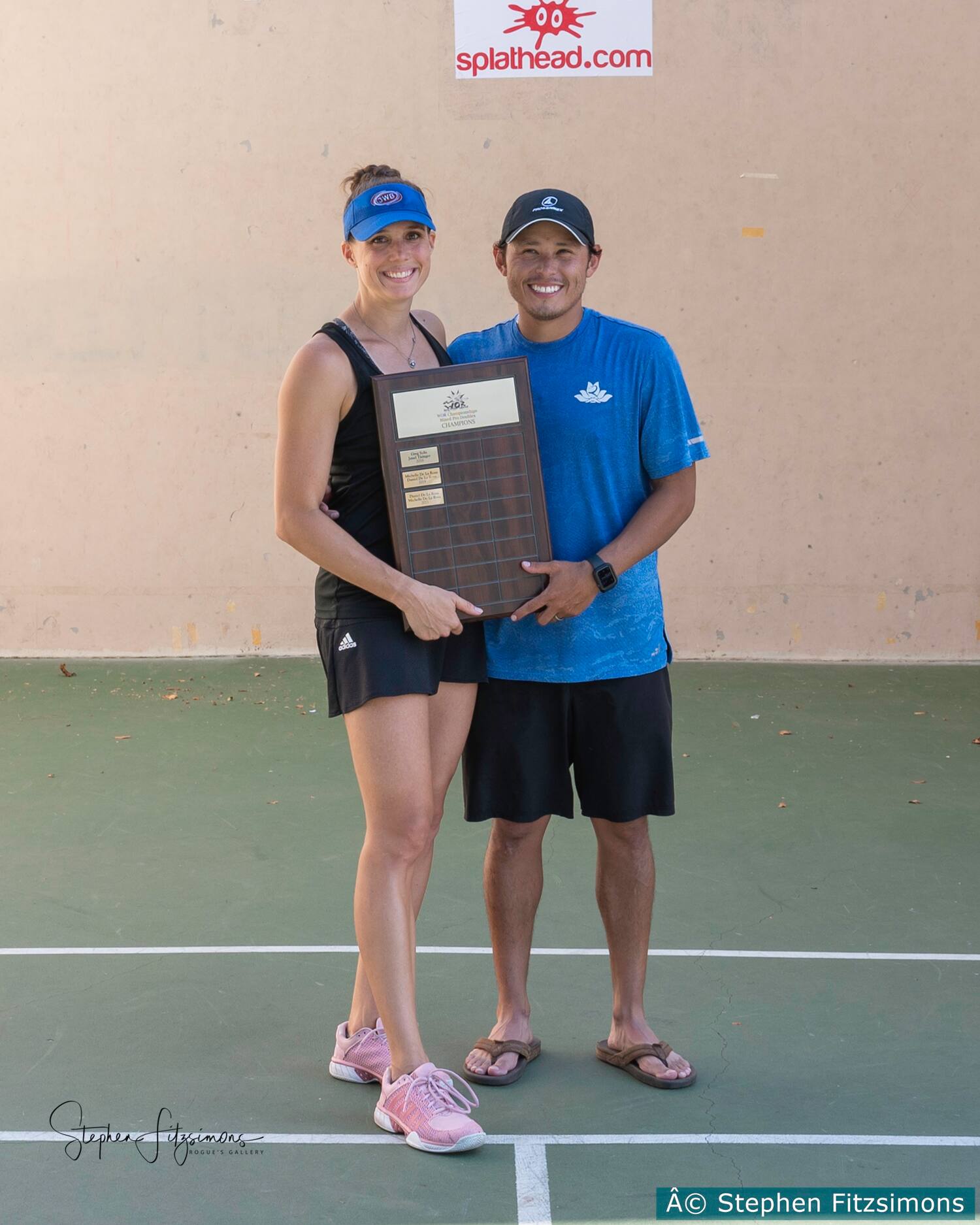 Who can stop the De La Rosa Mixed Doubles team? Photo courtesy of Stephen Fitzsimons
In the Mixed Pro Doubles, the De La Rosa husband-wife team continued their dominance over Mixed Pro racquetball events, winning this event for the 6th time in the last 7 years and winning their 17th Mixed Pro Outdoor Major doubles title together. They remain on track to do the "triple," winning all three outdoor major titles in one year.

Michelle and Daniel topped up-and-coming outdoor regulars Eduardo "Lalo" Portillo and Hollie Scott in a close final but were given a scare in the semis by the Parrilla bro/sis combo (Andree and Jessica), who defeated them in Game #1, 15-4, before the DLRs made the inevitable adjustment and blew them out 2,3 from there on.
In CPRT Pro Doubles, Josh Tucker and Greg Solis, who have a combined nine outdoor nationals pro doubles titles between them (but never one together!), took the CPRT 40+ Pro draw as the top seed. They beat SoCal expert 40+ players Scott St. Clair and Tony Burg in the final.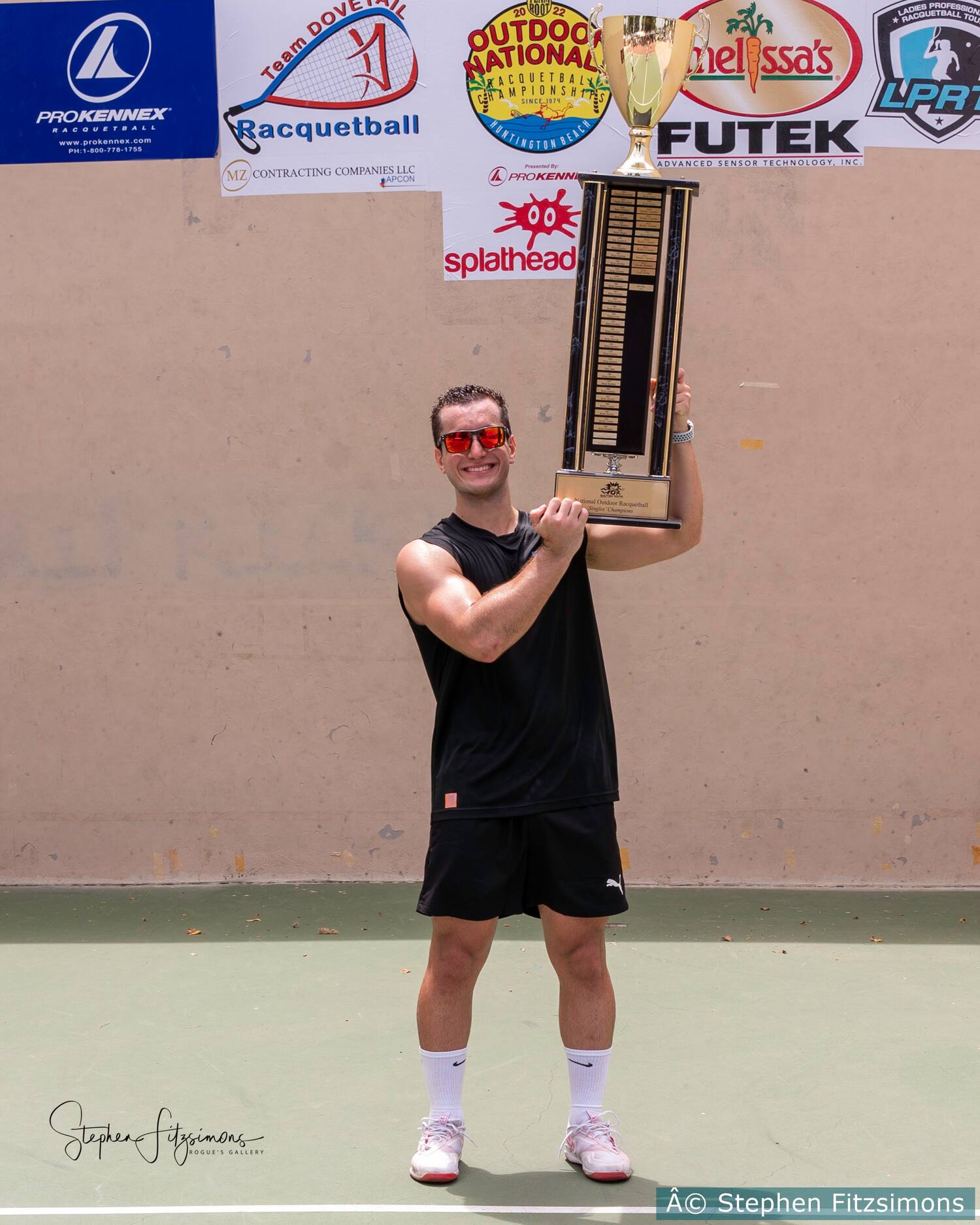 Andres Acuña continues his hot streak in 2022 and takes the Men's Pro Singles title. Photo courtesy of Stephen Fitzsimons
In the Men's Pro Singles draw, Andres Acuña, who was the #1 seed, took out #2 IRT player Andree Parrilla and then #2 seed veteran outdoor player Danny Lavely to win the Singles championship. It's been a nice two weeks for Andres, who took Gold in the World Games in Birmingham earlier in July, hopped on a plane, then took the title here in a completely different racquetball discipline. A nice month for the Costa Rican. Bravo!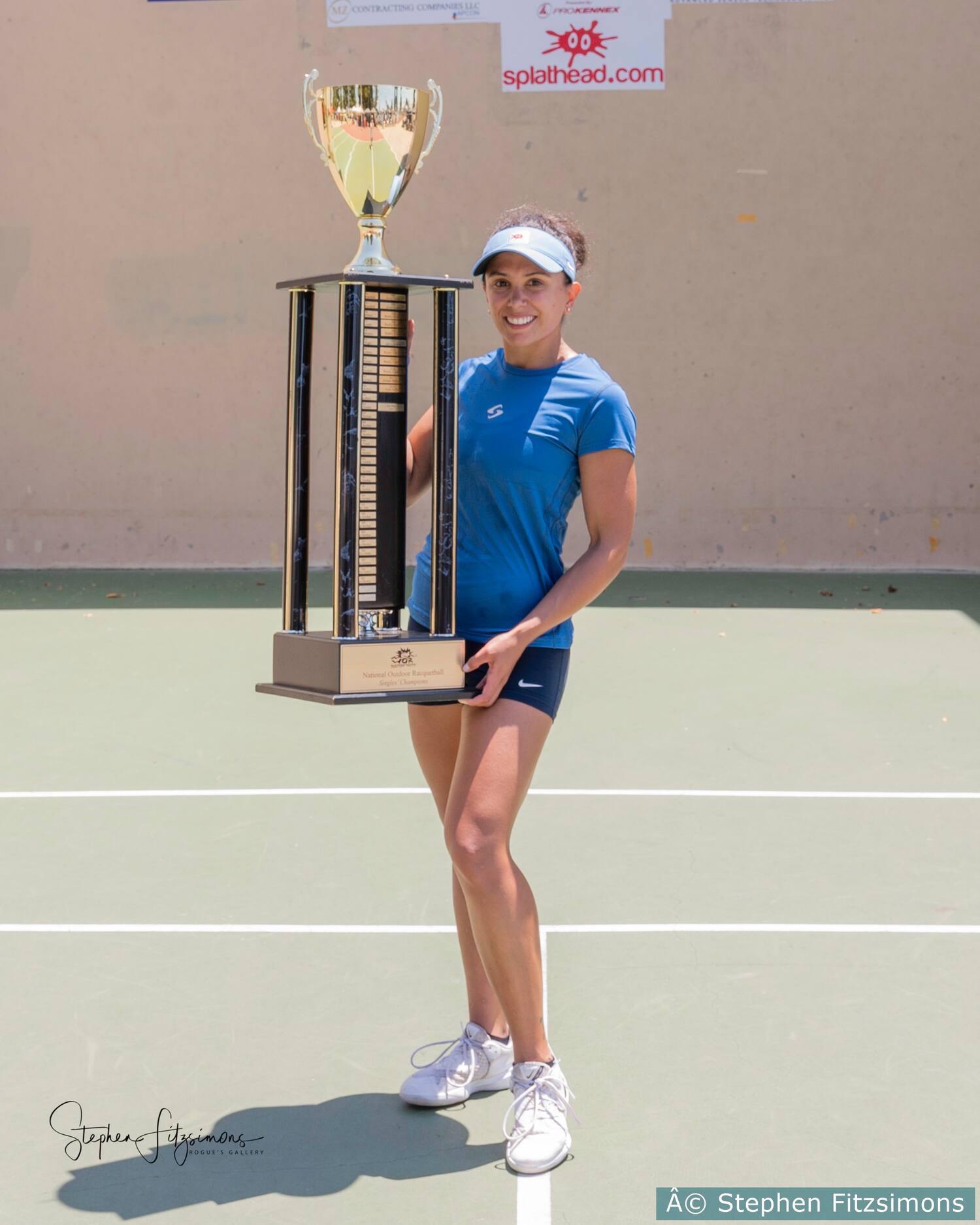 Carla Muñoz defended her Singles title in Marina Park. Photo courtesy of Stephen Fitzsimons
In
Women's Singles Pro Singles
draw,
Carla Muñoz
, the #1 seed and defending champion, defended her title here by ousting the improving Angela Veronica Ortega, then two fellow LPRT touring vets in Lawrence and Scott, to take the title. After missing Beach Bash, Muñoz had some catching up to do with the Cup Series, and she captured the double this weekend, taking out Scott in the final (fitting in that Hollie won the Beach Bash Singles title).
Thanks for all the streaming during the weekend, headlined by the LPRT team with SoCal's JT Rball often on the mic, bringing on Outdoor legends to help commentate. It is always a treat to listen to these specialists. Thanks to Tournament Directors Geoff Osberg and Jesus Ustarroz. Thanks to 3WallBall's Peggine Tellez and Mike Coulter for all their support for the event and for their weekend experience help. Thanks, of course, to Title Sponsor Randy Root and his company Team Root for underwriting the event; to the presenting sponsor Pro Kennex; and to all the other sponsors who made this event possible!
Triple Crown Reports for Outdoor Pro Titles
These links list the "triple crowns" of the Outdoor Racquetball Majors. They provide a nice concise way to see all the pro winners for all the draws during the "three-major" Outdoor period of our sport.
• Men's Pro Doubles: https://rball.pro/j47

• Women's Pro Doubles: https://rball.pro/2vv

• Mixed Pro Doubles: https://rball.pro/y43

• Men's Pro Singles: https://rball.pro/86z

• Women's Pro Singles: https://rball.pro/x8g

WOR Cup Standings
With Outdoor Nationals in the books, the second leg of the three-leg Outdoor Cup Series for 2022 is in the books. The following gives an update on the Cup standings for Outdoor Men and Women Pros.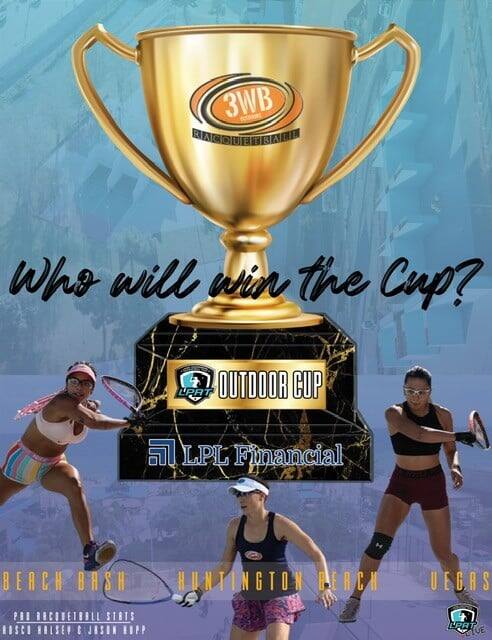 LPL Financial Women's Outdoor Cup Series


Click here: https://rball.pro/uvy for the full updated Women's Cup standings after Outdoor Nationals.


Top 5 Women after Outdoor Nats:
1. Michelle De La Rosa: 855 pts
2. Hollie Scott: 598.75 pts
3. Carla Muñoz: 437.5 pts
4. Kelani Lawrence: 325 pts
5. Katherine Neils: 321.875 pts
Michelle De La Rosa extends her lead at the top with two 1st place finishes at Outdoor Nationals, and she will be very difficult to catch in Vegas for the top prize. Hollie moves up from 5th place after Beach Bash to #2 on the back of three 2nd place finishes in three divisions in Huntington Beach. Muñoz, who missed Beach Bash due to previous commitments, roars into the Top 3 thanks to two titles in California. Kelani and Katie remain in contention, but it looks like the prize money will come down to the current Top 3 ladies.


Filling out the rest of the Top 10 are Masiel Rivera, Erika Manilla, Jessica Parrilla, and then tied for 9th are Angela Veronica Ortega and Victoria Rodriguez.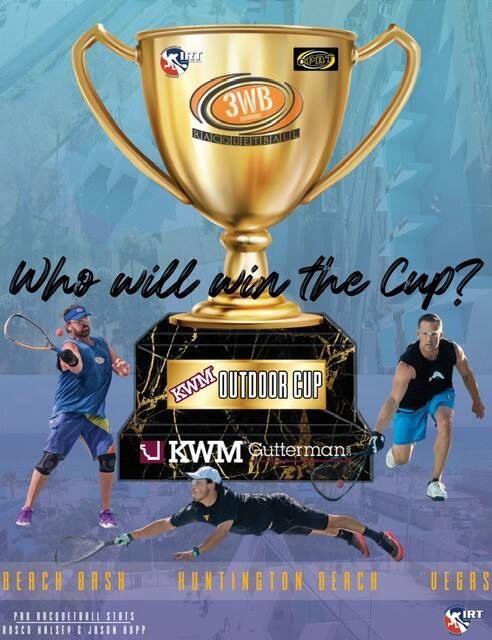 KWM Gutterman Men's Outdoor Cup Series


Click here: https://rball.pro/br0 for the full updated Men's Cup standings after Outdoor Nationals.


Top 5 Men after Outdoor Nationals:
1. Daniel De La Rosa: 1081.25 pts
2. Andres Acuña: 613.125 pts
3. Eduardo "Lalo" Portillo: 600.625 pts
4. Javier Mar: 510 pts
5. Alvaro Beltran: 504.68 pts
De La Rosa, unsurprisingly, has a massive lead atop the standings thanks to two titles in Florida and another in California; he likely has sewn up the Cup title unless he misses Vegas altogether. Acuña, who was not in the Top 5 after Beach Bash, roars into 2nd place thanks to his Singles title in California. Lalo moves up to 3rd from 6th place thanks to his 2nd place finish in Mixed Doubles in Huntington Beach. Mar and Beltran remain in the hunt, but Mar's absence in California prevents him from building on his fantastic Beach Bash results.

The rest of the Top 10 goes Robert Sostre, Josh Tucker, Jason Geis, Micah Rich, and Greg Solis.

As always, thanks greatly to 3Wall Ball and Mike Coulter for organizing the Cup series, thanks to LPL Financial and KWM Gutterman for underwriting the cups for the Women and the Men, and thanks to the players for making outdoor majors as much fun as they are.

See you in Vegas for the third leg!
WOR Hall Of Fame 2022 Inductees: Steve Fey & Dave Trenton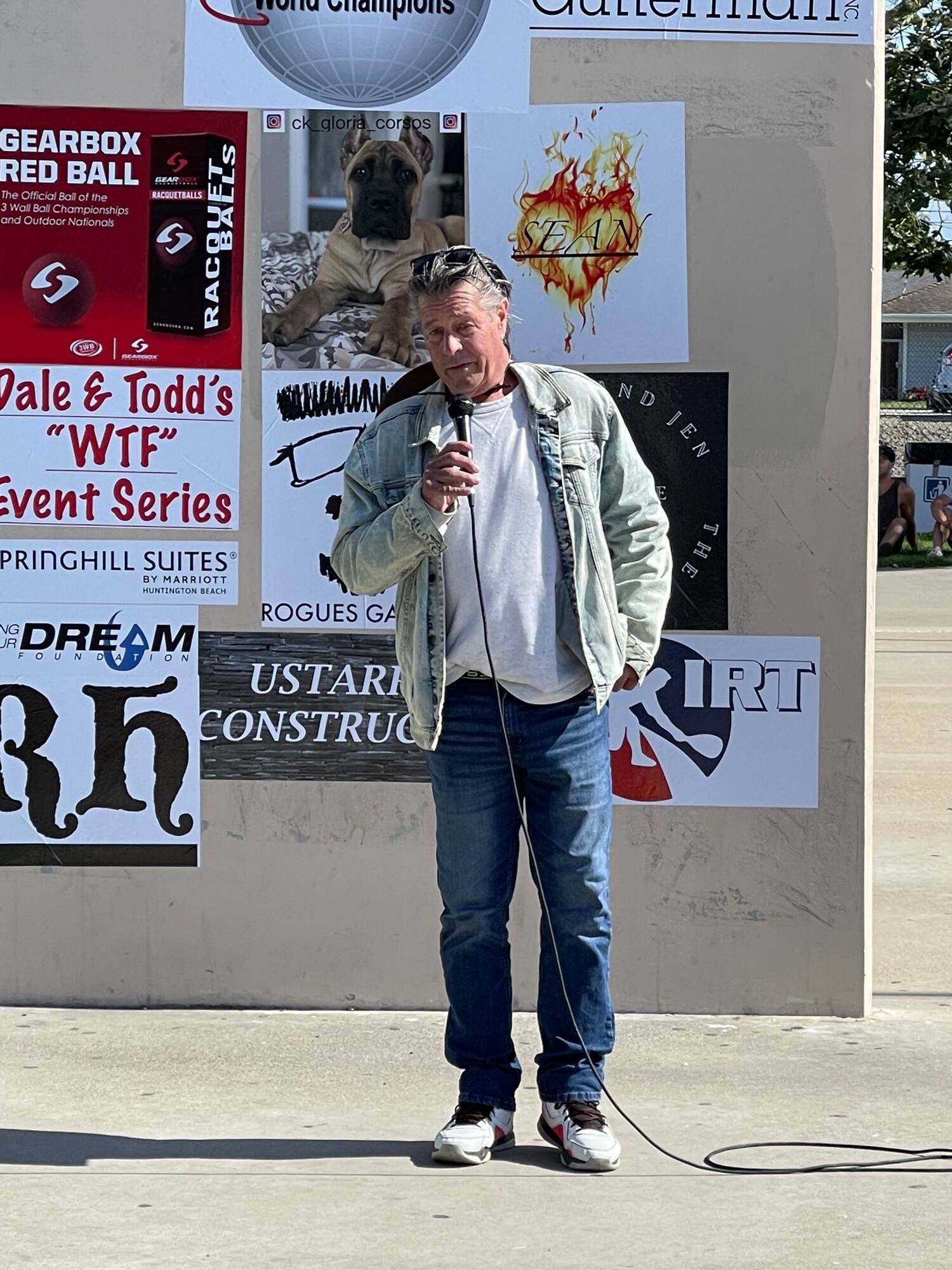 2022 Hall of Fame Inductee Steve Fey gives his acceptance speech. Photo courtesy of Brett Elkins, WOR HOF Director.

Steve Fey
and
Dave Trenton
are the 2022 WOR Hall of Fame Inductees.
On Saturday afternoon of the 2022 Outdoor Nationals tournament, the latest WOR Hall of Fame class was inducted. Dave Trenton & Steve Fey (1979 Champs) were added to the HOF; these were important transitional players who helped bring Outdoor Racquetball from its Paddleball roots of the 1970s into the power game dominated by Southern and Hawkes in the 1990s.

Fey and Trenton were at the forefront of the Outdoor power racquetball movement, winning the Outdoor Nationals Pro/Open Doubles title in 1979. They won that title, fittingly enough, over two of the sport's earliest dominant players–Barry Wallace & Bob Wetzel–marking a transition from the old to the new. Together, they also made two other finals and multiple semifinals in the 1978-1985 range. In 1984, the pair lost the final to Brian Hawkes & Dan Southern, who would separately go on to win a dozen titles between 1982 and 1999. Again, a fitting transition to the new wave of Outdoor Racquetball ushered in by the sport's most dominant players ever.

Perhaps their most memorable traits as competitors, though, were their "color" on and off the court. Trenton's nickname was "The Cobra," stemming from his physique and his time as a former Green Beret. He was a feared competitor, and he brought a ferocious competitive aura to the court. Both players were mentally tough and physically gifted, and the intimidation factor was real when they took the court.

"Trenton and Fey are what outdoor racquetball was all about and why I personally lobbied for them. They are the epitome of outdoor Racquetball. They are what you want in the Outdoor Hall of Fame: top players who were fearless, guys you never wanted to lose to, and good guys who you loved hanging out with after the match. Fey was a linebacker playing racquetball and Trenton was a Green Beret. They worked well together. Trenton would put the ball away on almost every shot." - Brian Hawkes

(Thanks to WOR Hall of Fame Chairman Brett Elkins for his biography on the pair.)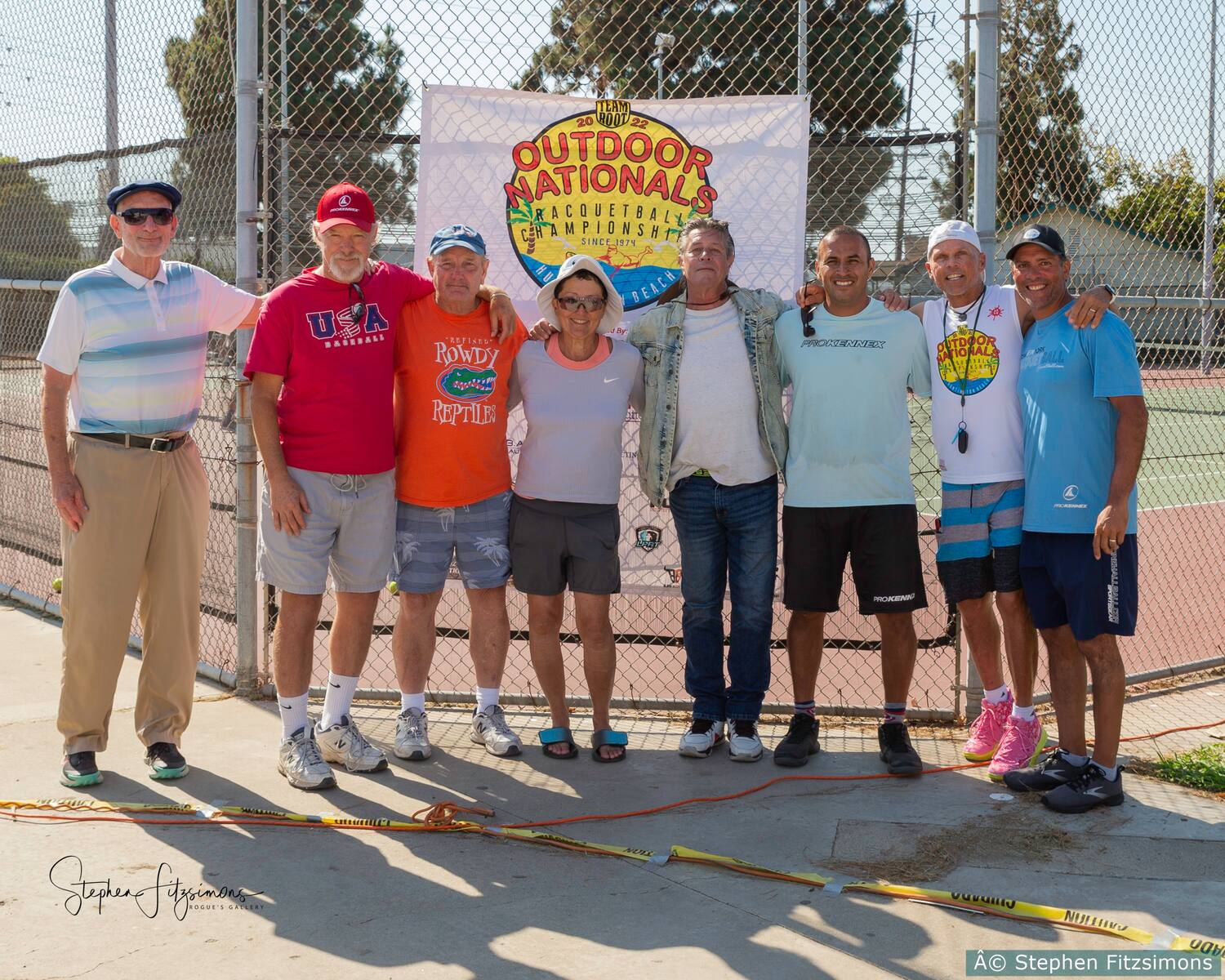 All WOR Hall of Famers in attendance at the 2022 Outdoor Nationals. L-R, Charlie Brumfield, Dan Southern, Greg McDonald, Martha McDonald, Steve Fey, Greg Solis, Greg Peters, and Robert Sostre.

Updates on the Outdoor Majors
Here's the latest news from the three Outdoor Major tournaments (see the Upcoming Events section for exact dates and locations).
3WallBall 2022
KWM Gutterman 2022 3WallBall Championships officially announced!
Thanks to Keith Minor for the title sponsorship and your continued support of the sport.
Dates: 10/26-30/22
Site: The STRAT Hotel, Las Vegas. GET YOURHOTELS EARLY, last year a last minute EDM concert sucked up all the available hotels and some people got gouged for rates.
New for 2022: Squash57
Social activities planned for this year: Ladies Night Thursday, Costume Party Saturday
Remember this is the big finish for the 2022 Outdoor Cup Series.
Beach Bash 2023
March 8-12, 2023: Save the Date announced! Mark your calendars, the 2023 Beach Bash will be back!
July 2022 WOR/Outdoor Tournament Result Recaps
In addition to the big Outdoor Nationals event, July was a busy month across the country for Outdoor Racquetball. There were tournaments in Colorado, California, Wisconsin, Virginia, and Massachusetts.Thanks to all our Outdoor tournament directors for continuing to run events around the country!
July 9, 2022: Fundraiser Outdoor Shootout in Colorado Springs @ Memorial Park, Colorado Springs, Colorado.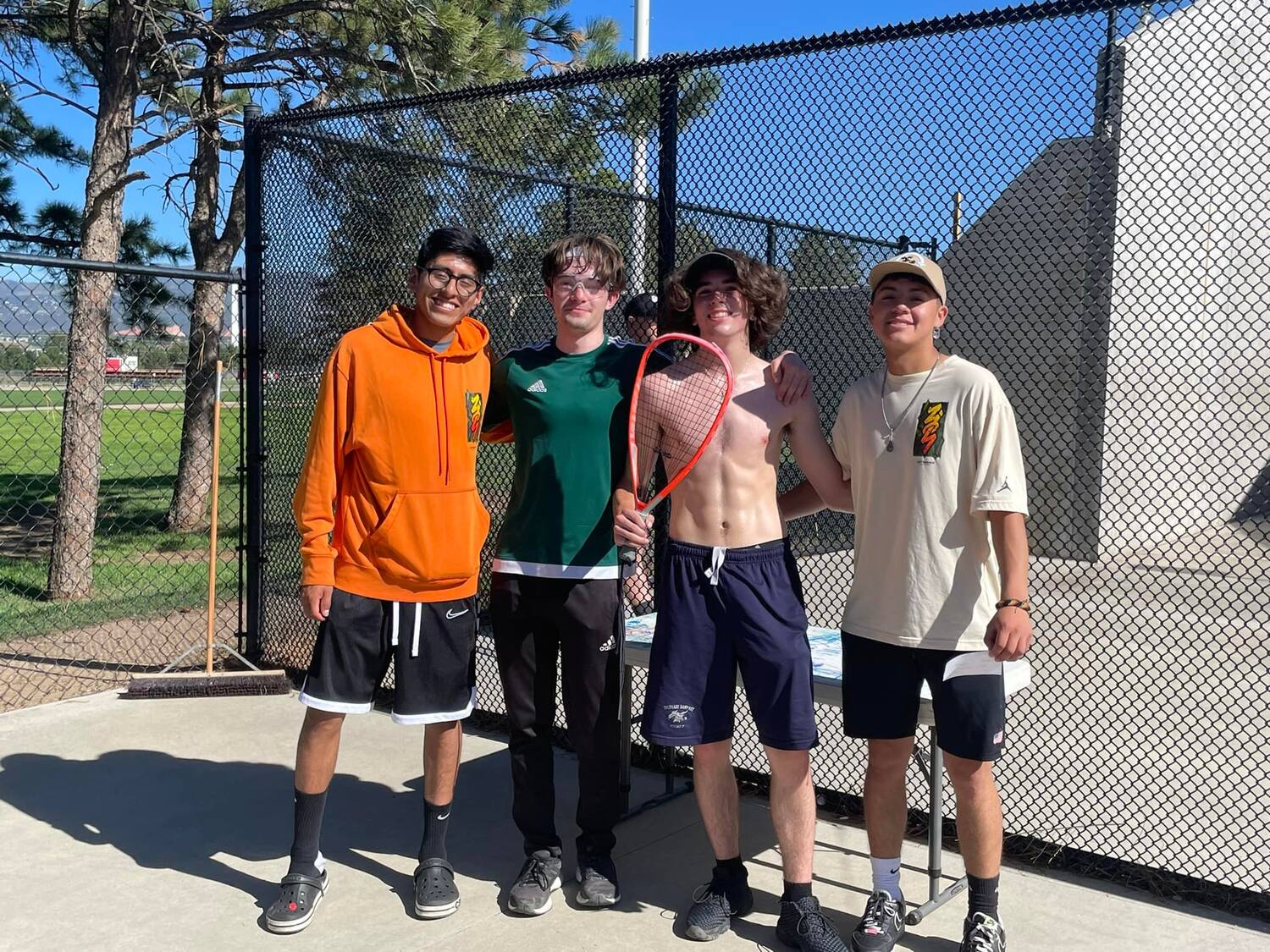 Youth was served, and serving, at the July CSU-Pueblo fundraiser Outdoor event in Colorado Springs. Photo courtesy of tournament director Mary Jane Caltagirone.
This one-day shootout was held to benefit CSU-Pueblo's National Championship Racquetball Team. The below summary is courtesy of Tournament Director Mary Jane Caltagirone.
Thank you to everyone who participated and donated. We raised over $700 for the CSU-Pueblo National Championship racquetball team! What a great Outdoor Racquetball community we have here in Colorado!!
Now, here are your winners:
Pro/Open Singles
Champion: Erik Garcia

2nd Jake Kingsford
Elite/A Singles
Champion: Alexander Bradt

2nd Matt Dockter
B/C Singles
Champion: Aidan Veselka

2nd Zach Rodgers
Pro/Open Doubles
Champions: Erik Garcia & Ryan Rodgers

2nd Jared Nessland & CJ Sanders
Elite/A Doubles
Champions: Bryce Logemann & Malachi Plaitsted

2nd Alexander Bradt & Matt Dockter
B/C Doubles
Champions: Phillip Gaerlan &

Mary Jane Caltagirone

2nd Helena Ferrier & Michelle Dockter (both playing off-handed)
July 23, 2022: Hot Tamales Outdoor Shootout, Stratton Woods, Herndon, Virginia. Tournament Director: Maddie Melendezhttps://www.r2sports.com/website/event-website.asp?TID=39810
The below report is courtesy of Tournament Director Maddie Melendez. This event featured both one-wall and three-wall play, and threw in some one-wall Paddleball for the traveling players who enjoy playing that discipline.
THE HOT TAMALES SHOOTOUT
Thanks to everyone who played in last week's Outdoor VA tourney at Stratton Woods Park, especially those who traveled from Maryland, New York, New Jersey, Georgia, and Florida. We managed to play in the scorching heat, and I know for sure all timeouts were used for all matches/games!
Welcome to all of the newcomers: Howard Chennault (GA), Sebastian Franco (FL), Grovert Fuentes (NJ), Darien Jimenez Ortiz (NJ), Chance Manley (NJ), and John McLane (MD). We were thrilled that you came to play, and some of you won cash!
Friday night was a perfect time to play R-Ball/Paddleball and so the fun began. There were seven Paddleball players (Andy, Momo, Fanta, Mario, Howard, Pam, and Brenda). They began playing, and then Moses joined in a bit later. They played vigorously until 9:00 p.m. with the top four winners being Mario, Momo, Pam & Fanta.
Now on to Saturday which turned out to be in the 90's but felt like 105! Since we had the honor of four pro players participating, I changed the Men's Open 1/3 wall into a King of the Court, and they all played and gave us plenty of great action shots (which Ken got on camera)! But they weren't the only ones playing their hearts out -- ALL of the divisions played great throughout the two-day event. See all of the action shots that Ken Fife has posted this past week.
Thanks to Fanta, Suresh, Howard, Rod, Ray, Frank, and countless others who helped throughout the weekend (this event wouldn't have been successful without all of you!), and of course, thanks to all of the sponsors: The AGE Solutions, Margo Scott Realty Group, Ray Nayyar, Island Queen, Camp Alleghany for Girls, and of course, OneWallBall.com for the awesome shirts!
All-in-all, everyone had fun with lots of play time, plenty of food/snacks/drinks ...and the weather? Well let's just say it didn't rain!
Congrats to all the winners thanks to all who played!
Three-Wall Racquetball
75+ (1st) – Frank McCabe/Brandon Bellotti
75+ (2nd) – Bill Bouie/Ivan Navia
Mixed Open/Elite (1st) – Ivan Navia/Lynette Revollo
Mixed Open/Elite (2nd) – Guillermo Castellon/Jhasmine Galvez
Women's Elite (1st) – Claudia Nuñez/Andrea Cuellar
Women's Elite (2nd) – Lynette Revollo/Jhasmine Galvez
Men's Elite (1st) – Mahesh Bandari/Ivan Navia
Men's Elite (2nd) – John McLane/Suede Harris
King of Court (1st) – Momo Zelada
King of Court (2nd) – Sergio Rivera
King of Court (3rd) – Mario Mercado
One-Wall Racquetball
75+ (1st) – Sergio Rivera/Suresh Vemulapalli
75+ (2nd) – Ben Bleyer/Jamie Sparks
Mixed Open (1st) – Hallie Rallas/Sudheer Tata
Mixed Open (2nd) – Maddie Melendez/Paul Newman
Women's Open (1st) – Hallie Rallas/Maddie Melendez
Women's Open (2nd) – Claudia Nuñez/Andrea Cuellar
Mixed Elite (1st) – Frank McCabe/Jhasmine Galvez
Mixed Elite (2nd) – Nalini Basdeo/Grovert Fuentes
Men's Elite (1st) –

Luis Salinas

/Darien Jimenez
Men's Elite (2nd) – Leland Rupp/Jamie Sparks
King of Court (Due to weather, split four ways) – Sebastian Franco, Sergio Rivera, Momo Zelada, and

Ben Bleyer
Thanks again for all the continued support! I truly appreciate it and hope to see you all in my next event in the Fall. Remember… "Winners are not people who never fail, but people who never quit."
See you all in the courts!
July 23, 2022: Boston WOR Independence Day Outdoor One-Wall Doubles Shootout, Constitution Beach, Boston. Tournament Directors: Jim Bove/Ron LaPlante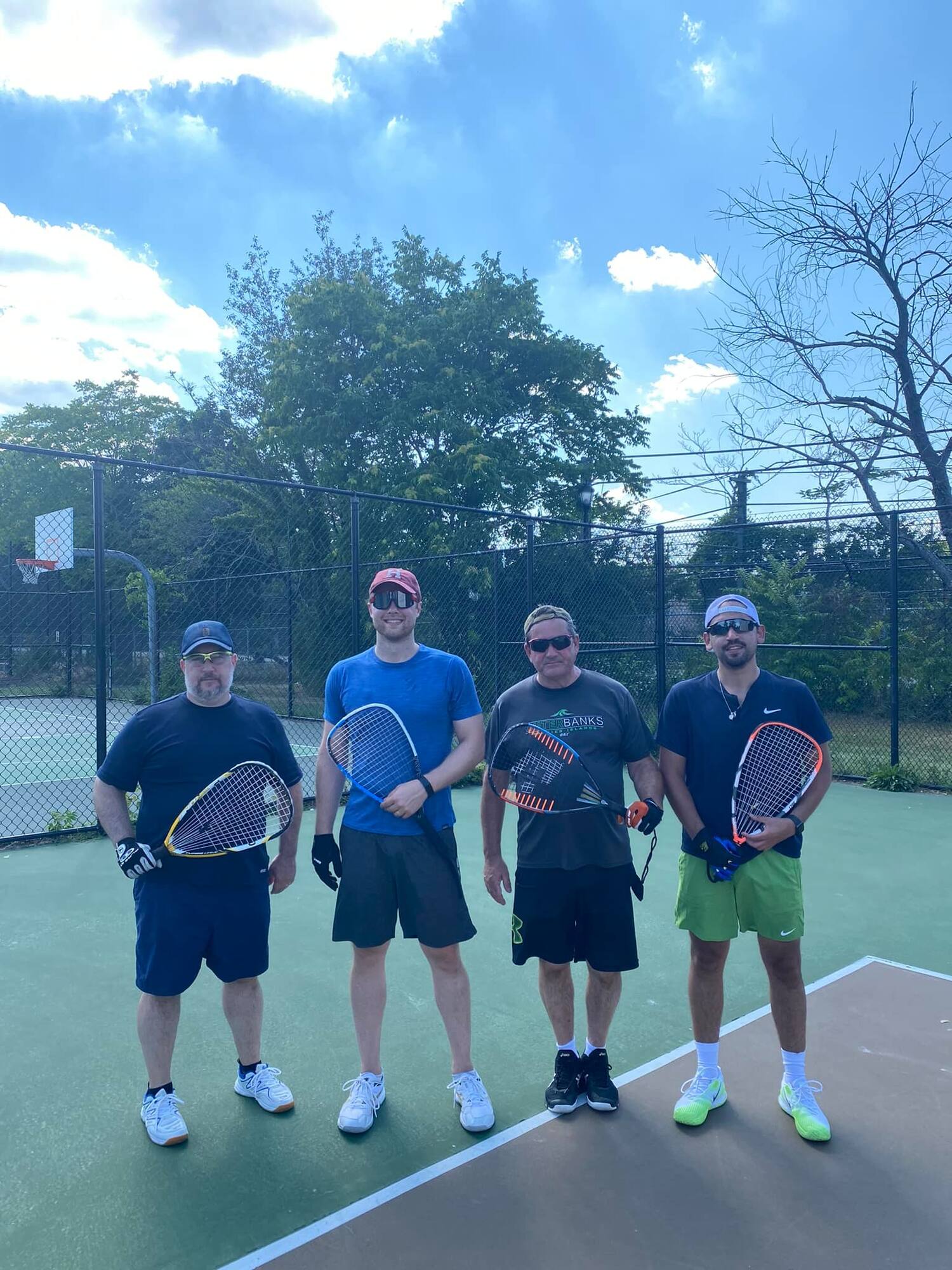 Men's Doubles Final Participants. Photo courtesy of Ron LaPlante
Congrats to yesterday's winners, John Behm & Pablo Andres Alvarado, who defeated Bill Penny & Ron LaPlante in the finals, 15-12. Congrats also go out to Christine Oirarref and Brent Salgat who took the Mixed title over Tony Sharpe & Estelle Dill.
Thanks to all who showed up and braved the heat to make it a great event!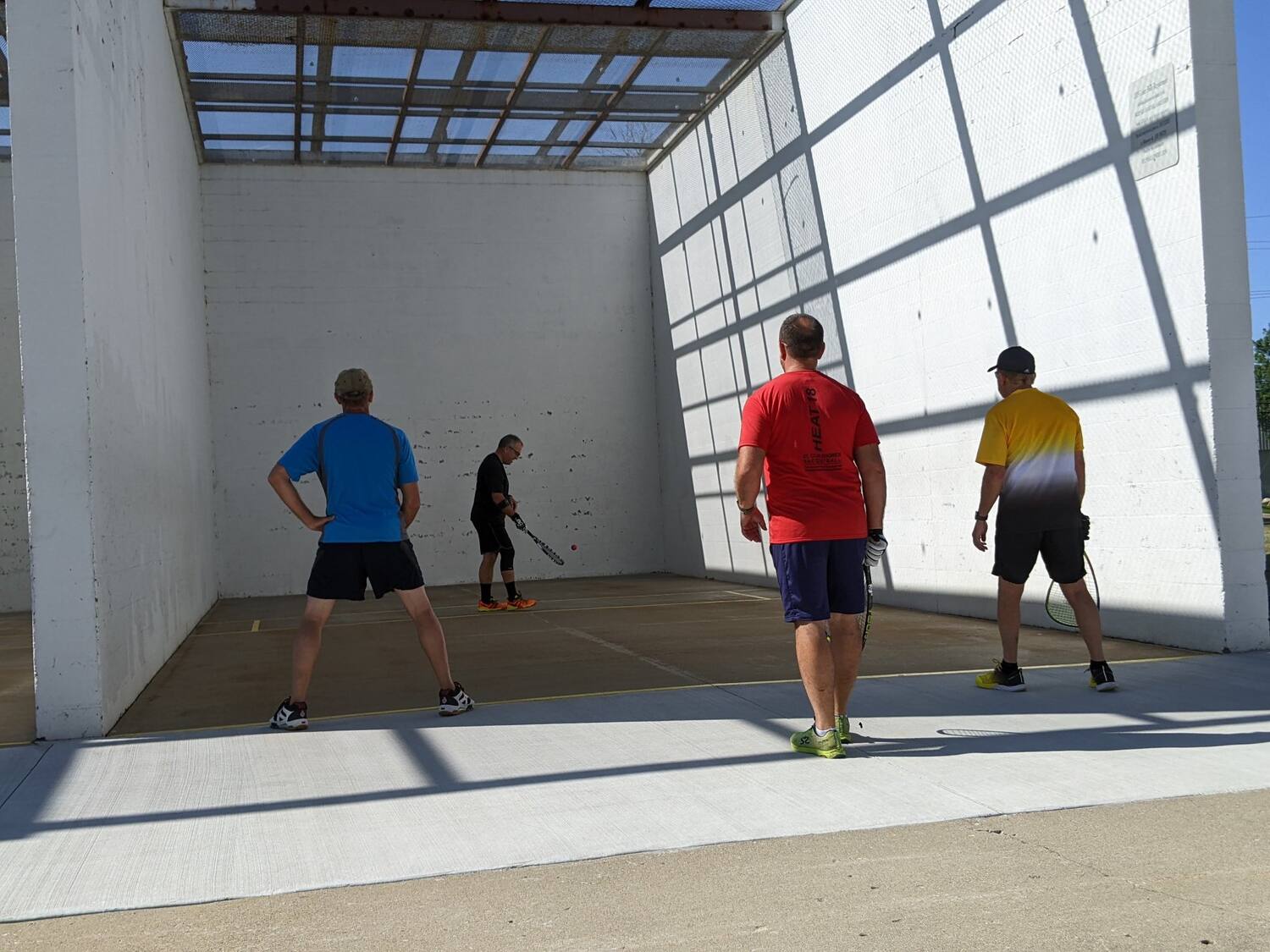 Action Doubles at the St. Claire Shores Shootout. Photo courtesy of Cyrus Chinoy
July 30, 2022: Can You Stand the Heat One-Day Shootout, St. Claire Shores Outdoor Courts, St. Claire Shores, Michigan. https://www.r2sports.com/tourney/viewResults.asp?TID=39817
See below for an excellent recap by Cyrus Chinoy.
This weekend another successful Outdoor Racquetball event took place in the beautiful State of Michigan with the 18th Annual Can You Stand the Heat Shootout in St. Clair Shores.
Let's start with important items first, and please help me in thanking Tournament Director Weldon Blakeslee, whom we all just call Tom. Tom has a passion for running tournaments and doing everything he can to provide a smooth operation and listening to players' suggestions. He also provided plenty of food (burgers, hot dogs, desserts) and plenty of hydrating drinks (water, Gatorade, etc.). Thanks, Tom, for all your planning and hard work to make these tournaments run successfully. I appreciate you!
So great that we can have these tournaments throughout the year, both Indoor and Outdoor, and have the assistance of the Racquetball Association of Michigan to make things happen and support all the players as well.
Players were able to attend and compete in this fun tourney filled with all skill levels and players all over the State of Michigan. It was a magically wonderful day of weather from the sun gods providing a beautiful canvas for a great day of racquetball fun. Competitors from all divisions were eager to get on the courts and get in some exercise and great competition throughout the entire day.
Very blessed to play with my brother, friend, and doubles partner Howie "Snacks" Webb again in this tourney as we moved up in one of our divisions and played in the Outdoor Pro division for the first time together in a tournament. We've played pretty much every player in that division many times before in practice, but for us, it was just about the challenge and getting better as players moving into the highest division.
We started out the day slowly in warming up and executing on our shots and by the end of playing everyone in that division, we found out that we held our own and were mostly happy with our performance. But...we both know our games are constantly evolving, and we have work to do in constantly making our games better as a team.
Although we didn't win anything this time around (unless you want to call 4th runner up winning), we had a great time playing with everyone and look forward to future battles with players in the Pro division. It was great to see our other friends and players we haven't seen in a while, like Ian Brooks and Jason Kennedy, both of whom played great during our respective matches.
Kudos to both Robin Basil and Scott Young as they played lights out all day and won the Pro division and earned every point. They played great all day and deserved the title. Great job, fellas!
Elite, our other division that we qualify for, which was split into two different pools, we ended up battling our friends Jeff Johnson & Alex Kazarian in one match and Joe Lowell & Eric Washington in the other. In both matches, everyone hit great shots and the battling went back and forth with some close contested matches. Howie and I were fortunate to win our pool and make it to the Finals.
Like many of my previous posts over the years, waiting for us in the Finals again were our good friends and repetitive opponents, Mark Reed & Carlos Jones. We pretty much have played each other in the past 3 to 4 tournaments in the Finals. Just like our last tournament a few months back at the same courts, this match went back and forth the first two games with each team splitting and setting up yet another familiar tiebreaker between both teams. In the tiebreaker, we had everything go right for us and were crowned the Elite champions. Great playing as always from Mark and Carlos, and we always have competitive and fun matches. Great to get on the courts with you again, fellas, and thanks for the games.
Overall just another fantastic weather weekend full of great playing by all players as well as the usual joking and camaraderie between all participants.
Tourney Division winners (All Doubles):
Outdoor Pro: Robin Basil & Scott Young
Super Centurion: Dan Spear & Timothy Scott
Elite: Howard Webb Jr. & Cyrus Chinoy
Centurion Elite: Christopher Kelly & Almir J
A: David Grigg & AJ Perrigan
Centurion A: Andrew White & Pete Mann
Mark your Calendars for these Upcoming Outdoor Events for 2022!
September 10, 2022: NorCal Vegas WOR Warmup, West High School, Tracy, California.
Tournament Director: Erica Williams.
https://www.r2sports.com/portfolio/r2-event.asp?TID=39880

September 24, 2022: Fallen Comrades 4, St. Claire Shores Outdoor Courts, St. Claire Shores, Michigan.
Tournament Director: Tom Blakeslee.
https://www.r2sports.com/portfolio/r2-event.asp?TID=37864
September 24, 2022: One Day Outdoor Shootout, Memorial Park, Colorado Springs, Colorado.
Contact Mary Jane RN (Mary Jane Caltagirone) on Facebook via the Colorado Outdoor Racquetball FB group to sign up.

October 26, 2022: Team De La Rosa Outdoor Clinic, Las Vegas, Nevada. Daniel, Michelle, and a mystery guest will conduct an outdoor clinic.
https://www.facebook.com/ProkennexNorthAmerica/posts/pfbid02bAgmZ9YjekUfzfX4CzatCmEQMxZNuTDuHp57woWvxoUaGeSvzhUFehMWPCTZmKnJl

October 26, 2022: Manilla Athletics Outdoor Clinic, Las Vegas, Nevada. Adam, Erika, and Bobby to conduct a 6-8 pm clinic on the 3WB courts.

October 26-30, 2022: 13th Annual 3WallBall Outdoor Championships, Las Vegas, Nevada.
Tournament Director: Mike Coulter & Peggine Tellez.

November 12-13, 2022: WOR Florida State Championships, Waterford Park, Davie, Florida.
Tournament Director: Rob Mijares.
https://www.r2sports.com/portfolio/r2-event.asp?TID=39056
Was mid-May, rescheduled to mid-November.

December 16-18, 2022: 2nd Annual Hollywood Beach Battle, Hollywood, Florida.
Tournament Director: Maddie Melendez.

March 8-12, 2023: 2023 Beach Bash. Save the date announced.
Stay in Touch with WOR on Facebook

The absolute best way to stay abreast of Outdoor events is to follow WOR – Outdoor Racquetball on Facebook. We post updates for upcoming events as soon as they're available!

https://www.facebook.com/WorldOutdoorRacquetball/

Plus, there's a slew of geographic-specific groups that talk about play all over the country. Wherever you live, there's likely to be a group that coordinates play in your area. Reach out to WOR to find a Facebook group or a state director to help you out.
Contact WOR

If you have any questions, please email WOR@usaracquetball.com. We'll get back to you ASAP.