Junior of the Month
by JUNIOR SPOTLIGHT -- JUNIORS OF THE MONTH Axel Lopez and Montserrat Torres -- U.S. Junior Team, Mixed Doubles 14 & Under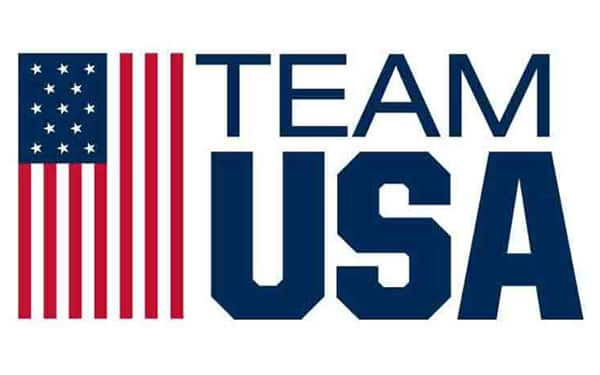 JUNIOR SPOTLIGHT -- JUNIORS OF THE MONTH
Axel Lopez and Montserrat Torres -- U.S. Junior Team, Mixed Doubles 14 & Under

All photos courtesy of Junior Team Illinois and Junior Families

Axel Lopez and Montserrat Torres qualified for Junior Team USA by taking first place in the Mixed Doubles 14 & Under Gold division at the USA Racquetball National Junior Championships in Des Moines, June 2022. Team Illinois players and fans join their coaches and families in celebrating their achievement -- this is the first time in several decades that Illinois is represented on the U.S. National Junior Team, and we couldn't be prouder!
GO TEAM USA!!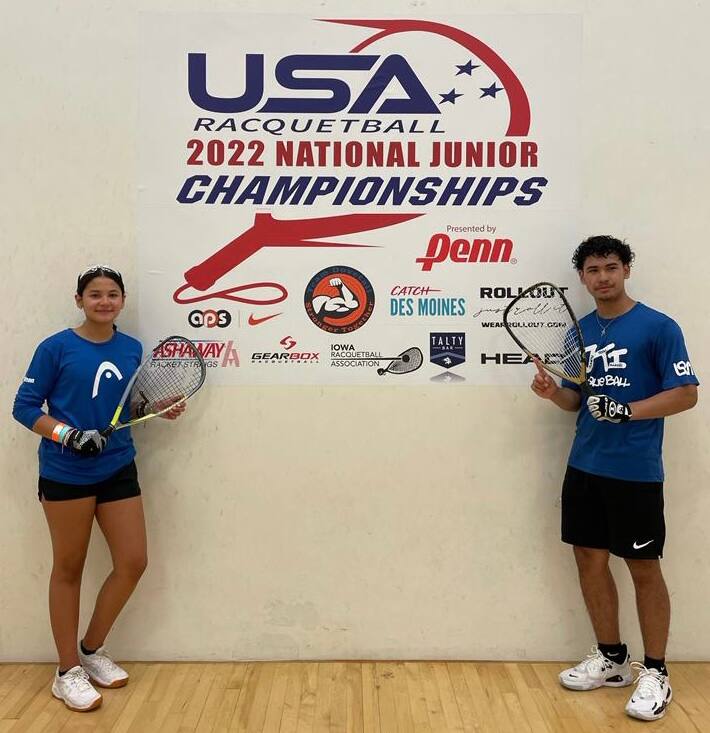 ___
AXEL LOPEZ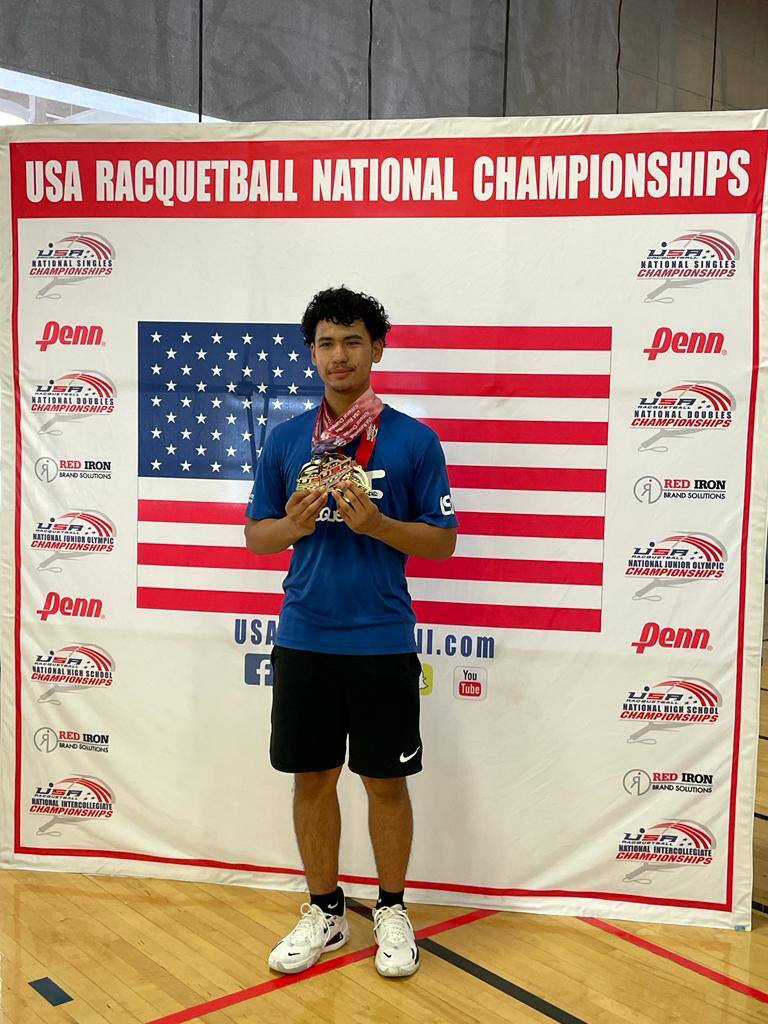 Axel, 15, began playing in Racquetball at the age of 11. He attends UIC College Prep High School in Chicago, Illinois, where he will be a sophomore as the 2022-23 school year begins. His favorite subject is biology, and beyond school and racquetball, he enjoys weightlifting as training for both competition and good health.

When asked what it means to be a member of the U.S. National Junior Team as they prepare to compete in Guatemala City this fall, Axel replied, "It has been a dream of mine for years to make the U.S. Junior Team, and now that I have, I'm filled with happiness and pride. I'm excited about meeting the rest of the players and experiencing a new level of competition."

Axel will be accompanied to IRF World Juniors by his parents, Jesus and Luz, and his two sisters as well!

Barry Dixon, ISRA Board Members and Junior Team Illinois Head Coach, offers his perspective on Axel's progress and achievement. "Axel has been working hard to develop his skills, which is paying off! Axel's home club is Glass Court in Lombard, Illinois. He is a Junior Team Illinois (JTI) member during the season, and he additionally trains with Marian Bala throughout the year while participating in local and national tournaments. Axel is a respectful young man, plays the sport with class, and is always a pleasure to be around."
___

MONTSERRAT TORRES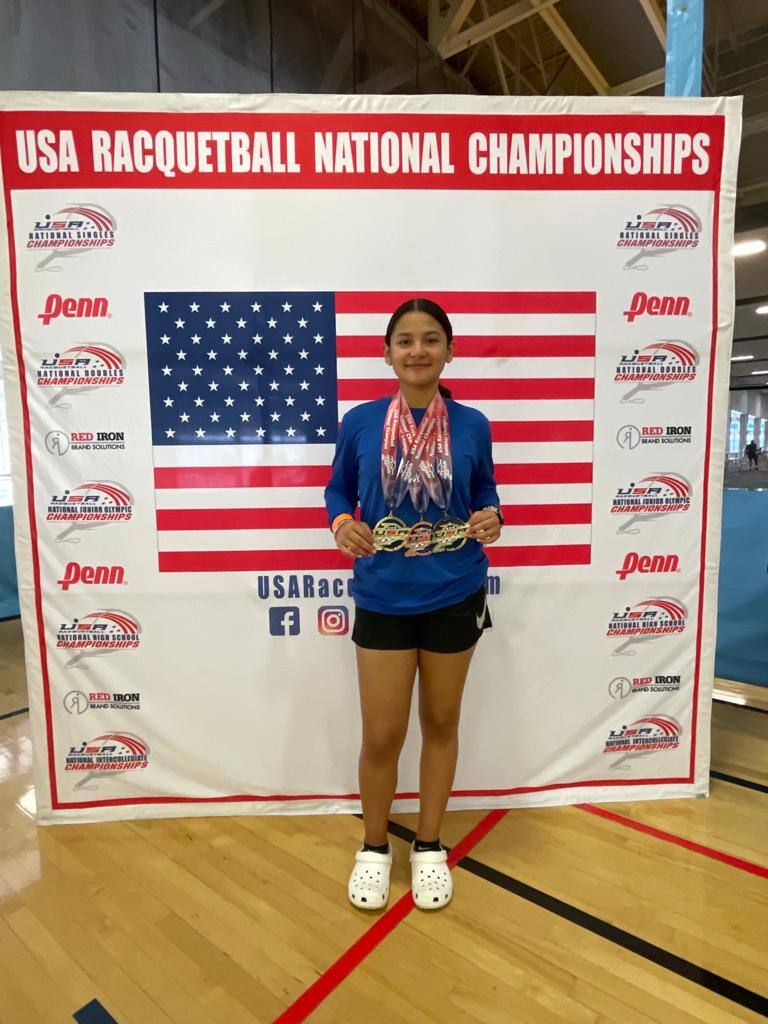 Montserrat, 15, has played since she was 9 years old. A sophomore this coming school year at Frederick Von Steuben Metropolitan Science Center in Chicago, she most enjoys Math in general and particularly Geometry. Montserrat excels at piano when not studying and playing Racquetball.

On qualifying the for U.S. Junior Team, she said, "It's a great accomplishment knowing that I am capable of being a part of it, which encourages me to realize just how many other great things I am capable of as a person. I'm looking forward to a great experience in Guatemala and getting to meet new amazing players from around the world."

Montserrat's parents, Jairo and Claudia, will be making the trip with her to the IRF World Junior Championships while her brothers Jairo and Mijael will be cheering her on from back here in the States.

JTI Head Coach and ISRA Board Member Barry Dixon said, "Montserrat trains at her home club, Glass Court; is a member of Junior Team Illinois; and spends at least two days a week either playing in league matches or working with her coach, Marian Bala. While racquetball is a big part of Montserrat's life, she spends equal time on her studies since her parents, Claudia and Jairo, have instilled the value of having a solid education. Montserrat is a confident young woman, and I know she will succeed wherever life leads her."
___

In addition to Montserrat and Axel, Junior Team Illinois and the ISRA would also like to recognize our Junior players from Illinois and Indiana who train at Glass Court in Lombard, Illinois, and who are diligently developing their racquetball expertise while steadily progressing through adult skill divisions. Sami Elabed (Indiana), Juan "JC" Herrera II (Illinois), Spencer O'Dea (Indiana), and Saigeetha Varadharajan (Illinois) attended the USA Racquetball National Junior Championships in Des Moines in June 2022, and they all came home with medals!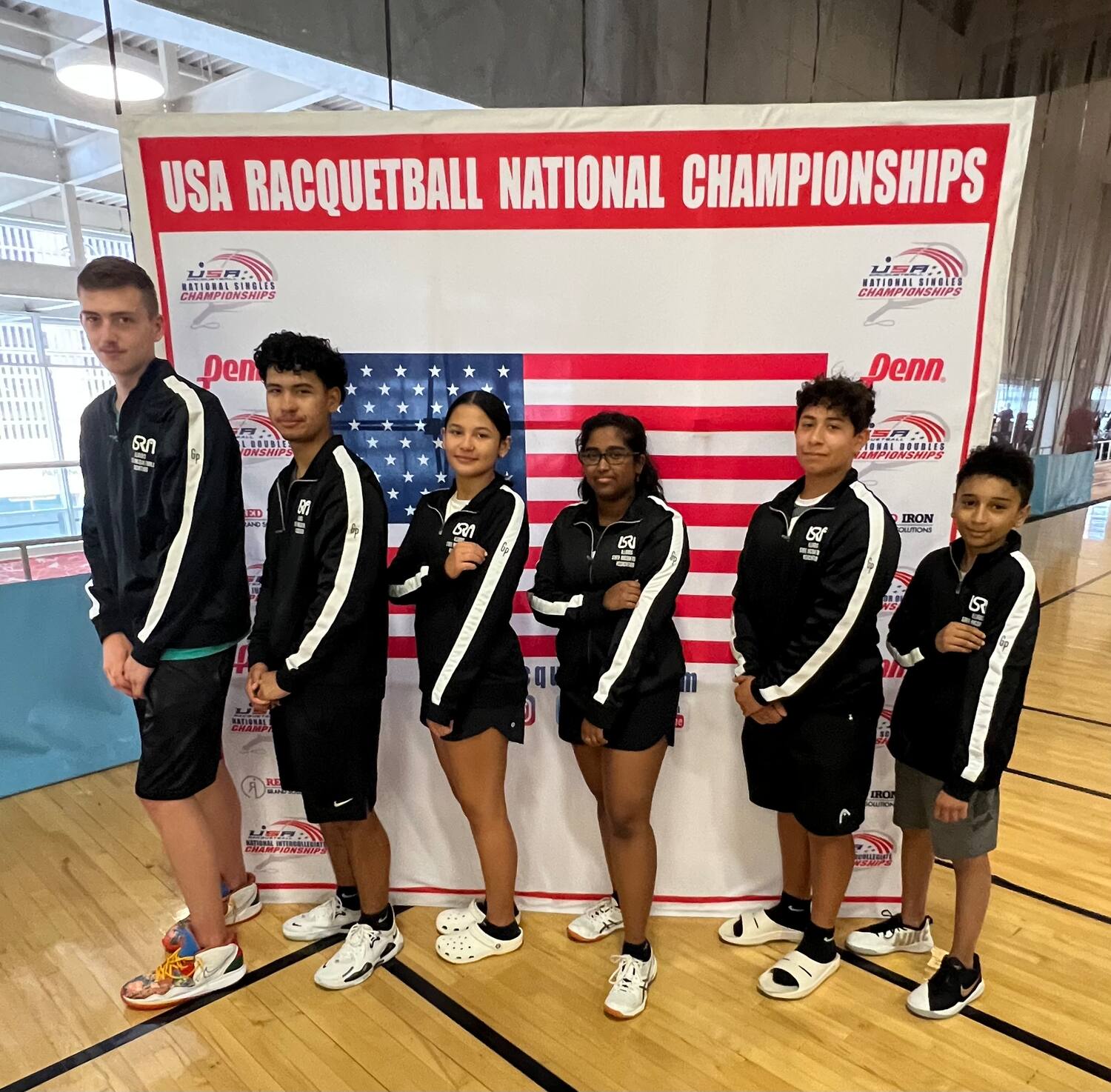 JTI Players in Des Moines L to R: Spencer O'Dea, Axel Lopez, Montserrat Torres, Saigeetha Varadharajan, JC Herrera, and Sami Elabed
___

In closing, Marian Bala shares her thoughts, "Axel and Montserrat have worked hard throughout the years to prepare to represent the USA and Illinois. As their coach, I can attest to their dedication and commitment to achieving success in Guatemala and in life. I am truly blessed to work with young racquetball players to help them be the best they can be."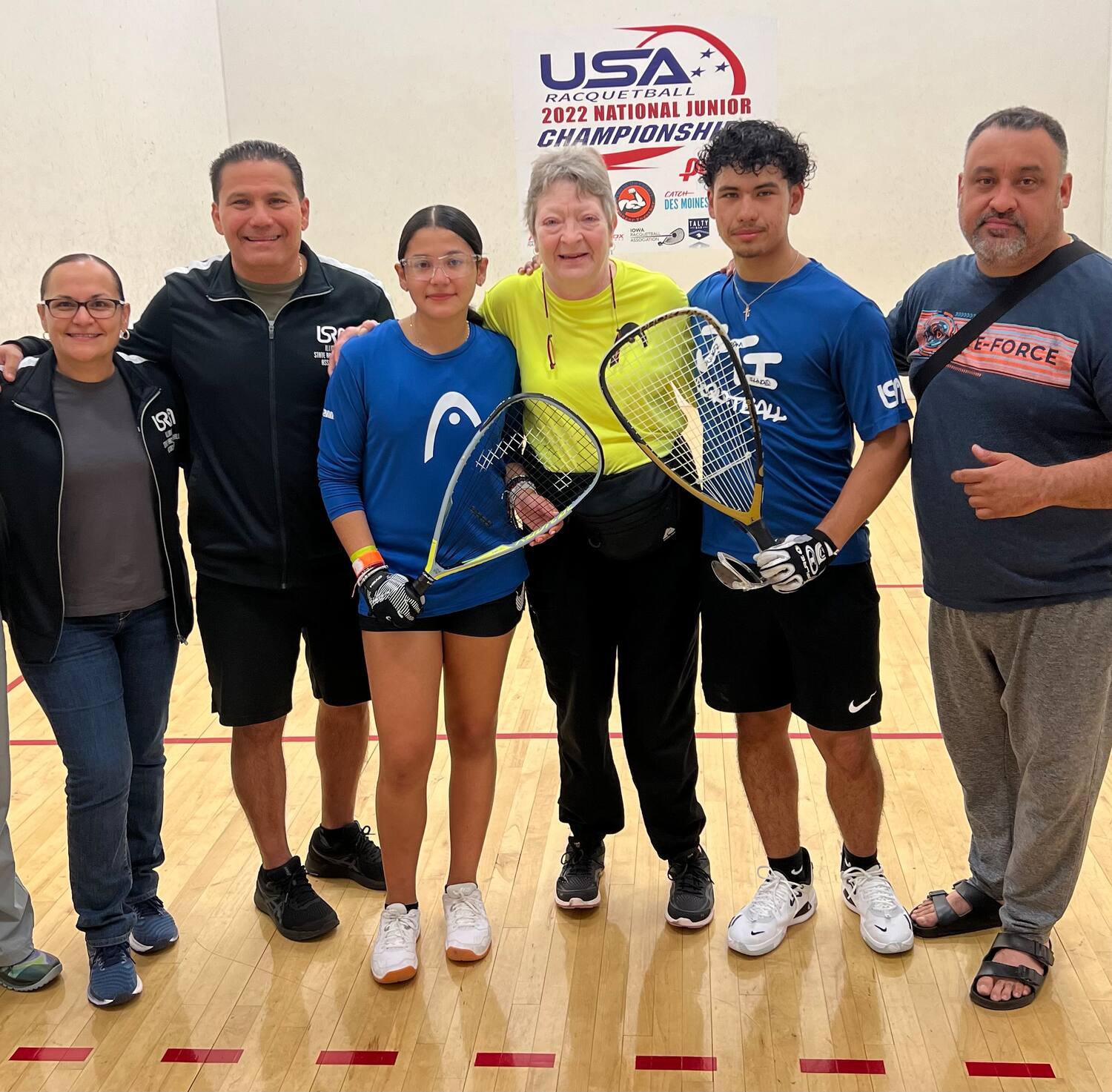 L to R: Claudia Torres, Jairo Torres, Montserrat Torres, Marian Bala, Axel Lopez, and Jesus Lopez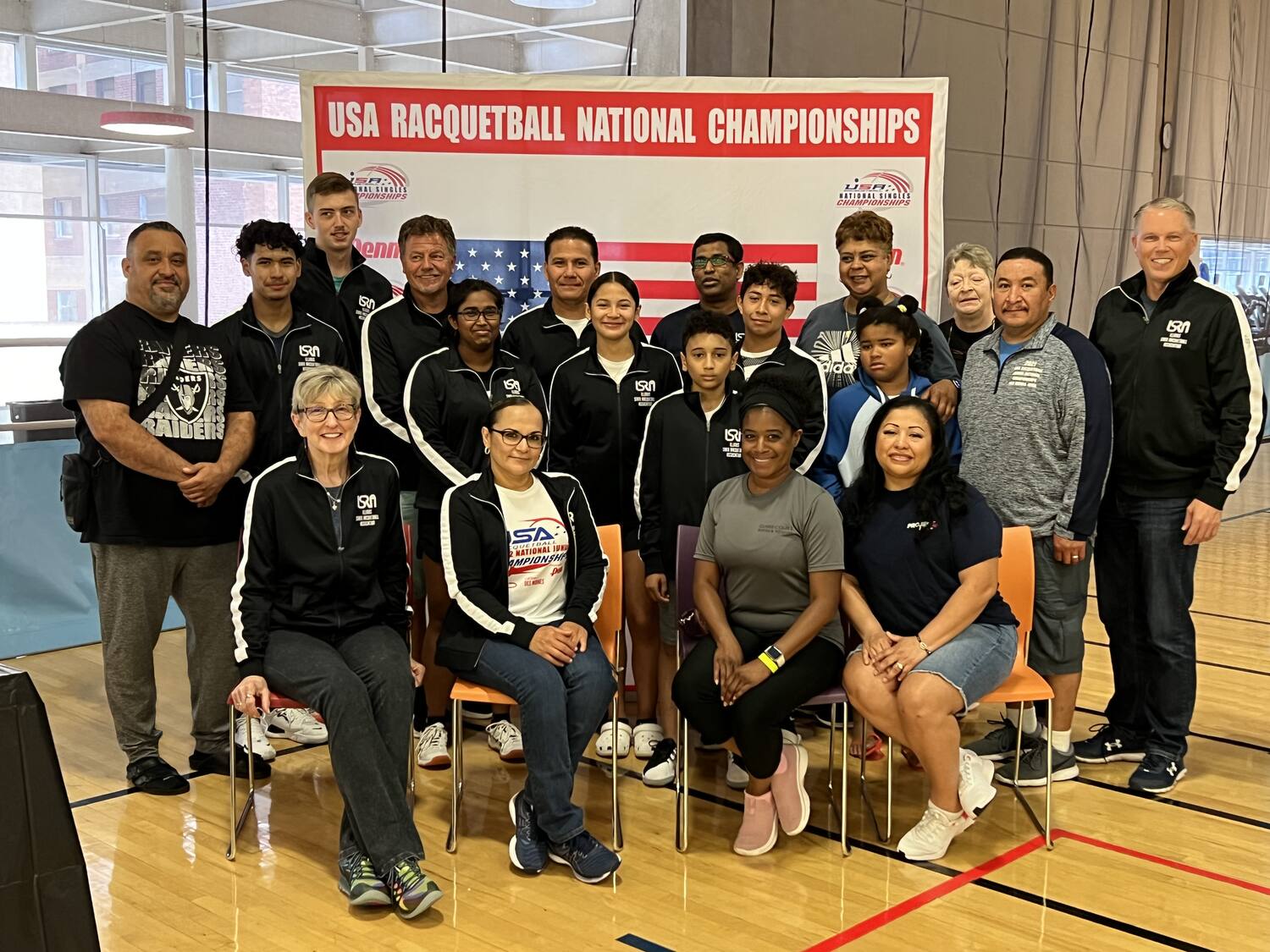 Illinois/Indiana Delegation to the 2022 USAR National Junior Championships

The upcoming season is fast approaching, and we can't wait to see what the season has in store for this great group of players as well as the younger "up-and-comers" who are steadily developing in the program.