USAR Junior of the Month -- Cody Elkins
by Brian Dixon, CNRA Board Member/Junior Director
We are extremely proud of Cody Elkins for this recognition as USAR Junior of the Month.
It's no secret that the Elkins family loves their Racquetball. Dad, Brett, has played for a long time, passing his love of the game on to his family. Oldest son Dane won many awards as a Junior player and then moved on to adult play. Son Jaden played tournaments but is focused on school now. Mom Deborah and daughter Madison are supporters, and Grandpa Bruce is always there to support Team Elkins.
That brings us to Cody!
Cody has been playing since he was 3 or 4, always competing against players a few years older. He did not amass medals early on but has always played with a smile! Cody continues to compete in the Juniors at 17 and hopes to one day be competitive in the ranks of the Pros.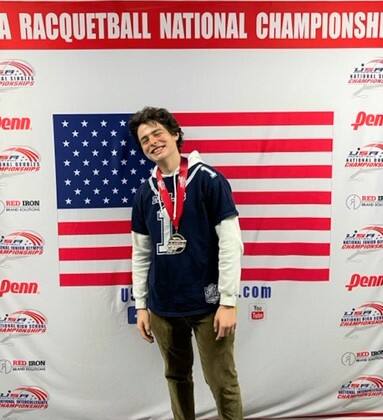 I have watched Cody play for many years, and he always gets my vote for Best Attitude -- on court and off. Whether winning or losing, he plays with a smile and good sportsmanship. Not only that, but he can often be found helping where needed at tournaments, whether it is reffing, helping at the tournament desk, or even doing some play-by-play with the live streaming commentator. Cody has also been involved with the CNRA Junior Committee, helping to guide decisions on events and funding of various California/Nevada Junior activities.
In striving to improve his game, Cody has worked with top pros/coaches Rocky Carson and Cliff Swain, recently flying out to meet with Cliff for a weekend. He focuses on continued training, on and off court, 6-7 days per week. Cody is always willing to share his enthusiasm for the game of Racquetball with anyone wishing to learn.
Cody has been highlighted as being a vegan athlete several times. He has been vegan since he was four years old. Maybe the biggest challenge as far as Racquetball is concerned is finding the right food source while at events, as tournament food many times may not be suitable for vegans. Cody deals with this effectively.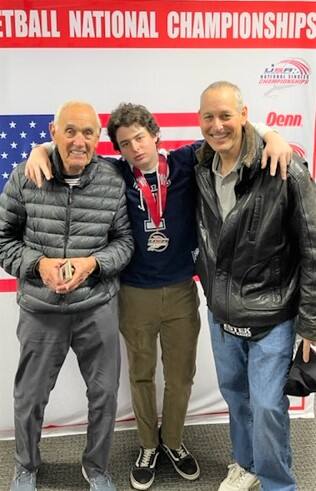 I conducted an interview recently with Cody and Brett (see the link to the interview below). Cody's enthusiasm for the game is amazing. Please check it out. In addition to information shared about Cody in this articles, here are some further highlights from the interview:
CODY ELKINS
Age: 17
City: Los Angeles
School: Palisades Charter
Favorite tournament: Junior Nationals and Outdoor Worlds (Huntington Beach)
Outdoor vs Indoor: If having to choose… Outdoor, but he loves both
10 years from now: #1 Pro!
View the entire interview here: https://tinyurl.com/CodyElkins
Note: In the interview, Cody and his dad touch a bit on Dane, who has been missing since December 2020. If you are on Facebook, you can get updates by joining the Group, Searching for Dane - https://www.facebook.com/groups/724722265147828.
Photos Courtesy of Brett Elkins