36th IRF World Senior Racquetball Championships Recap
36th IRF World Senior Racquetball Championships
August 31-September 4, 2021
Midtown Sports & Wellness
Albuquerque, New Mexico
https://www.r2sports.com/tourney/viewResults.asp?TID=31892


Denver isn't the only "mile high city" in the U.S., as players at this WSRC event can attest. The ball does lively things and breathing can be a challenge. But that never stops a goodly number of athletes aged 35-99 (and counting) from entering and having a great time at this annual event hosted by Gary Mazaroff, Paula Sperling, and New Mexico Racquetball.
Twenty-two states and five countries were represented (Guatemala, India, Nigeria, Indonesia, USA). Quite a few more countries were represented by U.S. residents with warm nods to their family heritages.
Players numbering 123 (92 men, 31 women) competed in this self-reffed format, 3 games to 11 plus 3 points for each game won and 7 points for the match win (total of 49 points per match available).
Twenty-eight divisions were competed in men's and women's singles and doubles, and mixed doubles, plus a healthy collection of Squash 57 (racketball) divisions. Forty players entered one division, 61 were in two divisions, and 22 intrepid souls played in three (or more!) divisions.
Paula Sperling commented on the unusual nature of this year's event, brought on by the logistical challenges of the pandemic: "This was without a doubt the most demanding tournament we have ever hosted. The COVID-19 protocols were challenging to begin with: masks indoors, including on the courts. The players, for the most part, followed the protocols, with a bit of prodding at times. New Mexico Sports & Wellness hosted us again, and we really appreciate that. We ran over 500 matches in five days at three venues on 11 courts! It was a logistical nightmare that Gary was able to navigate quite well." In his own inimitable style, Gary added his Quote of the Week: "We were tested; and, we passed."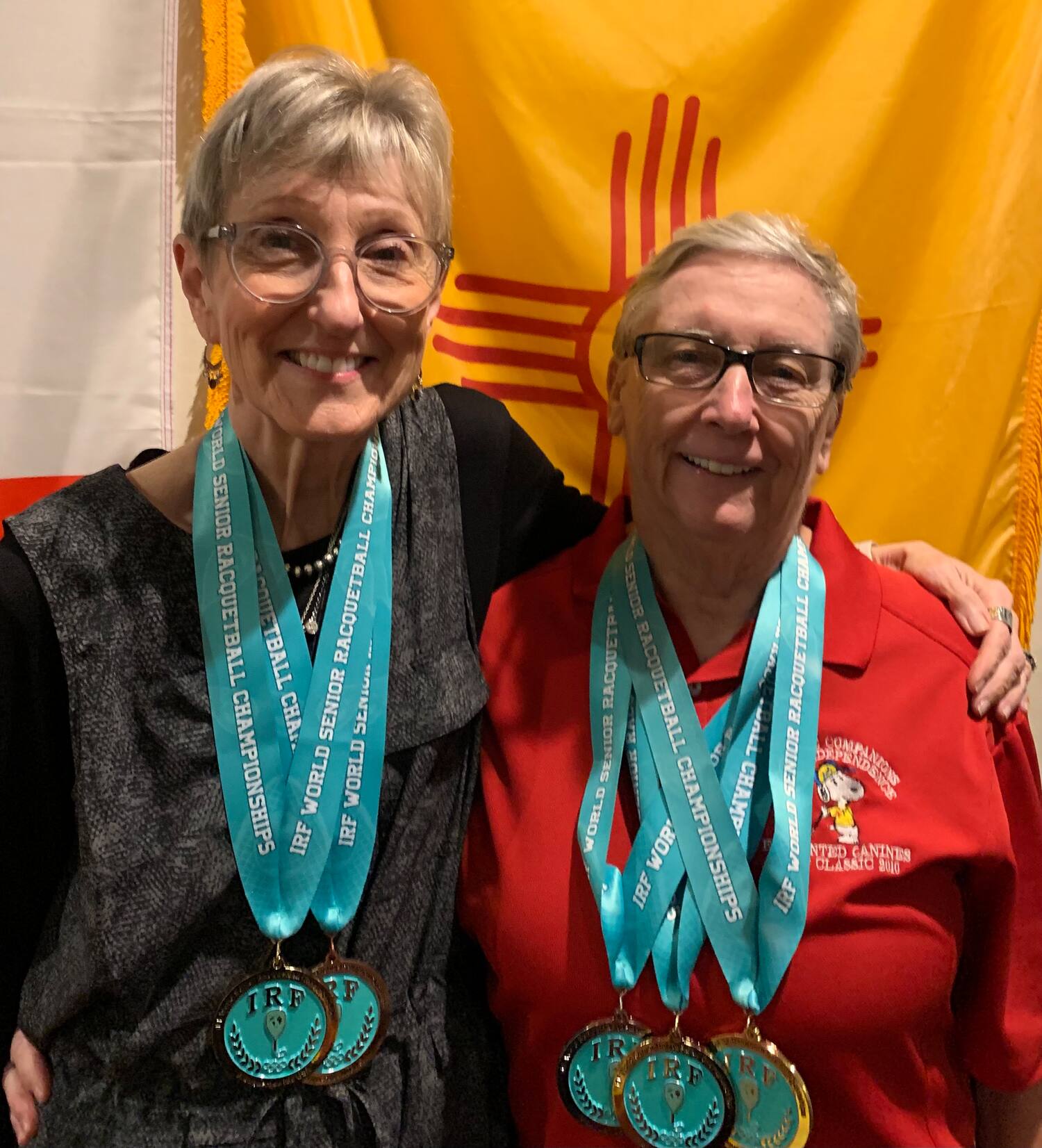 Repeat attendees to this event saw differences from other years, most notably the one hospitality room that housed registration, the silent auction, a massage therapist, and multiple tables for hanging out, which then morphed back to the traditional banquet room on Saturday evening. Breakfast, lunch, and transportation never wavered, nor did the friendly customer service attitude always experienced.
At the banquet, a delicious Mexican buffet was provided (vs. a traditional plated dinner), and it worked really well. Medals were awarded as usual, but they were delivered by volunteers to the players at their tables. This cut down on activity up front, and photo ops occurred later on. All good, so smooth.
Highlights of the banquet program included:
A special Lifetime Achievement Award recognized Edwina Waddington for her many years of service to the tournament. Paula Sperling noted, "

Edwina has been a part of the event since her husband Ralph and John Koller founded it in the '80s. She was in charge of hospitality and registration from the very beginning of the original tournament and served on the Council since we became an IRF event."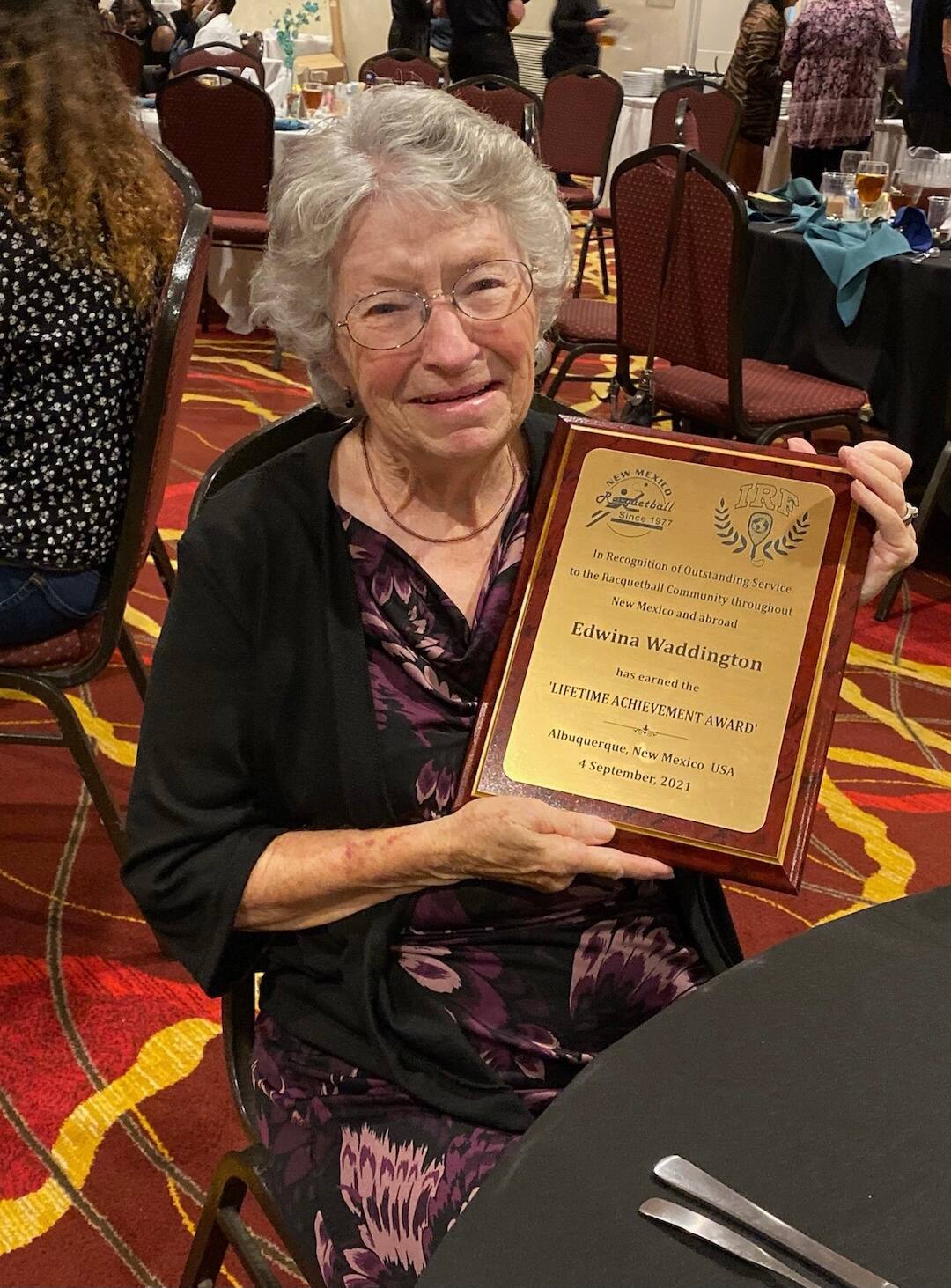 Since 1988, the Al Wetherill Sportsmanship Award has been given to a player each year who exhibits good sportsmanship both on and off the court. This year's recipient was Clinton Imholte of Sierra Vista, Arizona. In addition to his excellent sportsmanship, Clinton is also a major supporter of the tournament via his ISC Consulting Group.
Everyone was invited to Lake Westphal's 100th birthday next July in Arizona, after which he will be proud to be the creator of the Men's 100+ division in August.
Gary Mazaroff was in his original rare form as emcee. His live auction performance is entertainment in itself.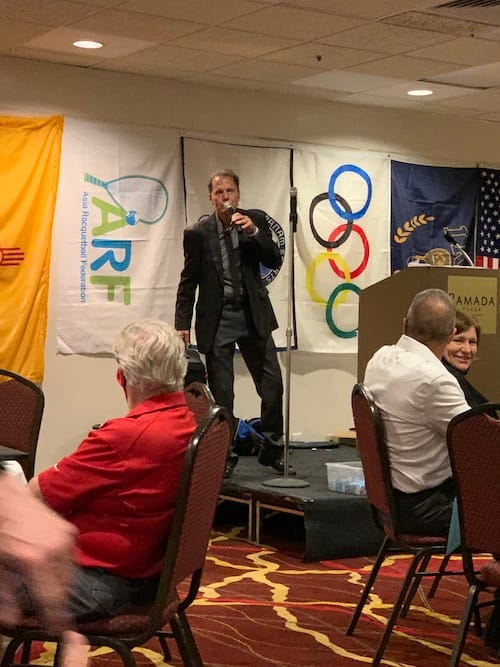 To provide the kind of experience this event is known for, volunteers stepped up in a number of roles including administrators, desk workers, drivers, greeters, and more: Tim Baghurst, Tim Blasiman, Frances Borunda, Levi Borunda, Vernon Bradley, Peter Clarke, Sarah Conaway, Susan Craig, John Danzeiser, Jim Dawson, Iva Espinoza, Gustavo Farell, Nidia Funes, Ken Goldstein, Ramon Gomez, Tucker Green, Patty Greene, Yvonne Grinnell, Javier Guzman, Roxanne Henderson, Herman Hernandez, Fred Hultberg, Angie Jepsen, Curtis Johnson, Ken Karmel, Larry King, Roger Knight, Kyle Lucas, Gary Mazaroff, Jennifer Mazaroff, Frank Martin, Peggy Minnich, Raaj Mohan, Ed Mooney, Sharan Mooney, Mike Morales, Lora Olson, Tony Onimole, Ken Payne, Doug Perea, Darin Randles, Allison Ritcher, Paula Sperling, Luke St. Onge, David Stob, Patricia Thieman, Lynne Tyner, Edwina Waddington, Ann Westphal, Lake Westphal, Joe Williams, and Zach Zeve.
Many thanks to all of the sponsors who contributed in both big ways and small. Platinum Sponsors included ISC Consulting Group, Albuquerque Sports Commission, Daskalos Development, Gearbox Racquetball, GFS–Ken Cheshire, Granite Dude, New Mexico Sports & Wellness, Racquetball India–Alok Mehta, Ramada Plaza Hotel, Sombra Cosmetics, Vintage 423 Restaurant, and Whitener Law.
So this WSRC was different...and yet it was the same, and that meant a lot to all of us who had the opportunity for a bit of normalcy and camaraderie in the midst of life as we have never known it before. Yep, it was great to play, but it was even greater to be close once again to those who are our second family. Thanks to everyone who worked so very hard to provide this gift of the heart to 123 grateful players.