November 15, 2021 World Outdoor Racquetball Update for October 2021
On the Ground: Attending the 3WallBall Vegas Event
By Todd Boss
The final outdoor major on the calendar each year is the biggest: 3WallBall. The annual event (just having finished its 12th iteration) is a feat of logistical coordination that is unparalleled in the racquetball world thanks to the unique temporary court construction that occurs to enable the event, but is also a huge social gathering of the best outdoor players in the land. Here's a viewpoint from a first-time attendee this year in yours truly.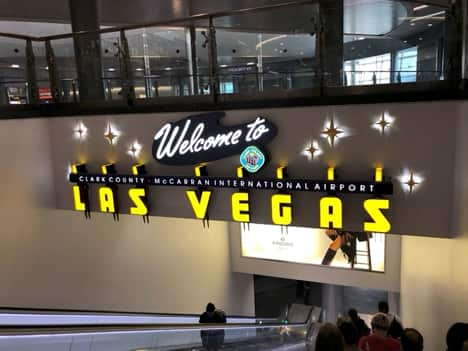 Las Vegas welcome sign at the airport. Photo Todd Boss
You arrive in Las Vegas, usually on a flight full of excited gamblers and partiers-to-be. In my case this year, flying through Charlotte, my plane was filled with Eagles fans heading to Vegas to party for a couple days, then attend the Eagles-Raiders game the Sunday that the tournament ended. You get your bags and grab a cab; there's a line-up of dozens of cabs who run the strip-to-airport circuit 24 hours a day. The destination to your cab driver? THE STRAT hotel, one of the most iconic hotels in Las Vegas and the northernmost major property on Las Vegas Boulevard. The building's profile is punctuated by its namesake feature, an 1,100-foot structure that represents the tallest free-standing observation tower in the United States.
Directly across Las Vegas Boulevard from the hotel normally sits a small parking lot, but for 3WallBall the lot is converted into one of the largest racquetball facilities in the country. The iconic blue panel courts are constructed a little more than a week in advance of the event, and are designed to be of flexible configuration depending on the attendance and requirements. This year, Mike Coulter and the 3WB team built a 15-court facility: ten three-wall courts and another five one-wall courts. Three of the courts sit side-by-side in front of bleachers and broadcast booths and host the marquee streaming pro matches all weekend.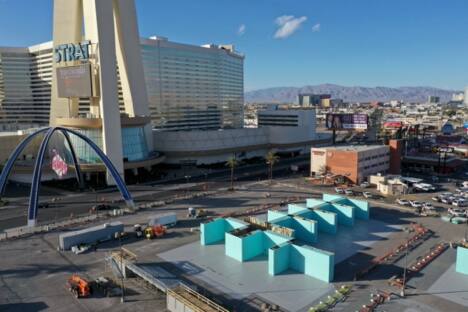 2021 3WB facility. Photo courtesy of drone footage taken by Jeffrey Thompson aka JTRball/Daily Racquetball.
As you walk into the tournament area, you see all the sponsor tents and the registration desk. This year booths were hosted by the LPRT, Gearbox, Formula Flow, Team Head, USA Racquetball, and Pro Kennex, along with private tents hosted by Team Arizona and several VIP areas for players and for the invited guests of the event. The registration desk is bustling; more than 400 players are entered into this event and the volunteers have to coordinate check-ins, food tickets, tournament shirt goodie bags, referees and all the match scheduling. As anyone knows who's run a tournament, the registration desk staff is critical to the smooth flowing of an event.
But wait; you've only seen half the tournament so far. This event hosts multiple sports, and there's a massive contingent of Handball players primarily from Southern California who take up the entire east side of the complex. You walk over to those courts and the energy is amazing; there's hundreds of players along with tons of friends and family members, with players competing in both three-wall and one-wall, playing "big ball" and "small ball." It seems like the entire community gathers around the courts as the matches occur, not just sitting in chairs but literally standing at the edge of the court or alongside of the 3-wall structure. Every point is cheered and jeered, every referee call is questioned … and seemingly half the crowd has a side bet going on with someone they are standing next to on the match's outcome. There's a player who flew here from Valencia, Spain, to compete in the A division and he takes down some of the top handball players from New York and Orange County to race to the final under the lights Saturday night; we watch in amazement as the top handball players play singles and dart all over the court to retrieve shots.
The Handball competition in full swing. Photo Todd Boss
The tournament is filled with dignitaries from the racquetball world: this year Charlie Brumfield showed up, fresh off of hip replacement surgery, to spin tales about the old days. Brumfield, lest we forget, was present at the first-ever Outdoor National Championships in 1974 and won the first ever Outdoor National Singles title. So he's no stranger to Outdoor Racquetball. The tournament also features names and faces you know from other parts of the country, filled with outdoor enthusiasts who are major drivers of local communities of players in Huntington Beach, East Bay, Phoenix, Chicago, Southern Florida, NYC, and Stratton Woods (to name a few). They've all come to compete, but they've also come to see old friends. This event, like the US OPEN before it, serves as an annual homecoming, with players hanging around and catching up, all underneath the shadow of a huge tower that glows purple at night.
As if the competition wasn't enough, the 3WB tournament team plans social activities all weekend. There's a Ladies Night gathering on Thursday, and there's a big poolside party on Saturday, both hosted at the excellent facilities within THE STRAT hotel. And of course you have the Casino itself for entertainment. Just a 5-minute walk from the courts are slot machines, table games, a big Sports Book, and multiple bar areas where the players and attendees gathered each evening to tell stories and laugh. THE STRAT was just remodeled and the gaming/bar areas are clean, open, and inviting. Many players come to this tournament just to be able to see Las Vegas for the first time, and they take full advantage by traveling up and down the strip to see the other iconic hotels and attractions.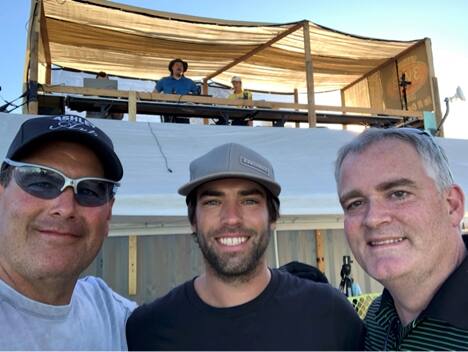 Todd O'Neil, Emmett Coe, and Todd Boss hanging out beside the show court. Above in the broadcast booth you can see Jerry Josey JR, Jeffrey Thompson, and T. J. Baumbaugh. Photo by Todd Boss
One of my primary reasons for attending this year was to help with Facebook live broadcasts. I worked primarily with the IRT broadcast team (though I did stick my head into one or two LPRT broadcasts), and I called matches from Thursday evening all the way to the Sunday Men's Pro Doubles final. My fellow broadcasting partners included Dean Baer and Favio Soto (the "regular" IRT broadcast team), along with Brian Pineda, Tom Moore, and a few other guests throughout the weekend. Pablo Fajre worked a portable video feed to give up-close action shots from right next to the court, a treat you just don't get with the indoor game. The broadcasting experience was amazing and exhausting, but the feedback from the outdoor community has been great. If you missed any of the matches, Daily Racquetball has posted a YouTube playlist with every broadcast match on both feeds here: https://www.youtube.com/playlist?list=PLaVzJlpz0Eya45__peuO2s68sAUcvKIHz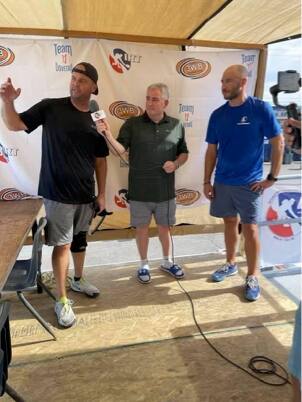 Post-game interview on the IRT feed featuring (L-R) Jason Geis, Todd Boss, and Micah Rich.
I watched a ton of matches. It was really great to see, for the first time in person, some of the nation's top outdoor players in action. It was fascinating to watch 3-wall specialists use the side walls and loft balls into the back court that indoor players would have tried to kill. It was amazing to watch two of the best men's pros out there in Daniel De La Rosa and Alvaro Beltran play an amazing pro doubles final to take the title for the fifth successive year. It was amazing to watch Janel Tisinger-Ledkins compete and win despite being 8 months pregnant, and it was awesome to watch three- and one-wall specialists compete in their crafts all weekend. I hit the courts myself, entering a singles and a doubles division, and somewhat held my own before losing in the first round in each event.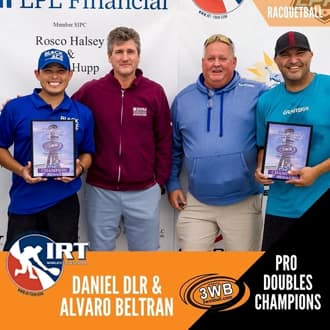 Five-time champs with major sponsors. L-R: Daniel De La Rosa, Keith Minor, Mike Coulter, Alvaro Beltran. PC: 3WallBall Facebook
2021 12th Annual 3WallBall Tournament Recap
Congrats to your Pro event winners on the weekend:
Men's Pro 3-wall Doubles: Daniel De La Rosa/Alvaro Beltran
Women's Pro 3-wall Doubles: Michelle De La Rosa/Carla Muñoz
Mixed Pro 3-wall Doubles: Daniel De La Rosa/Michelle De La Rosa
Men's Pro 1-wall Doubles: Adam Manilla/Nick Riffel
Women's Pro 1-wall Doubles: Victoria Rodriguez/Katie Neils
Mixed Pro 1-wall Doubles: Rick "Soda Man" Koll/Michelle De La Rosa
Men's Pro 3-wall Singles: Mario Mercado
Women's Pro 3-wall Singles: Carla Muñoz
It was quite the amazing weekend for the De La Rosa family in particular, as both husband and wife went undefeated, winning six titles between them (five racquetball plus the Pro Paddleball title for Daniel on Saturday evening).
------------------
Here's the recap of the finals from each Pro division.
Men's 3-Wall Pro Doubles Recap
There were seventeen teams competing in this draw, and the big storyline was whether or not we would see a rematch of the 2021 Outdoor Nationals pro final, which saw the #1 doubles team in the world De La Rosa/Beltran toppled by southern California upstarts Jason Geis/Micah Rich. Both teams battled their way through tough draws to meet in the final.
In the final, fans were treated to a pretty special performance from Daniel De La Rosa. Geis/Rich came out firing, working Alvaro on the right side and limiting their mistakes to surprise the #1 seeds 15-11 in game one. But game two and three was another story; DLR brought the pressure to Geis on the serve and was a man on a mission in the front court, hitting every shot he was presented. The second game was a blur 15-5, and the domination continued into the breaker. The top pair ran out to a fast 5-0 lead before Geis/Rich even got in the box, and despite best efforts from the underdogs, the top team ran away with the game 11-6 and the title.
It was a great win for the top Mexican duo, who defended their 2020 3WB title and padded their ever-growing list of indoor and outdoor titles together.
Women's 3-Wall Pro Doubles Recap
Last-minute withdrawals of several top players thinned the women's pro doubles draw to just a 3-team round robin. In the RR final, though, we got an excellent match between the defending champion team of Michelle De La Rosa and Carla Muñoz taking on the decorated Janel Tisinger-Ledkins teamed with Arizona's Katie Neils.
In the title match, Neils (the least experienced player on the court) made her presence known and handled the right side, matching Muñoz shot for shot, but the defending champs squeaked by with a 15-14 game one win. That opened the flood gates, and Tisinger-Ledkins/Neils couldn't stop the train in game two. De La Rosa and Muñoz defended their 2020 Vegas title, 14,4.
Mixed 3-Wall Pro Doubles Recap
A star-studded draw was featured in the Mixed Doubles draw, including several Hall of Famers and several top touring indoor pros. One of those Hall of Famers (Greg Solis) partnered with perhaps the most decorated female outdoor player in history in Janel Tisinger-Ledkins, and they battled their way to the final. There they met the #1 seeds and defending champs, the De La Rosa husband/wife team.
In the final, Daniel De La Rosa continued his sharp-shooter ways and drove the conversation on the court, and the husband-wife De La Rosa pair won going away 8,8 to capture their 13th major Mixed Pro title together. Side note: Kudos to Tisinger-Ledkins for playing and competing this weekend at ... 8 months pregnant! It was a fantastic showing for someone with obvious mobility limitations to still compete at such a high level.
Men's 3-Wall Pro Singles Recap
In the final, two IRT touring pros in Alan Natera and Mario Mercado faced off for the title. Mercado has a bit more outdoor experience than Natera, and it showed as he took the crown, 13,7.
Women's 3-Wall Pro Singles Recap
Two California outdoor specialists in Erica Williams and Victoria Rodriguez attempted to dethrone the reigning Outdoor Nationals Singles Champion, Carla Muñoz, in a three-person round robin draw. Muñoz and Williams held serve against Rodriguez and competed for the title. Williams shocked the LPRT touring pro in game one with a 15-13 win, but Muñoz turned the tide and raced away with the next two games to win the title. Final score: (13),6,4.
Men's 1-Wall Pro Doubles Recap
Natera and Pratt upset the #1 seeded team of Daniel Lavely and Jeremy McGlothin to move into the final. There they met the college buddy duo of Adam Manilla and Nick Riffel for a one-wall power racquetball shootout final.
In that final, the four IRT pros battled it out with a display less about one-wall tactics and more about brute force, with the lefty/righty Coloradans coming out on top 10,9. Manilla remarked afterwards how much he liked one-wall, though, and he is making plans to attend the 2022 Beach Bash.
Women's 1-Wall Pro Doubles recap
The top seeded team of Rodriguez/Neils took out team Virginia (T. J. Baumbaugh & Amie Brewer) to win the four-team round robin and the title.
Mixed 1-Wall Pro Doubles recap
The top two seeds advanced to the title game, with Rick "Soda Man" Koll teaming up with Michelle De La Rosa at the top. The bottom of the draw was packed, but team Virginia Gerhardt/Amie Brewer advanced to make the final. In the final... Koll/mDLR outlasted Gerhardt/Brewer 15-13 in the first game, then ran away with it to take the title 13,1. This is Koll's fourth mixed pro one-wall title out of the last five years.
--------
Special thanks to the major sponsors for 2021's 3WB event: KWM Gutterman (Keith Minor), AGE Solutions (Andy Gomer), and Pro Kennex (Mike Martinez). Thanks as always to Tournament Host and Sponsor Mike Coulter, to Tournament Director Peggine Tellez, and to all the volunteer staff who worked so tirelessly all weekend to coordinate on-site and make this a great tournament for all.
Updates on the Outdoor Majors
Here's the latest news from the three Outdoor Major tournaments (see the upcoming events section for exact dates and locations):
3WallBall 2021
2021 event in the books: thanks to major sponsors KWM Gutterman, AGE Solutions, and Pro Kennex for making it happen.
Beach Bash 2022
No news to report for now, but some tentative planning is in the works for 2022. No official announcement has been made yet, but the tentative dates are on R2: March 24-27, 2022.
Outdoor Nationals 2021
No news for 2022 event at the current time; we're months away from organization. Tentative dates for 2022: July 7-10, 2022, in Huntington Beach.
October 2021 WOR/Outdoor Tournament Result Recaps
There were three shootouts/outdoor events during October not named "3WallBall." Here's a quick recap of all three, each of which served as a warm-up for players planning to travel to Vegas.
October 9, 2021: Tommy Medina hosted a one-day doubles shootout at the Rose Mofford Sports Complex in Phoenix.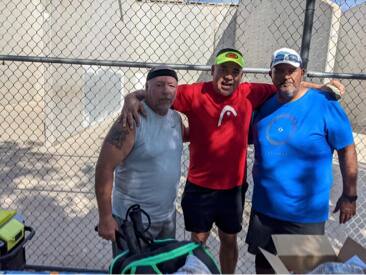 L-R Horacio Honne, Tommy Medina, and Ron Couch celebrate the end of the shootout. Photo courtesy of Honne.
October 15-16, 2021: The annual Stratton Woods King & Queen Shootout was held at the Stratton Woods Park in Herndon, Virginia. Tourney Director Maddie Melendez and Thao Le and the regular Stratton Woods crew hosted 40+ players for the King & Queen event, which was won by IRT touring pro and Washington, D.C., area resident Mario Mercado.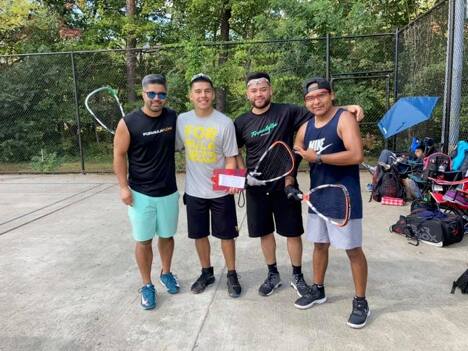 Your top-4 finalists from the shootout, from L-R Sergio Rivera, Mario Mercado, Mauricio Zelada, and Ariel Garcia. Photo courtesy of the Stratton Woods Outdoor group/Hana Meade photographer
Mark your calendars for these Upcoming Outdoor Events for 2021 and beyond
November 6-7, 2021: 2021 WOR Florida State Long-Wall championships, Waterford Park, Davie, Florida. https://www.r2sports.com/portfolio/r2-event.asp?TID=37824 Tournament Director: Rob Mijares
December 18-19, 2021: The AGE Solutions Hollywood Beach Battle, Garfield Street Courts, Hollywood, Florida. Two-day doubles only 1-wall tournament. Tournament Directors: Thao Le and Maddie Melendez. SOLD OUT: 100-participant limit, cash prizes, raffle prizes. https://www.r2sports.com/website/event-website.asp?TID=37870
March 24-27, 2022 (tentative): 2022 Beach Bash. Garfield Street Courts, Hollywood, Florida. https://www.r2sports.com/portfolio/r2-event.asp?TID=31509
July 8-10, 2022 (tentative): 2022 Outdoor Nationals, Huntington Beach, California. Tournament Directors: Geoff Osberg & Jesus Ustarroz
August 12-14, 2022: Windy City 3Wall Brawl Championships, Chicago, Illinois. Tournament Director: Joey Logan
October 20-23, 2022: (tentative): 13th Annual 3WallBall Outdoor Championships, Las Vegas, Nevada.
HOT OFF THE PRESS: WOR Arizona has announced its 2021-22 Battle Series. The links take you to the R2 site for each event, which has the locations.
The Latest on Dane Elkins Search
Dane continues to be missing, but the family is confident about his whereabouts. He is in the Modesto area and has been getting assistance from someone to provide food and shelter. Since he's an adult and is not a danger to himself or others, this is not a police matter, but the family would still like to get in touch with him to reconnect after more than 10 months apart.
If you see Dane or may know about his whereabouts, his mother Deborah Kassin Elkins respectfully asks you to contact her at 562-504-6005 and to send any pictures or videos to searchingfordaneelkins@gmail.com.
To keep updated, please consider joining the Facebook Group "Searching for Dane Elkins" at this link:https://www.facebook.com/groups/findingdaneelkins. The Elkins family is continually providing updates, possible sightings, and news articles/media coverage on the search.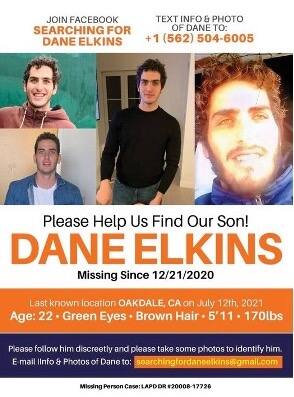 Latest Dane Elkins Missing flyer from "Searching for Dane Elkins" Facebook group/Elkins family.