USAR Real Racquetball Champion for November 2021
USAR REAL RACQUETBALL CHAMPION FOR NOVEMBER 2021 - DAN JASKIER
USA Racquetball is pleased to recognize Dan Jaskier, President/General Manager of Glass Court Swim & Fitness in Lombard, Illinois, as the November 2021 Real Racquetball Champion.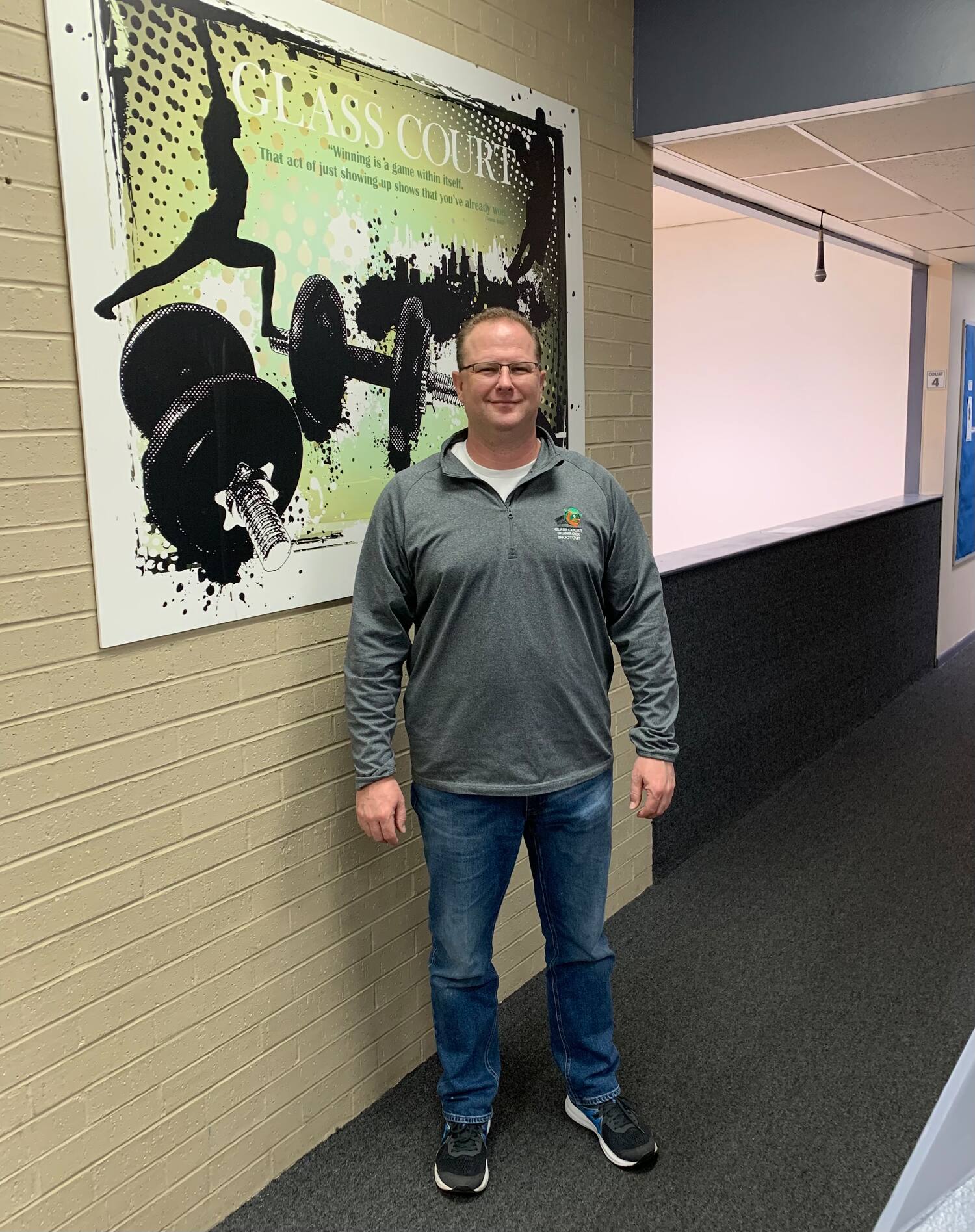 The Illinois State Racquetball Association (ISRA) nominated Dan, stating the following:
Dan has kept Glass Court alive and humming with racquetball events for many years. He took over from his mother, Diane DeArmas, when she unexpectedly passed away in 2008, and he and his stepfather, Joe DeArmas, have kept Diane's legacy alive by continuing to provide this premier racquetball facility (eight courts under one roof, centrally located) in the Chicagoland area.
Dan is a true partner to the ISRA. Glass Court is the site of the ISRA State Singles and State Doubles Championships every year. These events are so easy for the ISRA to run because of Glass Court's long-standing support. The ISRA Annual Awards and Hall of Fame Induction Ceremony takes place in the gym on Saturday evening of State Singles. Every event is turnkey, thanks to Dan and his staff.
Glass Court annually hosts three major tournaments as pro stops -- the Shamrock Shootout in March (IRT), Summerfest in July (IRT), and the Turkey Shoot in November (LPRT/IRT). Also, the WSMRA 2017 and NMRA 2019 and 2021 events were held at Glass as well.
Dan and Glass Court provide a home for Junior Team Illinois, where a number of young players and their families arrive on Sunday mornings, October through April, to learn the basics and work on their games. There is very little monetary gain for the club in hosting JTI, but Dan recognizes how important it is to support racquetball for the next generation.
The ISRA Men's and Women's Travel Leagues have called Glass Court home as well. A member of the ISRA Auxiliary Board, Dan stepped up two years ago to run the men's league in addition to providing the host club.
Dan offers leagues and shootouts internal to Glass Court. He expertly balances the customer satisfaction of his fitness members while at the same time providing a great experience for his racquetball members.
In these COVID-laden years of 2020 and 2021, Dan has applied patience and flexibility to an extremely difficult situation for the club. After being closed in the late spring/early summer in 2020 for over 14 weeks and using the time to clean, organize, and redecorate, Glass Court reopened at the end of June 2020 to a new set of state- and locally-mandated operating guidelines. Those guidelines were indeed followed and at the same time Glass Court became a welcome return to (new) normalcy for its members and the racquetball community.
Dan has handled the physical and mental strain of the pandemic amazingly. When the doors close at night, there are still long hours ahead for him in maintaining fitness and facility equipment and cleaning floors and locker rooms to save money for the club.
Times have been tough this year and last, but Dan Jaskier and the club's staff are there for Glass Court members, the ISRA, and for the racquetball community. The ISRA stands in admiration and gratitude for what Dan and Glass Court have meant to so many of us historically and especially in these challenging times.
____________________________
Congratulations to Dan Jaskier -- November's Real Racquetball Champion!
USA Racquetball invites you to tune in to the Real Racquetball Show to meet Dan on Monday, November 15, at 6:00 pm CT/4:00 pm PT/5:00 pm MT/7:00 pm ET on USA Racquetball's Facebook page. If you miss the livestream, the show can be viewed later on USA Racquetball's page.