This WE ARE USA RACQUETBALL infographic describes the role USAR plays in the sport of Racquetball.
Dear USA Racquetball Members (and Racquetball Players Across the United States),
The USA Racquetball infographic above has appeared in the last ten issues of Serving Up the News. The contributors and editors of this newsletter have observed that while many of our members appreciate the infographic's high-level description of the value USA Racquetball brings, perhaps they would appreciate more detail on each point, to understand more about what USA Racquetball provides to the infrastructure of our sport.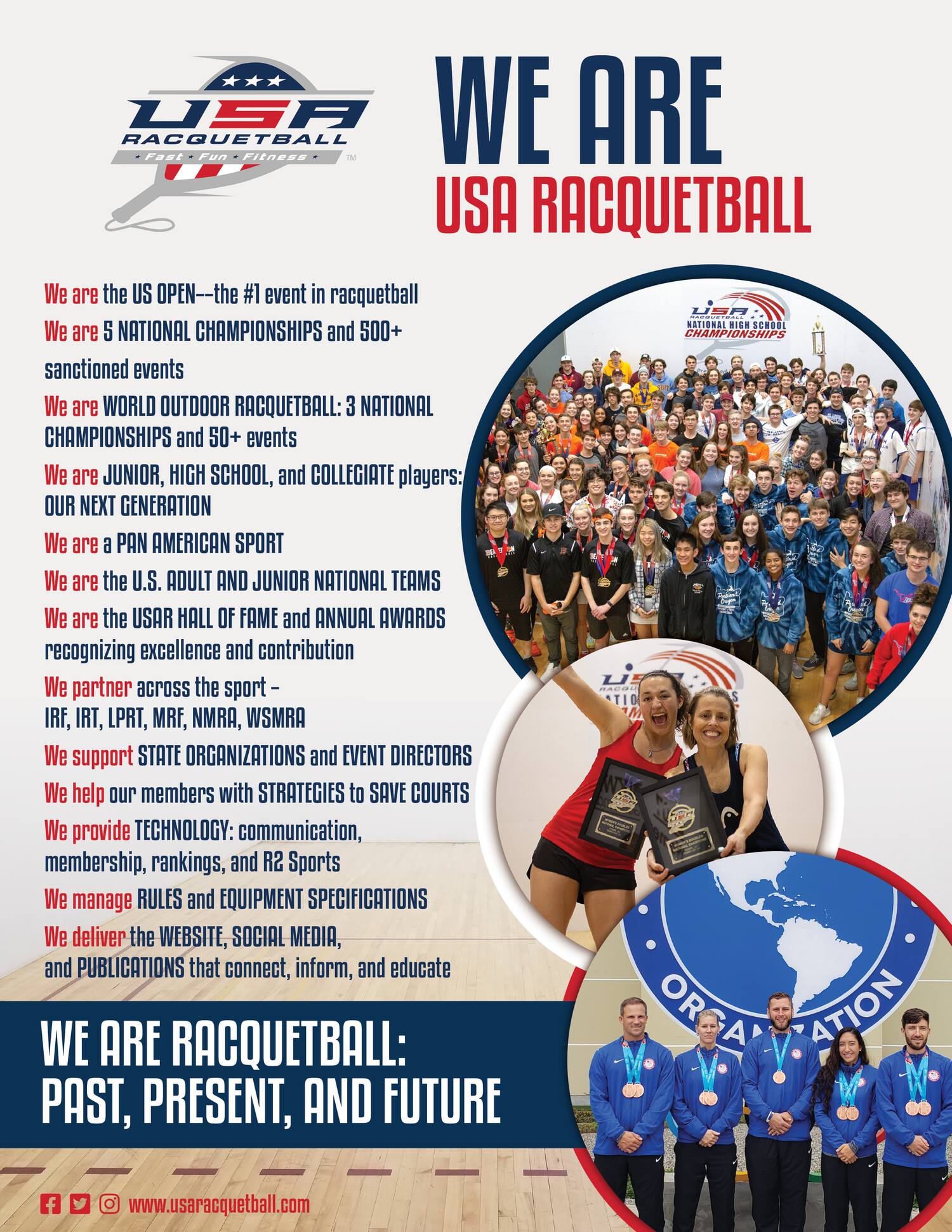 In each of the next several newsletters, we'll grab one or more of the 13 points on the infographic and give more detail. We covered #1 US OPEN and #6 U.S. Adult and Junior National Teams in the May 2021 of this newsletter.
Let's continue with #2, #4, and #12:
#2 We are 5 National Championships and 500+ Sanctioned Events (Indoor)
While the pandemic imposed a temporary halt to national championships as well as sanctioned local, state, and regional events across the country, Racquetball competition is trending in the right direction once again. Players are flocking to the courts, and our hope is that 2022 will mark the return to normalcy (as that might present itself to be!).
USAR National Doubles Championships

USAR National High School Championships

USAR National Intercollegiate Championships

USAR National Singles Championships

USAR National Junior Championships
A Festival in St. Louis would have offered amateur competition as well as team qualifying divisions (ala Doubles, Singles, and Juniors), but pandemic restrictions forced an audible to be called in 2021 to bring at least the Adult and Junior U.S. Team qualifiers to fruition (now at the Wellmark YMCA in Des Moines, Iowa, July 11-14). Live streaming will bring the sound of the ball hitting the front wall (and much more!) to players and fans all over the world as the best of the best emerge as new U.S. Team and U.S. Junior Team members.
#4 We are Junior, High School, and Collegiate Players: Our Next Generation
They are truly the future of our sport: junior players competing from the ages of 6 up through 18; high school players, generally aged 13-18; and collegiate players (of any age who are enrolled in accredited institutions), and they not only have their own tournaments but also their own dedicated committees as well, populated with SMEs (subject matter experts) from across the country who are dedicated to providing training ground for future superstars.
Collegiate Committee
This committee's primary function is to promote, develop, and instruct tournament caliber collegiate players throughout the United States. The Association develops the recreational player program at the collegiate level while concentrating on developing the competitive player.
High School Committee
This committee determines policy and procedures to promote racquetball as a competitive high school sport. The committee may also assist in promoting and operating the annual National High School Championships.
Junior Committee
This committee will determine policies and procedures to promote junior racquetball within state associations for all youths of high school age and below. The committee will also assist in the policy development, promotion, and operation of junior national events. The committee is responsible for furthering the growth of and participation in racquetball programs for players 18 years of age and under at the local, state, regional, and national levels.
#12 We manage Rules and Equipment Specifications
In this very June 2021 issue of Serving Up the News, we announce the appointment of USA Racquetball's new National Rules Commissioner, Dan Horner, of Ankeny, Iowa. As Dan stated in the article announcing his role (effective 5/24/21), he will be focused on keeping the greatest sport ever invented safe to learn, fun to play, fair to compete, and exciting to watch. Send any questions or suggestions for rules changes to Dan at rulescommissioner@usaracquetball.com.
Dan has served on the National Rules Committee for several years and will now become its Chair. With a deep knowledge and understanding of the rules of the game, he will indeed welcome questions from members and respond timely along with featuring some each month in a USAR Serving Up the News resurrection of the popular feature "What's the Call" that the former commissioner, Otto Dietrich, made popular in Racquetball magazine over many years. Look for that feature to begin later this summer!
Learn more about rules and equipment specifications on the USA Racquetball website:
Rulebook Index: https://www.teamusa.org/USA-Racquetball/rules/Rulebook-Index
Courts & Equipment: https://www.teamusa.org/USA-Racquetball/rules/2-Courts-and-Equipment
Conclusion
We take very seriously our role in serving all of you and in saving and strengthening our sport, and we hope this resonates with you as an inspiration for working together to do whatever we can to preserve this treasure in our lives.
It will take all of us to do it, and USA Racquetball accepts and embraces our sacred responsibility to lead and to inspire everyone to participate in solutions.
Sincerely,
The Staff, Board, and Volunteers of USA Racquetball