2021 Team Root Outdoor Nationals Racquetball Championships presented by Pro Kennex
by Todd Boss, photos by Stephen Fitzsimons
2021 Team Root Outdoor Nationals Racquetball Championships
Presented by Pro Kennex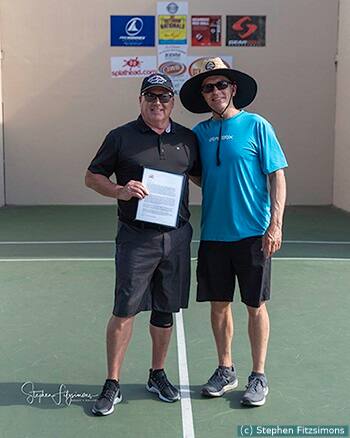 The 47th Annual Outdoor Nationals, this year generously sponsored by Randy Root and TeamRoot.com and presented by Pro Kennex, is in the books. The tournament, competed at Marina Park in Huntington Beach, California, featured a solid draw full of touring pros and outdoor specialists from around the country. A fun affair in addition to being a national championship, there were families and kids all around the park during the event, with music playing and enjoyment had by all.
The weekend featured the long-delayed induction ceremony for the 2020 WOR Outdoor Hall of Fame Class, which included Mark Harding, Diane Heims, Paul Olsen, and Betty Weed. It was held Saturday afternoon mid-tournament, and Harding was present to accept the recognition. The tournament players and fans heard about his career accomplishments from a profile prepared by Brett Elkins and read by none other than Outdoor legend and first-ever WOR Hall of Famer Brian Hawkes. Afterwards, all the Hall of Famers present or playing at the tournament gathered for a great photo together.
_________________________________________________________________________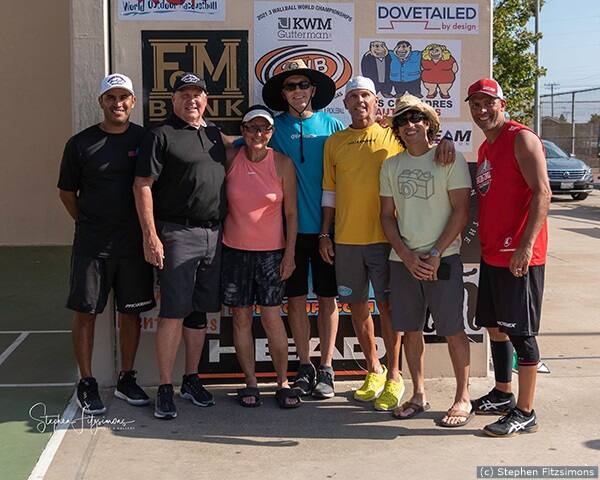 Left to right: Greg Solis, Mark Harding, Martha McDonald, Brian Hawkes, Mike Peters, Freddy Ramirez, Robert Sostre.
RESULTS
To review the brackets and results, visit: https://www.r2sports.com/website/event-website.asp?TID=31967
Congratulations to the Pro Champions on the weekend:
- Men's Pro Doubles: Jason Geis & Micah Rich
- Women's Pro Doubles: Michelle De La Rosa & Carla Muñoz
- Mixed Pro Doubles: Daniel De La Rosa & Michelle De La Rosa
- Men's Pro Singles: Jose Diaz
- Women's Pro Singles: Carla Muñoz
Men's Pro Doubles Recap
The Southern California team of Micah Rich & Jason Geis, who won a shootout held at the same venue in February to establish their bona-fides, dethroned the defending champs Daniel De La Rosa & Alvaro Beltran in the semifinals before topping two seasoned outdoor veterans, Josh Tucker & Greg Solis, in the final.
In that final, Tucker & Solis took the first game, but Rich & Geis did not panic, dominating the second game to force the breaker. There, they continued to play smart outdoor racquetball and went on a run at the end to win the breaker 11-5 and take the title. Rich earned his first major outdoor title while Geis returned to the podium at a major for the first time in over a decade (he and Beltran won the 2010 3WallBall pro doubles title).
Kudos to Rich and Geis, who may not be household names to the indoor community but who dominated a star-studded field this weekend. They are already committed to challenging for the title at 3WallBall in Vegas this October.
Women's Pro Doubles Recap
The defending champs and #1 seeds Michelle De La Rosa and Carla Muñoz cruised through a five-team round robin draw that featured a slew of ties as the other four teams battled it out for 2nd place. In the end Erica Williams and Katie Neils captured 2nd on total overall points to face off against the defending champs in the playoff finals. There, De La Rosa & Muñoz topped Williams & Neils 5,12, for the repeat title.
Mixed Pro Doubles Recap
The top two mixed pro teams in the draw, who also met for the title in 2019, each cruised through the five-team round robin draw unscathed for their near-inevitable Sunday morning meeting for the title. There, the defending champs and #1 seeds Daniel De La Rosa and Michelle De La Rosa squared off against #2 seeds Robert Sostre and Carla Muñoz.
In the final, the husband/wife team defended their title with a close 7,12 win over Sostre and Muñoz. The Hall of Famer and the top LPRT touring pro were not enough to take out the De La Rosas, who won their fourth Mixed Outdoor Nationals title in the last five years and their 12th major Outdoor title together (all since 2014). They are clearly the best Mixed Doubles team in the game today and are making a strong case to be considered one of the best of all time.
Men's Pro Singles Recap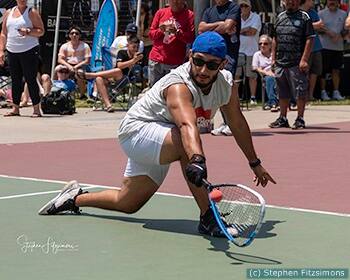 The Pro Singles featured eight brave souls attempting to play singles on the cavernous Huntington Beach courts (they're more than 22' wide and nearly 46' deep). The top four seeds advanced into the semis. There, Jose Diaz upset #1 seed and Hall of Famer Greg Solis, thwarting his quest for an elusive singles crown, while 2018 singles champ Luis Avila downed the lefty "Sweet" Lou Orosco in the other.
In the final, Jose Diaz added his name to the board of legends who have won Outdoor Nationals Pro Singles, topping Avila 12,11 for the crown.
Women's Pro Singles Recap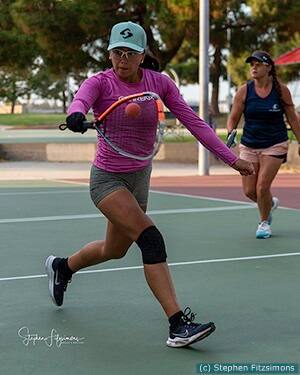 Carla Muñoz cruised through the five-player round robin draw to capture a spot in the playoff finals. Arizonan Katie Neils came the closest to taking out Muñoz, stretching her to 14 in one game and finishing in 2nd place in the group. For her troubles, Neils earned a rematch against Muñoz in the playoff finals.
In that final, Muñoz took her first outdoor singles title of any kind, winning 10,7 over Neils.
Other Notable Draws
Men's Centurion Doubles, the largest draw of the event, featured a ton of outdoor racquetball legends competing. In the final, #2 outdoor legends Scott St. Clair & Tony Burg topped Rocky Carson & Jerry Hall in an 11-10 bruiser.
Men's 75+ Doubles: Daniel De La Rosa, playing with Hall of Famer Mike Peters, cruised to the finals of 75+ Doubles, where they got a walkover against #8 Thomas Gerhardt and Benny Goldenberg in the final.
CPRT 40+: Tucker & Solis avenged their loss in the Pro Doubles by taking the stacked 40+ draw, topping Carson & Jesus Ustarroz in the final.
Mixed Centurion Doubles featured the legends Greg McDonald & Martha McDonald competing in their 46th Outdoor Nationals event. That's right; they were at the very first one in 1974 and have missed just one in their careers (in the early 1980s for the birth of one of their sons). This weekend, they ended up coming in 2nd place in the Mixed 100+ doubles, getting edged by Butch Fish playing with Laura Morin.

CONGRATS AND THANKS!
Congrats on a successful return to Huntington Beach to tournament directors Geoff Osberg & Jesus Ustarroz, who have been running the event together for years and did a fantastic job getting sponsors, promoting the event, and running the tournament all weekend.
Thanks to all 2021 Outdoor National sponsors, listed here:
https://www.r2sports.com/website/event-sponsors.asp?TID=31967
A big thanks to Title Sponsor Randy Root and his teamroot.com enterprise. Randy continues to be a valued major sponsor of the sport. To Presenting Sponsor Mike Martinez and Pro Kennex, thank you for continuing to be a leading voice in the sport and in outdoor racquetball.