2021 Junior Championships Conclude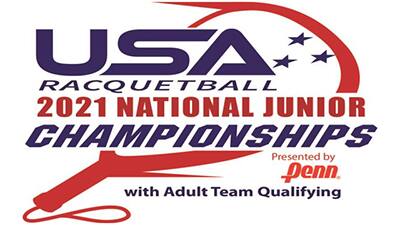 In the Record Books: 2021 USA Racquetball National Junior Championships with Adult Team Qualifying
Presented by Penn
July 14-18, 2021
Wellmark YMCA, Des Moines, Iowa
Athletes numbering 105 from 24 states traveled to Des Moines in search of a national title and a spot on the National Adult or Junior US Teams. The attendance statistic of 54% male and 46% female bodes well for the future of racquetball!
What made this event "one-of-a-kind special" is that not only were the elite adult players competing for spots on the US Adult National Team in both doubles and singles at the same event (when has that ever happen in modern times?) but also that junior players had the opportunity to watch the best U.S. adult athletes "up close and personal." There were lots of photo ops, and the bleachers behind Courts 3 and 4 were well populated throughout the week.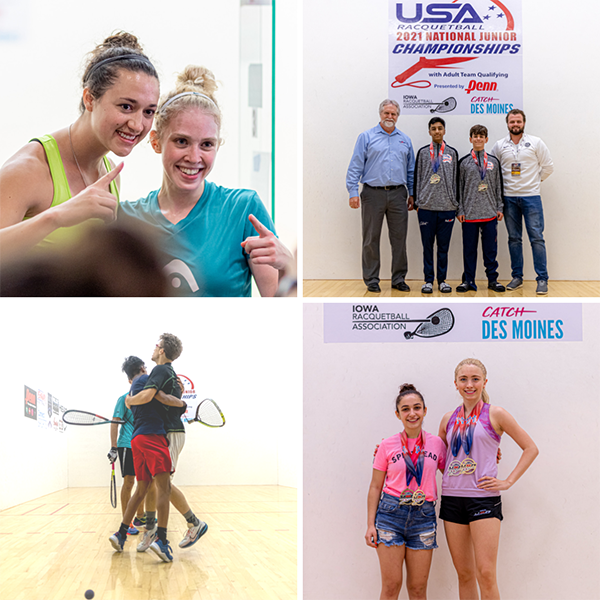 Kristine Fernando (OR), Brielle's mom, said, "What I really love is the youth get to see the adults and they're interacting together. Lexi [York] came over and cheered on Brielle. It's so great for the kids to see where they can be if they continue to train and compete." Brielle, 16, chimed in, "It's pretty cool to watch experienced players compete. Watching them lets me learn so I can improve."
A special shoutout goes to the team of 15 players (predominantly girls) from Lafayette High School in Wildwood, Missouri. What a great group of players! They leveraged this new Junior Nationals experience as training ground for the National High School Championships coming next spring. Coach Manny Rodriguez offered, "They have all enjoyed themselves very much. We look forward to next year!" We at USAR hope the word will spread and that more high school teams will attend future National Junior Championships.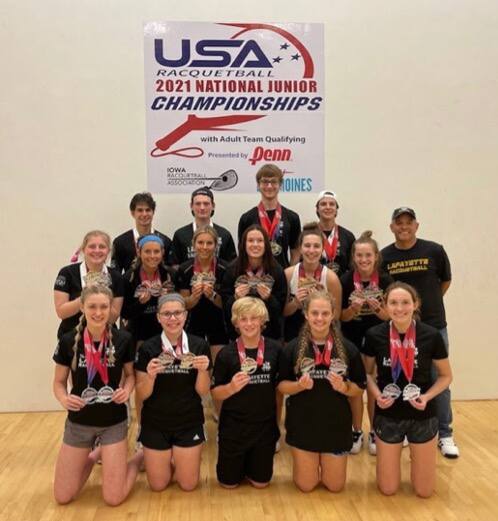 The Junior format was either round robin or Olympic format straight draw, the latter beginning with the Gold division with non-winners populating Red, Blue, or White divisions depending upon their match results each round. With too much information to report on here (roughly 48 divisions!), check out the tournament website for the results:
For all match results please visit the tournament site.
The Ice Cream Party and Awards Ceremony on Saturday night was a hit by multiple accounts. Highlights included the naming of the US Adult and Junior Teams; recognition of All Americans (junior athletes who placed in the semifinals and higher); a special recognition award for US Junior Team Head Coach Charlie Pratt and his assistant coaches Robbie Collins, Jen Meyer, and Jody Nance, who administrated the US Junior Team selection last year during the pandemic; and inspiring advice via well-delivered comments by Rocky Carson, Michelle De La Rosa, Erika Manilla, and Troy Warigon.
Thank-You Notes!
USA Racquetball is so pleased that lemonade could be made from lemons, i.e. when the St. Louis Festival slated for early June had to be canceled, quick action on the part of the staff, combined with the can-do attitude of Iowa Racquetball Association President Dan Horner and his team of volunteers, resulted in the pulling together of this great event in record time.
Among the many volunteers who gave of themselves––their time and TLC­­­­––a few must be mentioned in the "above and beyond" category for their significant donations of time and resources: Greg Beckett, Lou Ebeling, Melissa Horner, Brad Knox, Renae Lampkin, Don McCormick, and Carrie Reitmeier. Thank you!!
Live streaming brought the event to life for thousands of racquetball fans around the world. On the Junior side, Leo Vasquez was on the job for hours each day and thanks everyone who stopped in to help on the mic, with special shoutouts to Nikhil Prasad, Alondra Canchola, and US Team Head Coach Jim Durham. On the Adult side, Dean Baer and Pablo Fajre did the honors with assistance from many including Fran Davis, Michelle De La Rosa, Jim Durham, Tim Hansen, Timmy Hansen, and Troy Warigon.
Dillon Shoemaker was the event's dedicated photographer, and he did a great job!
Aimee Roehler was in our hearts the entire time -- we missed her so much and wish her good health and plenty of indoor and outdoor racquetball going forward! Aimee, in her social media role with USAR, kept the event and players highly visible throughout the week in Des Moines.
The Wellmark YMCA is a beautiful facility -- spacious and modern -- with a staff of very nice people.
The two host hotels (Renaissance Savery and Hyatt Place) were within easy walking distance of the YMCA and provided the "home away from home" for the players and their families.
We couldn't be more grateful for these sponsors and contributors:
The Event Sponsors were Penn (presenting sponsor), APS Nike, Ashaway Racket Strings, Connect Sports, Rollout Racquetball, Talty Bar, and RockTape. They ALL rock in our book!
Food sponsors were Chick-fil-A and Smitty's Tenderloin who provided great food and great aromas in the Y!
Catch Des Moines, the convention and visitors organization, were once again great partners, with their financial and in-kind contributions (e.g., signage) making a big difference toward the success of the event.
_______________________________________________________________________________
There's nothing like returning home with a heart full of appreciation for a great job done by all; for having had the chance to witness the love and support of families and coaches for their players; and with the realization that racquetball will be alive and well in the hands of the next generation of players.
Congratulations to the new U.S. National Junior Team members and indeed to all who played with everything they had. We are so proud of you!
#usaracquetball