Winners Announced!
by Terry Rogers, USAR Membership Committee Chair
The results are in, and the lucky winners were announced on the Real Racquetball Show on February 15!
Fifty-six members of our racquetball family were the recipients of USA Racquetball's RACQ_ETBALL is Missing U! membership initiative giveaways. The winners will receive a follow-up congratulatory email the week of February 15 with the specifics of what they won. The USAR Membership Committee* appreciates everyone who was already a current member as well as those who renewed to be a part of this initiative and support USA Racquetball.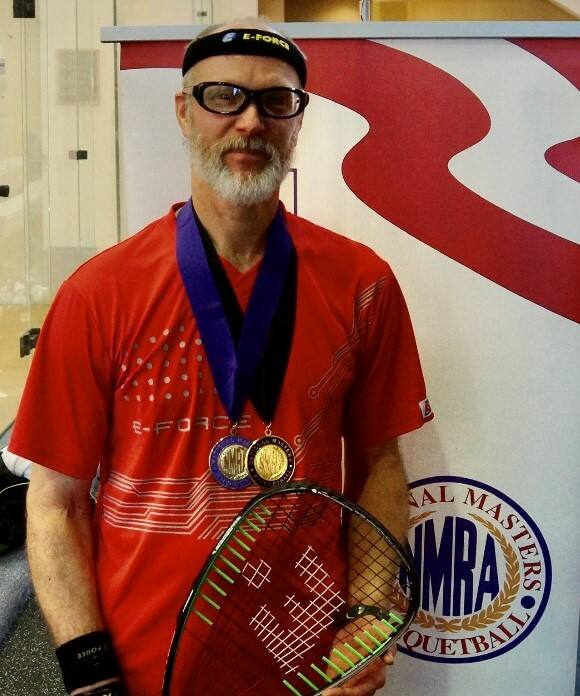 Glenn Martineau (Texas) was the Grand Prize winner of the Malibu racquetball trip. When Glenn was contacted, he commented, "What a pleasant surprise! Being a Lifetime Member for about 11 years now, I wasn't expecting to be part of USAR's promotional drawing. When I received the call describing what I won, I had to laugh because Rick Betts had offered to have me come to Malibu about three years ago. With the California wildfires, and more recently the pandemic, I hadn't been able to take advantage of the invitation. Now I have no excuse! Thanks to USAR for all they do, and thanks to all the members who support our great sport. And, of course, thanks to Rick Betts and Cindy Tilbury for their generous donation!"
The Membership Committee offers our heartfelt thanks to everyone who stepped up to make this giveaway so very special to our members. Thanks to Rick Betts and Cindy Tilbury for the grand prize; manufacturers Gearbox, Head Penn. ProKennex, RacquetWorld, and Rollout for their product support; several board members––Todd Boss, Steve Czarnecki, Cheryl Kirk, and Terry Rogers for their gift card donations; our partner organizations, the IRT, LPRT, NMRA, and WSMRA as well as WOR and 3WallBall for product and tournament entries; and a US OPEN entry and a spot in the US OPEN ProAm Doubles from USA Racquetball and Doug Ganim. Last but certainly not least, thanks to Daniel and Michelle De La Rosa, Rhonda Rajsich, and Kelani Lawrence for their donation of time and/or merchandise to chat with our winners about their games and Racquetball in general.
Note: Why did Rhonda donate 23 Zoom calls? It's her basketball number!
The winners are listed below, and CONGRATULATIONS to all!
| | | |
| --- | --- | --- |
| Grand Prize - Malibu racquetball trip | Glenn Martineau | TX |
| | | |
| US OPEN - ProAm Doubles entry | Sophie Quarles | MO |
| US OPEN entry | Daniel Klarsch | MO |
| USA Racquetball Championship entry | Payten Nester | MO |
| USA Racquetball Championship entry | Fred Nichols | TX |
| 3WallBall World Championship entry | Sudheer Tata | MA |
| WOR National Championship entry | Joseph Capozzoli | PA |
| NMRA tournament entry | Eileen Cummings | CA |
| WSMRA tournament entry | Mark Hooks | IN |
| | | |
| $200 Amazon gift card | Sarah Whitesides | MO |
| $100 Amazon gift card | Joey Serio | MS |
| $100 Amazon gift card and Todd Pro Rball Stats session (Boss) | Edward Olszewski | MN |
| $100 Racquetball Warehouse gift card | Bonny Wheeler | VA |
| $100 RacquetWorld gift certificate | Narayan Venakataramana | CA |
| $100 RacquetWorld gift certificate | Jim Swartz | VA |
| | | |
| Gearbox product package | Mary Crambes | IL |
| Head Penn product package | Ray Johnson | CT |
| Pro Kennex product package | Jack Hughes | NV |
| | | |
| LPRT hooded sweatshirt | John Dorfmeister | OH |
| Rollout - USA Team warmup | Derrick Girouard | PA |
| Rollout - outdoor themed apparel | Wayne Smith | GA |
| | | |
| IRT pair of IRT coffee mugs | Amada Gonzalez | TN |
| IRT face covering | MJ Rys | MO |
| IRT face covering | Nicholas Fonseca | GA |
| IRT face covering | Donald Thompson Jr. | NC |
| IRT face covering | Roger Ackels | TX |
| IRT face covering | Jack Yang | TX |
| | | |
| Outdoor RB Instruction w/De La Rosas | Ben Degroot | WI |
| Rhonda Rajsich - Zoom call | Carla Francis | CA |
| Rhonda Rajsich - Zoom call | Darrin McNally | CA |
| Rhonda Rajsich - Zoom call | Amy Pivovar | NE |
| Rhonda Rajsich - Zoom call | Frankie Hollis | LA |
| Rhonda Rajsich - Zoom call | Kyle Johnson | MO |
| Rhonda Rajsich - Zoom call | Shaun Phillips | MD |
| Rhonda Rajsich - Zoom call | Tom Trueman | MI |
| Rhonda Rajsich - Zoom call | Ammon Gerber | UT |
| Rhonda Rajsich - Zoom call | Douglas Gilman | VA |
| Rhonda Rajsich - Zoom call | Craig Danvers | FL |
| Rhonda Rajsich - Zoom call | Jack Smith | UT |
| Rhonda Rajsich - Zoom call | Heather Olson | MN |
| Rhonda Rajsich - Zoom call | Joseph Varon | TX |
| Rhonda Rajsich - Zoom call | Paul Schild | ID |
| Rhonda Rajsich - Zoom call | Owen McAvin | MO |
| Rhonda Rajsich - Zoom call | Arnold Lara | CA |
| Rhonda Rajsich - Zoom call | Sydney O'Brien | MO |
| Rhonda Rajsich - Zoom call | Grace Liesman | MO |
| Rhonda Rajsich - Zoom call | Dennis Chandler | AZ |
| Rhonda Rajsich - Zoom call | Pete Farrell | MN |
| Rhonda Rajsich - Zoom call | Brandon Carrizosa | AZ |
| Rhonda Rajsich - Zoom call | Hank Marcus | OR |
| Rhonda Rajsich - Zoom call | Hudson Brawley | MO |
| Rhonda Rajsich - autographed US TEAM shirt | Drea Aimo | UT |
| Rhonda Rajsich - autographed US TEAM shirt | Linda Tyler | TX |
| Rhonda Rajsich - autographed US TEAM shirt | Danny Shelton | ID |
| Rhonda Rajsich - autographed US TEAM shirt | Julia Schneiderhahn | MO |
| Kelani Lawrence - Zoom chat, autographed shirt, or video analysis (winner's choice) | Steve Disalvo | FL |
* USA Racquetball Membership Committee
Terry Rogers, Chair
Brian Ancheta
Michelle De La Rosa
Scott Fish
Darold Key
Cheryl Kirk
Stewart Solomon
Cindy Tilbury