OSU Team Preparing For Intercollegiates
by Katterlea MacGregor, Student, Oregon State University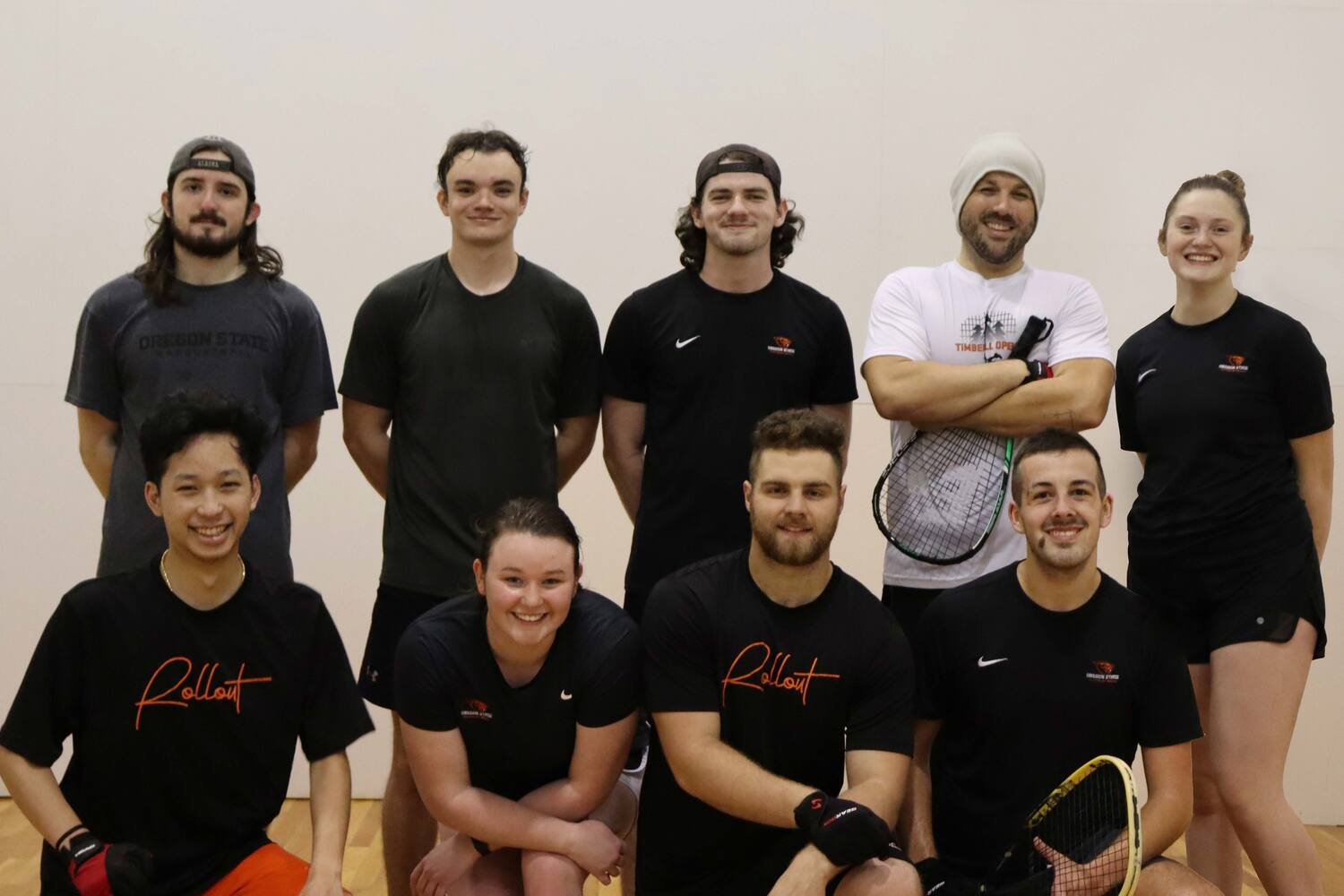 Top (left to right): Luke Gale, Robert Griffin, Cody Boucher, Paul Morris, Katterlea MacGregor
Bottom (left to right): Larry Ninh, Autumn Lewis, Forster Kirsch, Nate Buring
Oregon State University has a long history of national championships and outstanding play. In the last two years, this legacy has been stopped in its tracks. The dawn of the COVID-19 pandemic paused the 2020 Intercollegiate National Tournament in Louisiana and canceled its 2021 counterpart.
The team at Oregon State was lucky enough to practice throughout the 2020 season. This included weekly practices as well as league matches against other players in our area. Although tournaments were far and in between, team morale and skill levels stayed high. As we prepare to return to tournaments with the 2022 Intercollegiate Nationals in Tucson, Arizona, mixed feelings have been expressed throughout the team.
Most of Oregon State's players were in early college or late high school when the pandemic hit. The seniors can remember their first Intercollegiate National Tournament while the younger players participated in High School Nationals as their last major tournament. None of us will receive all four years of eligibility. Most of us will only receive two or three years of tournaments. This also means only a few years to earn a national title or bond with our teammates.
Above all else, though, the team is incredibly excited to get back on the court. At a Sunday practice I asked the team for words describing their outlook for this year. These included "excited," "TUCSON", and a favorite, "It's happening!" As a team, we are eager to leave everything on the court come March. For the seniors, it's one last shot at a normal college athletic experience before they graduate into the real world.
Most consistently the team did express a feeling of uncertainty. The older players remember paying dues and getting ready for flights when the 2020 tournament was suddenly canceled. Many are worried the same thing may happen again for the 2022 Intercollegiate National Tournament. We're hopeful, but a cloud of uncertainty hangs over us.
Personally, this will be my first year competing at the collegiate level. The last national level tournament I participated in was High School Nationals in 2020. This was less than a month before COVID-19 lockdowns were established. Entering my second year here at Oregon State, I am yet to experience what college racquetball feels like. For this reason, I am very excited to see one of these tournaments in action. I look forward to meeting everyone and seeing them in person again. At the same time, I don't know what to expect.
Nevertheless, feet are moving, racquets are blazing, and balls are being broken. While it has been difficult to recruit women for the team, our men are firing on all cylinders, vying for higher divisions. We can be found practicing and building team morale weekly. It's only December and discussions over room assignments, seats on the plane, and championship wins are buzzing through the air.
We are led by our fearless leader, Rob Durbin. Throughout the state of Oregon, it has been difficult to find playing opportunities or tournaments. Rob has been working tirelessly to throw these tournaments together not only for us, but for all ORA players. Thank you, Rob!
This year our team features more men than women. On the ladies' side, we have Autumn Lewis and Katterlea MacGregor. The other half includes Nate Buring, Cody Boucher, Robert Griffin, Foster Kirsch, Larry Ninh, Paul Morris, and Luke Gale.
Larry summed it up best when he said, "You miss every shot you don't take." The Oregon State Racquetball Team is ready to shoot our shot this March. Believe me, we're coming for the 2022 Intercollegiate Nationals. See you there!
And, of course, GO BEAVS!