2021 UnitedHealthcare US OPEN
Presented by USA Racquetball
October 6-10, 2021
Life Time Fitness Target Center, Minneapolis, Minnesota
ENTER: https://www.r2sports.com/website/event-website.asp?TID=31929
DEADLINE: Friday, September 17, 2021
ENTRY FORM AND INFO: https://unitedhealthcareusopen.com/wp-content/uploads/2021/03/2021EntryForm.pdf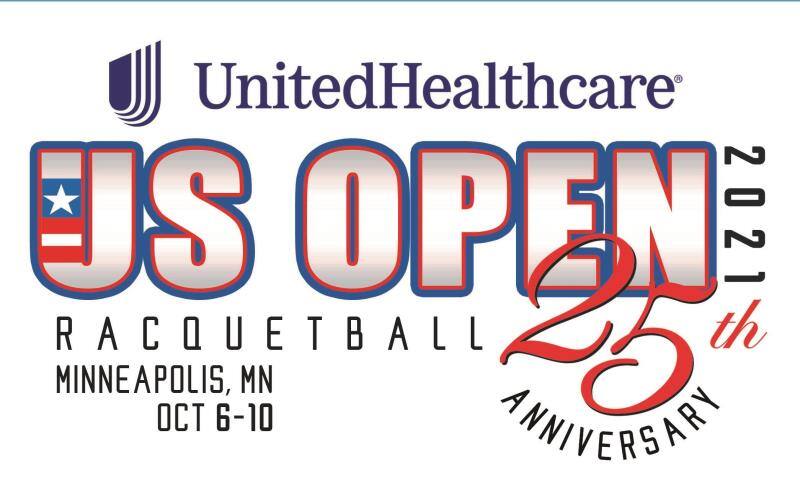 As you plan for your trip to Minneapolis, download and/or print this article and keep it nearby. Everything you need to know is here and in the links above!
Checklist! Have you...
Entered the US OPEN as a player? (see Tips #1 and #3)

Purchased your pro match tickets? (see Tip #2)

Looked into VIP/Gold Box options? (see Tip #8)

Made your hotel reservations?(see Tip #4)

Booked your flights? (see Tips #6, and #7)

Packed for the trip? (see Tip #5)
Tips for Attending the 2021 UnitedHealthcare US OPEN!
Tip #1: ENTER EARLY! The event is expected to completely sell out this year. At 760 players, we cap the draw and start turning people away. Don't get shut out!
Tip #2: ORDER TICKETS NOW! You must have a ticket to view any of the pro matches, and although the Stadium Court seats over 1,400, the event is always a sell-out from the quarterfinals on. No-shows can free up some session tickets at the door, but it's risky to wait. By far, the best deal is to purchase a Preferred Ticket Package for unlimited viewing for ALL pro matches for the entire week. This guarantees you a back wall bleacher seat, but remember, ticket packages are sold ONLY in advance! Cost is $139 for non-players and just $99 for players for the ENTIRE WEEK!
Tip #3: ENTER TWO OR THREE EVENTS. Court time restrictions (and the large draw) do not allow us to offer consolation divisions, so we strongly recommend that you enter two divisions so that you are guaranteed at least two matches. Although players are limited to just two divisions, there are a couple of exceptions. First, if you would like to play "up" into the Men's or Women's Pro draw (perhaps just for the experience), you can still play in two amateur divisions, for a total of three events. Second, if at least one of your divisions is doubles, you can play in any third event you choose. For these two exceptions only, a third event is permitted.

Tip #4: STAY AT THE HOST HOTELS. Check the entry form for the official list of host hotels. With the event in a downtown setting, area hotels are quite expensive. However, we have negotiated some great deals with our three downtown host hotels (Embassy Suites Minneapolis, Hampton Inn & Suites, and Hyatt Centric), and we have a large number of rooms blocked for our group. All three hotels are walking distance to the Life Time Fitness Target Center. These hotels are filling up VERY fast, so call to book your room immediately. In addition, we have two suburban hotels with free parking (SpringHill Suites and Embassy Suites NW). These hotels are ideal for players driving in for the event since parking is free.
https://unitedhealthcareusopen.com/wp-content/uploads/2021/03/2021EntryForm.pdf
Tip #5: BRING NICE CLOTHES AND YOUR DANCING SHOES! One of the really fun parts of attending the UnitedHealthcare US OPEN is experiencing the many evening social activities offered, especially the Grand Gala – The Party with the Pro's. Racquetball or casual attire is not allowed at this bash, so "dress to impress" will be the rule!
Tip #6: LAST FLIGHT OUT ON SUNDAY. Make sure you book the very latest flight you can to head home on Sunday. The Men's Pro final is the last match of the tournament and you won't want to miss it! A packed house, booming music, laser light show introductions, and television cameras make this an experience like no other in the sport. The match usually ends around 2:00 pm, so a late afternoon or evening flight will do. Can't get a late flight out? Consider going home Monday morning. It will be worth it!
Tip #7: FLYING IN? NO RENTAL CAR NEEDED! From the Minneapolis airport you can take the city's clean light rail directly into downtown Minneapolis and right to the Target Center (only 22 minutes). Cost is just $1.75! Two of the three clubs we are using (including the main club where all the pro matches are played) are downtown and so are the three host hotels. All downtown hotels and clubs are walking distance apart. For the Life Time Fitness Fridley club, we will offer a free shuttle every 20 minutes from the Target Center (club is only 17 minutes away). If you are driving in for the event, parking is going to cost you daily in downtown Minneapolis. If you have a car, try the SpringHill Suites in St. Louis Park or Embassy Suites NW near Fridley for free parking.
Tip #8: Consider buying a Gold Box seat for the week ($850) and treat yourself to the ultimate US OPEN experience. Rubbing elbows with all the top pro's in the Pro/Gold Lounge and having the most comfortable seat/best view seat in the house is worth the price alone. Throw in the all-you-can-eat food and drink for the week and it becomes a no-brainer! ALL GOLD SEATS ARE CURRENTLY SOLD OUT HOWEVER YOU CAN CALL 614-890-6073 (or e-mail to ganim@mac.com) TO GET ON THE WAITING LIST. We are working to expand the Gold seating in the Stadium to try to accommodate the robust demand this year.
Keep these tips in mind when making plans to attend the 2021 UnitedHealthcare US OPEN, and you will have the inside track for having a terrific time. See you in Minneapolis!
Preview to the 2021 25th Anniversary of the UnitedHealthcare US OPEN Racquetball Championships
by Doug Ganim
It's hard to believe it has been 25 years, but the 2021 UnitedHealthcare US OPEN Racquetball Championships is approaching! UnitedHealthcare is back as our Title Sponsor for our 25th Anniversary!
The purpose of this special preview is to give you an idea of what to expect at this year's tourney. To celebrate our 25th Anniversary, many special events are planned including a once-in-a-lifetime LEGENDS POTLUCK DOUBLES draw featuring 16 of the greatest players to ever play, a Hall of Fame Induction Ceremony breakfast on Friday morning during the tourney, special "History of the US OPEN" bar stool talks with Doug Ganim and Jim HIser, and an upgraded Saturday evening Party with the Pro's featuring celebrity DJ and Mexican racquetball legend JAVIER MORENO!
Amateur Draws: Amateur matches will be played at two venues: Life Time Fitness Target Center and Life Time Fitness Fridley. A third club will be used on Thursday, Oct. 7th only -- University of Minnesota Rec. Center -- if an overflow club is needed. No consolation divisions will be offered (except in the HEROES Divisions and women's divisions) due to the huge draw and lack of available court time. The competition will be excellent in all of the divisions offered as we welcome competitors from all over the world. The top four finishers in each division will receive oversized US OPEN medals that weigh about one pound each! Divisions are offered for every age and skill level in both singles and doubles. Back for 2021 is the addition of five Centurion Doubles divisions (you and your partner's ages must add up to at least 100)! New for 2021 is the addition of Super-Centurion Open/Elite Doubles (ages adding up to 120+).
Pro Match Tickets: There is no better place in the world to watch pro racquetball than at the UnitedHealthcare US OPEN Racquetball Championships. First of all, every top player in the world on the IRT and LPRT will be in Minneapolis. For the true racquetball enthusiast, this means incredible matches to watch right from the Round of 32. Second, ALL pro match courts are professionally wired for sound so spectators can hear every grunt, groan, and under-the-breath comment throughout every match of the tournament. The ball sounds like a missile being shot off, so be sure to bring your earplugs if you have sensitive "flappers." Third, all of the featured pro matches take place on the breathtaking made-for-TV portable stadium racquetball court. This engineering marvel has four walls made of crystal clear Lucite acrylic that is optically correct (no tinting, blurring, or bending of light) and beautiful to behold. The Lucite materials are butted up against each other with Lucite "fins" providing the support. Even the "L" brackets are made of Lucite, so the result is a seamless visual experience that makes you feel like you are right in the court with the players. The stadium seats about 1,400 fans, and ticket sales are always brisk. Your best bet is to purchase a Preferred Ticket Package that includes all sessions. This is by far the best value ($139 for spectators, $99 for players). For those who want the full VIP treatment, consider purchasing a courtside Gold Box. The cost is $3,000 and includes four seats with All-Access credentials. Individual Gold Seats can be purchased for $850. ALL GOLD BOXES AND GOLD SEATS ARE CURRENTLY SOLD OUT, BUT CALL (614) 890-6073 NOW TO GET ON THE WAITING LIST. We are working to expand the seating in the Stadium to accommodate as many as possible.
Parties, Parties, and More Parties: One of the things the UnitedHealthcare US OPEN is best known for is the evening social functions. For those who have attended in previous years, you can expect more of the same this year starting with the free admission Pro-Am Doubles for Charity on Wednesday evening, the fun "Late Night Players Gathering" at the Embassy Suites lobby bar (named Lyons Pub), the Players "Meet and Greet" Party on Friday evening at ROCK BOTTOM and the largest bash of the year, the Saturday evening Party With the Pro's at the hot downtown nightclub The Pourhouse (21 and over only admitted) featuring celebrity DJ JAVIER MORENO.
Back for 2021: To celebrate the 25th Anniversary of the UnitedHealthcare US OPEN, many event upgrades will be back for this year. First, the main host facility and nerve center for the US OPEN is Life Time Fitness Target Center. They have completed an amazing $17 million renovation of the club featuring all new five-star locker rooms, new restaurant and bar, new four-star spa/salon, new swimming pool, and complete high-end face lift to all other areas of the club. In short, the main club is now one of the finest athletic clubs in the entire world! Second, we will again feature an 8,000 sq. ft. carpeted US OPEN Players Village complete with the Industry Trade Show, cash bar/concessions, US OPEN Souvenir Booth featuring logo items you can only buy at the US OPEN, and free table tennis where it is not uncommon to see the top pro's battling for US OPEN Ping Pong bragging rights. Third, to commemorate this historic occasion, a limited edition 25th Anniversary micro-fiber tournament shirt and four-color Souvenir Program will be included in the registration package. Lastly, to honor our brave service members and public servants, we will again feature singles HEROES Divisions for both men and women. Current and retired military, police, fire, and EMT professionals will be eligible to participate. All HEROES players will receive a complimentary Ticket Package to watch the pro matches for the week to thank them for their service to our country and its citizens.
Can't play in the event?: If there is no way you can play in the tournament, consider coming in just for the weekend to be an enthusiastic spectator. The pro singles quarterfinals are Friday afternoon, pro doubles semifinals Friday evening, Players "Meet and Greet" Party at ROCK BOTTOM Friday evening, the pro singles semifinals/pro doubles finals Saturday, the Grand Gala "Party with the Pro's" Saturday evening, and the pro singles finals are on Sunday. Just those three days will be an incredible experience and should not be missed. Buy your tickets NOW and book your hotel!
No way to attend the event this year?: If you absolutely can't make it to this year's tournament, even as a weekend spectator, then the last resort is to follow the action from home. To help make this easier we will transform our website -- www.UnitedHealthcareUSOPEN.com -- into a computer "window" to look in on the action at the tournament. Plans include offering live amateur division results posting, up-to-the- minute pro match results, digital photography from throughout the event, streaming video of select pro matches via the IRT and LPRT, and web-radio voice interviews with top pro's as well as play-by-play voice streaming of the quarters, semis, and finals. Special thanks to our computer guru and webmaster Steve Kowalski for spearheading this ambitious project.
THE PRO's!: As always, the focal point of the UnitedHealthcare US OPEN are the pro players and the incredible entertainment they provide as each player quests for the coveted US OPEN title. Anyone on tour will tell you that the UnitedHealthcare US OPEN is the one title everyone wants to win, so every match yields both players at 120% effort. Back for 2021 will be the exhilarating Pro Doubles divisions. Nothing in all of sports compares to the high flying fast-paced action that racquetball pro doubles delivers. It was the talk of the tournament at the last event with many "down to the wire" thrilling matches. You won't want to miss the return of pro doubles at the US OPEN in 2021!
Attending the UnitedHealthcare US OPEN as a VIP!
A waiting list has been started for luxury GOLD BOXES/SEATS for the 2021 UnitedHealthcare US OPEN. The GOLD BOX cost is $3,000 and includes four GOLD All-Access Credentials to the event. Individual GOLD SEATS can be purchased for $850. CALL (614) 890-6073 now to get in line on the waiting list or e-mail to ganim@mac.com. We are working to expand the Gold Seating in the stadium to accommodate the brisk demand. In addition to enjoying the pro matches from your private and comfortable GOLD BOX/SEAT, All-Access Gold Credential holders have unlimited access to the exclusive Pro/GOLD Lounge throughout the event featuring 5-star catering (continental breakfast, lunch, and dinner), all day fruit and snacks, desserts, and beverages (beer, soda, juices, water, champagne, and wine) during all hours. Gold Seat holders also receive complimentary waitress service (with free drinks) at their seats in the Stadium throughout the event. Event sponsors, top-ranked men and women pro players, and GOLD BOX holders are the only VIPs permitted in the lounge. Treat yourself to the ultimate racquetball experience and get on the waiting list today!
Pro-Am Doubles for St. Jude
Want to treat yourself to an incredible racquetball experience while at the same time supporting St. Jude Children's Research Hospital? On Wednesday evening, October 6th at the 2021 UnitedHealthcare US OPEN, 32 lucky amateurs will team up with the top stars on the IRT and LPRT for a special Pro-Am Doubles event. A $325 donation gets you into the draw until 32 commitments are received. The evening features free food and beverages, an autographed racquet from your pro partner, and a complimentary photo as well. All of the proceeds will be donated to St. Jude Children's Research Hospital.
Although this event has sold out each of the last 24 years, at the time of this writing there are still a handful of spots left. If you are interested in participating, register now at www.UnitedHealthcareUSOPEN.com and enter the tournament (Pro-Am Doubles is listed under the Order Additional Items section) or call (614) 890-6073 and register over the phone.
At the time of this writing there are 6 spots left!
Online Auction Benefiting St. Jude and Rapha International
The fun continues with the return of the popular online auction organized by Dee and Sal Perconti. The auction supports two wonderful organizations, and you won't want to miss it! What's better than shopping (the holidays are coming up), bidding (early and often!), winning (who doesn't love THAT?), and owning something great that also benefits children in need?
Visit www.auctionusopen.com to donate items and register as a bidder. The auction begins September 1, 2021, and concludes on October 9, 2021, at 8:00 pm CT.
Conclusion - A Message from Doug Ganim
Given all we have been through in the last two years and the cancellation of more than 90% of all scheduled racquetball tournaments worldwide, the 25th Anniversary celebration of the US OPEN is going to be incredibly special. It will be a time for us all to reconnect as a worldwide racquetball family and remind each other how much we have missed the sport we love and all the great people in racquetball. In addition, 2021 will be my last as the Executive Director of the US OPEN. I am retiring right after the event. After "giving birth" to this event 25 years ago and pouring my heart and soul into building it into the greatest tournament in our sport for 2.5 decades, it is now time for me to turn the reins over to USA Racquetball. I hope to see EVERYONE who has ever attended a past US OPEN at this year's tourney so we can share some great memories. I also encourage ANYONE who has never been to a US OPEN to make this special year their first. It will be an experience you will never forget!