A Life-Saving Message from Aimee Roehler Ruiz
After a routine exam, U.S. National Team Member Aimee Roehler Ruiz was recently diagnosed with Breast Cancer. She came to us asking to share her story with the racquetball community, with hopes of raising awareness for others. We happily obliged. Here's Aimee's story.
As a U.S. National Team Member, I thought it was important to share my story to raise awareness. I am not sharing these last several weeks to scare you, but to let you know that life throws us challenges and we must be prepared to accept these challenges, for they force us to develop the courage to make our lives worth living.
How I Got the Diagnosis
On February 22, 2021, I went in for my annual mammogram. Little did I know it would change my world completely. After that mammogram, they asked me to come back in for another mammogram and ultrasound as they saw something on my left breast (keep in mind I am a leftie). Two days later I went in for my second mammogram and the ultrasound, after which they said they were still concerned and wanted a biopsy.
The biopsy was the following week, Thursday, March 4th. That morning I met with the doctor who said, "There is a good chance you have cancer." I completely blanked out after hearing those words. They administered a COVID test, and then I went upstairs for the biopsy. There were five women in the room as they opened me up, prodded me for samples, and then stitched me back together. Each of them was very sweet and kind. They knew I was overwhelmed with the situation. Immediately after the biopsy, I went back for another mammogram and was then sent home with instructions not to have any physical activity for a week. Needless to say, I played ball that Saturday and Sunday...lol.
The Plan
On Wednesday, March 10th, I received the call saying there was good news and bad news. Good news, the cancer hadn't spread to my lymph nodes (one was swollen when they did the ultrasound). Bad news, the two small areas they found were cancerous. On Monday, March 15th, I met with my doctor who devised a plan: surgery (lumpectomy), followed by radiation or chemotherapy and an oral pill I would need to take for a while. At this point she didn't think I would be needing chemotherapy. I told my doctor, "National Doubles is the beginning of June. We need to book the surgery NOW so I can recover and be able to play." She looked at me like I was completely nuts. She said playing was possible but would be uncomfortable since surgery was the same side as my playing arm. She said radiation would tire me and drain my immune system. I replied, "I've played tired before, I've played with injuries, and I've been hit with the ball more times than I would like to count. If I can do that, I can handle this."
With surgery scheduled for April 1st, I had 2.5 weeks to get everything required beforehand: MRI, pre-op EKG, pre-op bloodwork, genetic testing interview, genetic testing bloodwork, arm measurement (don't even ask), 2 COVID tests, what else? Then on the MRI, they saw an additional two areas that they wanted checked. Six days before surgery I had to go back for an MRI Guided Biopsy. So there I was again, getting poked and prodded, AND I was trying play as much as I could before I had to take several weeks off.
Change of Plan
Well, the MRI Guided Biopsy showed an additional two cancerous tumors in the same area as the first two. They were so small they weren't picked up on the mammogram and ultrasound. My doctor said this doesn't change the prognosis but advised we should now go with the unilateral mastectomy. With no hesitation, I said yes and asked what the recovery time would be. My doctor immediately said, "You have Nationals, I knew you would ask this question." And we both laughed. She said at least 3-4 weeks of downtime would be needed and that because we are doing the unilateral mastectomy, and as long as my lymph nodes are fine, radiation would now not be needed.
Surgery Day – April 1st
It went as smoothly as removing a breast from your body can be. As they were getting me prepped to go into the OR, I became emotional. Thank goodness for the drugs they gave, which helped calm me down. After surgery, the doctor said everything went really well. She had removed two lymph nodes for testing and said they looked favorable, but she wouldn't know for sure until the lab work came back.
I was home resting by 5:00 pm. To be honest, I have been feeling great. I didn't take any of the pain medication they gave me, and the only nuisance about everything was that the two drains had to be emptied twice a day. They definitely aren't the most attractive thing. Thank you to my stepmom, Louise, who was with me through all of this.
First Week Post Surgery (At the Time of Writing)
Thursday, April 9th, I went to the doctor's office to have my drains checked. She had just received my pathology report not even an hour before. One of the two lymph nodes she removed had 4 mm of cancer. She said she needed more time to curate a plan and discuss it with the radiation oncologist, and she also wanted the results back from my oncotype test before deciding exactly how we were going to proceed. Results from the oncotype test will determine if I will need chemotherapy.
Why I'm Sharing My Story
It's very simple. Ladies, get your boobies checked! If you are over the age of 40, make sure you are going every year for your mammogram. There was no lump on my breast that could have led to detection on my own, so getting a mammogram is extremely important. While I am dealing with breast cancer, I am extremely glad it was caught early. If you are under the age of 40, do your self-exams!
Resources:
How You Can Help
Before my diagnosis, I was in the process of collaborating with onewallball.com on a Roehler Racquetball apparel line. My maiden name is Roehler, and soon it will be my legal name once again. I can't think of a better way to launch the line with the first piece in support of Breast Cancer Awareness. Proceeds will be sent to the Robert Wood Johnson Cancer Center's Patient Assistance Fund. Your donation will go towards transportation for cancer patients to get to and from the RWJ Steeplechase Cancer Center (where I myself will be receiving treatment); financial assistance for wigs and prostheses offered at the Cancer Center's Sanofi US Wellness Boutique; and groceries, medications, house cleaning services, and other living expenses for patients. None of the proceeds will be going to me whatsoever. I just wanted to find a way to give back to the RWJ Steeplechase Cancer Center and help others that might need it.
You can order your Roehler Racquetball Breast Cancer Awareness t-shirt.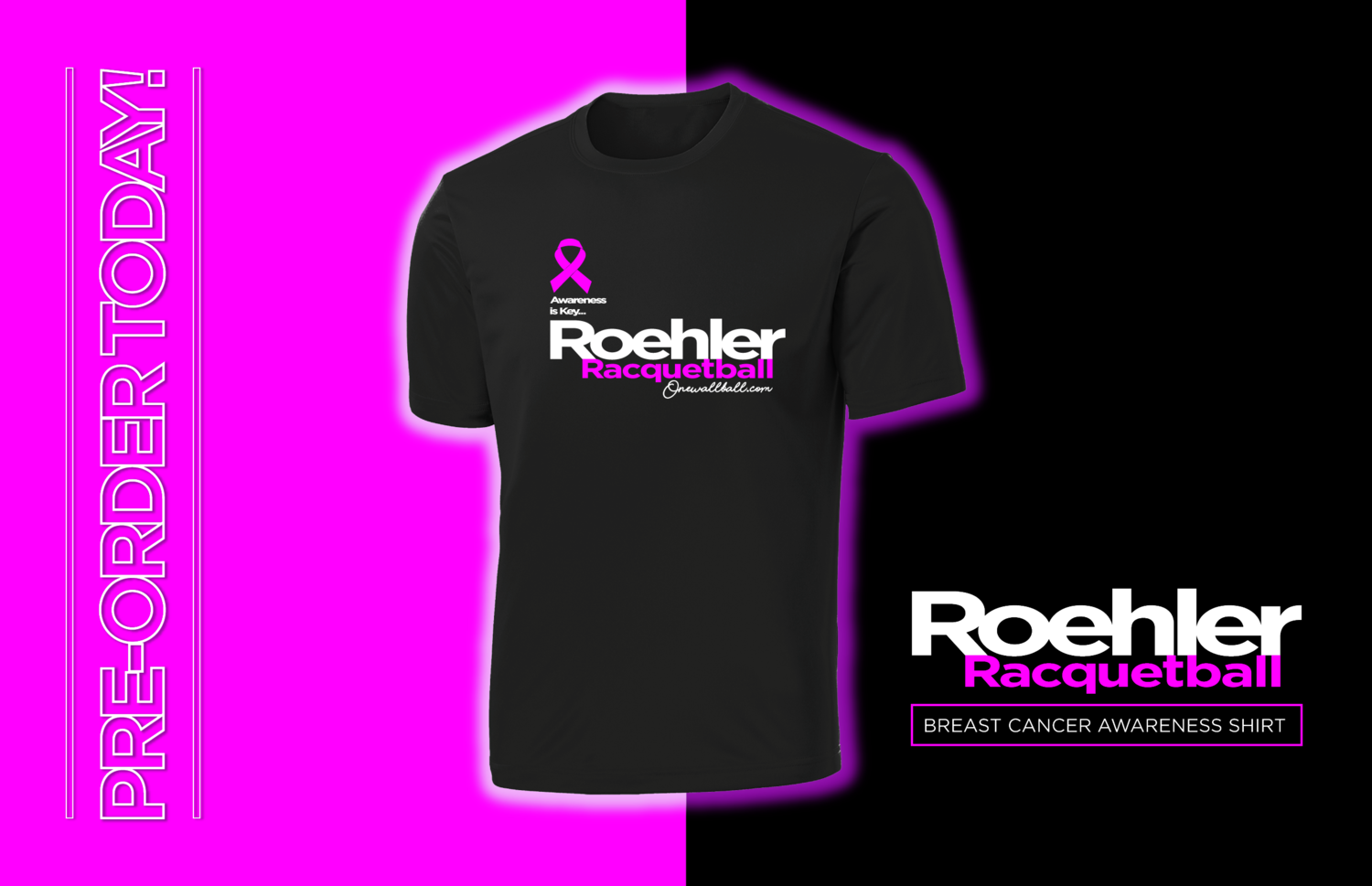 Please note: Since I don't know if four of you will be ordering (well, I think four if I count my family!) or perhaps more of you, we are doing a pre-order and will be accepting orders until April 22nd. We will begin shipping on May 10th. A huge thank you to Team onewallball.com for being willing to do this to help my cause. Please support them as they have supported me.
Lastly, I just want to thank everyone who has been supporting me since I received the news. Life has been crazy, and I wouldn't have been able to keep pushing without the support of my family and friends.
Aimee Roehler Ruiz is a 12-time USAR National Doubles Champion and 3-time IRF World Doubles Champion. She was will be inducted into the USAR Hall of Fame, Class of 2021.