2023 3WallBall Event Preview
by Todd Boss, with inputs from Jen O'Meara, Mike Coulter, Peggine Tellez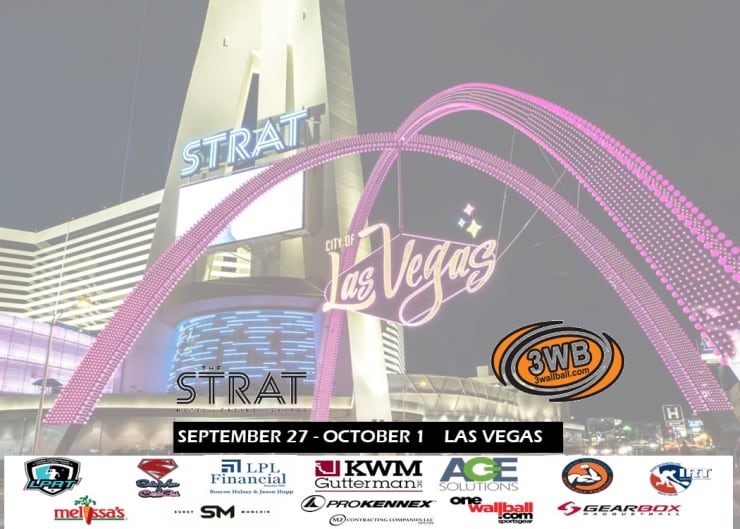 As summer winds down, it's never too early to start thinking about the last Outdoor Major of the season. The 2023 KWM Gutterman 3WallBall World Championships will be held September 27th – October 1st, 2023 on the grounds of the STRAT Hotel and Casino in fabulous Las Vegas.
Here's a quick guide to this year's tournament, with an overview of all the special events planned.
Racquetball, Handball, and Paddleball divisions. This event is offering 1 Wall and 3 Wall competition in all three of these sports this year. Information on each discipline is on the 3WallBall homepage at https://3wallball.org/
Pro and Amateur divisions in all disciplines. Come compete for a title and stick around to watch and hang out with the pros.
King of the Court Racquetball. This year, we'll have a King of the Court exhibition featuring a dozen legends of classic racquetball. We anticipate a who's who of the past, with some very familiar names coming to Las Vegas to compete and to mingle. See https://3wallball.org/3wb-world-outdoor-championships/2023-king-of-the-court/ for a list of players committed as of this writing.
The finals of the Outdoor Cup Series for 2023: The Pro event results count toward LPL Financial Ladies' Cup and KWM Gutterman Men's Cup. The 3WallBall event is heavily weighted in the rankings, so anything can happen on the STRAT powder blue courts.
Hosted by the STRAT - 14 years running as our host - room discount code is here https://3wallball.org/sponsor-partner-directory/the-strat/. The STRAT is newly redesigned, bans smoking in its casinos, and features a fun bar area/sports book where players are found every night.
Two instructional clinics - One by Erika and Adam Manilla and the other by Daniel De La Rosa. Both will take place on Wednesday before the event begins. Info here: https://3wallball.org/3wb-world-outdoor-championships/
Pro-Am that benefits Military Adaptive Court Sports. Info here: https://3wallball.org/3wb-world-outdoor-championships/
Player Social Events. As has become custom, the 3WB event and its sponsors put on a great time for all. This year we feature: Ladies' Night on Thursday night, Ice Cream Social on Friday afternoon, and Neon Player Party on Saturday night. Preliminary info here: https://3wallball.org/3wb-world-outdoor-championships/. We will be adding more information about these events as the planning for them comes together.
Sponsor Vendors Row: We will have sponsor vendors on site with the latest gear and such.
VIP Experience – For the second year we're building a VIP seating area adjacent to the broadcast booth, featuring food and beverage service all weekend, as well as the best seats in the house.
A great new look to the 3WallBall website for this year! Come check it out, thanks to Jen O'Meara for all her hard work on both the website and the event.
Event Information
Tournament Name: KWM Gutterman 2023 3WallBall World Championships at THE STRAT HOTEL
Dates: 9/27/23 – 10/1/23
Location: Las Vegas, NV USA - THE STRAT HOTEL
Event Director: Peggine Tellez
Entry Deadline: Monday 9/18/23 at 10pm Central
R2 Sports Website Link: https://www.r2sports.com/website/event-info.asp?TID=40677
3WallBall organization home page: https://www.3wallball.org/