USAR OFFICIAL RULES OF RACQUETBALL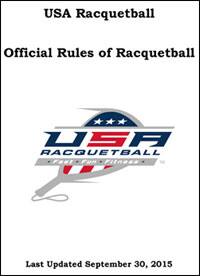 This is the latest version of the USA Racquetball's Official Rulebook that went into effect on October 1, 2015 and covers all USAR sanctioned and non-sanctioned play in the USA. Also included are rule modifications for the IRT, LPRT, WOR, CPRT, NMRA, as well as for Wheelchair, Deaf, and Vision-impaired racquetball play.
This version includes four (4) rule changes approved at the last rule change submission at the May 2013 meeting of the USAR's Board of Directors. They are:
1. In USAR-sanctioned events throughout the nation, all divisions (including the "Open" divisions) will play the two-serve game -- except for the U.S. National Team Qualifying divisions at the U.S. National Doubles and the U.S. National Singles Championships. See Rules 3.1 and 5.
2. Players must wear shoes and cannot play in socks only or in bare feet. See Rule 2.5(b).
3. Electronic audio devices cannot be worn during play unless they are needed to amplify one's hearing ability. See Rule 2.5(c).
4. Unintentional "carries" during the rally are allowed and are no longer called. See Rule 3.13(b).
The procedures for proposing future changes to the USAR rules are described near the end of the Rulebook. See Policy and Procedure "E".

COPYRIGHT NOTICE
The USAR Official Rules of Racquetball are copyrighted. All rights reserved. These rules may be downloaded and printed for reference. An updated rulebook is now available with new changes.