USA Racquetball offers various donation programs for anyone wanting to help support racquetball. In fact, some of them are services you may already use. Please look at some of the programs below such as the AmazonSmile Program, Item Donations, and the search-and-shop programs with GoodSearch and Goodshop. We sincerely appreciate your support and any future donations you may consider. If you have any additional questions about these donation programs, please call Renée Isherwood, USA Racquetball National Staff, at (719) 635-5396 extension 4 or email at risherwood@usaracquetball.com.
AmazonSmile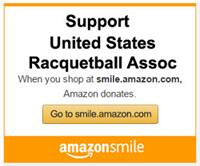 AmazonSmile is a simple and automatic way for you to support your favorite charitable organization every time you shop, at no cost to you. When you shop at smile.amazon.com, you'll find the exact same low prices, vast selection and convenient shopping experience as Amazon.com, with the added bonus that Amazon will donate a portion of the purchase price to your favorite charitable organization.
On your first visit to AmazonSmile (smile.amazon.com), you need to select our charitable organization (United States Racquetball Association) so we can receive donations from eligible purchases before you begin shopping. AmazonSmile will remember your selection, and then every eligible purchase you make at smile.amazon.com will result in a donation.
To shop at AmazonSmile simply go to smile.amazon.com from the web browser on your computer or mobile device. You may also want to add a bookmark to smile.amazon.com to make it even easier to return and start your shopping at AmazonSmile.



Item Donations


A free, convenient service for converting that extra car, truck, or RV into a tax deductible donation benefiting the United States Racquetball Association. You can donate online or call (877) 999-8322 to make your donation. Don't donate your car or truck to some charity you have never heard of. This trusted service makes sure your vehicle is properly handled so you get your tax deduction and your charity, the United States Racquetball Association, gets the benefit of your donation. Donation, also known as V-DAC, is the vehicle donation recommended by Tom and Ray of Car Talk.
Donate now online
.


Vehicle Donation Program
Click Here or Call
(877) 999-8322


Monetary Donations

USA Racquetball depends upon public donations to continue its work. You can help! Making a donation through our secure server is fast and easy, and when we receive your donation, we will send you an acknowledgement in the mail for tax purposes. Click the give online button below to make a donation. Thank you for your support! Please note: We use a nonprofit service to process our credit card transactions. GIVEDIRECT is the name that will appear on your credit card statement - not USA Racquetball. Using a 3rd party helps us keep our costs low and allows us to spend more time and money on our programs.


---
Search and Shop Online

USA Racquetball is now a charity registered with GoodSearch and GoodShop. GoodSearch is a search engine which donates 50-percent of its revenue to the charities and schools designated by its users. It's a simple and compelling concept. You use GoodSearch exactly as you would any other search engine.

Because it's powered by Yahoo!, you get proven search results. The money GoodSearch donates to your cause comes from its advertisers — the users and the organizations do not spend a dime.
In 2007, GoodSearch was expanded to include GoodShop, an online shopping mall of world-class merchants dedicated to helping fund worthy causes across the country. Each purchase made via the GoodShop mall results in a donation to the user's designated charity or school – averaging approximately 3% of the sale, but going up to 20% or even more. (http://www.goodsearch.com/About.aspx)


By adding GoodSearch to your toolbar and internet homepage, you can help raise funds for USA Racquetball. GoodShop has over 500 retailers that donate a portion of the sales. For instance, if you usually make air travel arrangements by going through Travelocity.com you can use the GoodShop Travelocity and earn 1% of your airline ticket for USA Racquetball. It is something you normally do but USAR would now reap the rewards. Think about all the gifts you buy online for the upcoming Holidays or flowers for birthdays, there are retailers on GoodShop who donate a portion of the proceeds. Please help suppport USA Racquetball and use GoodSearch.Go to www.goodsearch.com and download the toolbar. Also, please pass along this information. Even to people who may not play racquetball (yet) can support us by simply using GoodSearch and GoodShop.
USA Racquetball depends upon public donations to continue its work. We have several donation programs available such as the Vehicle Donation program and we are members of the Combined Federal Campaign and the Independent Charities of America. For more information click the links below. The Independent Charities Seal of Excellence is awarded to the members of Independent Charities of America and Local Independent Charities of America that have, upon rigorous independent review, been able to certify, document, and demonstrate on an annual basis that they meet the highest standards of public accountability, program effectiveness, and cost effectiveness. These standards include those required by the US Government for inclusion in the Combined Federal Campaign, probably the most exclusive fund drive in the world. Of the 1,000,000 charities operating in the United States today, it is estimated that fewer than 50,000, or 5 percent, meet or exceed these standards, and, of those, fewer than 2,000 have been awarded this Seal.