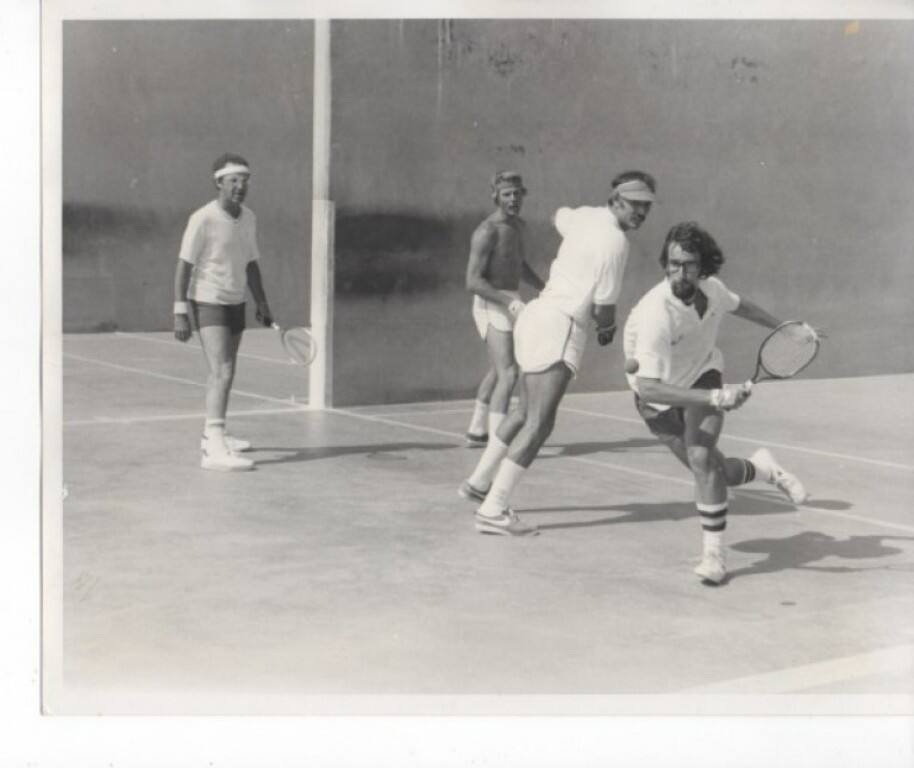 Outdoor Nationals 1975 final (L-R): Dr. Bud, Wallace, Wetzel, Brumfield. Photo courtesy of Barry Wallace
Portland, OR; April 14, 2015 – On behalf of the World Outdoor Racquetball and the Outdoor Racquetball Hall of Fame (WORHOF), it is a distinct honor to announce our second 2015 outdoor racquetball Hall of Fame inductee, Dr. Bud Muehleisen.

This is a man whose racquetball stature continues to grow over time. Dr. "Bud" as he is commonly referred to was the very first indoor candidate inducted into the USA Racquetball Hall of Fame back in 1974. Ironically, 1974 was first year of the national outdoor championships which were held in Orange County California and not surprisingly, Dr. Bud would go on to win the pro/open doubles titles that year with his famous partner Charlie Brumfield. Fast-forward almost a half century later to 2015 and our newly founded Outdoor Hall of Fame of four years is proud to induct this legendary Outdoor Racquetball Player and Contributor. In fact, the founding fathers of Outdoor Racquetball, Barry Wallace and Bob Wetzel, describe Dr. Bud as the one person who (along with Charlie Brumfield his doubles partner) singlehandedly placed outdoor racquetball on the "Racquetball Map" due to his relentless promotion of outdoor racquetball to the indoor pros and the overall racquetball community.

Dr. Bud was one of the finest early stars capturing the first pro open doubles in 1974; taking second in pro/open doubles in 1975 in possible the most famous doubles match upset in history who captured numerous major singles and age titles during the first several years while being featured in many famous outdoor articles. For his great vision and unwavering contributions to our sport, Dr. Bud was unanimously elected by our committee.

Our committee would like to thank some incredible people who made Dr. Bud's nomination and induction possible. Those names would include, Steve "Bo" Keely who wrote a series of emails documenting Dr. Bud's noteworthy early efforts and also the our own committees' continual call for his induction including Charlie Brumfield, Barry Wallace and Wetzel and Martha and Greg McDonald who are the sports early racquetball founders and hall of fame members. We also wish to thank Brett Elkins who is the WORHOF chairman and founder. And, a special thanks to WOR Executive Director Hank Marcus and WOR National Director Greg Lewerenz who are why this great event becomes an annual reality. Without the Hall of Fame Committee's tireless efforts and drive to bring in the best and most deserving players and contributors of our sport into the Outdoor Hall of Fame, this would have never happened.

Dr. Bud was not only a famous player who dominated Indoor and Outdoor Racquetball with 73 combined National & International Championships titles, but also as someone who won 4 Paddleball National Titles and was a major contributor to the success of those Sports for decades.

Dr. Bud Muehleisen has sometimes been called the most influential man in Racquetball. He was a Coach, Clinician, and Teacher, as well as a regular contributor of instructional material to early magazines. He also worked with most of the major equipment manufacturers in developing rackets, paddles, balls and other products. On behalf of our committee, it is a distinct honor to induct a legendary player and contributor Dr. Bud Muehleisen to the class of 2015 Outdoor Hall of Fame for his unique contributions over time. Here is his resume!

Dr. Bud's Muehleisen's Resume (Born in December 1931):

Results at National Outdoor Championships - (3 first place Outdoor Championships including the 1st ever open doubles championships in 1974 with Charlie Brumfield, a national masters title in 1975 & 5 second place finishes)

1st Place, 1st Outdoor Championships, Open Doubles (top division) w/Charlie Brumfield over Wallace/Wetzel 21-20, 21-16 (1974-Year One)

2nd Place, Outdoor Championships, Inaugural Men's Senior Singles Division. Lost to Myron Roderick 21-19, 15-21, 21-15. Note: In the early years, there was only one combined senior division making it much tougher to win. (1974)

1st Place, 2nd Outdoor Championships, Men's Senior Singles over Roger Kilian 21-8, 21- 4 (1975)

2nd Place, at the 2nd Outdoor Championships, Men's Open (top division) Doubles losing to Wallace/Wetzel 21-14, 21-14 (WOR Hall of Fame class of 2014). Note: This was the first time ever Charlie Brumfield and Dr. Bud lost a match in doubles. (1975)

2nd Place, 3rd Outdoor Championships, Men's Seniors Singles losing to Bob Wetzel (1976) 1st Place, 4th Outdoor Championships, Men's Senior Singles besting outdoor co-founder Bob Wetzel 21-10, 21-16 (1977)

2nd Place, 5th Outdoor Championships, Men's Senior Singles losing to Bob Wetzel (1978) 2nd Place, 6th Outdoor Championships, Men's Senior Singles losing to Bob Wetzel 21- 18, 12-21, 11-9 (1979)


NOTE: From 1980 to 2005 his (and others) records are basically unknown due to lack of additional information and records. If you have any information or newspaper clippings from this era, please sent them to Brettelkins@worldoutdoorracquetball.net to help document the sport's history. Miscellaneous Notes and Quotes: "Dr. Bud is the person who is most responsible for tirelessly promoting outdoor racquetball. Without Dr. Bud Muehleisen/Charlie Brumfield's efforts to continually promote the event the outdoor championships would have never happened ensuring it was a huge success from day one." (Barry Wallace, Co-founder outdoor national championships)

"The team of Brumfield & Muehleisen never lost a game-let alone a match in national level competition play." (Dr Bud in his quote in Wikepedia). Charlie Brumfield did correct the "good doctor" noting, "Yes…but we did lose in outdoors in 1975."

"Don Jacobs wrote an article about Dr Bud/Charlie Brumfield's historic loss in doubles in the 1975 outdoor championships to Wallace and Wetzel, "To win the historic match, Wallace hit a corner shot and Muehleisen hit a passing shot wide to close it out."

Dr. Bud Muehleisen won the outdoor championships in seniors division "absolutely destroying the field in 1975." He beat Roger Killam 21-8, 21-4. (Local newspaper article) "Wetzel won his 3rd senior singles crown, defeating archrival Bud Muehleisen of San Diego. Wetzel beat Muehleisen for the championship in 1976, 1978 & 1979. Muehleisen grabbed the crown in 1977." (1979-Local Newspaper).

"I battled Dr. Bud several times in the open finals and he was one of the top players of that era." (Bob Wetzel, hall of famer and outdoor co-founder in his notes to the hall of fame committee)

Indoor Racquetball Resume for Dr. Bud Muehleisen:

The first inductee into the USAR Racquetball Hall of Fame as amateur athlete/contributor along with Joe Sobek. (1974)

Winner of the first national racquetball championships in 1969 beating legend Charlie Brumfield.

Winner of 69 National Indoor Championships (and four national outdoor titles). From approximately 1969-1975, in both indoor and outdoor racquetball, he and partner Charlie Brumfield never lost a match in competition--a streak that lasted well over six straight years.


Dr. Bud was instrumental in the development and/or the first to play and win several championship titles with experimental racquets that were used in both indoor/outdoor competitions. These included the first metal racquetball racquet the Dayton Steel in 1969 which he used to beat Charlie Brumfield; the famous aluminum Bud Muehleisen and then later Leach fiberglass racquets. In fact, it was Dr. Bud who sought out Ektelon legend Franklin Bud Held to get him to produce an experimental prototype aluminum racquet which was the first of its kind. Dr. Bud is also believed to be one of the first sponsored players in the golden age of racquetball.

As a coach and contributor, Dr. Bud wrote many of the first instructional guides for racquetball and was the first indoor rules commissioner.