Sweet Lous Shootout Results
Sweet Lou's Low-Down Doubles Shootout Results
March 20-21, 2021 Marina Park, Huntington Beach, CA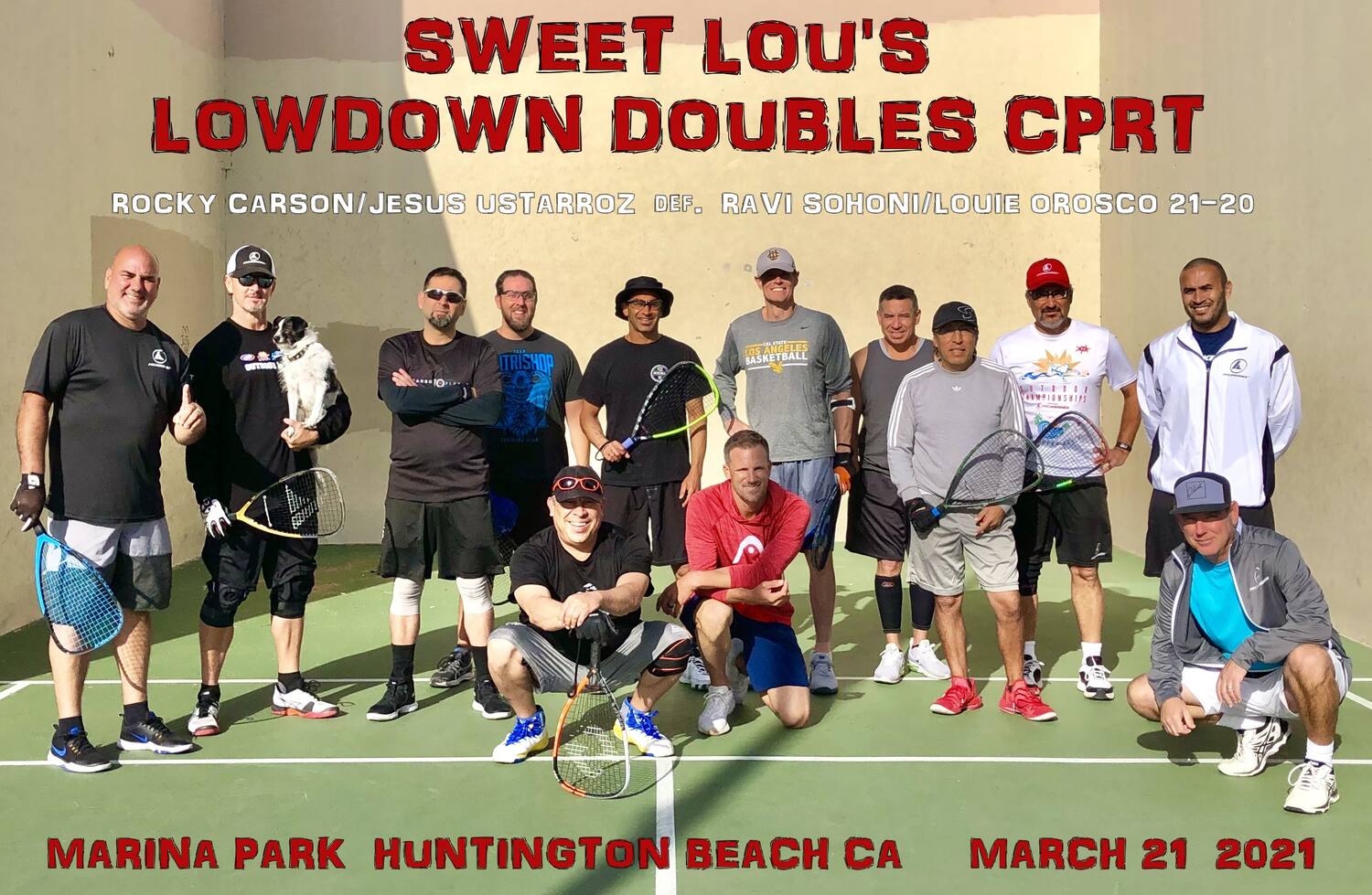 March 20th, 2021 marked the return of Lou Orosco's annual "Sweet Lou's Lowdown Doubles shootout," hosted at the Marina Park outdoor courts in Huntington Beach, CA.
They hosted three divisions on the weekend: Upper, Lower and CPRT. Here's a breakdown of the results of each division.
---
In the Upper division, 9 Doubles teams competed, and the draw was stacked. The 18 players in the upper division collectively hold 11 Outdoor Nationals pro doubles titles and dozens more singles titles. The teams played a straight round-robin to determine the knockout round participants and seeds.
In the Quarters:
#5 seed Jesus Ustarroz/Rocky Carson beat #4 seeds Scott Sinclair/Tony Berg 15-6
#3 seeds Josh Tucker/Scott Davis beat Mike Beltran/Majeed Shahin 15-8
In the Semis:
#4 Jesus/Rocky defeated #1 seeds Geoff Osberg/Luis Avila 15-14, avenging an 11-9 loss in the group stage.
#2 Lou Orosco/Danny Lavely defeat Tucker/Davis 15-6
In the Finals, Jesus/Rocky defeat Orosco/Lavely 21-9 to take the upper division title.
---
In the Lower Division, 6 teams competed in a straight RR draw to determine the knockout rounds.
In the Lower Semis:
Caesar/Joaquin defeat Arturo/Luis Espinoza 15-12
Tom Quiroz/ Pio Motera defeat Scott Greenberg/Bill 15-8
In the final, Tom/Pio defeat Caesar/Joaquin 21-8
---
In the CPRT Division, injuries took out a couple of the planned entrants, so 6 teams played round robin action to determine the knockout stages.
In the Quarters:
#3 Lou Orosco/Ravi Sohoni defeated #6 Victor Rodriguez/Georges Barrera 15-5
#4 Jay Ustarroz/Rocky Carson defeated #5 Geoff Osberg/Danny Gonzalez 15-11
In the Semis:
#3 Lou/Ravi defeated #1 Gabe Medina/Mike Beltran 15-13
#4 Jay/Rocky defeated #2 Tony Berg/Scott Sinclair 15-13
In an Epic final, Jesus & Rocky made it a double on the weekend by edging Lou/Ravi 21-20
Thanks to Steve Fitzsimons for meticulously posting the results that helped me write the above. Also thanks to Fitzsimons for posting dozens of great photos from the event; if you want to see some of the action, follow Steve on Facebook or like/follow the main WOR page. Thanks to the tourney hosts Lou Orosco, Geoff Osberg, and Jesus Ustarroz for hosting and organizing. Thanks to Mike Peters for sending me the group shots for this article. Lastly thanks to JTRball for streaming all weekend, and for basically everything you do for Racquetball in general.